Many of us are going to turn the calendar over to April and realize, with a start, that Easter is a blink away on April 5. Or today, it's a week away. So use this last week to decorate eggs, make Eastery treats, and finish shopping for those baskets. And if you need to keep your little bunnies' hands busy too, we've pulled together 17sweet bunny crafts for Easter that your kids and you can make, eat, or play with while you jump around getting everything done.
Related: 10 fun and easy Easter crafts using everyday, regular old household objects. Yay!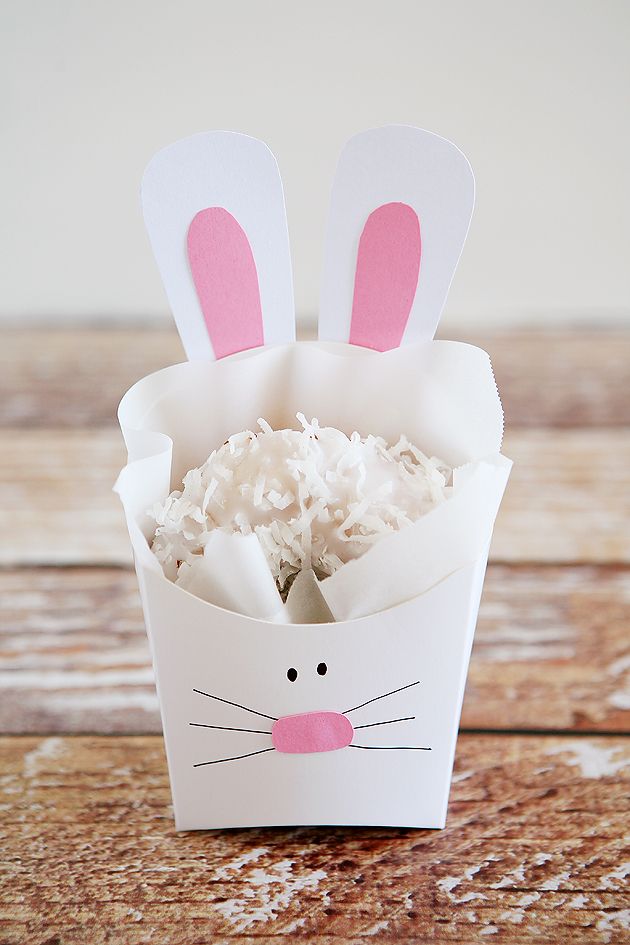 Easter Bunny Treat Container (tutorial, Eighteen 25)
So easy, yet so perfect for Easter, this idea from Eighteen 25 uses white fry boxes, found at craft stores or on Etsy, to create a sweet bunny treat container. I'd love to have a few of these around for decoration, though if you plan on entertaining a few small Easter guests I bet they'd prefer to take one home with a few treats tucked inside.
Printable Easter Bunny Puppets (free printable, Secret Agent Josephine)
Oh, sure you can make shadow bunnies with your fingers, but printable Easter Bunny Puppets are so much cuter and more colorful. Tuck the pair into an Easter basket or hand them out now for some theatrical play. There is also a black-and-white version available so that your kids can decorate their bunnies any way they'd like. And honestly, our kids would play with these all year long.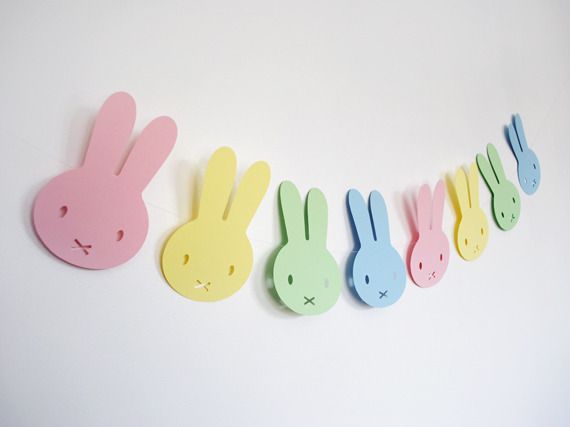 Printable Easter Bunny Garland (template, Minieco)
With Minieco's template, you can make an entire pastel rainbow of bunnies to hang on your wall. This craft is probably best left to older kids or adults so that the cutting is nice and neat, though younger kids can help assemble the garland and can provide the necessary "ooo's" and "ahhh's" of approval.
Related: 5 free, easy Easter printables we love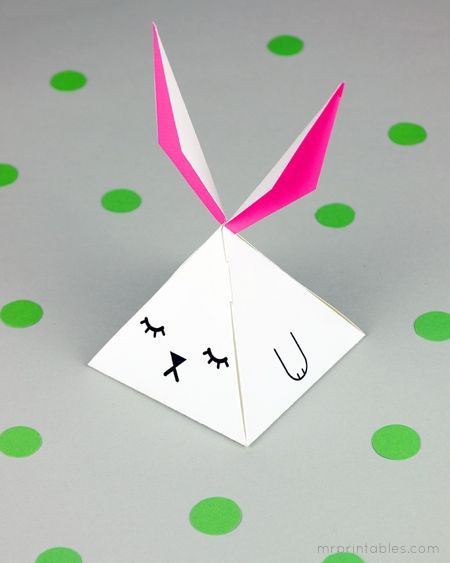 Easter Bunny Pyramid Treat Box (tutorial and free printable, Mr. Printables)
Whether you want to send your Easter guests home with a leftover jellybeans (get them out of the house!), or just want some bunnies to decorate your table, check out this really cute free printable treat box. Older kids who like doing paper crafts like origami should be able to whip up a few of these, no problem, leaving you time to plan your annual egg hunt.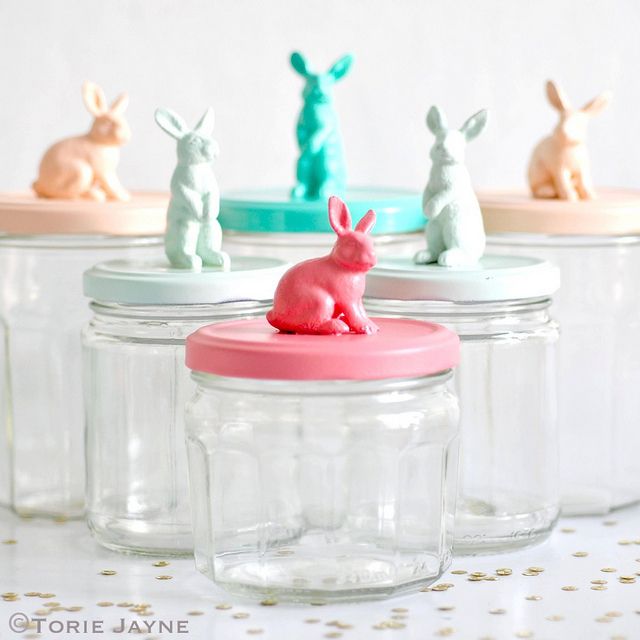 Easter Bunny Storage Jars Craft (tutorial, Torie Jayne)
We fell in love with the plastic-animal-on-storage-jars idea a few years ago which has since blown up on Pinterest, and Torie Jayne's twist is just perfect for the Easter holiday. Plus, it puts those little plastic figurines, which often end up tossed in the corners of bookshelves or toychests, to good use. Fill the jars with pastel-colored candies and group them together for a really sweet decoration.
Easter Bunny Bagels (tutorial, Handmade Charlotte)
Kick off Easter morning breakfast in a most adorable way with Handmade Charlotte's Easter Bunny Bagel idea. I love that so much that is on this plate is healthy and something I'd already serve for breakfast. Especially since my kids will eat their weight in jelly beans by the day's end.
Related The cutest Easter bunny shaped pancakes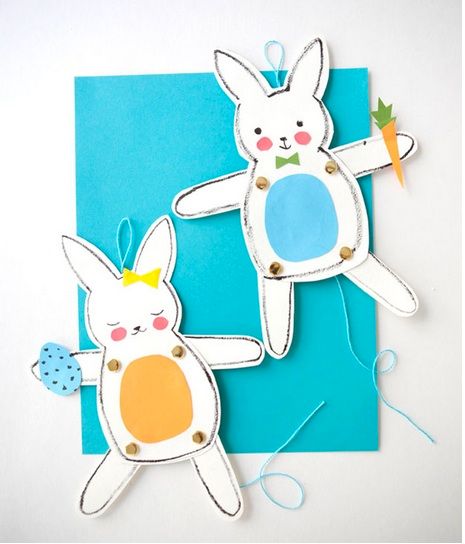 Jumping Jack Easter Bunnies (free printable template, Oh Happy Day for Pottery Barn Kids)
Jordan Ferney's fun DIY is part craft idea, and part articulated toy with arms and legs that move with a tug of the string. Or, leave off the string and let your kids pose their bunnies' moveable arms and legs any way they'd like. It's like paper dolls with a little more action.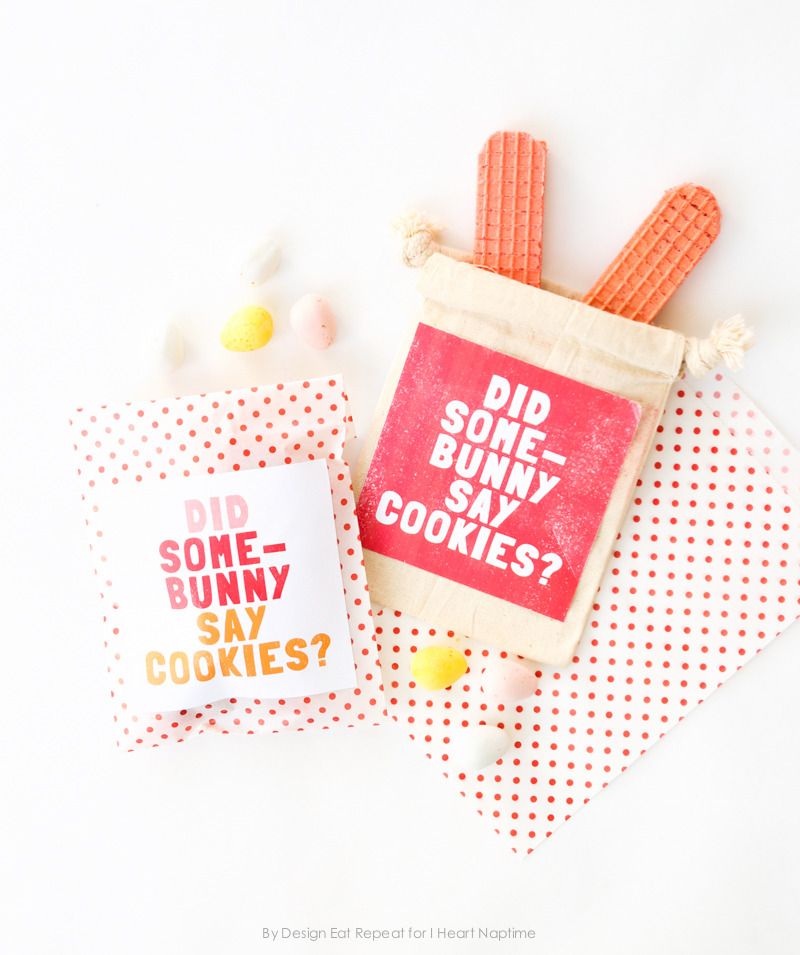 Easter Bunny Printable Treat Labels (free printable labels, Design Eat Repeat for I Heart Naptime)
I can't resist a good, silly Easter pun, and "Somebunny…" is a pretty good standby. These printable treat bag labels are fun, but to make them actually work,  make sure you fill the bags with cookies, of course. You can even stick them to regular plastic sandwich bags should you not have twee little polkadot treat bags lying around.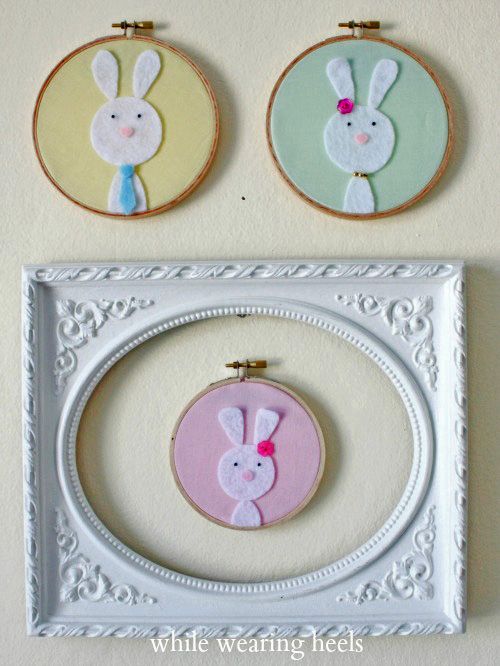 Felt Easter Bunny Family Portrait Craft (tutorial, While Wearing Heels)
My older kids would love to create portraits of our family imagined as rabbits. With just some felt and an embroidery hoop, this tutorial will show you how to create your own bunny family to hang on the walls that our kids will love well past April.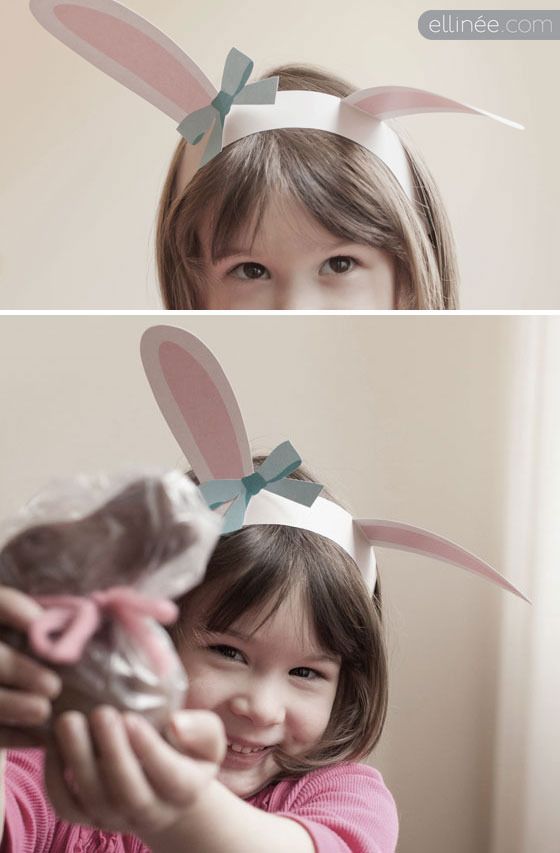 Printable Easter Bunny Ears (free printable, The Elli Blog)
If you don't have some Easter bunny headbands lying around (our kids would be shocked) you can top off the kids' Easter outfits with these free printable Easter Bunny Ears. Imagine the high cuteness potential come picture time.
Related: 6 great tips for getting the best Instagram shots of your kids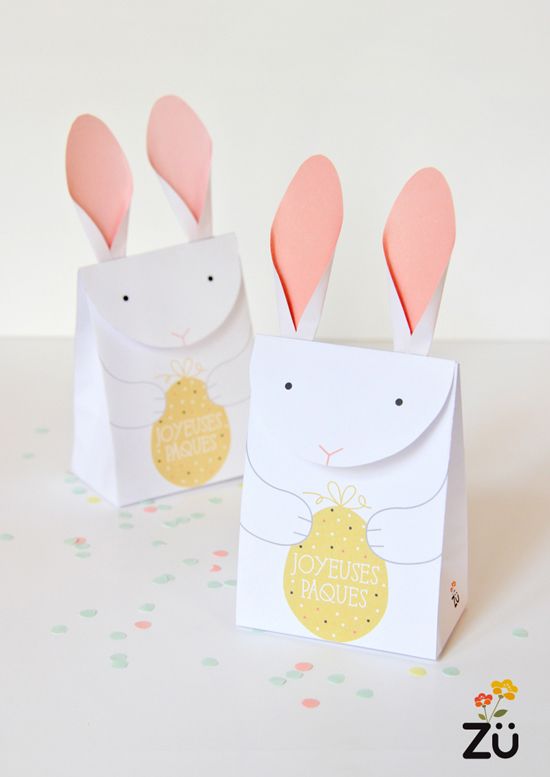 Printable Easter Bunny Bags (free printable, Zu)
Even if you don't parlez en francais, you'll have a Joyeuses Paques with Zu's pretty printable Easter Bunny containers straight from France. It's obviously a little more work than just putting jelly beans in a baggie, but how irresistable are those pink bunny ears sticking out from the top of the bags?
Easter Bunny Peeps Pops (tutorial, Love from the Oven)
How to make those marshmallow Peeps even cuter? Follow Love from the Oven's tutorial for Easter Bunny Peeps Pops which we recently featured. Though fair warning: The sugar high that will result from eating a few of these will have your own bunnies hopping all over the place.
Related: What to do with Easter Peeps (besides eat them all)
Easter Bunny Basket DIY (tutorial, Mer Mag)
We love crafts that turn trash into treasure; or maybe something that will hold treasure, like this Easter Bunny Basket you can make yourself. Then, go fill with goodies. In fact we have lots of recommendations for special non-candy Easter basket gift ideas that kids will love, even if they can't eat them.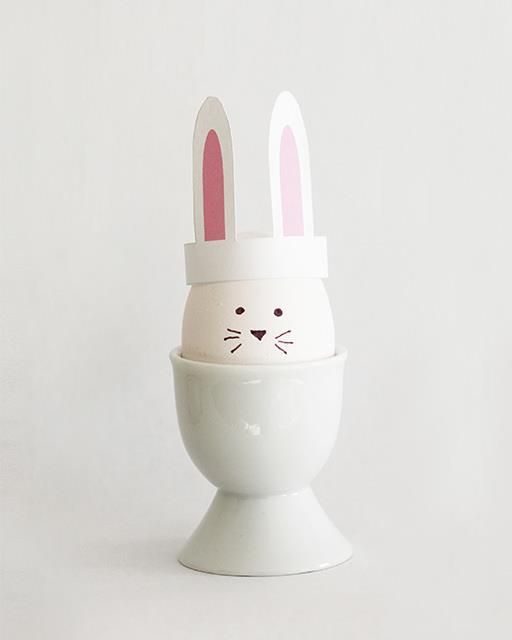 Easy Easter Bunny Egg  (free printable, Sweet Paul)
Egg decorating doesn't get much easier than this idea made easy with the free printable and a Sharpie.  I'd love to put out a whole bunch of ears, some markers, and a dozen hard boiled eggs and see how many different expressions my kids can come up with. Just know it's unlikely your kids will let you get away with pure white eggs when there are so many crazy colors to work with.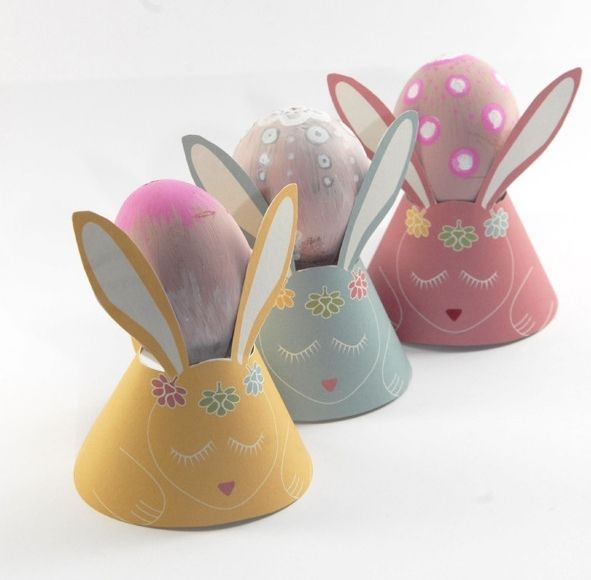 Printable Easter Bunny Egg Cup (free printable, Dans Mon Bocal)
Give your decorated Easter eggs a safe spot to rest with Dans Mon Bocal's free printable bunny egg cups. I'd make enough to put at each place setting because I'm pretty sure my guests will want to take their egg cup home.
Free Printable Origami Bunny Tag (free, Eat Drink Chic)
If you already have the gifts and just need a sweet little tag to go with it, there are tons of ideas out there but maybe none so clever and modern as this gorgeous on featuring an origami bunny. Just print it as-is and it's pretty great, but if you want to go a little nutty, the DIY shows you how to use a few layered pieces of glitter paper to bring it to life in 3 dimensions.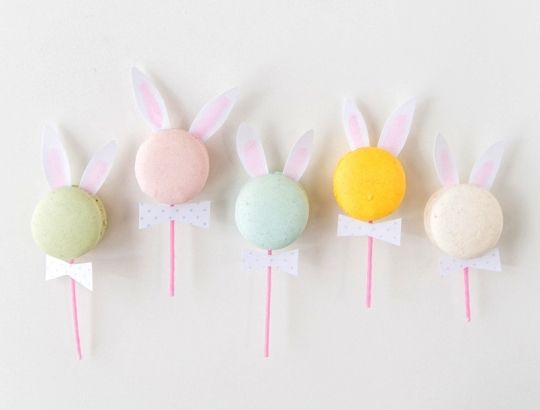 DIY Easter Bunny Macarons (tutorial, Sugar & Cloth)
As if macarons weren't sweet enough, this cute idea turns them into bunny pops. Whether you make the sweets yourself, using one of these homemade macaron recipes we recently shared, or buy a bunch of your favorite Easter-hued flavors, these would make a great after-dinner treat, even for the adults.
For more Easter ideas of all kinds, visit our Easter Pinterest board and our Printables + DIY Pinterest board.