Father's Day is inching closer and closer, and if you haven't found the perfect Father's Day gift for Dad — don't panic! In addition to lots of the gifts in our guide, there's a stellar chance you can find just the gift you're looking for right here, among these free Father's Day printables that'll make really cool gifts.
Really!
From labels and gift tags to T-shirts and aprons, these free Father's Day printables will help you create that one-of-a-kind, unexpected gift that will make any dad or grandfather swoon.
At top: Free printable zombie survival kit | Sandy Toes & Popsicles
Related: Have you seen our 2018 Father's Day Gift Guide? Tons of awesome ideas for Dad!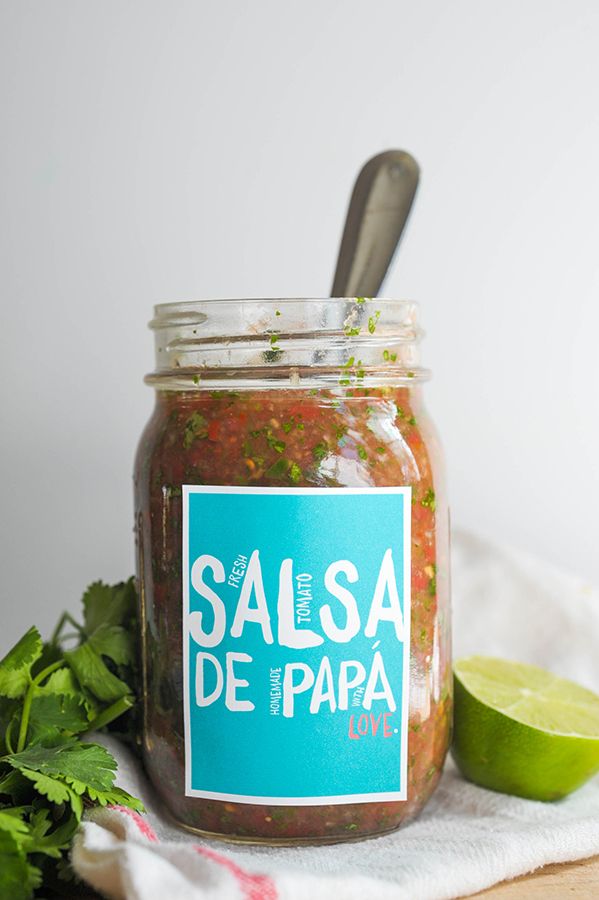 We included Julep's free Father's Day salsa jar printable in a roundup of our favorite Father's Day printables a few years ago and we still love it. Fill up a mason jar with one of these fantastic homemade salsa recipes, affix the free Father's Day printable, and get ready to fiesta. Homemade margaritas optional, but definitely recommended. Well, for the adults.
Related: Gourmet Father's Day gifts for dads who love food. So, all of them. 

Note-keeping or doodling dads will appreciate these lovely and practical free Father's Day notebook covers ready for printing at Oh Happy Day. After all, what dad doesn't like to be reminded that you think he's the smartest? Alix has all the instructions and the supplies list that you'll need over at the site.

For those dads who run on coffee and Star Wars, Made in A Day offers up this free Star Wars Father's Day printable stencil that you can use to make this cool mug. A second printable is ready for downloading, printing and framing to go with it. Present it with a bag of his favorite gourmet coffee beans or a gift card to his favorite coffee shop and the caffeine — um, I mean, the Force — really will be with him.  To top it off, may we suggest the DIY Yoda Best Father's Day card craft we recently shared?
Related: The coolest Star Wars gifts for fans of Star Wars VII because, duh, Star Wars VII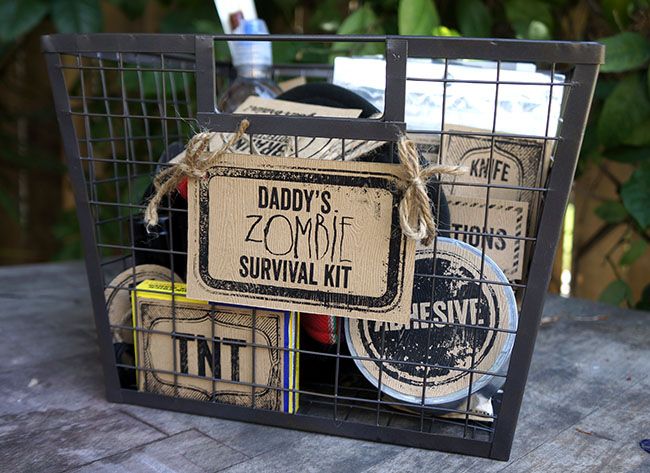 If Dad is all about the Walking Dead — or Zombieland or Shaun of the Dead or World War Z or you know, zombies in general — Sandy Toes and Popsicles' free printable zombie survival kit (also at top) may win my vote for Father's Day Gift of the Year.
It will take a bit of work to gather the supplies, but their kit comes with a slew of free printables so you can get super-imaginative — it's up to you to decide what the "brain food" printable should label.  Click over for all the free downloads and tons of fun zombinspiration. (That's a thing, right?)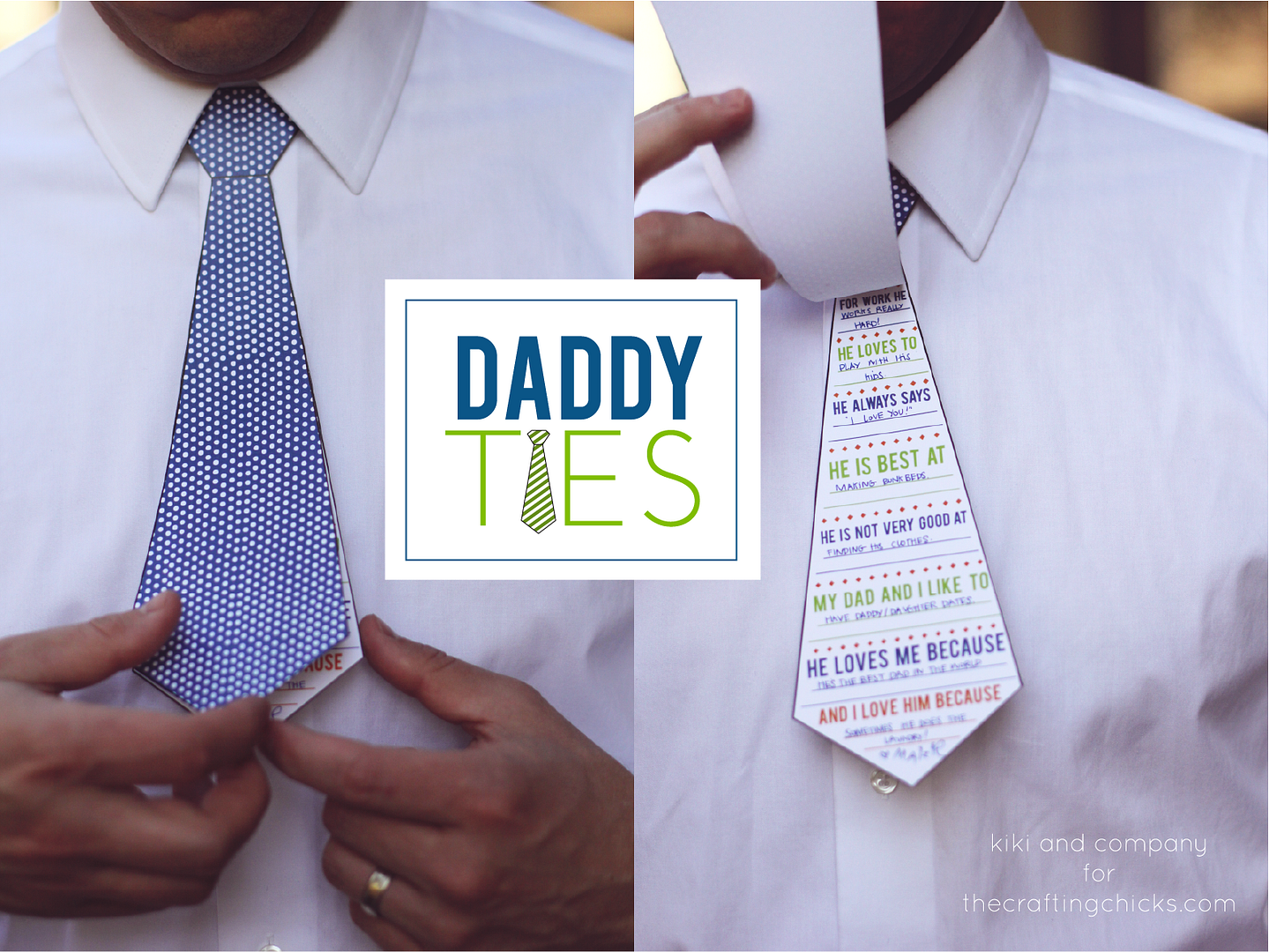 You just know any dapper dad of a little one would be proud to spend Father's Day sporting this handmade daddy tie card printable by Kiki and Company for The Crafting Chicks. We love that it's made to be wearable! And it's a little more clever than the standard tie, because it features fill-in-the-blanks about Dad for kids to complete. And those always yield the sweetest, funniest, most-keepable results.
Click over to choose from one of three fun designs. Or nab all of them  if you have more than one child who's interested in adding to Dad's faux tie collection.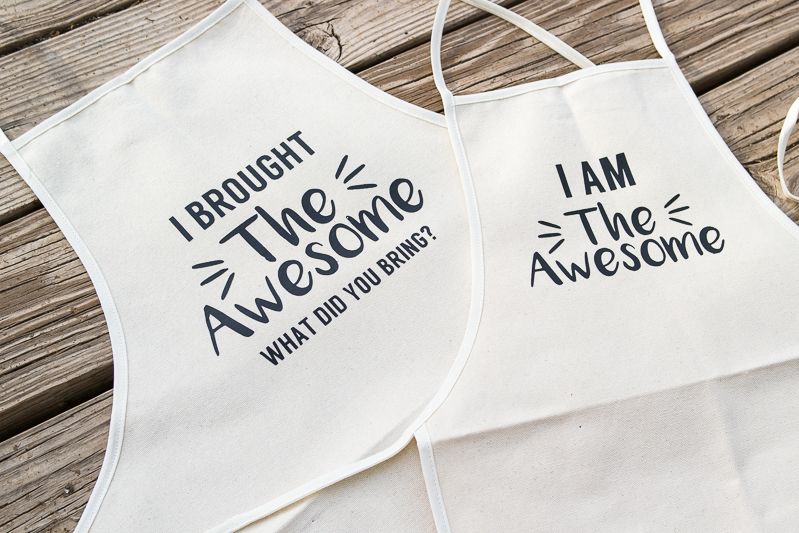 There's only one word for Tried & True's Father's Day DIY matching apron set and you can probably guess what it is: Awesome! Dads who love to cook, especially the self-proclaimed grillmasters of the group, will really appreciate this gift. Download and print out the cutting files from Vanessa's site (one for Dad, one for his prodigy), where she also has an easy tutorial.
Related: 22 seriously fantastic Father's Day gifts under $25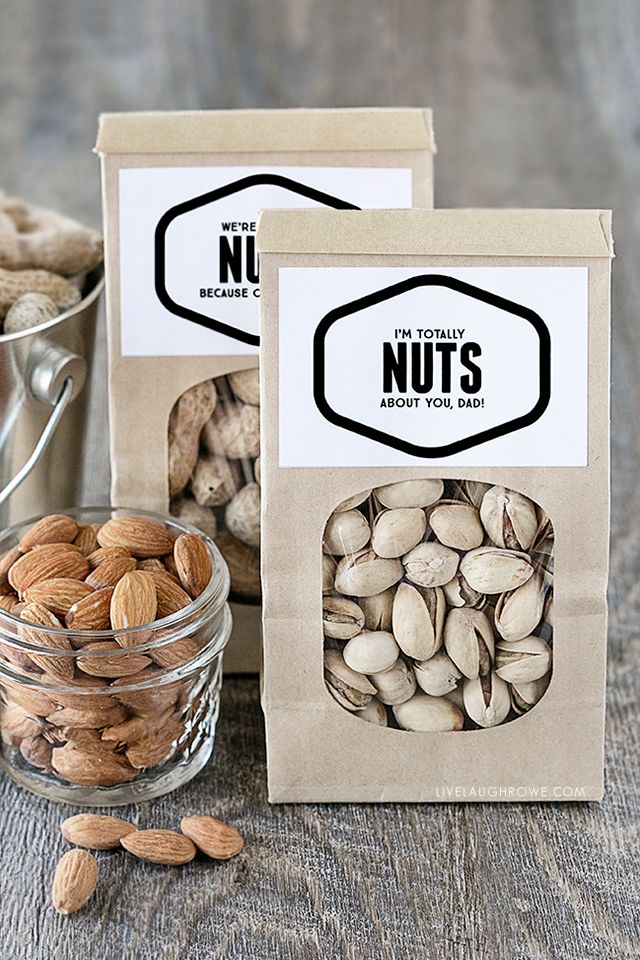 I'm especially drawn to this Nuts About You free gift bag printable by Live Laugh Rowe because pistachios are my own dad's kryptonite. Kelly has four cute variations of the tag on her site (the we're nuts because of you, Dad! is especially hilarious, especially if you know my family), along with instructions and suggestions for crafting the bag.
Psst… check the homemade spiced nuts recipe featured on Cool Mom Eats if you want to go the extra step toward making this a fun, homemade gift. The kid will love helping.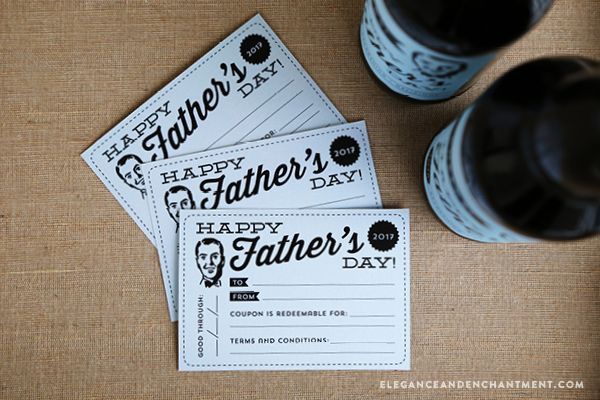 The gift of Father's Day coupons are a rite of passage — and when you get a whole pack of them, that's when you know you've made that complete transition into fatherhood. While there are tons of variations of fun DIY coupons out there, we're big fans of the retro look of the Father's Day coupon printables by Elegance and Enchantment.
They'd make an absolutely perfect Father's Day gifts for new dads who could use a little break from the daily baby grind; but we think older kids (and even us adults!) would have a good laugh filling out the terms and conditions for each redeemable coupon, too.
Related: 11 creative DIY Father's Day cards kids can make! Awwww….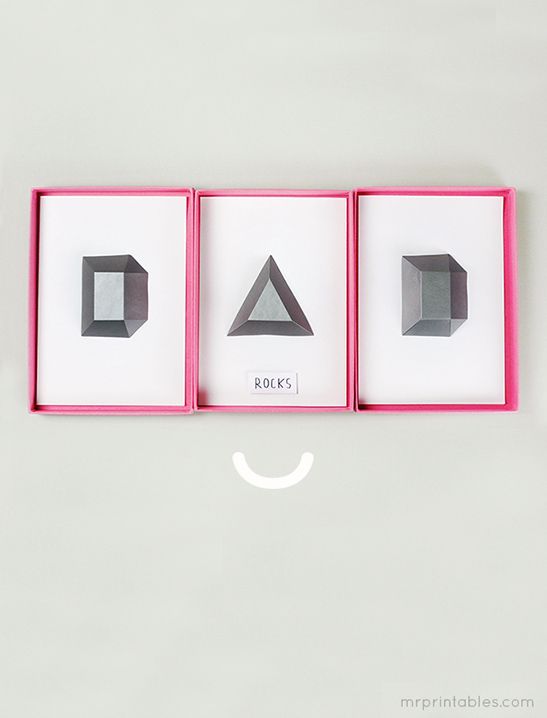 This Dad Rocks free printable and craft project by Mr. Printables is perfect for any dad who's into geology, typography, or hey — musicology. (Dad really does rock, right?) Kids will have fun following the instructions to create  those folded-up letters which look like real rocks you might find displayed in a museum exhibit.
Related: Last Minute Father's Day gifts you can make or order online right now!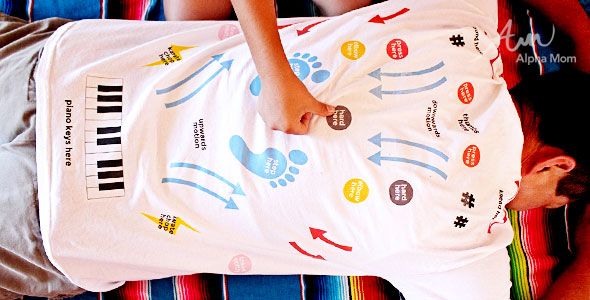 I'm giggling at this Father's Day gift idea that's guaranteed to give him the gift of complete relaxation: free printable decals for making a DIY back massage T-shirt found at Alpha Mom. Each of the little graphics and instructions are downloadable, printable, and tee-transferrable — and the website expertly and helpfully shows you where each goes.
Oh, and make sure you check out the front of the shirt too! Then, just pair with a pack of of those free printable Father's Day coupons, above, and fill them with variations of "free backrub." Lucky guy.