Do you like July 4th parties? I like July 4th parties. I mean, what's not to like? Sparklers, hot dogs, watermelon, friends — and I don't have to wrap any gifts! If you're planning on hosting a shindig — or just bringing something to a July 4th potluck — I've found these fun July 4th party supplies to help amp up the festivity quotient.
Besides wearing top-to-bottom red, white and blue. And why not? It's the one day a year you can do it without looking like a campaign convention delegate.
Printable July 4th Party Paper Stars – 6 designs or 12 designs (Pitoti)
These are so fun for DIY paper garlands, table decor, or just a craft for the kids. An instant download means you can grab them last minute for your July 4th party, too.
Bomb Pop and Hot Dog Mylar Balloons (Soiree Love)
Also sold separately, but they clearly go perfectly together. As bomb pops and hot dogs are wont to do.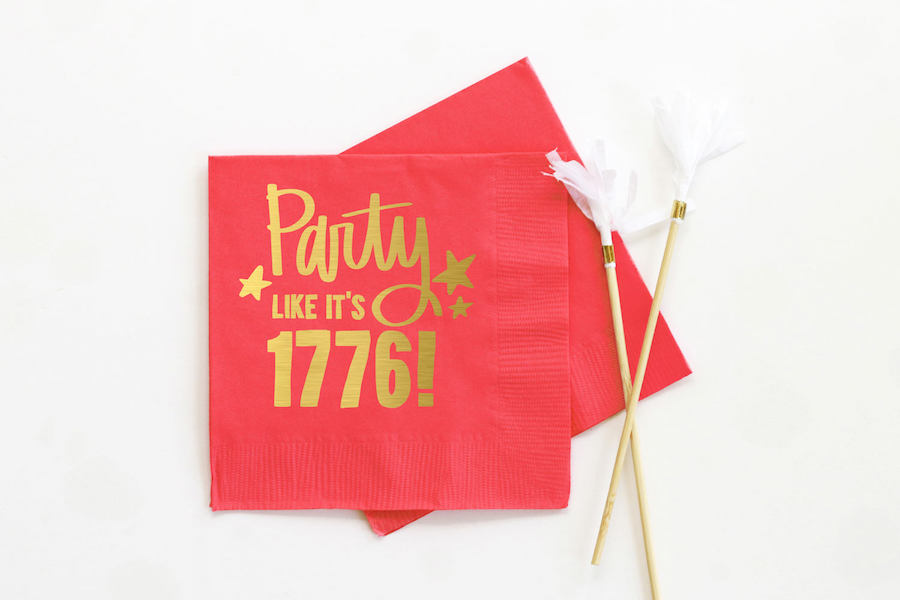 Party Like It's 1776 embossed paper napkins (When it Rains Paper)
I love these so much, I'd plan an entire party just to use them. I'm serious.
Red White and Blue Star paper straws (Just Artifacts)
The easiest way to turn regular lemonade, iced tea, or soda into something with a little July 4th flair.
Lincoln Scented Candle (JD and Kate Industries)
Love the candles in this shop! This one makes a great July 4th hostess gift, especially because it does not actually smell like Lincoln.
#Merica Doormat (Nickel Designs Shop)
Because America is the great melting pot where everyone is welcome. So come on in…the hot dogs are fine.