We are enamored of those tees for our kids featuring superheroes, pop culture references, rock bands, and sports teams. And they love them. In part because they know that we love that stuff, and they're pleasing us to show their allegiance to The Justice League or Nirvana.
But the truth is, when we also get our kids tees featuring microscopes, literary quotes, and quips about ambition and achievement, we're letting them know that we value learning, reading, and working hard to achieve goals.
Because we do.
That's why we're so SO happy to be partnering with an awesome learn to read app for kids that we all love. Homer is a brilliant subscription app that we've recommended for years, because it's such a smart, effective way to help kids 2-8 learn to read by tapping into their own interests to motivate them. (So yay for Homer, and welcome!)
Special offer for CMP readers:
Sign up with Homer and get two months free! 
What else gets kids excited about learning? Knowing that we're excited about it too.
So we've put together some of our very favorite smart t-shirts for kids that promote learning and education. Take a look and see if you're not inspired to want to learn more now, too.
CMP is an rstyle affiliate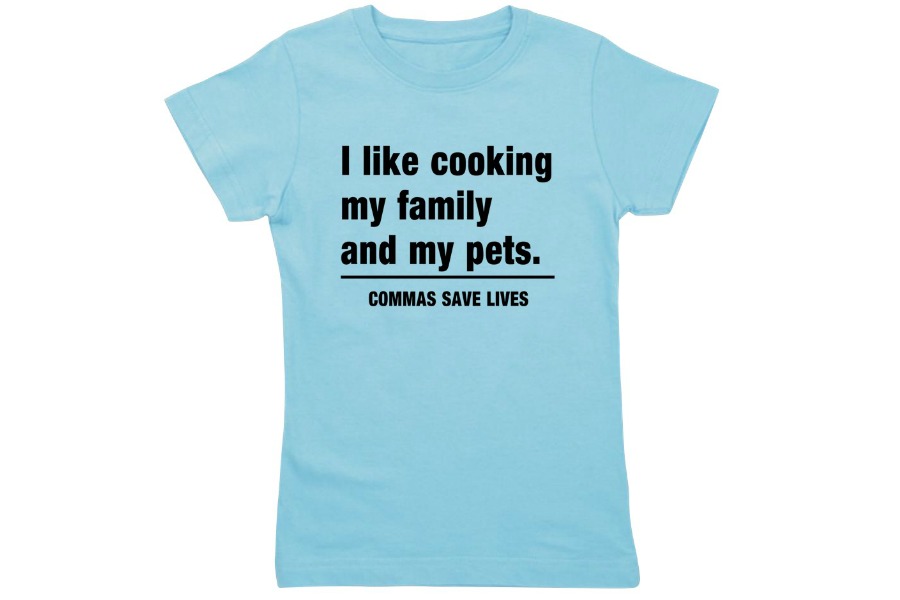 Commas Save Lives t-shirt | Matt for Cafe Press
(shown at top)
We can't stop laughing at this tee that totally drives home the point of the importance of proper punctuation better than anything we've ever seen. It comes in tons of fun kid styles — and adult sizes too. We may not be able to resist a matching set to wear with our kids!
Future Whatever I Want to Be | Catch A Wave Designs
We're all for the "future scientist," "future mathlete," and "future president" shirts for kids out there. Dream big, kids! But there's something incredibly awesome about this reminder of the endless possibilities that our kids can have.
Especially when they want to be a gymnast lawyer one day and a hockey-playing circus clown preschool teacher the next. (Sound familiar, parents?)

This Girl Asks Why Science T-Shirt | This Girls Tees
We've loved this kids' t-shirt since we included it in our roundup of awesome STEM t-shirts for kids. Because our kids should never be afraid to question things that seem confusing or wrong. In fact, when it comes to life and learning, why? may be most important question there is.
(And hey, it's a good reminder for us parents that when our kids ask why? 50 times a day to keep our patience, right?)
Mo Willems READ tee | NY Public Library Shop
There's no clearer way to express a passion for books than this tee that simply states, READ. Of course it doesn't hurt that it features some of kids' most beloved picture book characters: Mo Willems' Elephant, Piggie, and of course, The Pigeon.
Knowledge is Power T-shirt | K Gullholmen for Red Bubble
Featuring the powerful modern science trifecta of Bill Nye, Carl Sagan and Neil DeGrasse Tyson, this is a colorful and clever way to proclaim a love of facts, science, and the continued search for knowledge.
Grace Hopper Youth T-Shirt | Binary Axiom
Here's to Grace Hopper, the pioneer computer scientist who invented the first compiler for a programming language. Just wait until you catch your son or daughter explaining exactly who she is to their friend's parents who ask. It will be a moment to remember. (If this one is sold out, see other options at this cool shop.)
*******
About our sponsor
Because every kid is so different, every kid learns to read differently. That's where Homer comes in.
The experts behind this wildly popular learn-to-read app subscription know that the key to engaging kids ages 2 to 8 is focusing on fun. That's why they've built custom reading pathways with activities that are focused on what your own kid sparks to most: Butterflies? Pets? Spaceships? Robots? It's all there.
Watch as theHomer app creates lessons including videos, stories, and songs, around the topics that get your child most excited to learn more every day.
In fact, a recent study conducted by the former US Assistant Secretary of Education. So…wow. demonstrated that using the Homer app just 15 minutes a day can increase early reading scores by 74%. Whoa.
Parents can even track kids' progress on the app — up to four kids can learn at the same time on one membership.
Plus, you can take the app offline with hundreds of printable worksheets, mazes, puzzles, and other activities from Homer. All for less than the cost of a tutoring center or even a new workbook each month.
What a great way to watch your kids' love for reading continue to grow.
Special offer for CMP readers: Sign up for Homer and get two months free. Learn more through this link.
********
Hermione Granger Library Tee | Out of Print Clothing
Leave it to Hermione Granger to remind our kids that it's okay not to know all the answers — and that even the teacher's pet needs to look things up all the time. Besides, yay for libraries!
The Schulyer Sisters Work Tee | Jen Talley for Teepublic
It's never too early to introduce your kids to Eliza, Angelica…and Peggy. Their mantra, "work!" is the perfect message for an empowering kids' tee, especially with the adorable illustration of the trio inspired by the Hamilton musical. Because whatever your kids want to be in life (including starring in a major Broadway musical), it's going to take…yep. Work.
The Book Was Better Youth Tee | Kidteez
Some of our favorite movies were adapted from books, but we subscribe to the rule that if our kids want to see the movie, we need to read the book together, first. Thanks to this shirt for helping them understand why. (Really, isn't the book pretty much always better?)
Giraffe Book Lover Tee | Lim Heng Swee for Threadless
If your kid values books more than pretty much any other gift, this tee will be a perfect fit. It may also make them wish they were a giraffe so they could reach that top shelf a little more easily.
Dream Like Martin Shirt | MMofPhilly
For preschoolers and lower graders, a kids' t-shirt featuring trailblazers like Martin Luther King, Jr., Maya Angelou, and Rosa Parks can be a terrific way to start some important conversations about persistence and passion. What an amazing list of role models who demonstrate that powerful words and ideas endure.
Thank you so much to our sponsor Homer for inspiring kids to read with such a wonderful personalized reading app for kids that's affordable too.
SPECIAL OFFER: Sign up for Homer right now and get a 2-month free trial — that's an additional month free, just for being a Cool Mom Picks reader. *You'll need a credit card of sign up for the trial, but you can cancel anytime without charge. After you sign up, you'll receive an email with all the instructions you need for downloading Homer.