The holidays and gift cards go hand-in-hand, especially if you're a busy last-minute shopper like so many of us, or you're shopping for a picky relative who really just wants to choose their own gifts! But still, you want to make those gift cards a little special, right?
So if you're If you're bored with the boring gift card boxes and off-the-shelf gift card envelopes, I've tracked down such cool ways to present those holiday gift cards to make them that much more gifty and creative.
CMP is an Amazon and rstyle affiliate.
Related: The ultimate list of amazing last-minute holiday gift ideas for everyone on your list!
For Amazon or Local Bookstore Gift Cards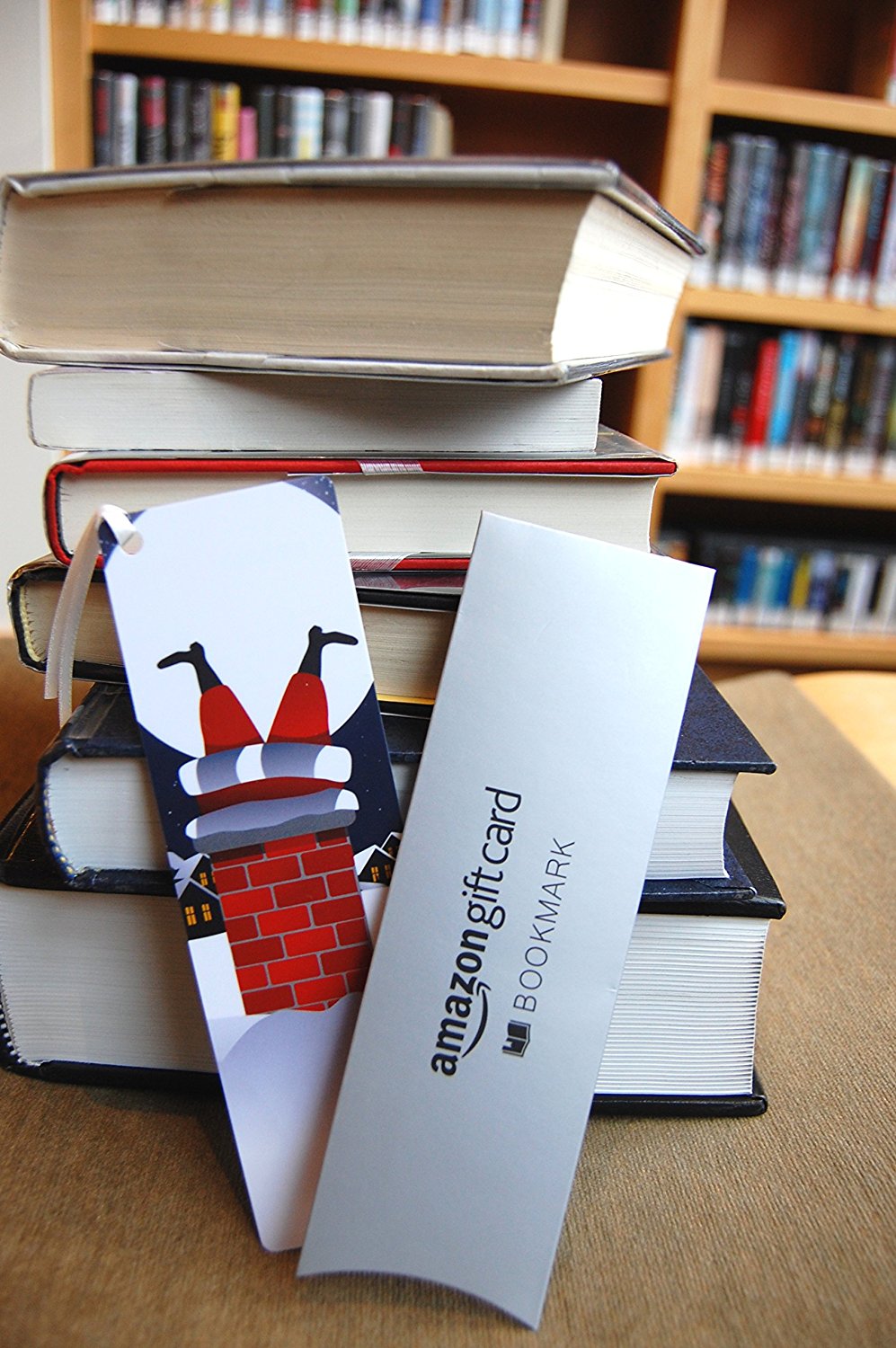 Yes, everyone can use an Amazon gift card for anything at all, but did you know you can order or print it as an Amazon gift card bookmark? Nice hint to a tween or teen who you want to gently nudge into the "books" section of the site.
We also love supporting local bookstores (check out our suggestion for women-owned bookstores around the country!) and any card at all can be tucked into a book, whether you're shopping for young readers, YA fans, or oh…say, someone who'd be into the best-selling autobiographical nonfiction of the year.
For Coffee Shop Gift Cards
Coffee lovers everywhere always want another cup, and lucky for us, those travel mugs make great wrapping. You can get thrifty and go to your local coffee shop to request a clear to-go cup, buy a reusable one there — or splurge on a great travel mug like the YETI which Kristen swears by! Pack the cup full of candy and tinsel, complete with a tag and ribbon.
Don't forget to stick your gift card inside!
For Music Gift Cards
If you're giving an Amazon music or Apple music gift card, present it with earbuds (or earplugs, ha!) to make it more fun. Or download this free printable DIY cassette tape gift wrap from our friends at Handmade Charlotte, particularly with the holiday wishes and Christmas carol lyrics written on the cassette ribbons.
Not feeling so crafty? Pop a gift card in an old cassette case that you might have lying around and get creative writing your "Mixtape" message!
For Beauty Gift Cards
Wrap a gift card to Sephora, Ulta, Nordstrom, or any great department store in a DIY mini-basket mason jar like this gorgeous one by Classy Clutter. Click over for her tips on what you can use to fill the jar. (We like the idea of a pair of false eyelashes!)
You can also tie the card around a single cosmetics brush with a beautiful bow, or get a little glamorous by placing it in a glitter painted jewelry box or tin.
Related: Stranger Things gift ideas for your obsessed friends. (That's all of them, right?)
For Crafting Gift Cards

What's the best way to give a gift card to Etsy or Michael's or a local knitting shop? Definitely in a surprise yarn ball gift card holder  like this amazing idea by BuzzFeed DIY on Etsy Journal. They will be so excited to see what's inside.
PS Have you entered our$500 Etsy gift card giveaway for our 2017 holiday gift guide? Do it! No yarn balls guaranteed though.
For Movie and Entertainment Gift Cards
Even this urban mama loves the ideas I see at Country Living, and their creative list of DIY gift baskets has not let me down. If you're giving a movie gift card from Fandango or a local theater, check out their instructions for DIY freshly popped popcorn kit complete with seasoned popcorn recipe. (Though maybe tape the gift card outside so it doesn't get full of spice blend!)
Not enough time to shop in advance? Visit your local theater or dollar store for a popcorn bag and DIY with your gift car inside.
Or get creative with cards for other entertainment options: Gifting to a Stranger Things fan? Attach a Netflix gift card to a box of Eggos.
You can also make an entertainment gift more fun by turning it into dinner and a movie. This free dinner and a movie printable by Gift Card Girlfriend Shelley Hunter is a great way to do it.
Or make it easy on yourself, and slide your gift card into a pack of their favorite movie candy, like Junior Mints, or hey, even make your own movie theater candy!
For your biggest sweet tooth, stuff a stocking FULL of jumbo movie theater candies and pin a Fandango or theater gift card on the front.
For Restaurant Gift Cards
The best restaurant wrapping ideas are representative of the kind of cuisine you're offering. For Chinese, go to your local Chinese restaurant and ask for a take-out container then embellish with ribbons and tags. You can even stuff it full of fortune cookies. (Not rice!)
For Italian, tie the gift card to a big, wrapped bow around pretty bottles of oregano or olive oil. For a local favorite brunch spot, present it with a small bottle of yummy maple syrup. Mmm.
For Candy or Dessert Gift Cards
I had no idea that repurposing a milk carton like this DIY from BHG could be such a fabulous way to present a batch of cookies with a gift card!
For the DIY wrapping they cut away one side of a quart-size paper milk carton and decorated with brown parchment paper and straws. This would be fun if you're printing out an e-gift card from Sugarwish or Sugarfina or Dylan's Candy Bar, too.
Related: Cool craft kits for creative kids who want to make their own gifts.
For Retail Store Gift Cards
These DIY gift card snow globes spotted Smarty Had A Party are…smart for holiday party favors or anytime you want to give a great gift card to a shop like Target or Nordstrom which offer such festive looking cards to begin with. The kicker: These are serious, real deal snow globes complete with water. What??
For Sporting Goods or Events Gift Cards
Short on time?This DIY sports themed gift bucket by Hoosier Homemade is a great project and even little ones who might be gifting to cousins or friends can help put it together. You can also swap in a white cup if you don't have a bucket handy. They have lots of ideas for what to pack inside along with that StubHub or Modell's gift card.
For Photo Gift Cards
If you've procrastinated on printing those family photos as gifts, then no doubt someone else on your list has too, and would love a Shutterfly gift card as an excuse to get moving. Here are tips for repurposing an old picture frame – it would be so nice to place a Shutterfly gift card inside, where a future family photo will soon be.
For Cash Gift Cards
Lots of people enjoy getting cash but it's not inherently very gifty. A super fun way to give the gift of Amex or Visa is inside a glitter dipped balloon. If you've never dipped a balloon before, then thankfully the post on One Artsy Mama has you covered with a detailed tutorial. Just remember to place your gift card inside before you blow up the balloon. And maybe offer a suggestion that your giftee pop it outside. I mean it is glitter after all.