Once again, we're happy to have compiled the best lists of all the best children's books of the year, curated by the top publishers, reviewers, organizations, and bloggers we respect. And boy, was it a fantastic year for children's literature and storybooks.
You'll surely find lots of great new discoveries from the New York Times to the American Library Association, from NPR to well-curated blogs like Brainpickings and Brightly and…well, us!
So start with our own list of the best children's books of 2016, then check out some other perspectives. We bet a few of your kids' favorites will be on here, and you'll surely find some new ones you'll be excited to add to your bookshelves, pronto.
Find all these books through our affiliate Amazon, visit your library or support your local indie bookstore.
Related: The ultimate list of the best kids' books of 2015
The ALA Major Book Awards of 2016
We always pay attention to the big award winners each year because they usually include many of our top picks too.
While we've highlighted the winners, be sure to click through each one to see the honor books too. And hey, don't miss the ALA's 10 Alex Awards for the best adult books that appeal to teens, for those of our voracious older readers who are putting their library cards to good use.
First up, two authors were recognized for their overall bodies of work this year: Jerry Pinkney won the Coretta Scott King/Virginia Hamilton Award and the Laura Ingalls Wilder Award for his substantial and lasting contribution to children's literature. Whoa. David Levithan also won the Margaret A. Edwards Award for lifetime achievement in writing for young adults. Huge congrats to both of them.
This year's other award winners are:

Finding Winnie: The True Story of the World's Most Famous Bear illustrated by Lindsey Mallick and written by Sophie Blackall
The award for best illustrated book went to the delightful true story behind the inspiration for Winnie the Pooh, a real bear who befriended a military vet during WWI, which we also called out last year in our best-of roundup.
Last Stop on Market Street by Matt de la Pena and illustrated by Christian Robinson
It's rare to see an illustrated book win the award for excellence in writing, but we were thrilled to see one of our favorite books of last year earn the honor for its beautiful glimpse into culture, family, and community.

Gone Crazy in Alabama by Rita Williams-Garcia
The award for excellent African American author goes to Rita Williams-Garcia for her final volume in the Gaither Sisters trilogy, which follows the girls from their home in Brooklyn to the rural South for a summer they'll remember forever.
Trombone Shorty illustrated by Bryan Collier and written by Troy Andrews and Bill Taylor
The award for African American illustrator goes to Bryan Collier for his stunning illustrated biography of the trombone player from the Tremé neighborhood in New Orleans who beat the odds to become one of the world's celebrated jazz musicians.
Hoodoo by Ronald L. Smith
This book was recognized as the Coretta Scott King and John Steptoe award for new talent. Set in the swamps of 1930s Alabama, this is a dark story about magic with a dose of humor thrown in too.
Voice of Freedom: Fannie Lou Hamer, Spirit of the Civil Rights Movement illustrated by Ekua Holmes and written by Carole Boston Weatherford
Another one of our top picks for empowering books for girls, the Steptoe winner for illustration is this biography told in poetry and collages about one of the most influential voices of the Civil Rights Movement.
Related: 6 terrific children's books about the arts to inspire young painters, musicians, and writers.
Bone Gap written by Laura Ruby
A story about a classic hero, a pretty boy and a beautiful but damaged girl who goes missing is the winner of this award for excellence in YA literature. The only problem is that the witness can't remember who took her, or even if she went willingly. An impressive look at how our worldviews change over time.
Emmanuel's Dream: The True Story of Emmanuel Ofosu Yeboah by Laurie Ann Thompson and illustrated by Sean Qualls
We're moved by many of the artistic expressions of the disability experience this year, and the winner for books for kids ages 0-10 is the remarkable true story of a boy from Ghana who rode his bike 400 miles — even with a leg deformity — to spread the message that disability is not inability. (ages 0-10)
Fish in a Tree by Lynda Mullaly Hunt

A troublemaking girl with dyslexia meets a teacher who is willing to see the bright, creative kid behind the mask. (ages 11-13)
The War that Saved My Life by Kimberly Brubaker Bradley
Ada has never left her apartment because her mom is ashamed of her club foot, but when WWII breaks out in London she has to move to the countryside — where she discovers what she's truly capable of. (ages 11-13)
The Unlikely Hero of Room 13B by Teresa Toten
An endearing hero with OCD meets the girl of his dreams and determines to save her from her own demons. (ages 13-18)
Related: 8 outstanding books that teach empathy for those with special needs
Drum Girl Dream by illustrated by Rafael Lopez and written by Margarita Engle
This award for excellence in Latin American illustration is one we also picked as one of our favorite empowering books for girls this year, because the bright illustrations make this vivid true story so fun.
Enchanted Air: Two Cultures, Two Wings: A Memoir by Margarita Engle and illustrated Edel Rodriguez
This powerful memoir about a Cuban-American girl growing up in Los Angeles during the Cold War has won many awards beyond the Pura Belpré, which recognizes excellence in Latin American writing.
George by Alex Gino
These awards recognize outstanding LGBT themes in children's and YA literature, and this year the winner is a novel that tackles the intricacies of the transgender experience for middle schoolers with respect, validation, and the promise that it does…eventually…get better.
The Porcupine of Truth by Bill Konigsberg
A turbulent story about mystery, deception, family estrangement, coming out, and coming of age for high school aged kids and up.

Funny Bones: Posada and His Day of the Dead Calaveras by Duncan Tonatiuh
With the increasing popularity of Day of the Dead art in recent years, this is a fascinating read into the political history of how these symbols rose to prominence in Mexico and beyond that won the ALA's medal for non-fiction book of the year.

Don't Throw it to Mo! by David A. Adler and illustrated by Sam Ricks
Mo loves to play football, and even though he isn't the best on the team he still completes the special play to win the game in this simple starter book that won the award for best book for beginning readers.
Simon vs. the Homo Sapiens Agenda by Becky Albertalli
The Morris award goes to a debut author writing especially for a YA audience, and this year's winner, Becky Albertalli, has created a geeky love story meets coming-out story meets coming-of-age story, packed with plenty of timely teen references and capped off with a neat happy ending that readers are loving.
Most Dangerous: Daniel Ellsberg and the Secret History of the Vietnam War by Steve Sheinkin
Serious history buffs will love this investigation into the Pentagon Papers that shows how a government agent turned into a whistleblower to expose the governments secrets during the Nixon Cold War era. While the award honors young adult authors, this is a great book for even adult readers.
Related: Girl power! Our 10 new favorite empowering books for girls

March: Book Three by John Lewis and Andrew Aydin, illustrated by Nate Powell
The National Book Foundation has seen fit to award this high honor to the third graphic novel in the powerful Civil Rights trilogy which happens to be co-authored by none other than Rep John Lewis, who lived the early days of the movement first-hand. Book Three leads up to the historic march on Selma. And if you haven't already exposed your kids to this series, we highly recommend going ahead and getting all three books at once. In fact, they should be mandatory reading in every classroom.

Each year we appreciate the selections of the New York Times book reviewers and editors, because their picks are always creatively written, thoughtful, and artful — the kinds of books parents want to read as much as our kids do.
Most of the titles hail from major publishers, which means you won't have to special order them at your bookstore or put in a request at your library to get a hold of them.
From the illustrated book list, I'd start with my favorite of this year: The Journey by Francesca Sanna. Then pick up the lovely Carson Ellis's imaginative Du Iz Tak?, written in an entirely made-up language.
As for chapter books, Pax by Sara Pennybaker is a lovely story about a boy separated from his pet fox, told from both perspectives. And The Sun Is also a Star by Nicola Yoon, about a soon-to-be-deported Jamaican girl who falls for a Korean-American boy, is on my bedside table right now.
Related: Beyond Oh The Places You'll Go: 8 inspirational books for young children that become keepsakes
Publisher's Weekly is the standard for book reviews in the publishing industry, and because they review copies of nearly every children's book published each year, they have quite the perspective.
If a title gets reviewed at all, it's notable; if it makes their best-of list, you can trust that it's a book you and your kids will love.
A few of our own Cool Mom Picks favorites made this list, like the inventive This Is Not a Book by Jean Jullien, which my kids cannot quit playing with. Also, Jon Klassen's We Found a Hat is the third in the delightfully minimalist series we can't resist — and one of our own picks for best children's books of 2016.  Ghosts by Raina Telgemeier made that list as well, in addition to our list of fantastic empowering graphic novels for girls. And Matt Phelan's moody graphic novel Snow White reinvents the fairy tale by setting it against the backdrop of the roaring twenties

Amazon's comprehensive list is is littered with bestsellers and critically acclaimed books, with few surprises. That said, it's one of the few places where you'll find the best books of the year divided by age, from birth to teen, which can be so helpful for those of us looking for the perfect, age-appropriate gift for our kids.
Some highlights range from the late Anna Dewdney's latest Llama Llama Yum Yum Yum! and the ambitious Baby Loves Aerospace Engineering (ha!) by Ruth Spiro and Irene Chan.
We're glad to see favorite Mo Willem make the list with his new Nanette's Baguette. And be sure to check out the cheeky Narwhal: Unicorn of the Sea by Ben Clanton; and picture book author Peter Brown's smart chapter book, The Wild Robot.
Related: Turning kids into readers: 3 simple tips from LeVar Burton to help your kids get excited about books
I always turn up the volume when I hear adult book reviews come on NPR because the analysis is always so insightful and aligned with my own tastes. I tend to agree with their recommendations more often than not; or, at least their reviews provide enough specific, helpful info for me to know if I should skip it.
The same goes for their children's books reviews, and I even if I already own the book, I usually take a second read-through after hearing their review in  order to glean new perspectives and angles I may have missed on my own.
Like many reviewers this year, they're calling on us to read and share Kate Di Camillo's Raymie Nightingale with the girls in our lives. We all shared NPR's enthusiasm for They All Saw a Cat by Brendan Wenzel which teaches kids to see things from others' perspectives in such a creative way.  And I can't wait to pick up the stereotype-breaking Don't Call Me Grandma by Vaunda Nelson and Elizabeth Zunon which we imagine our own kids' grandparents and great-grandparents would love to read to them at bedtime, too.
If you're looking for diverse books — and yes, we know they can still be harder to find than they should in 2017 — this list created by the Children's Literature and Reading Special Interest Group is a great place to start.
They always include educational stories that inspire and enlighten our kids as to the ways people live differently all over the globe; while biographies tend to feature significant leaders of color throughout history.
This year, highlights from their list of the best children's books include Maya's Blanket by Monica Brown and illustrated by David Diaz, a bilingual story about the journey a little girl's handmade blanket takes. Red by Jan De Kinder is a poignant Belgian story about bullying. And In the Footsteps of Crazy Horse by Joseph Marshall III and James Mark Yellowhawk tells the tale of the legendary Lakota warrior.
Related: 13 great fantasy and adventure book series for tweens.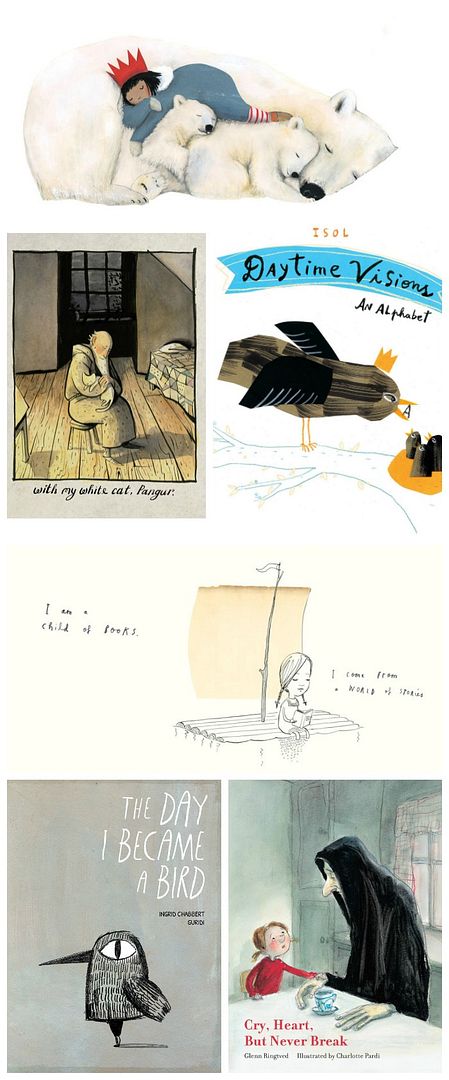 I always want to read every single book featured on Brainpickings  because they're artful, thoughtful books that challenge and enchant both me and my kids. Their Best of 2016 List features off-the-beaten-path books you may not see on the front table at your local bookstore — unless you are lucky enough to have a very cool indie bookstore in town. Also, their reviews include dozens of pictures, so you really get a great sense of what each book is about as you read through.
These are the kind of books you'll cherish and keep in your library until grandkids come along.
Take a look at all of their picks, which include the heartbreaking book about death, Cry Heart, but Never Break by Glenn Ringtved and Charlotte Pard;  the delightful modern retelling of an ancient German poem in The White Cat and the Monk by Jo Ellen Bogart and Sydney Smith; and one of our own big favorites for children of 2016, A Child of Books by the prolific Oliver Jeffers and Sam Winston.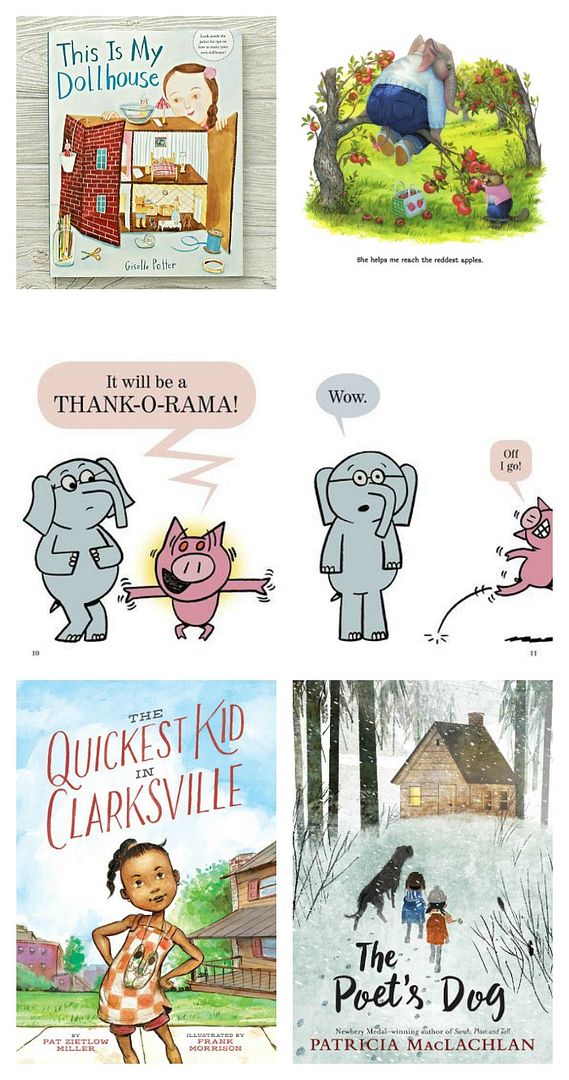 Brightly is one of our go-to sources for kids' book recommendations, and each year their staff members each pick their favorite books to share with their readers. (Hey, kind of like we do!) This year, they focused on the books that stuck with them most. I love that idea, and some of the books they've chosen are the ones we keep returning to this year as well.
If you don't know where to start, be sure to grab a copy of The Quickest Kid in Clarksville by Pat Zietlow Miller, which we included in our empowering books for girls post.
And we can't close out 2016 without a nod to the last (sniff) Elephant and Piggie book by Mo Willems: The Thank You Book. It's been a constant re-read for my own kids, and from him, we'd expect no less.