After putting together a list of ways to help the first responders and victims in the California Camp and Woolsey wildfires, we knew right away that we wanted to start collecting gift ideas that help support and give back to first responders.
I for one have been totally undone by the images of our nation's incredible firefighters this year in particular, and I'm so touched that so many companies big and small are donating a percentage of holiday sales to help support them and their families.
If you're as amazed by their courage and dedication as I am, and you're looking for a gift that gives back this season, consider one of these gifts for someone in your life who'd be touched to support a terrific cause too.
CMP is an rstyle affiliate. 
Related: How to help the California fire victims, from evacuees to animals to first responders
Last year, our list of gifts for men that don't suck included Fire Dept. Coffee, in part because it gives back to firefighters with 10% of sales. But I'm happy to say that the help goes far beyond a percentage of sales. These delicious and spirit-infused blends, are hand-roasted by actual firefighters who started the company to give back to their ill or injured colleagues. You can learn more on the Fire Dept. Coffee website.
If you're planning to give coffee (or tea or hot cocoa), make it giftier by pairing it with this sweet California mug from Etsy shop Sprinkled with Pink for a well-rounded, wrappable present. 100% of the proceeds from this mug as well as the cool California heart mug and several others, will be donated to the Los Angeles Red Cross, which makes me want to buy even more from this shop.
This high-end, 14k gold California pendant in yellow, white, or rose gold is gorgeous, and the fact that 25% of the proceeds from every purchase goes to the Disaster Relief Fund of the International Association of Fire Fighters to help take care of first responders and their rown families, makes it even more meaningful. Especially if the person you're shopping for has a special connection to the Golden State.
I get a laugh out of this naughty and nice soap gift set from AHA Life, and while it's featured in our 2018 Holiday Gift Guide as a top gift idea for your mother-in-law who's hard to shop for, I know plenty of people on my list who'd love it — and who'd also be moved to know that $5 of the price is donated to help first responders. In fact, check out the entire AHA Life shop for more gift ideas; $5 of every $50 purchase goes to the California Fire Foundation.
Delicora Jewelry is a Santa Monica-based shop that donates 20% of its profits to a different charity each month, and from now until February 28, 2019, the funds will be donated to the California Fire Foundation. I love that each piece is handmade and elegantly understated but modern, like this gold-filled star lariat necklace, or their pretty mother of pearl hoop earrings.
Related: 35 fabulous gifts that give back to 35 fabulous causes. 
If you're shopping for a guy who's tough to buy for and has his heart in a good place, check out this cool Golden State t-shirt by America By Design Goods. 10% of the profits also go to the IAFF's Disaster Relief Fund, so you can feel good giving it and they can feel good wearing it.
For a sweet stocking stuffer that supports first responders, check out this California enamel pin from The Gush Company. 20% of the profits will support the California Fire Foundation if you buy before the end of December. Plus, I think wearing it is a great way to keep remembering our first responders in California long after the holidays are over.
Some parts of California are still recovering from last year's forest fires, and this Sonoma tea towel from Giftify is helping to make a difference to those still rebuilding. $5 from each tea towel goes to the North Bay Fire Relief Fund. I think it would pair perfectly with a bottle of wine from a Napa, Sonoma, or Mendocino vineyard most impacted by the 2017 fires,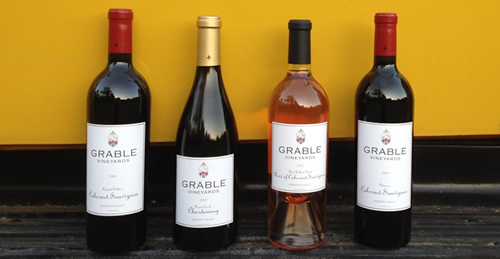 Another gift idea to support first responders for a wine lover in your life: Grable Vineyards is offering select Magnums of their limited production Cabernet and Chardonnay, with a full 50% of the sale price supporting the Camp Fire Relief Fund. Be sure to join their list to be able to join, and order soon!
If you're buying for a beer drinker instead of a wine lover, you can still help support California's recovery efforts with purchases of the Sierra Nevada Resilience IPA, which they brewed specifically to help raise funds for the wildfire victims. Sierra Nevada has distributed the recipe to over 1,000 breweries around the country to help get this beer brewed, with the hopes it will be available to purchase by December 17th. So keep an eye out in your local shop.
And of course, you can always make a contribution to a great charity in the name of someone you love. For those of us blessed to have all we need, $5 or $10 or $100 donations in our name to an organization that helps keep first responders and their families healthy and working is one special holiday gift.