Honestly, we have never done a dedicated guide to home office gifts for moms, even if we have incorporated home office gifts for her throughout our other Mother's Day gift guides, and especially on Cool Mom Tech. But these days, with more moms than ever working from home (if only part-time), it seems like a good time to share some home office gifts for moms that she'll actually love.
These  lovely home office gifts for moms (and grandmas!) not only celebrate her hard work, but help her know just how much it's valued by the rest of the family.
Even if you don't have an extra room you have converted into a dedicated home office (my dream!), we've found some wonderfully practical, but still thoughtful, home office gifts for her on Mother's Day that she can use to make her work space special.
Possibly even a calm away from the storm of parenting at the same time. But that's another story. – Kate, with Liz
This post contains affiliate links, which means we may receive a small commission from certain purchases to help support the work we do at no additional cost to you.
Related: 10 Mother's Day tech gifts that will make quarantine a little more enjoyable
Our favorite home office gifts for mom right now
A beautiful photo of the kids for her desk 
$55, Artifact Uprising
Even though the kids may be right on the other side of her office door, a lovely photo of her favorite family members in a gorgeous new frame to spruce up her desk is a really sweet home office gift for mom.
A do not disturb sign
$10, Amanda Irwin Art
If she has tweens or teens at home, this "mom is working" doorknob hanger is a great way to remind them that she's off-limits for the moment. If she has little ones, consider pairing it with a gift card for childcare, too. She'll be grateful. Especially when school's out.
"Open to new ideas" letter opener from See Jane Work
$13.90, Office Depot 
If this meant I could quit walking to the kitchen for a butter knife every time I had to go through our bills, then I would be definitely "open to new ideas" — as in, actually using this cool letter opener.
Selfie light for all those Zoom meetings
$69.99, Amazon
It's clear that Zoom calls are here to stay. And a light that makes me look like I actually got a full night of sleep when I'm zooming with coworkers, teachers, or clients will suffice until I can get an actual spa day — and actual sleep.
While you're add it, throw in a Zoom subscription if she doesn't have one, so her video conferences don't shut off mid-sentence.
Oof.
Related: 18 meaningful Mother's Day gifts for the far-away mom or grandma you really miss
Waterproof faux leather desk mat 
$15.99, Amazon
Even if a brand new desk isn't in the budget as a home office gift for mom this year, this affordable (and so pretty!) desk mat will give any old table a glow up. Also, waterproof! And as those of us coffee drinkers know, that's essential. Comes in lots of colors besides pink, too.
Temperature-controlled smart mug and warmer set 
$89, Nordstrom
Yeah, it's pricey. But Liz swears by hers! (Read her full review here.) In fact it may be our most coveted item on this list of office gifts for mom on Mother's Day. Because the gift of always-hot coffee at the perfect temperature when we're too busy to remember to drink it until 11 AM — yes, please.
Related: 8 wonderful Mother's Day gift book ideas to celebrate all she is, and all she loves.
An inspirational print for her home office area 
$7.24 printable, Seaside Shed Studio
Working from home can be exhausting and challenging, but an inspirational print for her desk or office wall may give her a little extra boost of motivation. Frame it small for her desk, or let her hang it on a wall; this one from a UK designer happens to be a lovely reminder that what she does has impact.
A tiny houseplant in a fun desk planter
Prices vary
I'm all about the houseplant trend that blew up during the height of quarantine, and I would love a fun new planter (like this one from Ceramic Sense, above e) as a special home office Mother's Day gift. In fact, our readers have been loving it since we shared it — so glad it will give so many of you a little joy at home!
Then again, you could always go with a homemade planter the kids decorate themselves like the one shown here, with a tutorial from I Spy DIY. Handmade gifts for home office are always special.
Related: 9 beautiful flower alternatives for Mother's Day that last a lot longer than a bouquet
A useful laptop stand 
$59.99, Twelve South
It's amazing how much better your neck feels when you're not looking down at your desk all day long. This stand from one of our favorite indie tech companies does the job, and does it with style. (But hey, feel free to throw in a coupon for a free neck massage, too. No mom would ever say no to that!)
Shiatsu foot massager
$67.99 on sale, Amazon
Speaking of massages, I love the idea of hiding one of these shiatsu foot massagers with air compression (ahhhhh) under my desk. In fact you can hide it under her desk with a bow on it for Mother's Day for a sweet surprise.
Related: 20 of our favorite self-care gifts for moms and grandmas | Mother's Day gift guide
Theragun Elite Therapy Massager 
$399, Nordstrom
Also at Amazon for $390
If you love the massager idea, and you really want to splurge on something extra special to help her get out those neck kinks from WFH life, this high-tech, app-connected, Bluetooth therapy massager kit gets super high marks from athletes and desk jockeys alike. In fact Liz has one herself at home and says it's truly magical — and she spends a lot of time at her desk!
Custom photo calendar
$39, Minted, plus discount, below
By now, she probably has a decent planner (or see this list if she doesn't), so I love the idea of a small calendar as a home office gift for a mom. He, we will never say no to a gift that helps us stay organized and gaze nostalgically at our (absolutely quiet) kids. Add some color-coded metallic pens for marking projects or big days, and it's the perfect home office gift for an organized mom.
Rifle Paper Co pencils and a pretty pencil holder 
$12-14, The Container Store
It's not weird to swoon over pencils, is it? I hope not because I'd totally love this for Mother's Day for my own home office. They're so pretty!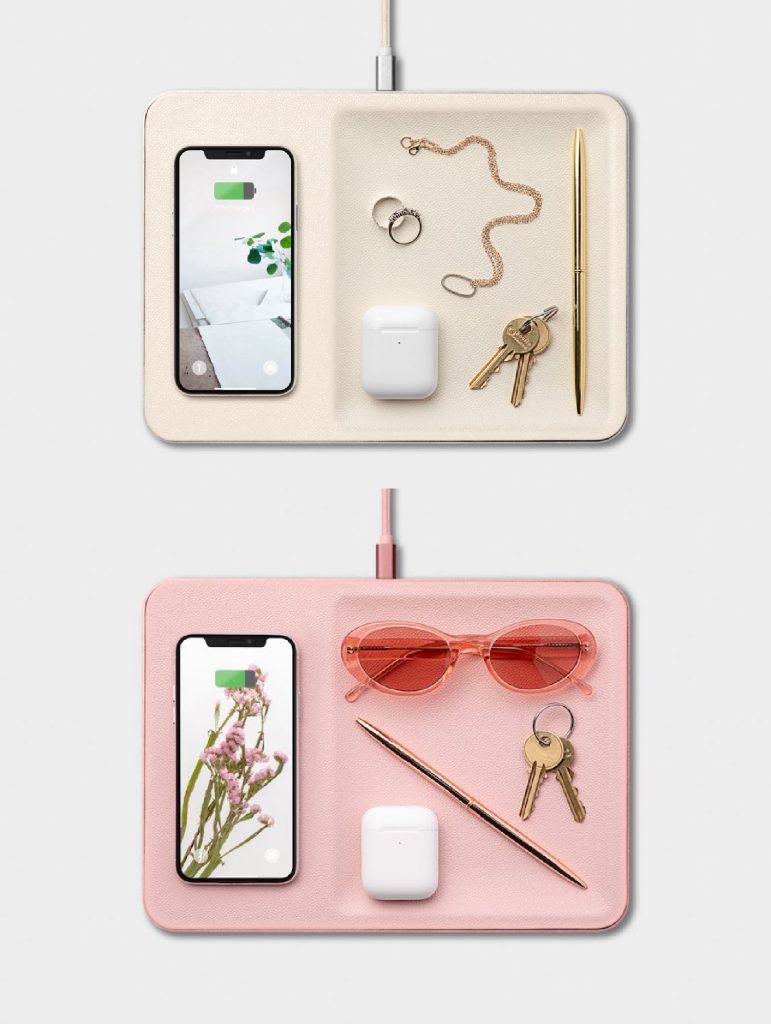 Catch 3 wireless charging station 
$140, Courant
You can either give her a retina-scanning padlock so the kids won't steal her favorite phone charger — or check out the gorgeous charging trays for her desk from Courant, in several fantastic colors. (Hint: go with the charging tray.)
Mother's Day candle
$35, Here for the Burn
Maybe she needs a note of encouragement…
…maybe she needs a laugh. Either way, this fun company has some great labels and lots of nice scents to choose from. They even have custom candle labels if you order soon.