We've been thinking about creative Father's Day gifts for a while now, and how much the idea of gifting has changed over the past year. We've always valued experience gifts, together time, and keepsake Father's Day gifts from the heart, but this year more than ever.
If you're looking for a creative Father's Day gift for a hard-to-shop-for dad, grandpa, or stepdad, we adore these ideas that aren't just more "stuff." In fact, we're so happy that this post in sponsored by our friends at TilePix, because they make one of the most sentimental, sweet, and beloved personalized photo gifts for dads, allowing you to easily personally a whole memory wall of photos or create a mosaic style design. (Plus, get 60% off your first order of 12 or more TilePix with promo code COOLMOMS, whoo!)
Happy shopping — I hope you find the perfect Father's Day gift idea in time for June 20.
And of course, never forget the homemade or hand-written Father's Day card. That may mean the most of all.
Related Guides You Might Like: 
15 cool but practical Father's Day gifts
19 cool subscription gifts for dads
Creative Father's Day food gifts
DIY Father's Day gift ideas the kids can make
Creative Father's Day gifts for hard-to-shop-for dads
We know that some dads are blessed to have everything they need. Unfortunately, a lot of searches for "unique gifts for dad" yields some uh…weird stuff! So I've put together some thoughtful, creative Father's Day gift ideas that we really adore for our own dads, grandpas and stepdads in our lives.
Whatever your budget, whatever his interests, the idea is to show him that he's loved, he's valued, and you honor all he does for his family — and with his family.
1. A clever Daddy and Me Tee Set
You may not have a lot of years while your kids are still willing to wear a matching shirt with Dad, so take advantage with some cute sets for younger kids!
We first discovered this shop when we rounded up 12 of our favorite daddy and me t-shirt sets for creative Father's Day gifts, and they've added some fabulous new designs. But I still have a heart for the subtle, scienc-y, Big Dipper/Little Dipper t-shirt set, since they look cool whether worn together or each individually. (And even your tweens and teens would probably dig them.)
($58, Blackbird Designs but hurry for a 20% discount storewide)
2. A new video game to play with the kids
We love experience gifts, but for dads and grandpas who may not be hopping on a plane for a vacation or hanging in a big stadium just yet, gaming time can be meaningful together time too. Consider a new multiplayer game for his gaming system, something collaborative, competitive or cooperative.
A few ideas depending on the age of the kids:
– Rocket League (PS4, PS5, Switch, XBox One, PC, Mac)
– NBA 2K2021 (PS4, PS5, Switch, XBox, Stadia, PC)
– FIFA21 (PS4, PS5, Switch, XBox Stadia, PC)
– Super Mario 3-D World + Bowser's Fury (Switch)
– Monster Hunter Rise (Switch)
– MarioKart Live Home Circuit (Switch)
($19.99 and up, Amazon, also available for instant downloads)
Of course if he doesn't have his own Nintendo Switch yet, he probably won't be mad to get one so he can play head-to-head with the kids. A new wireless controller for his gaming system and other accessories are always fun Father's Day gifts, too.
Related: Creative Father's Day gifts for gamer dads 
3. A pampering gift he'd never buy himself 
Does he just grab whatever's on sale in the drugstore? Dads deserve self-care and pampering  too! Help him step up his own skin-care routine with the Charcoal Detox Face Mask from Buttah Skin. Dorian Renaud created this Black-owned business specifically to offer beautiful solutions for melanated skin — for both men and women.  ($24, Nordstrom)
Alternately, check out this cleverly named Hard Days Work grooming kit, for all he does. It includes all-natural skin and body care products like a charcoal soap, shampoo bar, lip balm, bath soak and more, all of which is handmade in Pittsburgh by Marit Aagaard and Jeff Lovett. You can always find something cool in a high-end local chemist or fancy grocery, but you know we love supporting mom-and-pop businesses.
($49, Uncommon Goods)
4. His favorite family photos turned into a special keepsake
So many of us are changing up our decor (it's been a long 14 months staring at these same walls, gah!) and dads are in the boat right with us. Our sponsor TilePix, makes it so easy and fun, it's the kind of gift I'd include here even if they weren't a current partner. I love that you can create one wall of favorite photos that are easy to swap, rotate, and reposition — or take a single favorite photo and easily turn it into a modern, gallery-quality mosaic display. So special.
(Prices vary, TilePix. Get 60% off your first order of 12 or more TilePix with code COOLMOMS if you order now)
5. A way to preserve his personal stories
Photos are one way to tell his story — but so are his actual stories. Whether you're shopping for a new dad who wants to create a keepsake for the baby, or an older dad or grandpa whose stories you want to be sure to preserve, I've always liked the gift of a journal-style memory book like Dad, I Want To Hear Your Story. He fills in the prompts, which not only makes it easy, it's amazing how it jars memories he might otherwise have forgotten.
($8.95, Amazon)
6. A custom mug to let him start his morning with a smile.
Don't scoff at the idea of a mug for Father's Day — when it's something as special as this custom Super Dad mug from illustrator Lizzie Lees. Provide his name, skin tone and more, and even include two or three of his own personal super powers (Boo-Boo Kisser? Rocket League Champ?) and you'll have it about two weeks after approving the proof. So order soon!
($30, Uncommon Goods with discounts for bigger orders; psst…maybe a coffee subscription would be a nice add-in too!)
7. DIY Father's Day treats from the kids
We've shared so many creative Father's Day food gifts over the years on Cool Mom Eats, especially treats for dads that kids can help make. I have always been charmed by these Father's Day award cookies, which start with a smart but simple recipe at Must Have Mom. Be sure to click through to get her tips for making the writing this perfect (maybe). And hey, you can even decorate Dad's favorite store-bought cookies to make it even easier.
8. A donation in his name or a gift supporting a meaningful charity
We have no shortage of tribute donation ideas in our gift guides throughout the years, so think about what's important to him — from preserving environment to taking care of his local community, charities supporting children, veterans, social justice, global healthcare, libraries, education, LGBTQ+ rights, museums and the arts…you name it.
Browse the gift shops from charities like St Jude's Children's Hospital, Unicef UCA the ACLU shop, the National Park Foundation, the Human Rights Campaign, to name a few.
If he's a conservationist at heart or he's got a favorite animal, we've always loved the symbolic animal adoptions from the World Wildlife Fund (and kids love giving them).
If he's an art or theater lover, take a look at the merch from the National Independent Venue Association, like t-shirts and beanies (above) to support the #SaveOurStages initiative, which can still use our help
(Cap $25, NIVA)
9. A digital subscription to all his favorite magazines
If he's into magazines and newspapers but hates those dang firewalls (I get it!), Apple News Plus is a wonderful subscription gift idea for dads. He'll get.unlimited access to hundreds of magazines and a few newspapers on his iOS device and hey — no clutter or recycling bin necessary!
($9.99/mo, Apple with free 1-month trial, if he's super practical and really wants to be sure he likes it first.)
10. A time capsule about your family
For a really special 21st century keepsake gift for the dad or grandpa who loves his family more than anything, consider making a multimedia family time capsule. You'll find lots of wonderful ideas on StorySpot for what to include — baby photos, recipes, music, recorded stories, video from family events, you name it. This is a superbly creative Father's Day gift to let him know that he's created a legacy that will live on.
It's also a beautiful idea if this is a big year for him — like for a grandpa who's now been a dad for 50 years, a dad sending his oldest off to college, or any dad at all who's done something wonderful this past year. (Hint hint for all the frontline worker dads out there.)
($19.99 and up, StorySpot)
11. A creative experience gift for Dad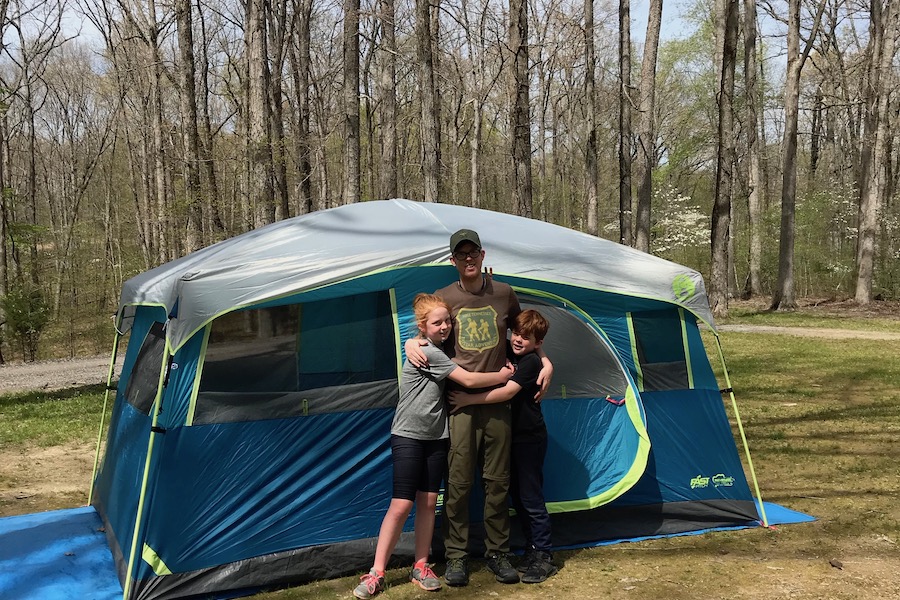 Photo: © Kate Etue for Cool Mom Picks
Here's to vaccinations now and the slow reopening of the USA for more (safe!) access to more experienced gifts.
Think about what he loves — and what he loves doing with you. It could be as big as tickets to a Broadway show now that theater is coming back in NYC (yay!) or a weekend away, somewhere he's been missing. Even if you give him an IOU in a special homemade Father's Day card so you can plan it together.
If he's a sports fan, he'd probably love seats for his favorite MLB team — some stadiums like Wrigley Field are now offering limited private spaces for groups!
Or hey, a creative Father's Day experience gift could be as simple as a family movie night at home (complete with his favorite movie theater treats) or a camping trip with the kids, if only in your own backyard. Be sure to include s'mores.
When it comes down to it, there may be no better Father's Day gift than making new memories that you can talk about every Father's Day hereafter.
Thanks so much to our wonderful partner TilePix for graciously sponsoring this guide. Check out their very cool photo gifts — and remember you can save 60% off your first order of 12 or more TilePix with code COOLMOMS through this link, right in time for Father's Day gifts!