Diwali. Being the light we share.
Guest contributor: Nirasha Kumar
Growing up as a minority in South Africa, living under an Apartheid regime, I was forced to live only with people who looked like me, That meant that for me, the spirit of Diwali was merely going along with the flow of the celebrations from others in my little Brown community. We celebrated by making and gifting delicious sweets, dressing festively, lighting clay lamps called diwas, and watching fireworks.
But here in the USA, I'm celebrating my holiday in a country that for years hardly knew that this day existed, despite it being so huge in other parts of the world.
While awareness is getting better here, people still ask me, "what is Diwali?"
So when I was asked by Liz at Cool Mom Picks if I wanted to share my perspective on Diwali, it didn't matter that already snowed under with the gazillionth home project — I said yes.
When you get an opportunity to tell your story, say yes.
If you don't, someone else will.
Related: 3 books to help talk to your kids about world religions. Even if you're not religious yourself.
"A Row of Lights"
My first year celebrating in the U.S., now a minority in another country, I quickly realized I needed to create the spirit of Diwali myself if I wanted it to live on for me.So I held a modest celebration with a friend.
We didn't even have furniture! But one thing that was mandatory for me was setting out rows of clay lamps, because this is exactly what Diwali means in Sanskrit: A row of lights.
Diwali = Deepavali = Deep + Vali = Light + Rows = A row of lights.
I also realized that being a minority here gave me the freedom evolve some of the traditions to make it our own — just as so many do here with their own celebrations of Christmas, Hanukkah (also a Festival of Lights), or Easter. Here's more of what we do, and why it's important to me.
What is the story of Diwali?
We decided at our parties that our tradition would always include an interactive retelling of the story of Diwali. The entire story is captured in the scriptures, The Ramayan. (Please  note however that India is a vast country, and every region has different variations on the story.

From Ramayana: The Story of Diwali by MocomiKids on YouTube
In essence, the story is about a son and prince named Rama who was exiled to the forest for 14 years by step mother, away from his father,  the King Dasarath.  Rama was joined by his wife Sita, and his brother Laxman on this journey. During that time, he faced many adventures, most notably the one in which his wife was abducted by the evil king Ravana, a battle ensued, and she, was at last rescued with the help of Hanuman, a monkey God representing the wind.
Rama found his way home by lighting rows of lamps in the forest, and so we celebrate his return home after 14 years by lighting our homes with our own rows of light, to guide Lord Rama to our homes.
A celebration of Good over Evil, and Light over Darkness. Doesn't that sound like a timeless, wonderful message for anyone?
Related: The Little Book of Hindu Deities: a beautifully illustrated guide
How we celebrate Diwali
Once, a friend attending our Diwali party noted that she was late as she was seeking something "new" to bring, having learned that one of the Diwali traditions revolved around decorating the home with something new. This was a sobering point for my husband and I we realized that we didn't want to lose the true essence and significance of the festival, which isn't about "new" gifts.
So at our parties, we always start with with a story reading of Diwali, then bring it to life by re-enacting a few acts of the story in the most interactive way possible.
The children's favorite part of our interaction storytelling is always the larger-than-life size cutout of the ten headed Ravana.
(Did I mention that he has ten heads by the way? I could tell you more but that's a deeper story!)
We also show a wonderful little animation of the story of Diwali that you can watch on the Mocomi Kids channel on YouTube. It's a lovely way for kids to understand more.
And of course, we dress in traditional clothing, rich with vibrant color and sparkle that rival the fanciest gowns at any wedding.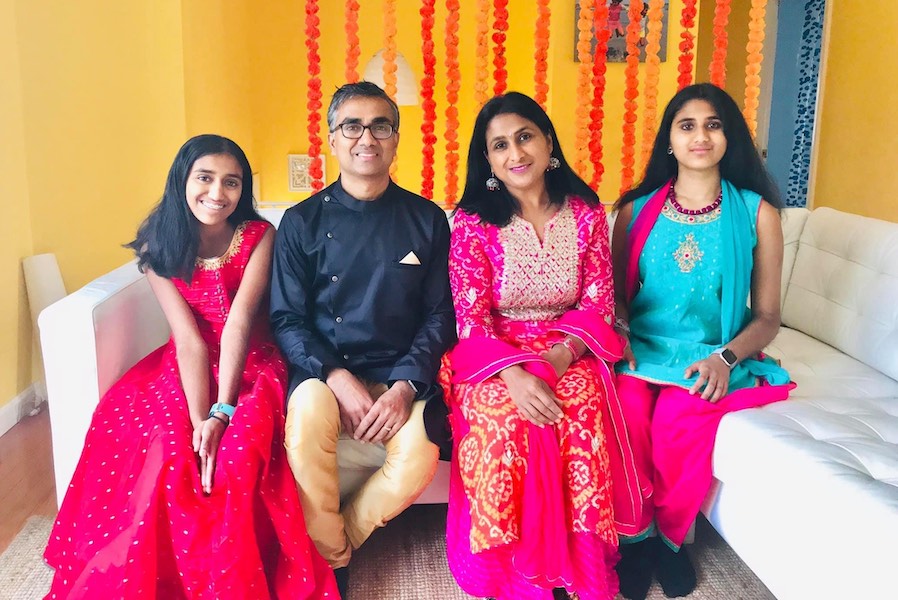 We adorn our home with colorful rangoli, or ornate floor drawings made from colored powders,
There's fireworks too. And of course, food. Always food.
The food of Diwali: About Mithai
Sweet, decadent, luxurious treats called mithai are an essential part of any Diwali celebration. So in the U.S., I created a mithai swap to keep the art and practice of mithai-making alive. Our version of a Christmas cookie swap, to share with neighbors, friends, classmates and teachers.
Food — especially sweet treats like mithai — are such a fun, easy way to make Diwali exciting for both our family and our friends who were invited to our celebrations. (Would you say no to a Motichoor ladoo cheesecake with cardamom on a Parle-G cookie base?)
But this is also important to me personally; as our children grow up with the smells, sights, touches, and tastes of Diwali. it's this sensory experience that seals memories for another generation.
Even more, I know that when we share treats — just as you may share your favorite holiday treats with your own circles — we are sharing important snippets of our own culture and traditions.
And so, our Diwali tradition continues. And continues to evolve.
I know that having children was a turning point for me; it strengthened my need to ensure that the legacy of my culture, including the celebration of Diwali, lives on. It just feels important. So I greatly credit my children for inspiring our celebrations to continue to grow and evolve, and to allow us to bring in more friends and neighbors in, and spread the spirit to the people we love.
One that that makes me especially happy is seeing how different Diwali feels from when I first arrived in America: After facing years of puzzled looks when I extended a "Happy Diwali" to American friends, they are at last wishing us a "Happy Diwali!" right back.
It means more than they could possibly understand.
Knowing I'm surrounded by people who see me and see my culture — a culture I'm so incredibly proud of — makes me finally feel like I'm home here.
Wishing you light and love.
Happy Diwal, Nirasha.
Guest contributor Nirasha Kumar is a recovering software engineer turned early mom blogger known as "Mommy Niri" turned online influencer. She currently spends her time seeking happiness, and finding it. Most days. You can follow her on Instagram at @KumarNirasha
All photos © Nirasha Kumar, shared with permission