Kids love playing with real food in the real kitchen, which usually makes…a real mess. To cut down on some of the flour-all-over-the-floor-itis that comes with kids' cooking, I found some of the cutest play food makers on Etsy.
Their creations are so appealing, kids won't even miss the real stuff. Let alone the plastic stuff.
Bookmark them all for holiday gifts, birthday gifts, or just-because-you're-the-cutest gifts. Those work too.
– This post has been updated for 2021 – 
This post contains affiliate links that help support our work at no additional cost to you, so thank you!
Related:The Ultimate Birthday Gift Guide: The best gifts for kids by age

Jes Loves Toast
The Etsy shop Jes Love Toast makes the kind of play foods that make you say "awww…." Just look at these smiley crocheted play food sushi rolls which are way too cute and happy to eat.  Which is fine, since cotton yarn is not edible anyway. So perfect for kids who love exotic play foods, and all things kawaii. [Please note the shop is taking a short break but you can find similar play felt sushi from The Homespun Market]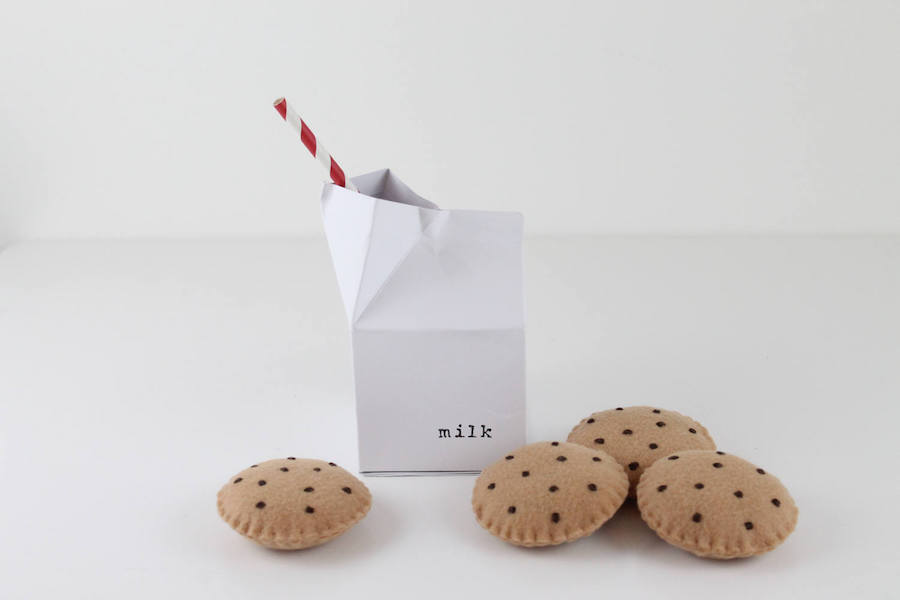 The Homespun Market
This Wisconsin-based, Martha Stewart American Made-approved maker captures everything that's beautiful about the milk and cookies ritual with this set ($13) of handmade play food treats. It comes with four felt cookies, an (empty, thank goodness) milk carton, and even the world's most perfectly striped straw. Be sure to check out her site for a ton of other really wonderful handmade play food, including an entire play food Thanksgiving dinner!
Aunt Mel's Diner
We are so taken with the adorable felt play food at Aunt Mel's Diner because the level of detail on everything from a plate of pancakes to the ridges in a felt food croissant are perfect. But there's something really special about her "ingredients" that kids can use to construct all the other felt food they own — just grab her play sacks of sugar, flower, and even cake mix. ($7.69)

The LIttle Green Market
The handmade eco-felt play foods at Little Green Market are beyond adorable. Their bacon, eggs and pancakes handmade play food breakfast set ($28, very top image) has everything a kid needs to make a morning meal — even a butter pat! While this quartet of handmade play food tea bags are the perfect touch for an afternoon tea party with the stuffed animals. [update 2021: This shop is on break]
Related: The coolest birthday gifts for 4 year olds this year
Felt Food Truck
When my son was a toddler, he was big into "chopping" every fruit or vegetable we had with his tiny pretend knife. Man, do I wish Felt Food Truck's fantastic eco-friendly, handmade play food avocado ($12) had been around back then. This felt avocado is totally realistic, right down to the pit, and is a nice, safe choice for unsupervised slicing practice. Also look for pizza slices, corn dogs, and of course, more healthy options.

HeartFelt Market Co
Wow, is this felt play campfire and s'mores set ($40) by HeartFelt Market Co so fun! Also, safer than playing with a real campfire and less sticky than actual marshmallows on the rug.
Related: The best subscription gifts for kids this year: 40+ ideas for every age, and every interest


Cutesie Kats
Even if your kid doesn't eat salad— yet — I'll bet they'd love playing with this handmade play food felt salad set ($20) by Cutesie Kats.  It comes with everything you see here, right down to the croutons. Which, obviously, every good salad requires.

Ann's Craft House
Every little chef-in-training needs some felt beverages to wash down all those felt treats. Take a look at these wonderful play food juice boxes found amongst the array of handmade play food from Colorado Springs Etsy maker Ann's Craft House. I also love that she offers cute felt play money — should you be raising a little entrepreneur-in-training too. (Note, if this isn't available, the milk + cookies set is adorable!)
Related: 7 of the coolest modern, handmade Christmas stockings on Etsy

Florfanka
I find this handmade felt play food veggie set by Polish shop Florfanka especially charming, though the price makes it a very special play kitchen-ready gift. Maybe I'm drawn to the choice of handmade veggies (zucchini, carrots, turnips, beets), which are so nutritious. Or maybe it's the mesh tote bag to carry them all in, which lets our kids reenact some eco grocery shopping and farmer's market browsing, European style. And if you really want to splurge, check out the entire Felt Farmer's Market set. wow.
Lil' Crochet Love
While Lil' Crochet Love is located overseas, it's worth the shipping to get your hands on up the cutest crocheted handmade treats, including donuts, cupcakes, and smiling amigurumi fruits. But I am drawn to this handmade play food sandwich set ($42) which comes with all the fixings, which means you're in for lots of pretend eating of made-to-order sandwiches. But that's not a bad way to spend a lunch hour at all, is it?