When we look for cool backpacks for teens, it's not enough for them to just be, you know, cool. As kids head to middle school or high school— especially after a whole year at home more or less (sigh) — they need bigger, sturdier backpacks, better shoulder straps, and more pockets and features than their grade school backpacks offered.
We also think about laptop and tablet protection, pockets for those essential smartphones we hear the kids like to use every so often, a place for a water bottle (gotta hydrate!) and of course…teen-approved exteriors.
Tall order? Perhaps. But we love so many of the backpacks for teens that we're seeing this year, which reflect every kind of taste, from sporty to sophisticated, silly to chic, and everything in between. Some are a little more expensive, but they're also designed to protect some really expensive gear inside.
Bonus tip: Be sure to double check the sizes! We didn't include toddler sizes in our list, but while some teens are fairly digital, others still tote actual books and notebooks to and from school, and it's good to be sure that their backpack is big enough and sturdy enough for all their needs.
Bonus tip 2: Also take a peek at some of our favorite backpacks for little kids, which may include some styles teens like ironically. I mean, do you ever really outgrow Studio Ghibli?
This post contains affiliate links, which means we may receive a small commission from certain purchases to help support the work we do at no additional cost to you.
Updated for 2022
Related: 5 messages about your relationship that high school students need to know
Cool backpacks for teens this year: Our favorite picks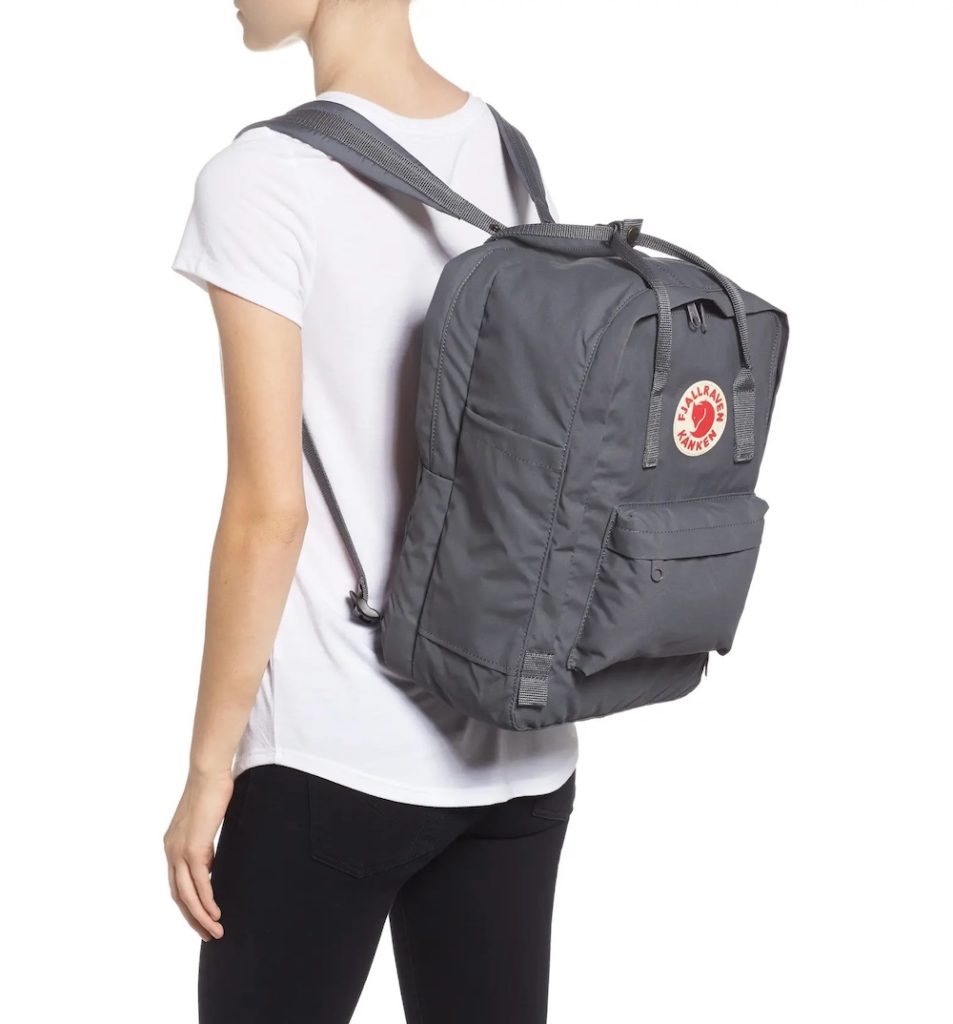 Fjällräven Kånken 15″ Laptop Backpack or Fjällräven 13″ Kånken Laptop Backpack ($120, $80 at Nordstrom)
Let's start with the classic Swedish school bag, which never seems to go out of style. It's so durable, it will probably outlast the laptop inside. The 15″ is perfect for kids with lots of gear (electronic or not), or size down a bit for great savings.
Plus, these backpacks for teens come in soooo many color s including some cool two-toned options.
Our tip though: Go with the darker colors. Even if they fall in love with the sky blue or pale yellow, the darker colors look fresher a whole lot longer.
For more cool $80 styles like the one in the collage above, visit Urban Outfitters too.
Herschel Pop Quiz Laptop Backpack ($79.99, Herschel Supply Co)
Liz's daughter is going on her third year with this backpack and that's saying something! It holds up so well, the size is great (with a padded sleeve for a 15″ laptop or tablet), and that faux leather bottom not only looks smart, but it helps protect whatever is extra-precious inside.
Readers Choice:
Kipling 15" Seoul Go laptop backpacks (As low as $79.99 on sale, Amazon)
Don't let the sleek photo be deceptive — this laptop backpack for teens (some styles on huuuuge sale now like this beautiful bright blue!) is a full 17.25″ tall and 9″ deep giving your teens plenty of room for tech and other essentials. Kipling backpacks may be a top seller among our readers for the past few back-to-school seasons for good reason. These bags really hold up beautifully for years. It's a smart purchase.
(Please note that the style above with the cool rainbow logo over the minimalist black and white is now only available in the extra large 17″ laptop backpack and is not on sale.)
Stranger Things Hellfire Cub Backpack ($47.90 Hot Topic)
Here's the best selling backpack at Hot Topic so far this year and are we really surprised? It's on the smaller size, so if your kid is toting a tablet and some snacks — maybe a few 20-sided dice —  this is a fun choice. Or hey, they can swap out their sturdy school day backpack for this one on the weekends. I would.  (Metallica sheet music not included.)
Adidas Trefoil Backpack ($39.98 on sale, Journeys)
This classic sporty backpack for teens is so huge again, proving that athletic kids have style too. It offers plenty of room for books, tech, water bottles, and a uniform for practice after school. Comes in this bold red, plus pink and black.
Herschel 15″ NBA Settlement Laptop Backpacks ($54.99 on sale, Fanatics)
Love the Herschel backpack but want something with more personality than the solids? Grab your own favorite NBA team, MLB team, or even city editions with graffiti team means — there are lots of fun options. (Sorry WNBA fans…maybe soon for us?)
Rains Mini Waterproof Backpack ($90, Nordstrom)
Teens with adult style will love this waterproof backpack for back-to-school that's big enough to hold a laptop and a few other items — and keep them dry. The kind of investment that helps protect your investment. It's a great brand and there are some other color options too.
Kane Kids backpack from 90% recycled materials  ($85, State Bags)
This brand new came style from State's best-selling laptop backpack for teens starts shipping this week. Perfect for kids with an eco-conscious heart who will appreciate the 100% recycled main body and interior. Lots of styles to choose from, and really nice size for teens.
Vans "Off the Wall" Checkerboard backpack ($29.98 on sale, Journeys)
The classic skate culture checkerboard pattern, only with a cool rainbow update. Our teens are obsessed with this one! And the price is amazing.
Blended Designs backpacks 1954 Collection ($30+, Blended Designs)
Named for the year that Brown v. Board of Education was decided, these dozen or so backpack designs are all beautifully illustrated, featuring kids in whole range of brown and black skin tones.
Galaxy Print Superbreak Plus Backpack  and Pastel Ombre Superbreak Plus Backpack ($40, Journey's)
Jansport bags last so long, some of us still have our own from high school and college! They last for years, they're great for hand-me-downs, and both of these patterns are so on trend. Plus, hard to beat this price for the quality.
Mondrian #38 backpack  ($63 on sale, Rockett Graphics shop at Society 6)
By Rockett Graphics, this 17.5″ tall option is the perfect backpack for any teen pursuing fine art. Plus, Societ 6 backpacks support indecent artists themselves, and get great reviews for quality,
Related: The coolest lunch box accessories, water bottles, and other goodies to make school lunch more fun
Jumpman Air Jordan backpack ($69, Amazon)
Since teens are raiding their Gen X parents' closets these days, we think this retro 90s Jumpman Logo bag will be a hit with hoops fans.
The Everywhere Backpack ($175, Away Bags)
One more option we recommend if you need a simple, hard-working backpack for older teens: this highly-rated, durable nylon laptop backpack from Away Bags. You get what you pay for here, and it's definitely spendy. So pick a color they won't outgrow for a long time and prepare to pass along to younger siblings.
LL Bean Comfort Carry backpack ($69.95,  LL Bean)
If your teen wants a backpack that's simple, no-fuss, and truly durable, LL Bean backpacks are a perennial winner. And hey, if you want to up the "cool" factor, our kids cover the logos with patches to make it their own.
Related: How to make a home study space your kids will actually use
Naruto Shippuden Kakashi sling bag ($39.90, Hot Topic)
This funky sling style bag is big enough for your manga fan's notebooks and an iPad. So if your teen travels light it's a good fit. It's expected to ship by mid-July, or you can pick one up at a store near you.
Adaptive Backpack for Wheelchairs ($39.99, Target)
Finding adaptive backpacks for teens who use wheelchairs for mobility can be tricky — so much so that this style sold out like crazy and Target added lots of new ones. Check out the selection of sharp, affordable adaptive backpack at Target, which are highly functional for kids who need to strap their bags to their chairs instead of their shoulders.