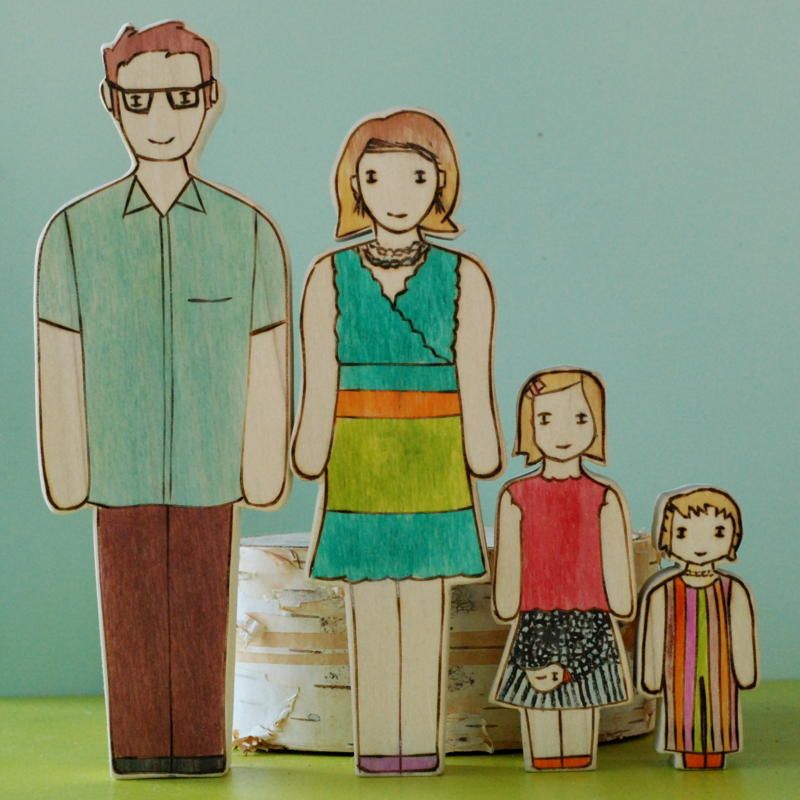 The list of things my 3-year-old daughter doesn't love is a lot shorter than the list of things she does. But if there's one thing she digs more than anything else right now, it's dolls.
Specifically, dolls to whom she can assign the personalities of her family members. (We've lost count how many times her stuffed pig has been directed to act like Daddy.)


So these Star House Custom Wooden Families–which are specially made to look just like us!–are about as perfect as the world can get.
Like Star House's Wooden Easter Egg Set,
these wooden figures are exquisitely handmade. But each person in this
set is made from scratch using your personal photos–so Mom's glasses
are exactly right, Dad's scruffy sideburns look just like Dad's real
sideburns, and the kiddos are picture-perfect in their favorite clothes.
Even the pets can get in on the action with figures that look like
them, down to the last whisker.
I can totally see giving a set of these arty-meets-adorable creations to
Granddad for the holidays or even setting them atop my daughter's
fourth birthday cake. These custom cuties are more than amazing
presents–they just might spare a certain stuffed pig from having to
take on Daddy's personality. Again. -Lexi, our fabulous new addition to team Cool Mom Picks!
Check out Star House for tons of personalized wooden figures and cake toppers that really take the… um, cake.