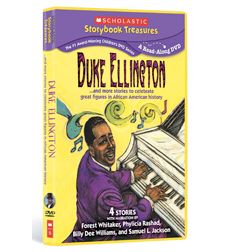 Having just observed Dr. Martin Luther King Jr Day last month, my kids are familiar with this major figure in black history. But I want them to know that history goes well beyond one man (or woman), and the fact that February is also Black History Month gives me a good excuse.
To give me a hand, I've been turning to the Scholastic Storybook Treasures DVD series, always a great resource for finding age-appropriate and smart stories for my kids. Here are a whole bunch that are perfect for starting conversations around Black History Month.
It also includes the wonderful story
Ellington Was Not A Street
, excerpted from a poem by Ntozake Shange. Gorgeously illustrated by Kadir Nelson, this ode to some of the prominent figures in black history is told from the perspective of a little girl who saw them pass through her home. The text is more lyrical and less educational, so I'd recommend you keep watching the follow-up piece that explains who each man was–though I'm disappointed that not one female figure is included. Even so, this is one story that I'd also like to own
as a hardcover book
too.
The most outright entertaining of the four videos is the fictitious story of John Henry which had my son asking, "is this real?" over and over again. Samuel L Jackson's voice is perfect for this African-American folk ballad, though I wonder if there couldn't have been another true story about a real black hero added instead of one about a legend.
To build up your DVD library even more, I strongly recommend Scholastic's 2010
March On!
which covers the subjects of slavery and prejudice in an appropriate way for grade-school kids. Going beyond Dr. King, it also includes a story about Rosa Parks and Henry, a slave who hid in a box and "mailed" himself to freedom–sounds like a tall tale, but it isn't. More sobering than the joyful sounds of jazz in the previous collection, it started some great discussions in our home.
Finally, in time for President's Day, Scholastic's
Lincoln and Douglass, an American Friendship
leads with Nikki Giovanni's story that fits perfectly with the timing of Black History Month. Poignant and gentle, this story tells the tale of two men with very different backgrounds who grew up to be great friends. And while the words "black man" and "president" may not seem ground-breaking to our kids, this simple text makes it clear how important a moment in time this was.
Other stories on this DVD do not cover Black History, but instead our collective history as a nation, including my kids' favorite John, Paul, George & Ben by Lane Smith. And don't miss the bonus, parent-level interview with poet Nikki Giovanni which goes beyond the words in her story in greater depth. I definitely learned a thing or two as well.