Finding a funny Father's Day card that has nothing to do with golf, grilling, tools, beer, or leaving the toilet seat up is not an easy task, as I've discovered. And yet–voila. I've tracked down 7 funny Father's Day cards that I would actually send. (No offense, Hoops and Yoyo.)
I love this
Star Wars Father's Day Card
that reminds him some dads are better than others. In other words,
Dear dad: Thanks for not trying leading the evil Imperial forces against the galaxy
($4 at Wit and Whistle)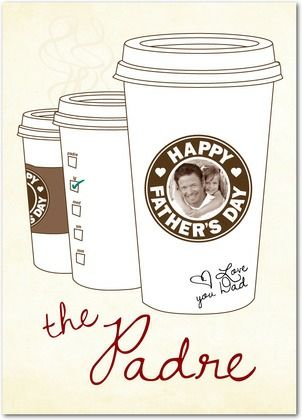 What's bigger than a Vente? A Padre evidently. This
custom Father's Day card
is so great for java fans, and not likely to end up tossed after June. But you'll definitely want to customize the inside to make yours funnier than the sample copy here. (1/$2.99 by Magnolia press for Tiny Prints)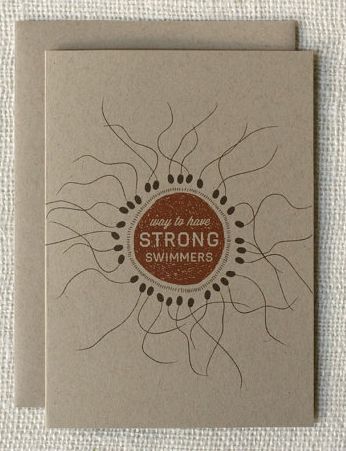 Not that we want to spend too much time thinking about how we got on this planet, but this
strong swimmers Father's Day card
cracks me up. ($4 at Wit and Whistle)
The graphics on the front and the I Love You Dad message on the front are deceptive…inside this
funny Father's Day Card
it reads,
even if you never loved me enough to give me a pony.
It's funny because it's true. ($4.50 from NeatThings)
This entire collection of illustrated cards is darkly funny, but I especially can't stop laughing at this
get off my lawn Father's Day card
, A close second: the:
He Danced card
. Guys who hate inspirational quotes will love it. ($4.95 at Melancholy Greetings)
I want to be just like you. Sometimes
. Truth. (1 for $2.99, by Hello Little One for Tiny Prints)
When the A Team collides with Land of the Lost you get this hilariously weird
Mr T Rex Card
. You write your own message inside.
Maybe, I pity the Jurassic fool who doesn't wish you a Happy Father's Da
y. ($4 from Kay Did Art)