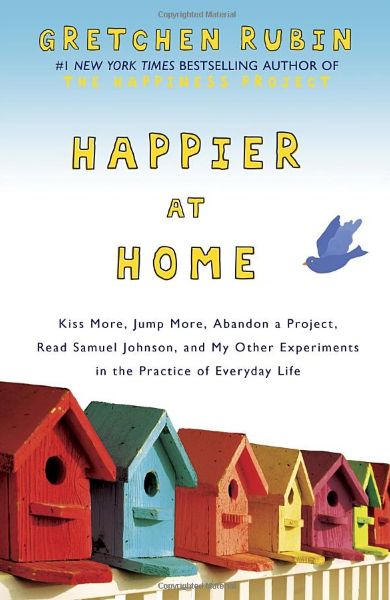 On my nightstand, there's a gigantic pile of self-help books stacked underneath a coffee cup. Not exactly helping much, unless you count them as an overpriced coaster.
What you might notice if you peeked at my self-help lit pile is that Gretchen Rubin's newest book, Happier at Home, is nowhere to be found. And that's because I've been carrying it around in my handbag ever since I got it in the mail a few weeks ago.


It's not surprising that I'm enjoying it as much as I did her first bestseller,
The Happiness Project
, but in a way that surprised even myself. Whether you're a lover of memoirs or a self-help book junkie like me, I bet you'll want to add this to your reading list.

Rubin describes Happier at Home as her second happiness project. Her approach is quickly applicable to your daily life, whether you follow along as suggested by the book, or just open to a random page for inspiration. This is a nice change from what I thought was a very helpful but very heavily research-based first book.


Each chapter is filled with Rubin's own personal stories and exploration of each topic, as well as key points she offers the reader from each experiment. Some of these truths might seem obvious to self-help junkies, but I found Rubin's revelations completely surprising and wonderful. And all of them are absolutely achievable, even by the busiest folks I know.
I especially loved her parenthood chapter. "Wednesday Adventures" could be any designated time of the week that fits your family schedule, so long as you're spending quality alone-time with your kids. I'm especially tuned into the "Give Warm Greetings and Farewells," which is something we often forget, yet is so easy and completely wonderful for creating an environment of happiness in your household–coming and going.
If you're looking for quick fixes or someone to crack the whip (Get happier right now, darn it to heck!), this might not be the book for you. But I say give it a chance. The simple, achievable ways to infuse happiness into all things home–whether it's your marriage, your parenting, or making sense of all that crap sitting in your closet–are definitely worth reading. Rubin's masterful but approachable prose will draw you right in. So much, I bet you'll carry it around in your handbag, too. -Kristen