Yes, there may be a tiny person attached to you at all times. But this month, if you're creative or crafty, that could mean some amazing DIY babywearing Halloween costume opportunities, just for mamas (or dads!) with slings.
So grab a sling, grab a baby. Whether you're using a pouch, a mei tai, or a soft structured carrier, here are some great ideas for a parent-baby costume that will keep everyone happy–and get some laughs.
Other posts you may like: 
25 of the most adorably creative DIY baby costumes for Halloween…that you can actually make
23 wildly cute baby Halloween costumes on Etsy that will make you want many babies to dress up this year.
7 easy and still creative baby Halloween costumes you can make with a onesie
From Elle Woods to Fresh Prince: 12 of the best 90s Halloween costumes for kids
Creative DIY Babywearing Halloween Costumes for New Parents. 
This post contains affiliate links and some purchases may generate a small commission that helps support our independent business.
1. Babywearing Star Wars Costumes
You can dress a little girl as Leia with a cute Princess Leia buns hat  crocheted by an Etsy artist. Have either parent wear a Chewbacca suit– or just this clever Chewbacca shirt— and put baby in a C3P-O leggings.
Or have one parent put on a tan shirt and khaki pants and carry your little in a soft structured carrier, preferably brown. Try this adorable handmade baby Yoda hat like the one above from Lyons Happy Hats.
The An Ergo baby carrier or wrap in brown would be the perfect carrier for this– and front carriers, too.
Related: 17 cool DIY Star Wars costumes for kids that you can make, from Han and Leia, to baby Ewoks, to the droids you're looking for.
2. You be the tree, baby can be anything that climbs a tree

Wear all brown with a green beret, and poof! You're a tree! Baby can be any sort of koala, little bird, owl, or this cute squirrel hat for Halloween complete with diaper cover from Yarnabing Yarnaboom on Etsy.
Or you can get a full-body baby monkey costume at pretty much any store costume section. Bonus: super warm.
3. Million Dollar Baby and Bank Robber
Get this moneybag baby costume for baby from Party City, and add a black mask for yourself. Or let a bald daddy put on a suit and be Daddy Warbucks with the money bag.
4. A witch and her black cat baby wearing costume
Whether you're the cat or the witch, this is one classic pairing that's pretty easy to accomplish. If you're the cat, wear all black and cat ears, which is what I did with my own baby #2.  Then dress your baby in a gorgeous little handmade baby witch hat from SweetSweetBoutique on Etsy. Just skip an itchy costume, since most of your baby will be hidden in a sling.
5.Harry Potter and Hagrid baby wearing costume

Remember when Hagrid carried a tiny baby Harry Potter on his first trip to Number 4 Privet Drive? That can be you. You just need a big, flappy coat, wild hair and a fake beard, black boots, and a baby with an  lightning bolt scar drawn on the forehead with eyeliner.\
There's a great baby Harry Potter costume in this fantastic craft book we covered. Keeping a giant pet spider is totally up to you.
6. Chef with a Lobster baby wearing costume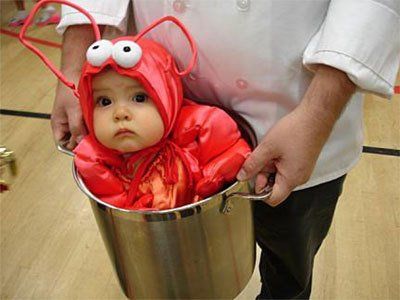 Mommy or Daddy can wear all white or a chef's costume/uniform. Baby wears a store-bought baby lobster costume or bunting. This one would work best with a sling, or maybe a front carrier covered in gray or silver material to simulate a lobster pot.
No, you dn't really need a pot. (Photo via Inquisitr)
7. Max and a Wild Thing baby wearing costume

Let the Wild Rumpus Start! Get a Max costume, or just the Where the Wild Things Are hat for the baby. (The one above is long gone but we found a similar one if you click the link. Then, dress yourself as any sort of monster from Where the Wild Things Are.
Or you can dress as yourself…and go as Max's frazzled mom. Just remember that your baby is sure to cause some mischief of one kind or another.
8. Dr. Evil and Mini Me baby wearing costume.
Austin Powers is never out of date, especially when your'e reinventing him as a baby wearer on Halloween. You're going to need a bald cap though — or a bald parent. Or this Dr. Evil costume which is basically just a grey suit. And a gray onesie. And a front-carrying Snugli. And lots and lots of chocolate.