We're so happy to wish a happy 40th anniversary to Free to Be…You and Me, that groundbreaking collection of songs and spoken word pieces that introduced me to the concepts of equality and tolerance at such a young age.
For instance, take the song William's Doll. The story about a little boy who just wants a doll to love and hold—and the mocking, teasing chorus—came back to me years later in playgroups when I'd hear parents worrying that their sons wanted a doll, or (gasp) a kitchen set. Wow, 40 years later, we're still worrying about this?
So in honor of William's Doll, and all the little boys who would rather have something to cuddle than something robotic (or maybe they want both!), we've pulled together some of our favorite boy dolls for them.
Of course, little boys can have a girl doll too, the same way little girls may want one of the following little guys. That's probably what Free to Be…You and Me would say too.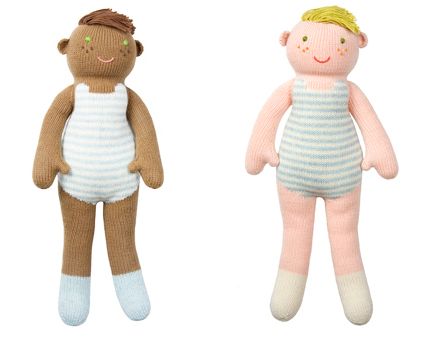 Blabla's boy baby dolls, Charlie and Henry, look so cuddly and soft, they'd be great friends at playtime and naptime. And you've got to check out the doll clothing they can wear. Dress them up as a chef, pirate, or superhero, or just get them ready for bed in some crisp cotton PJ's.
One of our favorite doll makers, Corolle, has a nice selection of boy dolls, such as the snuggly Tidoo Poppy doll who can go from bed to bath due to his quick-dry bead filling. I love that he's wearing red and not "little boy" blue, and his sweet vanilla scented body is much more pleasant than my little guy at the end of a busy day.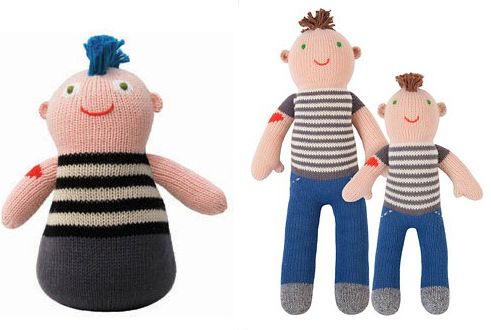 Also, check out BlaBla's quirky, adorable Boogaloos (above left). Anyone want to tell the Johnny doll he is a girlie toy? [Update: this category is no longer available; however, the similar "Otto the Rocker" (above right) is ready to rock out with your child.]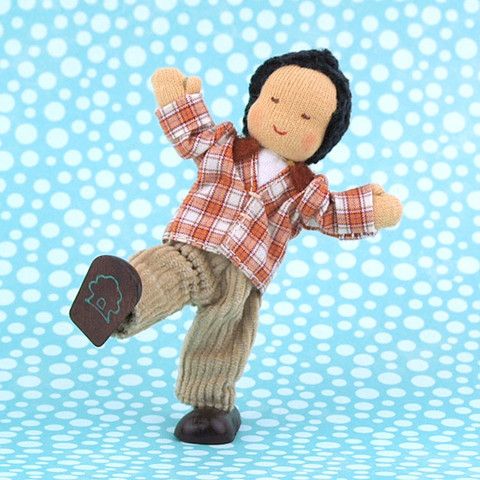 Dollhouses can be so much fun for little boys too, and we love these diminutive, ready to explore boy dollhouse dolls from Once Upon a Tree House. And if you'd like to wrap them up with a super-cool, not overly pink dollhouse, we have a few featured in our Holiday Gift Guide that would be perfect.
If your son is nearing the age of potty training, we like Corolle's Paul Drink and Wet Bath Baby doll. No batteries needed, just show him how the doll drinks his bottle and then, with a bit of a belly squeeze, goes into the potty. Maybe your potty training efforts be as simple!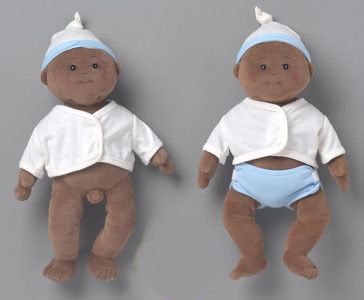 Adorable and affordable, check out these anatomically correct dolls that would be great to use in potty training (without dealing with water!). The Sweet Cuddles line also has Asian and Hispanic boy dolls, all for a great price.
Tuck this idea away for a great birthday gift: The gorgeous, handmade Paxton Boy dolls from Warm Sugar allow you to customize your doll from the skin color to the color of clothes. But such customization takes time—3 weeks—so this isn't a Christmas gift, nor is it inexpensive. But, for a little boy who has been waiting, it'll be worth the wait.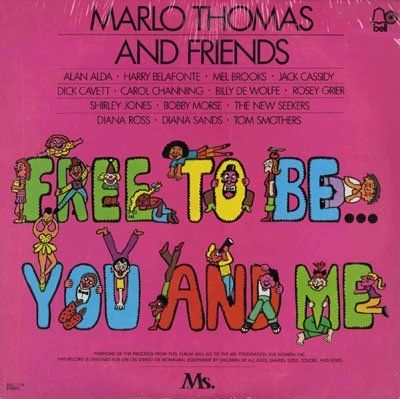 Search for dolls on our site for more suggestions.And be sure to check out Free to Be…You and Me, which our kids still love! Even if they listen to the MP3s and we got to know it on vinyl. Happy anniversary Marlo and friends!