This year felt like an extra amazing year for discovering gorgeous jewelry, bags, and accessories that keep mamas feeling cool. (Even if we're just faking it.) Here, a few of our editors' very favorites of the year. And phew…it wasn't easy paring it down. So congrats to all our favorites!
Kristen
Leigh Luna braille jewelry
It's no secret that I love braille; I have my kids' initials tattooed in braille on my wrist! But even I can appreciate the gorgeous braille jewelry from from this artist, which is a personal but much less permanent option.
Metallic Cambridge Satchels
I really like the new Cambridge Satchels in silver, bronze, and metallic jewel tones that were featured in our Holiday Gift Guide. Get them while you can–they're a limited-time design and they won't be around long!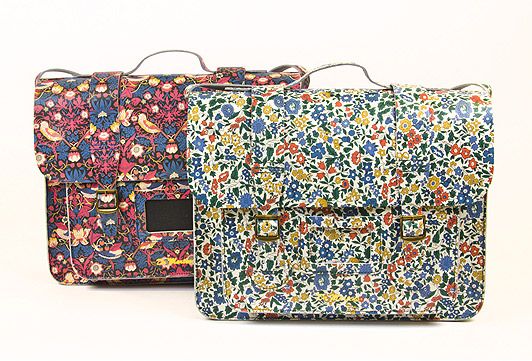 Doc Martens and Liberty of London satchel
In keeping with the satchel theme, I was so obsessed with this Doc Martens/Liberty of London collaboration that I snatched the bag up right after we featured it. And let me just say, I'm not disappointed I did. Plus, I admit I like being able to say I'm wearing Doc Martens, even though I'm pushing 40.
31 Bits
Cool jewelry is well and good, but cool jewelry that gives back has extra-special meaning to it. The lovely beaded bracelets and necklaces from 31 Bits are doing great things to help more than 100 women in Uganda, thanks to visionary founder Kallie Dovel. And I like that they're the kinds of designs you would buy anyway.
Liz
k2o by Karen Ko
When I first discovered Karen Ko's funky, fun jewelry on sale at Fab, I knew I had a new obsession. I guess I'm now officially a collector–I can't stop buying pieces, especially from the fun POP line. It's so fun but so wearable, and always a conversation starter.
Custom Longchamp Bags
I get to be one of those people who swears that she liked Longchamp before it got big (no, really! I did!). I still have their iconic foldable nylon tote from the late 90s to prove it. But I like them even more now that they're offering custom bags with your initial or monogram, making it a great gift idea when you need something a little fancy. If only for yourself.
Elva Fields Necklaces
This amazing artist has a ton of gorgeous ready-to-wear pieces, all one of a kind, and made from vintage finds like brooches or chandelier strands cleverly repurposed as jewels. When she offered to make Kristen and me each a custom piece this year based on our own Pinterest style boards, it was like our wildest jewelry dreams come true. My necklace (top left) is now one of my best-loved pieces–the kind you plan your whole outfit around. Count me in as her newest fan.
Feistyelle
On the affordable end of the spectrum, I have rarely been seen without a pair of Feisty Elle earrings dangling from my lobes this year–generally the dahlias (above) or the long feathers. They're light as air, because they're made of a sturdy, laser cut felt. But the gold looks like leather, and the cream colored ones fool everyone into asking me whether they're real ivory or just resin. Heh. Also? This is an artist who lowered her prices this year with the belief that more people should be able to afford eco-friendly products. Wow.
For more cool jewelry, handbags and accessories, visit our archives.