Though we are still waiting to hear if the royal baby is a he or a she, we can't help but help fuel the rumors that it will be a little princess that makes her royal appearance any day now. And because we know in this day and age that princesses are about more than tiaras and ballgowns, we offer up a few baby gift ideas for strong princesses–and knowing Will and Kate and their own amazing parents, we imagine she'd be nothing less.
Strong Princess Posters
A princess who can save herself while riding her own steed? That's our kind of princess. These posters by Amanda Visell come individually or in a set of four. ($30; $100/4)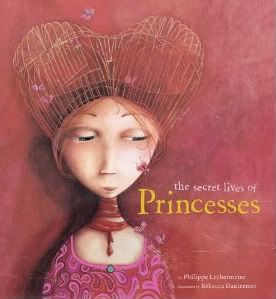 The Secret Lives of Princesses
This beautifully illustrated children's book is a favorite, introducing us to an unusual and often funny group of princesses like the Eco Princess and Princess Claire Voyant.
I'll Change the World Someday onesie
This onesie is one of our all-time favorite baby gifts from an amazing company, and it couldn't be a more perfect sentiment for a princess. Plus it's beautiful in person and the cotton is luscious. ($25, Tiny Revolutionary)
World Map Wall Decal
Essential knowledge can't come too young, can it? And this one has cute hearts to mark special places. Like Great-Grandma's house. Or uh, the Queen Mother. ($94 at Urban Tickle)
Princess Crown Baby Shoes
If she's going to wear princess shoes, skip the marabou and the sequins. Instead, they should be hard-soled baby shoes like these from Jack and Lily, shoes that let her run and jump and climb and poke the light socket just like every other baby and toddler. (Royal babyproofing, anyone?) Oh, and…they're not pink. Shocker. ($30 at I Love Fairytales)
Foreign Language Blocks
It's a little easier to practice global diplomacy when you speak more than one language. Give her a head start with one of these 19 foreign language baby block sets, from Arabic to Chinese to Italian to Maori.  ($43)
The Well at the End of the World
You may know The Paper Bag Princess, but do you know this one? Still one of our girls' all-time favorites, Robert D. San Souci's wonderful story of a princess who uses brains and resourcefulness and kindness to solve her problems is a great reminder that money and beauty don't always get you the happy ending. (from $7.24 at our affiliate Amazon)
Princess Leia Gift Set
If she's got a sense of humor–and a thing for cult sci fi films–no modern princess would be complete without this handmage homage to one of our very favorite resourceful, cool princesses from a galaxy far, far away. ($43/set or pieces sold individually)
Handmade Felt Crown
Until she's old enough not to break the real ones, felt crowns are wonderful for dress-up (and photo ops) at any age. Mosey offers a ton of gorgeous handmade designs, some more traditional than others–but why not opt for this robot design, to encourage her love of mechanics and engineering? ($32)
Thank You Notes
Since good manners are one of the essential traits of royalty, thank you notes for those millions of baby gifts are de rigeur. No need to flaunt your status with a crown motif; instead go for something that's less about you and more about your generous friends and family. I love this one from Minted, but they have dozens of options. ($36/15 with quantity discounts)
Finally, if you really have a princess who has everything (or will) consider making a donation in her name to a charity that helps other kids that might not have so much. One I'm personally involved with is Baby Buggy, which donates gear and diapers to families in need. But there's also Feeding America, or if you want to get global, try the UN Foundation's Shot@Life which provides essential vaccinations around the world.
Now that's a gift fit for a future leader.