Many of my Cool Mom Picks comrades swear they prefer backpack shopping to planning school lunches, but I admit it: I enjoy the challenge of getting creative with packed lunches. Sure, I get in a rut sometimes, but a pantry full of go-to school lunch snacks helps keep things interesting when the main lunch course is yet another PB&J. (Sorry, kids.)
So check out my favorite healthier, store-bought snacks for kids, many of which you might not know. They're all free of icky ingredients that lots of packaged snacks have, and still full of flavor. –Stacie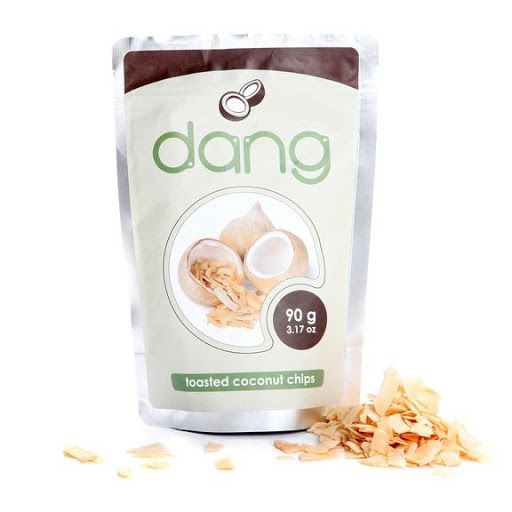 Recently I offered up a list of healthy coconut snacks and back-to-school is the perfect time to revisit it, with the Dang Coconut Chips at the very top in my book. Toasted coconut chips are the perfect sweet and salty snack. Seriously, if you haven't tried them, you'd dang well better.
Find out where to buy these coconut chips on the Dang website. 
I promise to stop blabbing about coconut–right after we talk about Simple Squares. I love these perfectly portioned organic snack bars infused with honey and herbs. Most of the flavors are kind of fancy for most kids (think sage, rosemary, ginger, coffee), but my family and I can't get enough of (you guessed it) coconut, made of nothing more than cashews, almonds, honey, unsweetened coconut, vanilla and sea salt. Nice treat.
Find out where to buy these snack bars on the Simple Squares website.
I'm totally obsessed with Earth Balance products. First off? Oh, hello there, delicious coconut and peanut spread, so very awesome for sandwiches. More good news: Earth Balance has expanded their snack food line with vegan aged white cheddar flavored snack puffs  that are dairy-free, gluten-free, non-GMO and made with 0 trans fat. And sooo delish.
The Earth Balance snack piece de resistance, though, is their P.B. Popps, which are also dairy-free, gluten-free, non-GMO and without any trans fats. My whole family is obsessed with these peanut-butter coated popcorn and oat clusters. (FYI: P.B. Popps do contain peanuts as you can imagine.)
Find out where to buy these snack puffs and P.B. Popps at a store near you on the Earth Balance website or through Amazon.
I've discovered a better way to snack with (drum roll!) Way Better Snacks, a line of crackers, tortilla and pita chips made with ingredients like sprouted broccoli and chia. And they're entirely nut-free, which is something a lot of parents have to consider these days. I love almost every chip I've tried from Way Better, including the black bean and sweet potato tortilla chips. My kids, on the other hand, are fans of the straightforward multi-grain tortilla chips.
You can buy these tasty chips through the Way Better Snacks website. 
If your kiddo likes sweet-but-crunchy snacks, you need to get your hands on Bare Fruit Snacks. These apple slices are baked without anything added–except in the case of our favorite cinnamon apple chips, which are dusted with nothing more than the tasty spice. Addictive.
You can buy these baked apple chips through the Bare Fruit website. 
Yogurt is a go-to snack, but have you looked at the ingredients in most of those yogurt tubes? Thankfully, Stonyfield Organic has made a better squeeze yogurt using organic, low-fat yogurt and no artificial flavors or sweeteners. My kids love all of the flavors–strawberry, cherry, berry, blueberry and lemonade–and I love that one tube has only 9 grams of sugar which is relatively low for the category.
Find out where you can buy YoKids Squeezers at a store near you on the Stonyfield Organics website.
Some days, your kid needs a sweet surprise in her lunchbox, plain and simple. These soft, chunky Bear Naked granola cookies are packed full of oats, raisins, walnuts, cranberries, almonds and coconut so you can feel better about serving them.
You can buy these cookies from the Bear Naked website.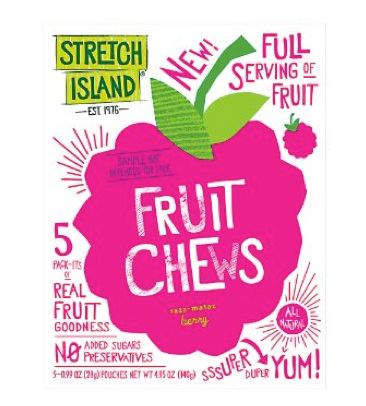 Fruit chews are one of those snacks that seem healthy, but in many cases aren't much better than candy. Thankfully Cool Mom Picks favorite, Stretch Island Fruit, has started making good-for-you fruit chews. Hooray for these new, all-natural snacks, made with real fruit puree and no added sugar or preservatives.
You can get Stretch Island Fruit Chews from our affiliate Amazon or find them in your local grocery.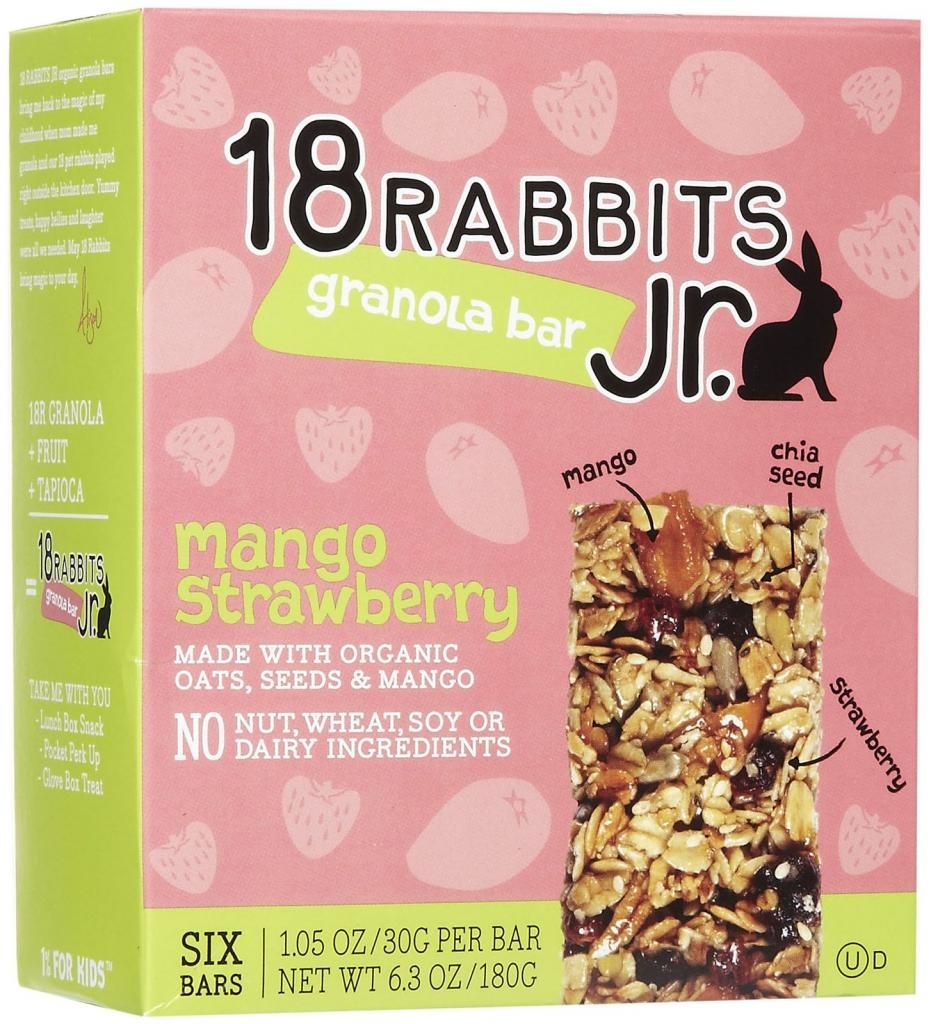 So many healthy lunch box snacks are packed with nuts, wheat, soy or dairy. Not so easy for families on special diets. 18 Rabbits Jr. granola bars are among our favorite snacks not made with the major food allergens. And the best part? These perfectly sized bars, chock full of oats, seeds, dried fruit and chia seeds, are friendly enough for pretty much everybody. (Just know that while the box says no nuts, the website does say the bars are made in a shared facility with nuts.)
Find out where to buy these granola bars on the 18 Rabbits website.
Hummus is another one of my fallback snacks, but scooping it into little Bento boxes–talk about messy. It may not be the most environmentally friendly thing, but the Tribe Hummus Snackers can be a lunch box life saver. Toss one in with pretzels, pita chips, or carrot sticks and you've got an instant super protein snack.
Find out where to buy Hummus Snackers at a store near you on the Tribe Hummus website.
For a cool lunch snack with a little sophistication try olives. Or if you want to get fancy, check out Oloves snack packs of marinated, pitted olives which come in three seriously good flavors. Personally, I'm a sucker for the Hot Chili Mama packs, but my kids like the Lemony Lover and savory Tasty Mediterranean flavors. Perfect for the adventurous eater in the household. Or, you know, me.
You can buy Oloves olive snacks on Amazon. 
For more cool ideas for back to school, don't miss the rest of our 2013 Back to School Shopping Guide!
Best kids' lunchboxes and lunch bags
And find all the coolest tech gear for school at Cool Mom Tech!