While we love the annual ritual of picking out a new backpack or fun lunch box to start the school year, there's something about finding just a few cool school supplies for our kids that remind us that school isn't just about homework and tests. Well, okay, sometimes it is about homework and tests; but at least they can do them with a nifty pen stored in a super cool case, right?
We've narrowed it down to 20 of the very coolest school supplies we've found to help students express their individuality and style. Enjoy!
Set of 4 Rainbow Highlighters Highlighters + Rainbow? What's not to love? ($14.95 at CB2)
Jumbo Journals These 150-pages, eco-friendly notebooks are inspiring in more ways than one; for every purchase, a child in need receives a workbook to improve literacy. ($17, Ecojot)
Tardis Pencil Cup Dr. Who fans, your desk supplies are ready. ($19.99, 3DHD)
Ace Pilot Stapler The 1930s design and chrome construction means you won't mind having it on your desk either.  ($38, Schoolhouse Electric)
Guitar Paper Clips Being organized is totally rock n roll. ($7.95/40 at our affiliate Amazon)
Cloud corkboard To keep you grounded. Love the juxtaposition. ($19.95, Land of Nod)
Colorful mechanical pencils Why just stick with yellow? ($6/6, Urban Outfitters)
C-3PO Bookmark Everyone needs their own Droid placeholder. ($25, MyBookmark)
Kawaii Sticky Notes 14 different designs for journals, calendars, bookmarks, or just gazing at the cuteness. ($3.50, Shipshape Supply)
Acme Composion Book Pen One great pen is always a treat for older kids. ($59, Design Mafia)
Color Outside the Lines Pencil Pouch Well, it's true. ($15, Pamela Barsky Shop)
Japanese Erasers  Love that they're eco-friendly, non-toxic, free of phthalates PVC and they're even recyclable. ($1, Stubby Pencil Studio)
MadPax Spiketus Rex Pouch The perfect size for lunch money, iPods, or prehistoric snacks. ($15 with free ship, Zappos)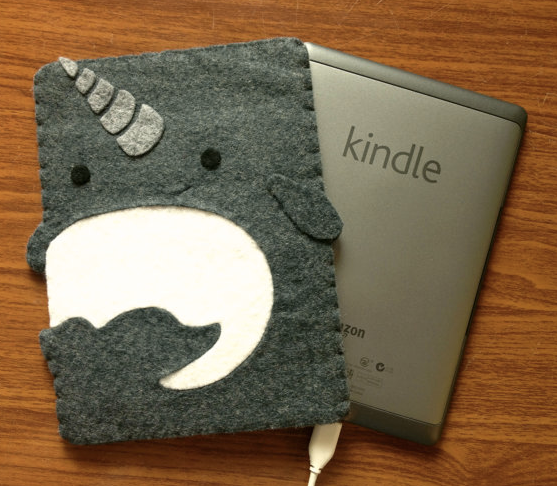 Narwhal eReader cover The ultimate protection. Because really, who wants to mess with a narwhal? ($27, Life Geekery)
Colorful Mini Journals The perfect size for a pocket, backpack flap, or cluttered nightstand. ($10.19/set of 8, Amazon)
Pirate Leg Pencil Sharpener Kinda dark when you think about it. We like that in a pencil sharpener. ($5.69, Perpetual Kid)
Colorful Tape Dispensers 10 different colors–don't make us pick just one! ($12, Poppin)
BFF iPhone 4/4S cases Maybe they'll be less likely to lose their devices, when they've got a bestie looking out for it too. ($25/2, Urban Outfitters)
Donut scented pencils Just make sure you've had a good breakfast first. ($5.69, Perpetual Kid)
Einstein USB Flash Drive Can't hurt to have a little Einstein on you at all times.  ($24.95/8GB+, Mimobot)
For more cool ideas for back to school, don't miss the rest of our 2013 Back to School Shopping Guide!
Best kids' lunchboxes and lunch bags
Best lunch containers for kids

And find all the coolest tech gear for school at Cool Mom Tech!