Last minute gift ideas are always the toughest. You have all these last minute people you forgot about (with no offense to them–we get busy!) and suddenly you're stuck with whatever you can find in the drugstore aisles. Fortunately the drugstore chains have gotten way better with the gift selections if happen to be any left by now. But as an alternative, try any of these gift ideas you can pull together fairly easily. I promise they're actually quick–no tracking down beeswax to make candles or breaking out a sewing machine.
And of course, make sure you wrap it all beautifully (we even have free printable gift wrap ideas for you if you don't have any on hand!) and add a lovely gift tag.  That's where the proverbial thought that counts will really show.
Books: To me there is an endless set of possibilities for gifts in any bookshop. Hit the mall or better, support your local indie bookshop and find something perfect. You can even personalize it with a set of printable bookplates like this series for kids, from How About Orange. Or for adults, Amy Merrick's free printable bookplates at Design Sponge.
A printable gift: Search our printables category and you'll find so many sweet ideas especially for kids. These printable Nutcracker paper dolls and puppet theater can be magical–even if you don't have time to assemble it all before Christmas.  These personalized paper dolls we've featured can be wonderful too–just check with the Etsy artist to make sure you can get them in time. Turn-around time is usually 24-48 hours and she's in Europe.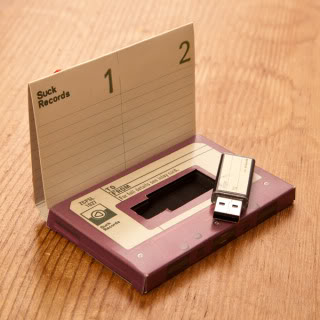 An awesome mix tape: Don't even laugh, mix tapes are back–only on USB and not on actual tapes, of course. Put together a meaningful playlist (have you checked out our Coolest Christmas Music playlist on Cool Mom Tech?), pop it on a flash drive, and tie it with a big bow.
Food and Drink: Lots of us would be happy with a good bottle of wine, a nice bourbon or a fancy aperitif. To make it a little more special, add a printable gift tag–also nice on a good fruity bottle of fancy olive oil.
You can also just handwrite a personal message with a paint pen if you have one on hand like this, from Family Chic. It looks so personal, and I always love remembering who the wines in my collection came from, so I can think of them when I drink it.
A Photo Album IOU: Pick up a gorgeous photo album at a local boutique, gift wrap it, and insert a note explaining that the next time your partner or grandparents see it, it will be filled with photo memories. Just make sure to actually follow through! We love this velvet photo album from Vault that we featured in our Holiday Gift Guide this year as a great gift for grandparents, but you can find options in any paperie or gift store.
A recipe collection: I love these free printable recipe cards because you can fill them out online too–perfect if they're for more than one recipient. If you're feeling sentimental, share an heirloom recipe from a recently departed relative that your cousins and siblings would really appreciate. Or just put together several of your favorite Christmas cookie recipes and tie it up with a festive cookie cutter–or better, some samples of the end result.
A Gift Card: Gift cards can be personal too, depending how you look at them. On Cool Mom tech, we recently featured the Gyft App which lets you send cards instantly from your phone, to anyone from more than 200 retailers. Think of something really meaningful, like a Netflix or iTunes gift card for a movie lover, a Go-Go Wireless gift card for a traveler, a Home Depot card for newlyweds, or a gift card towards a local fancy restaurant for new parents desperate for a date night without the baby. Of course if you have a frugal coffee lover who tends to make his at home, even a Starbucks card can be much appreciated. It's about connecting the recipient with the right gift card that matters.
To make it more personal, print out a fun festive envelope to put it in, or just include a little something special to go with it–like coffee beans with the Starbucks card or cute rattle to accompany a card to a baby boutique for a new mom.
A Charitable Donation: It's not at all cop-out to make a donation in someone's name, especially if it's for a favorite charity specifically picked out for the recipient. You can also give a card from organizations like Global Giving or Donors Choose and let her pick her own cause. Every year I give a donation to the Nature Conservancy on behalf of my environmentalist stepfather, and I can assure you, there's nothing else he'd rather have in the world.