Want to round up those toy horses and ponies scattered around the playroom and put them into a proper stable? Whether your kids own one of the coveted, gihugic American Girl Doll horses or something a bit smaller, we've rustled up a few options for all kinds of ponies. Including one you crafty parents can make yourself. It can be tough finding nice play stables, but we feel great about all 7 of these options.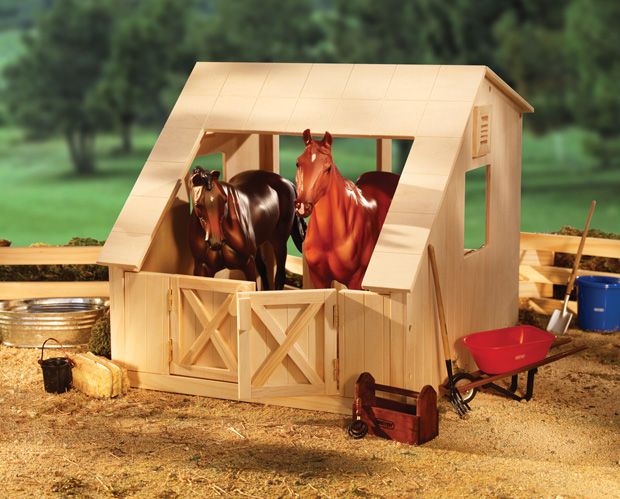 Breyer Wood Horse Stable
I coveted a couple of my BFF's horses from her huge Breyer collection several decades ago, and little collectors today will love this wooden stable for two specia toyl horses approximately 9″ tall and 12″ long. With swinging doors and an open roof, this stable makes a nice place to store horses in plain sight too. ($49.99, assembly required)
Or for a seriously fancy version, try the Breyer Deluxe Wood Horse Barn (at top). With room enough for two kids to play together, the barn with cupola has lots of neat features like built-in feed bins, sliding doors, and a hay loft–hay not included, thankfully. There's even room for a few dolls to come in and help do some grooming. ($199.99, assembly required)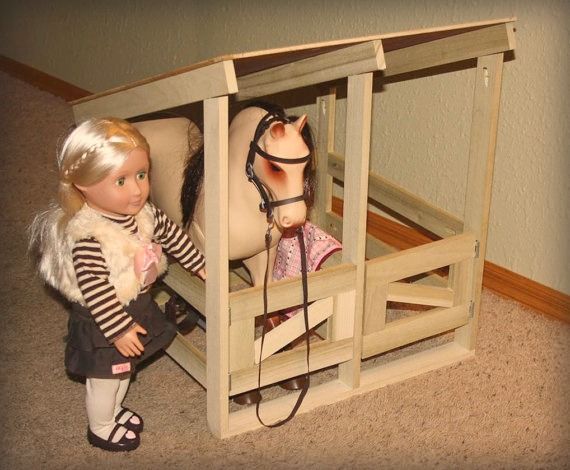 18″ Doll Horse Barn from Alaina's Adirondacks on Etsy
Handcrafted from hardwoods and with two stalls, this large, handmade horse stable  is sized to fit 18″ doll horses. You can even have parts of it painted in red, purple, or pink which could make nice accent colors in a bedroom or playroom. Though my girls might prefer blue or green. ($149 painted and assembled; a DIY kit is also available for $110)
Melissa & Doug's Fold and Go Mini Horse Stable
If your kids like to take their toys wherever they go, then Melissa & Doug's Fold and Go Mini Horse Stable makes a great, portable toy. Not only does it include four small horses, but the stable comes fully assembled and ready to play with, once it's opened. Has some cute details like little wooden hay bales,  a moveable fence, and sliding doors. ($49.99 at Fat Brain Toys)
Handcrafted Horse Stable from reclaimed wood by Steamside Farm
Spendy, but still less than a real pony, this huge—and gorgeous—handcrafted stable from Steamside Farm would make an amazingly special gift. I love that the cork pine wood used is reclaimed from historic barns, and there are lots of cool details for toy horses and places to stash their gear. Feeling kinda splurgey? Steamside Farm can even create a custom barn based on your own plans (uh huh) and use wood that you supply, if you have some that is truly special to you. Wow factor, for an amazing heirloom. ($275 for either the Gambrel or Monitor style)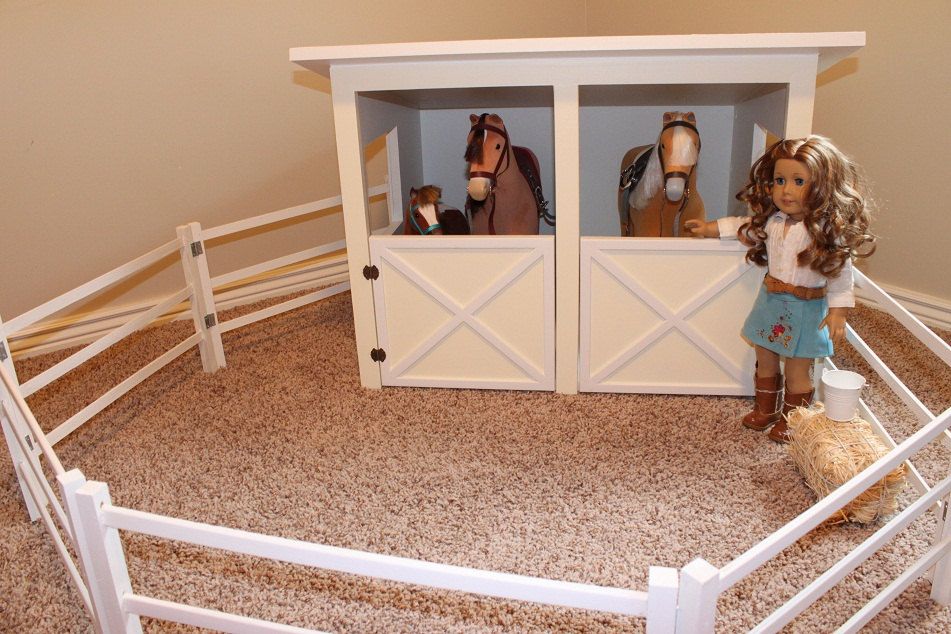 DIY Horse Barn Plans by Addielilian
Have a carpenter in the family? Then have your own little barnraising by using these horse barn plans from this Etsy artist. Keep in mind that you'll only receive a PDF of instructions, no actual building material, but you'll also have complete control over the finished project too. ($14.95 for building plans)
Color-your-own-horse barn
Horse lovers and budding artists will have a blast making the Crazy Create and Color Barn into their own masterpiece. Made of sturdy cardboard pieces that fit together, this is one art project that would get a lot of play time after it's completed. And, since it comes with a set of crayons and one Breyer horse, it also makes a great gift. ($17.50 at Chasing Fireflies)
The popular horse barn we featured from the Our Generation line of toys at Target is currently out of stock, but keep an eye on the site to see if it's restocked soon.