I've been so busy getting my kids back into the school routine that I'd totally forgotten I need some Golden Globes party ideas! Like the whole world, I'm really excited to watch Amy and Tina. And I'm determined that it's really not too late to make things more fun and festive—even if the only guests are me and my family.
If you've got the award-show bug too, here's how keep it fun and simple so you can enjoy seeing who wins. And what they're wearing, of course.

Online Invitations
It's not too late to invite a few close friends over to watch the big night with you, or just remind them in style with these sparkly Award Show online invitations from Paperless Post. Nothing like some gold confetti to set the mood.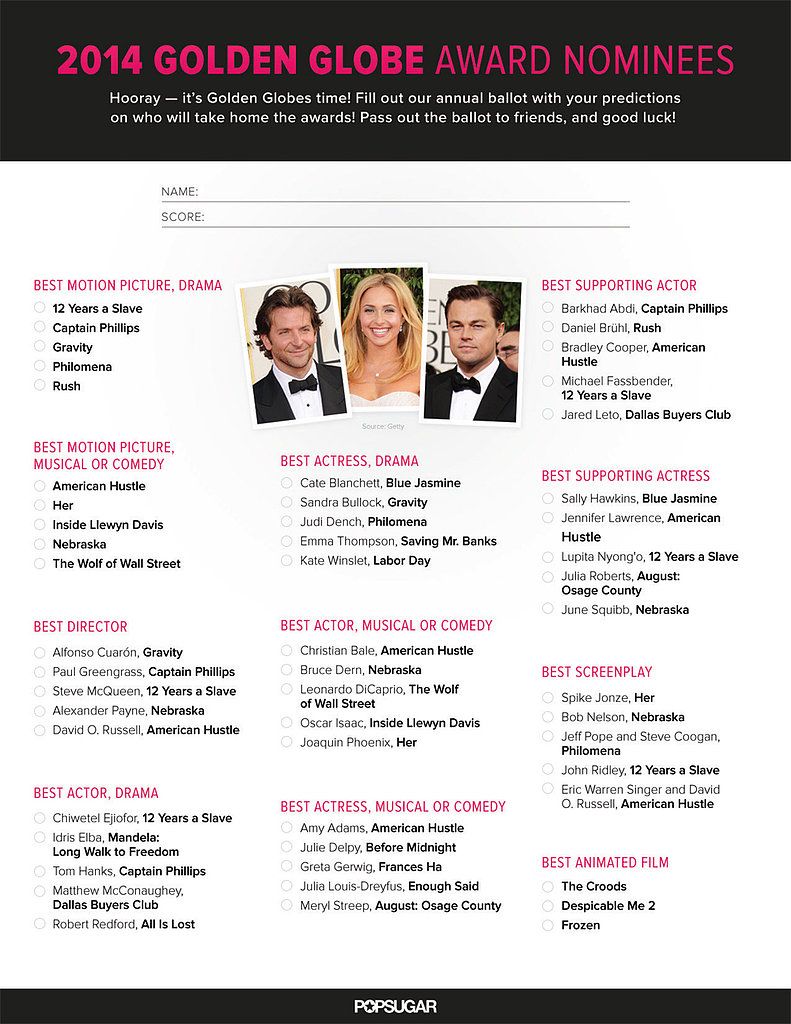 Printable Voting Ballot
Whether or not you are  good at predictions (and whether or not you've seen any of the nominees), no Golden Globes party is complete without a ballot. I like the clean typeface of this printable Golden Globes Ballot from Pop Sugar.  If you're a purist, you can download the official Golden Globes ballot from their website instead. Our family rules:  all voting must be completed by the end of the opening song, right answers earn you a piece of chocolate, and wrong answers mean you take a sip of champagne. So really, there are no losers.
DIY Ballot Categories
If you want to make things more fun, you can make your own ballot and add categories like "first person to be visibly toasted on stage," "first person to be played off too early," and "number of Lena Dunham nudity references."
Dress Predictions
For me, I'm as interested to see what the stars will be wearing as I am to find out who wins the big awards. So I love this fun collection of Golden Globes predictions from Style Bistro about which dresses the nominated ladies will be wearing. You can even turn this into its own poll.
Or heck, just follow pretty much all of Twitter for the most hilarious red carpet quips all live. It may seem counterintuitive to have social media running while you watch a show with friends, but honestly it can liven things up to have your own running comedic commentary to read aloud.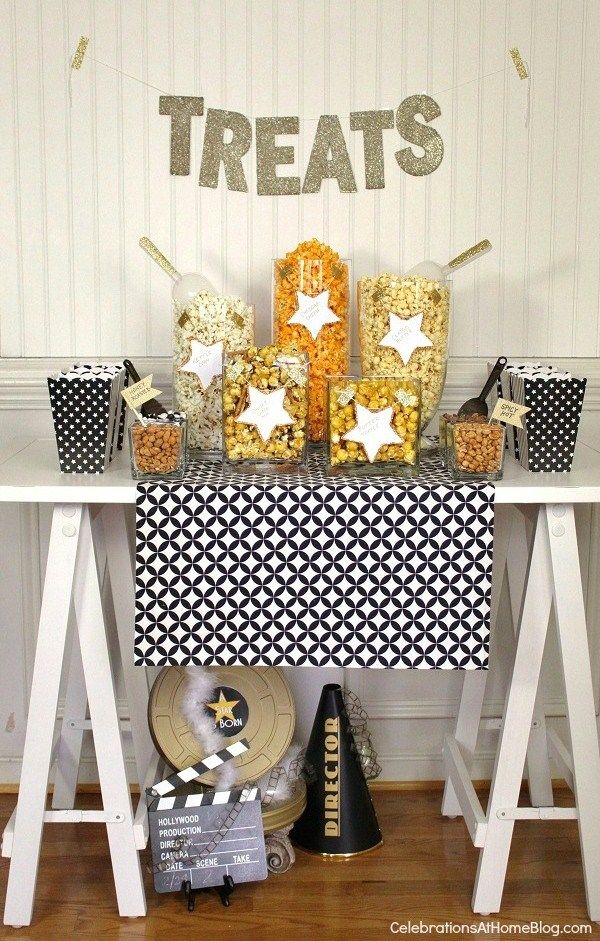 Party Snacks
You have to have popcorn if you're going to watch movies, and I'm loving this fun popcorn bar from popcorn bar party idea from Celebrations at Home. You can skip the megaphone, vintage film reel, and clapboard and just go with the popcorn. Set out a variety of bowls with different flavors, which are really easy to do. If you're feeling particularly ambitious, try your hand at our favorite caramel popcorn with salted peanuts recipe. Yum.
For more food ideas, check out these 7 party appetizer recipes which are all deliciously easy; and this post on festive cocktail and appetizer pairings, including mocktail adaptations for the kids. (Although really, kids should be sleeping anyway so Mommy doesn't have to explain when some of the drunken quips from the winners slip through the network censors.)