By now it's no surprise that we're huge fans of MOUTH, a rocking online indie food marketplace where you can get anything from an edible gold chocolate Jesus to a gourmet food subscription filled with artisanal goodies like pickles or cookies. And now—praise that gold chocolate Jesus—they've launched an online liquor store just for indie spirits, wine and gifts for the imbibing set.
We can't decide if we love MOUTH more because they find the most delicious small-batch food products, or for their dedication to supporting indie food makers in growing their businesses. In true form, the curators at MOUTH are on the cutting edge of the indie spirits movement and want to bring outstanding spirits that passionate makers are handcrafting directly to us. This is a win for the makers and most certainly for discriminating drinkers.
Can you say hostess gift? Or Father's Day gift? Or welcome to the neighborhood gift? (Now that's a neighborhood we'd like to be a part of.)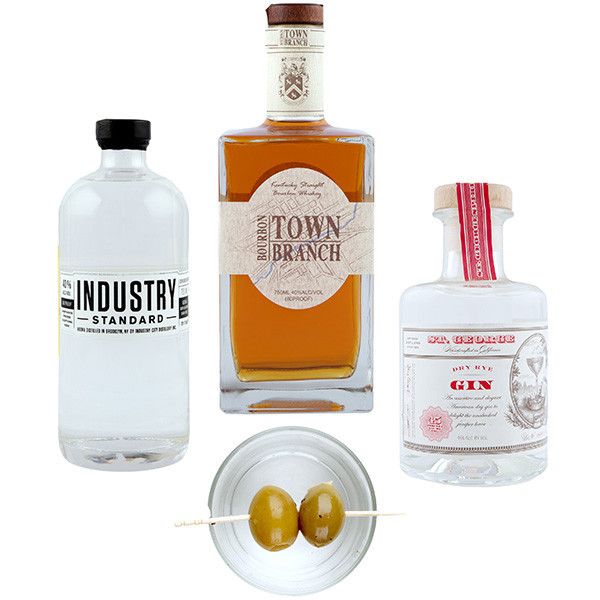 The MOUTH online liquor store launched this week with a carefully curated selection of 60 products and gifts, with a Brooklyn brick-and-mortar shop that's growing to offer more than 150.  For those of you out of my fair borough, you can shop an online assortment–if it's legal in your state–that includes a whole lot of whiskey, bourbon, rye, and gin. There are also small-batch vodkas, rums, and even moonshine. Made in Brooklyn, of course.
The store also offers gift subscriptions like Bourbon Every Month (at top) which includes a personal favorite around here, Widow Jane bourbon from Red Hook, which we featured in our Holiday Gift Guide this past year. and gift collections with clever names like Raise the Bar, Grandmaster Flask (ha) and  Three Cheers for Dad (above), just in time for Father's Day.
So yeah, with more than 700 delicious food products from small producers—caramels to crackers, coffee to cheese, and everything in between, including now, fancy booze—MOUTH is officially my favorite online store. If they start selling shoes I might explode.
Check out all the goods available at MOUTH or head directly to their brand spanking new online liquor store featuring indie and small-batch selections. Make sure they ship to your state; with 32 that allow it, there's a good shot. Pun slightly intended.