Teething babies have been sinking their chompers into colorful, fashionable and safe Chewbeads ever since their bracelets and necklaces started appearing on the coolest new mamas. And now, along with their toddler-friendly teethers and playful older-kid Juniorbeads, they've come up with their own line of pacifier clips to keep many babies' favorite mouth accessory right where they want it.
Chewbeads' "Where's the Pacifier?" Pacifier Clip keeps those pesky binkies attached with a cute silicone clip tethered to their trademark soft beads that are safe to chew on, and bright enough to find should they become lost in a pile of stuffed animals. Even better, some of those beads glow in the dark to help you spot them more easily at naptime or at 3 a.m. when a whimper threatens to turn into a five-alarm cry.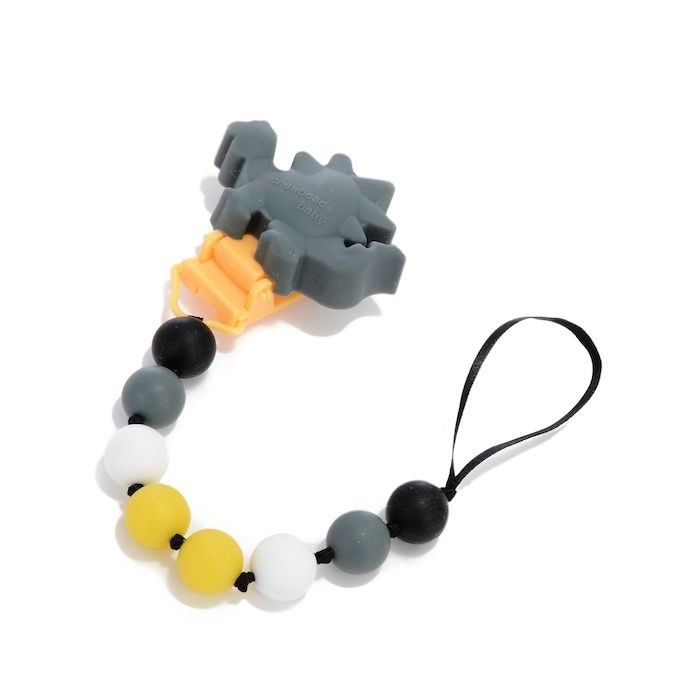 Fear not the beads, new parents! They're free of BPA, phthalates, cadmium, lead, or metals. And hopefully dog hair, germs, and sticky stuff too since the clips can be cleaned with any dish soap and water. Or when you're a second time mom, with a wipe down your pants leg. Don't quote us on that.
Chewbeads' Pacifier Clips are available at Chewbeads.com.