This is that time of the year that I'm still totally dedicated to super healthy eating (seriously!), but also craving hearty, stick-to-your-ribs meals because, well, winter is in full swing. Every year, my answer to this conundrum is the same: baked sweet potatoes. Hearty, healthy, and satisfying, sweet potatoes can be topped—no, stuffed—with nearly anything to make a delicious meal. If you don't believe me, check out these 8 stuffed sweet potato recipes—and just try to resist stuffing your face with them.
What happens when you make a simple black bean taco using a baked sweet potato in place of a tortilla? Magic, that's what. The Southwestern Stuffed Sweet Potatoes from What's Gaby Cooking are so simple and so good. In fact, I plan on making them once a week until I try them with every one of these guacamole recipes.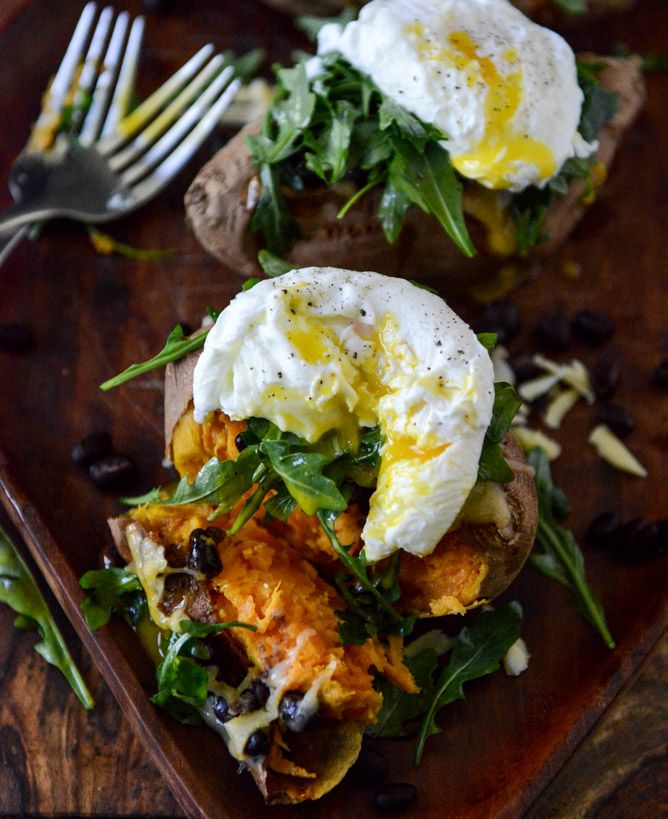 These Cheesy Black Bean Stuffed Sweet Potatoes with Arugula and Poached Eggs from How Sweet It Is make it official: black beans and sweet potatoes make a killer team. This time, instead of piling taco fixings on top, add healthy greens and a poached egg for a rich and satisfying protein boost.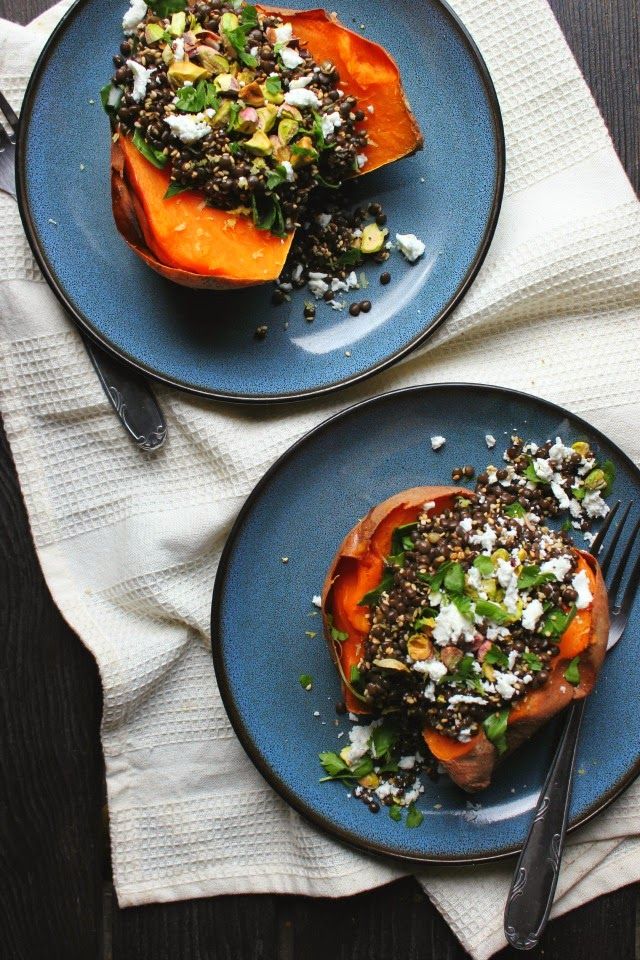 These Lentil Stuffed Sweet Potatoes with Chard, Feta and Pistachios at Happy Hearted Kitchen are piled high with healthy ingredients and dressed with olive oil, cider vinegar, and lemon zest for a shot of flavor. These taste as delicious as they feel healthy, striking a perfect balance.
Related: 8 seriously amazing mashed potato recipes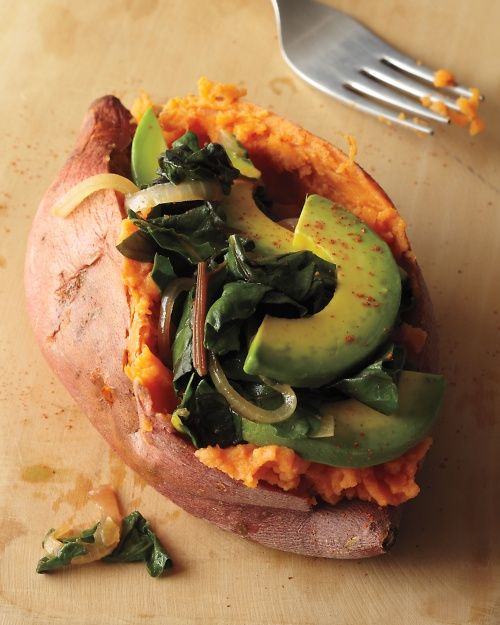 I originally shared this Baked Sweet Potatoes with Greens and Avocado recipe from Whole Living as a great detox meal thanks to the recipe's clean ingredients and nutritional punch. A dinner like this will also make you happy and full on a cold winter's evening. If you're worried about the kids digging into this, either separate out the ingredients (and maybe skip the greens if they aren't into those yet) and throw some leftover chicken or deli ham on top, along with some cheese. Everything is better with cheese, right?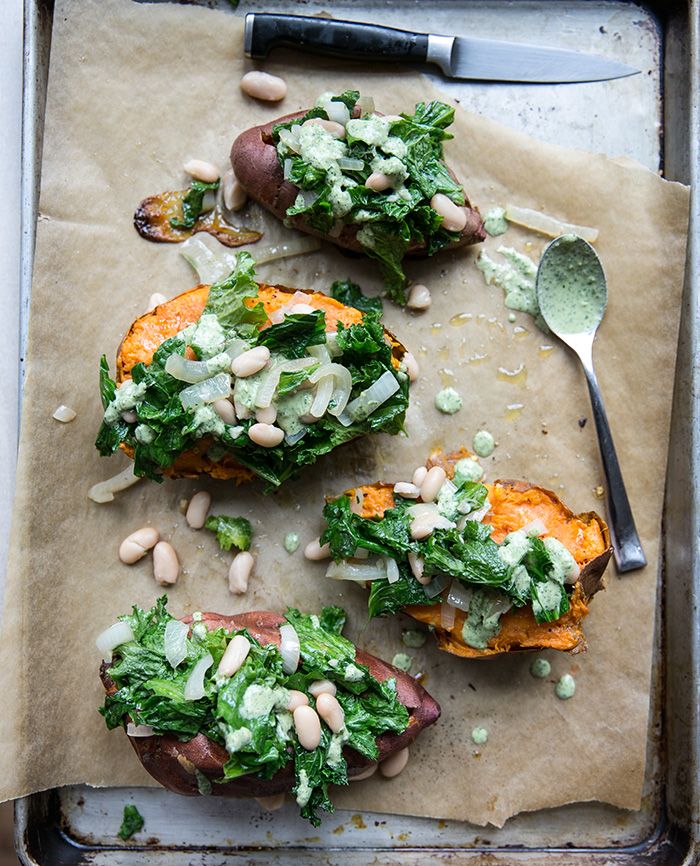 This recipe for Baked Sweet Potatoes with Mustard Greens, Leeks, and White Beans from Jodi Moreno at What's Cooking Good Looking (also at very top) gives us another awesome way to pair greens with sweet potatoes. The key here is the cilantro tahini drizzled on top. The combination is genius. But even if it sounds like perfection to you, consider serving the sauce on the side to pickier eaters. And, yes, you can again skip the greens for the kids and still have a great dish; there is a lot of nutrition in just the sweet potato and beans.
As an alternative to black beans, lentils, and white beans, how about chickpeas? These Chèvre and Chickpea Stuffed Sweet Potatoes from Happy Healthy Hunters have us covered. This super simple recipe is intensely gratifying thanks to the unbelievably rich combination of goat cheese and creamy garbanzo beans. Double yum.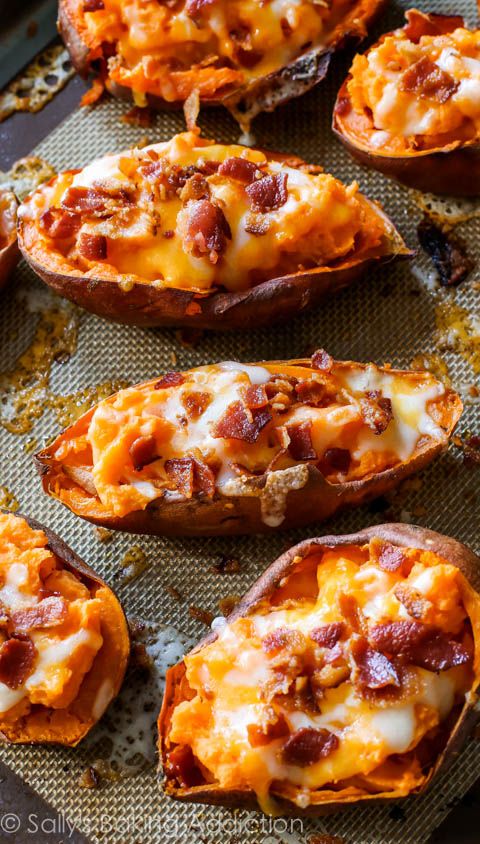 Okay, I know this is supposed to be a round up of healthy stuffed sweet potato recipes, but you'd hate me if I didn't give you a classic, finger-licking-good stuffed baked potato recipe. Right? Well, I'd hate me too, so I'm sharing these Loaded Sweet Potato Skins from Sally's Baking Addiction. This has nothing to do with me at all or the fact that I want to eat them right now. These, my friends, I offer just for you. No, really. Add it to your stash of Super Bowl party recipes.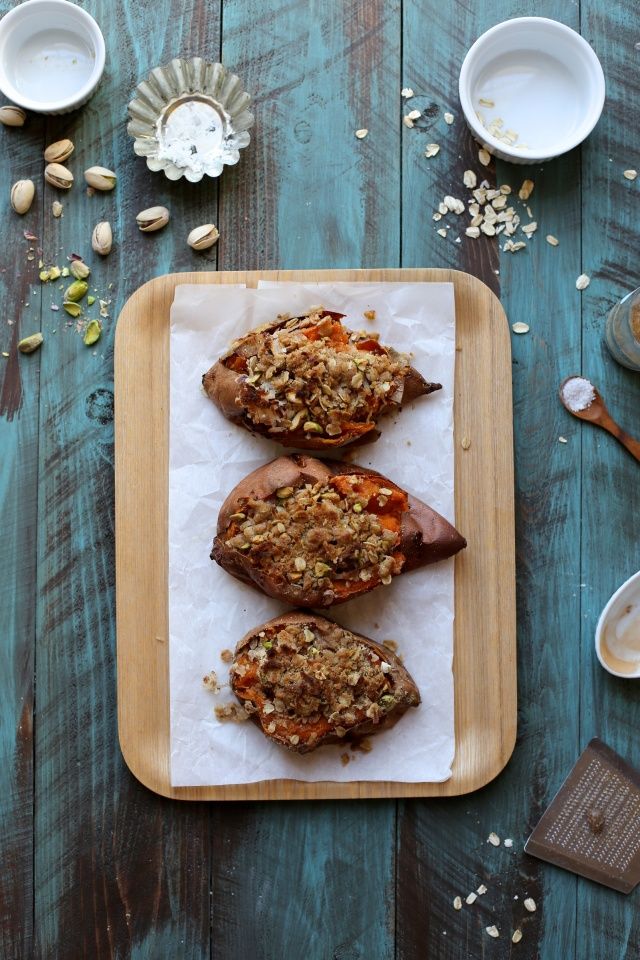 Sweet potatoes for dessert? Totally.These Oat and Pistachio Crumble Topped Baked Sweet Potatoes from Joy the Baker are a healthy and seriously delicious after-dinner treat. Or even a hearty after-school treat for growing kids. They get their flavor from just a little butter, a great combo of  spices, and shredded coconut. Plus, you can choose to go easy on the crumble topping. Or not. That decision is best left to you.