The truth is, if you want a romantic Valentine's Day for him, it doesn't have to be plane tickets to Paris. (Not that we'd discourage that.) In fact it can cost a whole lot less. So we took the time to track down some really fun Valentine's gifts for the lucky man in your life, all under $50. Not including the card of course. Which can possibly be the most romantic of all.

We're so happy that our 2015 Valentine's Day gift guide is sponsored by Kindle Love Stories, a vibrant Amazon community that chats about the best recommendations and deals for fun romance reads.  Visit their Facebook page and you can't help but smile right away like we did. In fact, you might find a little literary escape for yourself this Valentine's Day–and in the end, that can benefit your man too. If you know what we mean. Nudge nudge wink wink. 
All gift ideas have been determined by our editorial staff. There is no compensation for recommendations.
Cool Mom Picks is an Amazon and Reward Style affiliate.
Instagram photo book (starting at $17.99, Artifact Uprising)
The personalized photo books and gifts at this shop are just beautifully made in the US, all from high quality recycled papers. But what really makes them special is what you fill them with. Dig through your Instagram feed for your favorite photos of the two of you together, or crop some favorites from your photo library of a romantic trip you took together. Nothing brings those feelings back like looking through it together from time to time.
bem wireless speaker in red ($49.99, amazon)
Also one of our top gift recos for men under $50 for the holidays  (where you'll find even more ideas), we just adore this speaker. Great sound for a great price. Especially if he travels. Be sure to load up a custom Spotify playlist just for him with all your favorite romantic songs.
I, Um, Like You Valentines Taster ($45, Mouth.com)
Whether it's a newish relationship or you're so madly in love that the name is ironic, we're smiling at this foodie treat taster from our friends at Mouth. It includes five artisanal, small-batch treats including spicy gingersnaps, chocolate covered dulce de leche alfajores (mmmm) and some super cute XO candies by Raley's confectionary.  Just enough to get you through a movie night or two.
.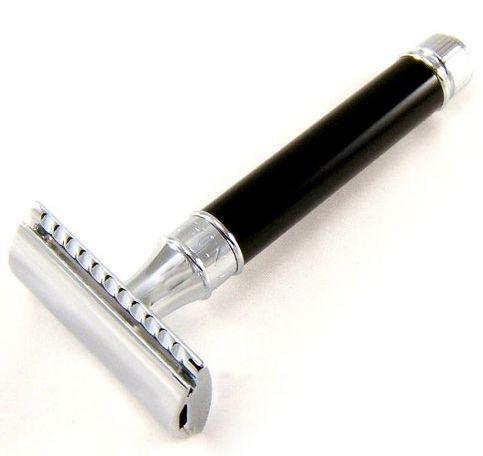 Handcrafted Edwin Jagger razor or Full Shaving Set ($35.85/$48.50, Gent Supply Co)
Because a close shave is next to godliness. Oh wait, that's not how it goes. Well, at least it will get him closer to you.
What I Love About You journal ($10, Uncommon Goods)
With 50 fill-in-the-blank pages, you can make this book absolutely as sentimental and sappy, or funny and cheeky as you want. It's one of those gifts at a great price that becomes something as treasured as an expensive one.
Personalized beer bottle printables ($5, Printable Miracles) with Coach leather key chain/bottle opener ($45, Coach)
This Etsy shop will customize a JPG for you to download, print, and stick right to his favorite microbrew. To make it extra special, we absolutely love this affordable Coach bottle opener and keychain which comes in several colors besides red.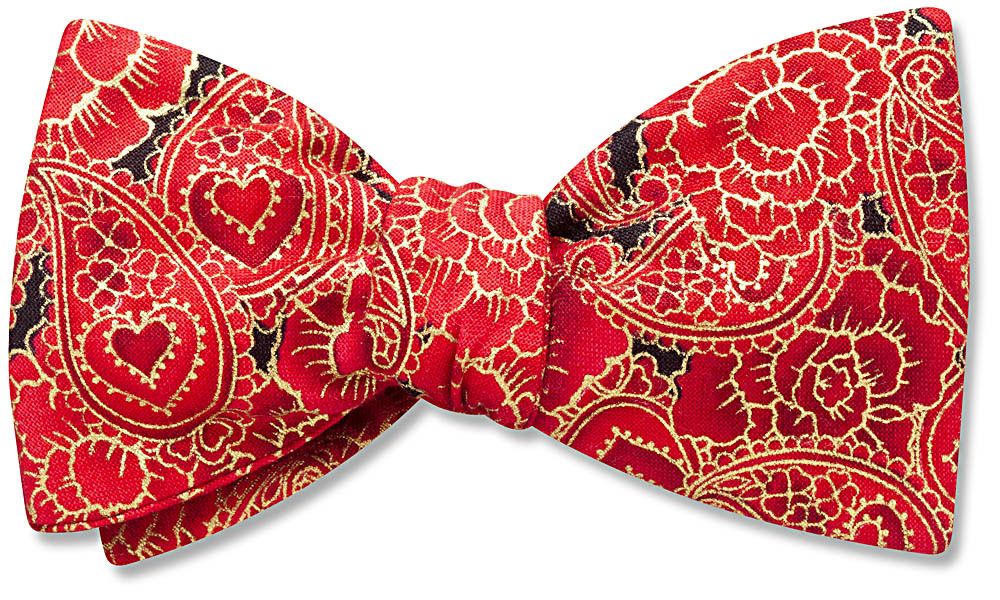 Amorous bow tie ($40, Beauties LTD)
If he's a bow tie wearer, we think this handmade-in-Vermont design is pretty awesome, with fabric featuring a subtle heart pattern made funky with black and gold accents. You can customize the tie width and neck style. Or get the same fabric as a pocket square for $30
Personalized Valentine's Day card ($5.99, Minted)
While this card is pretty cool on its own, what's better is that you can customize the outside (like changing YOU to BEN) and have your own photos and a custom message printed on the inside. If you want to go further, include something special on the inside, whether it's two tickets to a show, seats for a home team game, a favorite printed photo, or even some Valentines themed lottery tickets.
Sponsor
Minnetonka men's slippers ($40.95, Nordstrom)
Any gift that implies sleeping in, followed by relaxing time in jammies at home, is a fine gift indeed. Don't these cushy slippers just make you want to hibernate together until spring? Or longer?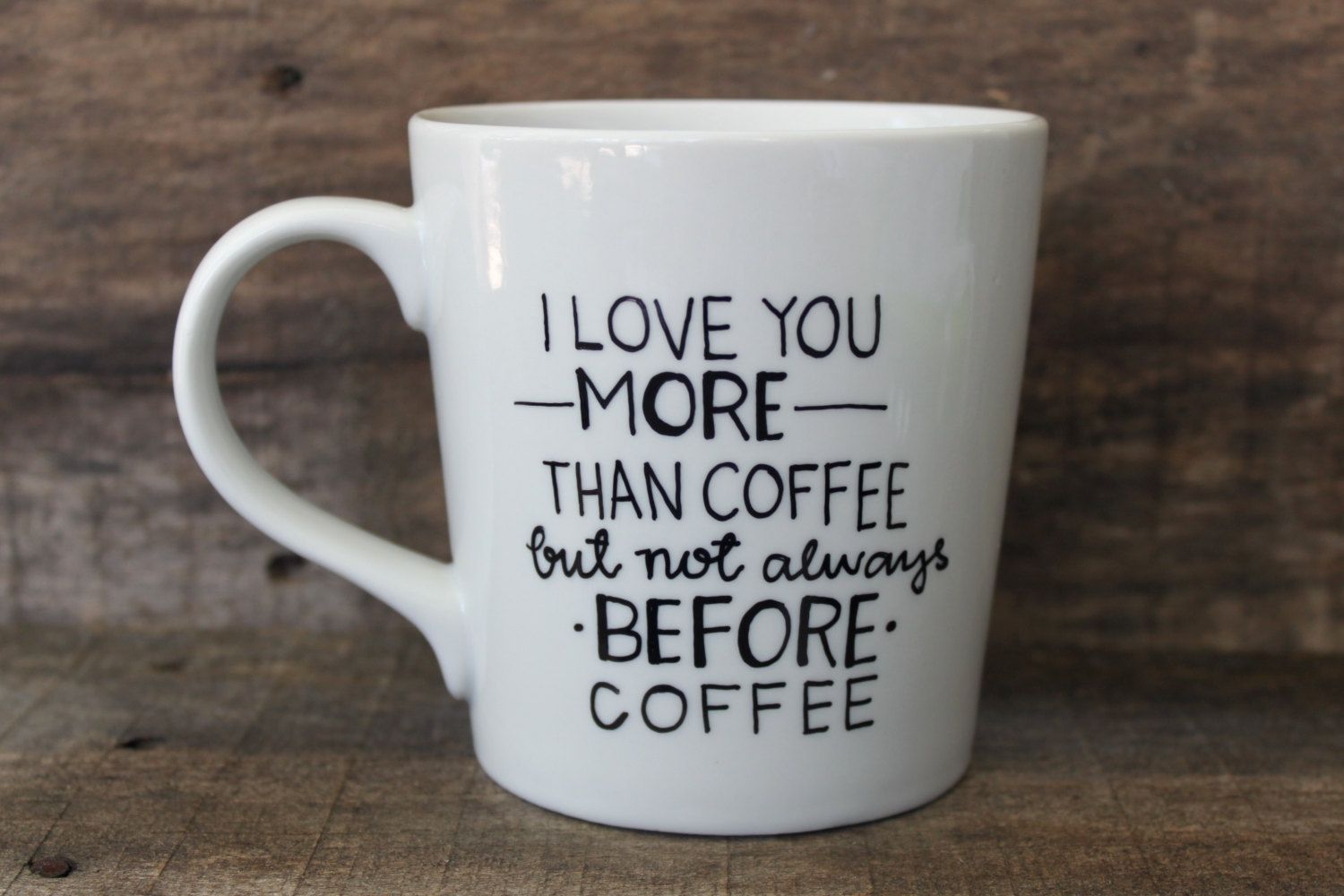 Love you more than coffee…mug   ($16, Morning Sunshine Shop)
We think this is awesome, because it's true. Unless you're tea drinkers, of course. To make things extra special, add in a bag of his favorite beans. Lately, we're loving anything from Stumptown coffee which we featured this holiday season too, but whatever it is that he loves–that's the perfect pick. And hey, it would go pretty well with those slippers up there.
Creed Original Vetiver Soap ($40, Nordstrom)
This is the total, indulgent, splurge grooming gift he'll never get for himself. And mmm…vetiver. If you've never tried it, one sniff and you'll know why it makes our list of romantic Valentines gifts for him.
FIKA date night truffle flight tasting box ($22, FIKA)
The flavor concepts alone kill us. Flirting Over Coffee is an espresso truffle with 71% chocolate; Toasting to Love is a champagne truffle in white and milk chocolate; while Morning After Breakfast is a blueberry truffle coated in Corn Flakes. If he shares with you, you'll know you've found true love.
Printable Valentines coupons for romance (free printable)
There are so many free printable Valentines Day coupon book on the web but hey, we're picky. We want ones that not only look amazing, but have ideas beyond "one free cuddle." We wish we could find the designer of these awesome coupons, with ideas ranging from a game night to an intimate fantasy day.  The rest is up to you.
Breakfast in bed with a message of love in an unexpected place ( I Love You Toast Stamp $7.95, amazon)
We can't resist the idea of presenting a romantic breakfast in bed (or brunch, if you're lucky enough to sleep in) completely with a little romantic surprise on the tray. While there are all kinds of ideas out there, for under $8 you can grab this clever toast stamp and proclaim your affections using white bread. Just know that he'll eat the evidence.
Thanks to our sponsor Kindle Love Stories, for helping women everywhere get in the mood for love. Visit the Kindle Love Stories blog and Twitter stream for more romantic inspiration and ideas. 
And for lots more Valentines gift ideas, check out all the posts in our 2015 Valentine's Gift Guide