Photo gifts for baby showers can be a win even before the little one arrives. It's just so personal and thoughtful, and hey, if you're going to go off the registry, might as well really go off the registry. So we've looked around to find some of the most creative photo gift ideas out there. You know, the ones so sweet they're destined to bring tears to the eyes of the guest of honor (with a little help of those pregnancy hormones).
Of course, as with any photo gift, these require a little bit of lead time to get ready before your event, so start scrolling through your photos or asking the new parents' relatives to share their stash now, so you can wrap up a sweetly sentimental gift for the parents-to-be on the big day.
 Related: 9 fantastic photo books under $30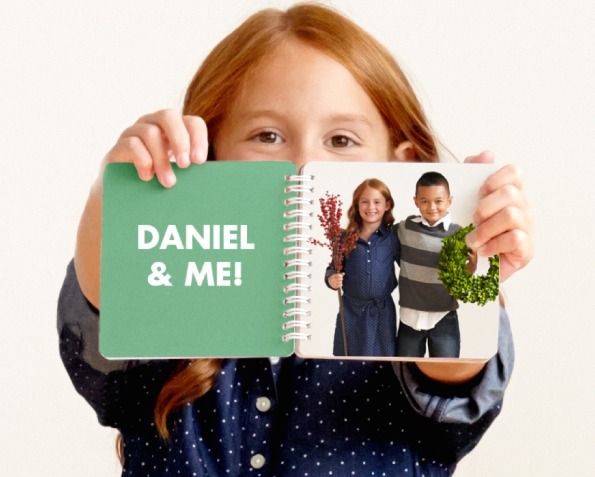 A DIY storybook of names and faces in a child's life is a perfectly sweet, thoughtful gift for a new baby, and we love the ones from Pinhole Press. Babies will love seeing pics of Mom and Dad, siblings, grandparents, and close friends when they get old enough. Hint: their board books are the best option to hold up to rough handling by little fingers. And high contrast black and whites are perfect for those developing eyes.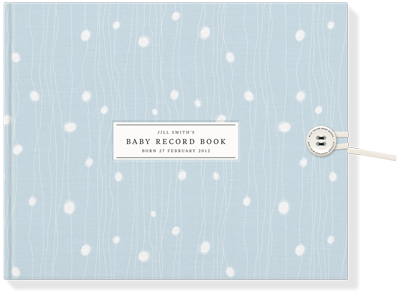 My kids love to look back at photos of me from when I was pregnant with them — swollen ankles and all. It would be so sweet to collaborate ahead of time with the other guests and create a collection of photos of the mom-to-be's 9-month experience in a bespoke photo album, like these gorgeous ones from MILK books. Include handwritten notes from the grandparents, aunts and uncles and big siblings-to-be alongside the photos. Sometimes a gift doesn't have to be big at all to make a big impression.
For a lovely photo gift for a nursery, try the framed photo wall art at Minted. There are dozens of funky and bright designs to decorate those still-blank nursery walls, from family tree designs and collage hearts to photo cut-outs of your state or even a monogram. Fill the frames with images of all the loving people who are about to come into the new baby's life and you've got a keepsake for generations.
I have Paper Culture's eco-friendly wall decals up in my own home, and I love them. Wouldn't it be so cute for new parents to decorate the new nursery with Custom Photo Stickers showing the progression of mama's growing belly? You could also create a loose family tree featuring your own family's cast of characters. The best part is they're not permanent; I've lifted ours up to reposition them a few times and they don't lose any stick.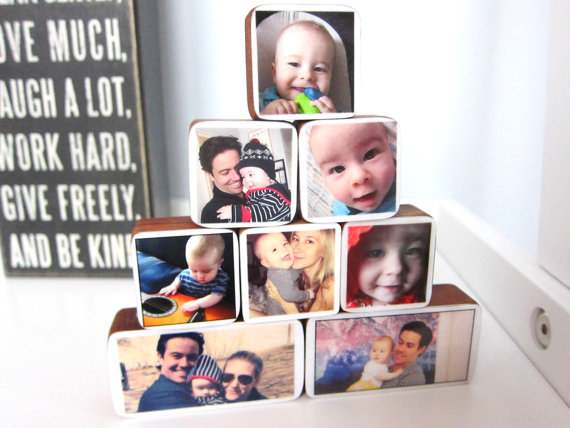 I just love the durable custom photo wooden blocks, from BéBé Blocks that we found last year. They really make a fun and unexpected gift for a new baby, whether they're filled with the faces of family, or you make your own learning blocks out of photos of objects, pets, trees, street signs in the neighborhood.  Parents can set them on a shelf in the nursery as decor until the baby is old enough to play with them. Although even then you might be reluctant. Such is the way with the perfect gift.
For more photo gift ideas, check our archives. We have plenty!