Each year for the last few years, we've been tracking down our favorite funny Mother's Day cards. Of course humor is subjective, but I always try to stay away from the cards that reduce her to a laundress/cook/taxi driver. Also all the MILF jokes because…yeah. She's your mom. Don't be weird. Really, these are just the cards so funny I wish I had written them.
So kudos to these awesome writers and designers for making us smile just a little more than we already do this weekend with some fantastically funny Mother's Day cards.
CMP is an rstyle affiliate
Warning, mild irreverence ahead, and one or two words you wouldn't want your preschooler saying.
Related: 15 more funny Mother's Day cards for moms: Updated for 2018
Above: Butt Wiping Card (Classy Cards Creative)
Perfect if you have a sibling or two.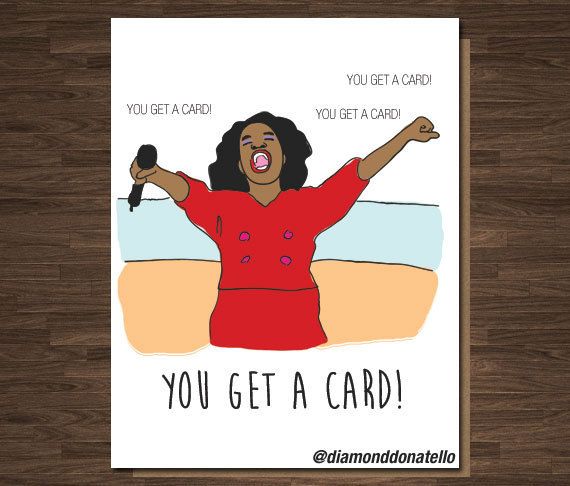 Oprah Mother's Day Card! (Diamond Donatello)
The next best thing to getting a car? Eh, maybe not.
Mother's Sacrifice Card (Classy Cards Creative)
You finally understand.
Autocorrect Mother's Day Card (Wordplay Design, UK)
We've typed worse.
Cersei Mother's Day Card (Instant Download, Everburg Design Studio)
Not that the bar is so high. Also, hopefully your father…no. We won't go there.
Siblings Mother's Day Card (Knotty Cards)
If you have an older sister, we may have found your perfect card.
Related: The best last-minute Mother's Day gifts that don't feel last minute. Get them now!
Funny Shining Mother's Day Card (Seas and Peas)
Our favorite feel-good movie for our favorite holiday.
Mom Texting Card (Row House 14)
What? We don't know any moms or grandmas like this.
Funny Mother-in-Law Card (Whit and Whistle)
Don't forget your mother-in-law! (Especially if she has a sense of humor.)
Bad Haircut Card (Tense and Urgent)
Fortunately, no one had smartphone cameras back then. Or Facebook.
Valuable Life Skills Mother's Day Card (Cheeky Kumquat)
Some life skills are just more underrated than others.
Freddy Mercury Mother's Day (Pablo Panda)
Well, she is Queen for the day. (Sorry, couldn't resist.)
Mother's Day Hair Brush Card (One Sharpened Pencil)
Okay, so this is the one our kids will probably give to us one day.
Amazing Person Mother's Day Card (Print Smitten)
Oh sure, blame Mom for everything.

Calculus I Love You Card (Chang Thang)
Geeky moms need  <3 too.
Debbie Downer Mother's Day (Seas and Peas)
Wha-whaaaaaaa….
Nutella Card (Le Sentiments)
Now that's saying something.
Ok so I Love You (Sad Shop)
For those who aren't so great with words. Then again, the inside is blank so you're on your own there.
Tequila Card (Nocturnal Paper)
Well…some successful mothers. It might even be how they got to be moms in the first place.
I Eat My Vegetables (Hello Lucky)
Yet another underrated life skill.
Apologies for the Teenage Years (Grimm and Proper)
At some point, we all need to go there.