Finally, it's pool and beach season! For the dad in your life, there's something very smart about getting something sentimental (if even a homemade card) then also considering a Father's Day gift that will be put to good use. So when we had an opportunity to partner with Tom & Teddy, makers of stylish, popular, UV protection swim trunks for boys and men that are designed to last, we were so happy. They're known for being extremely well made, wildly comfy, with a cut that's a little shorter and more fitted to make playing, sand-castle building, and of course swimming a lot easier.
Let's just say, they're adorable photo opp ready.
(Also, to be frank, at some point, every dad hits an age where those surfer-style, extra-long board shorts just aren't going to cut it.)
Don't miss the awesome giveaway below! 
If you think they'd make a cool Father's Day gift — or even a cool daddy and me gift for the stylish gents of the house — be sure to check out their newest collection, inspired by Australian summers. We've put together  some of our favorite patterns and colors that we think the cool dads in your life will love, along with matching boys' styles too. Can we get an awwww?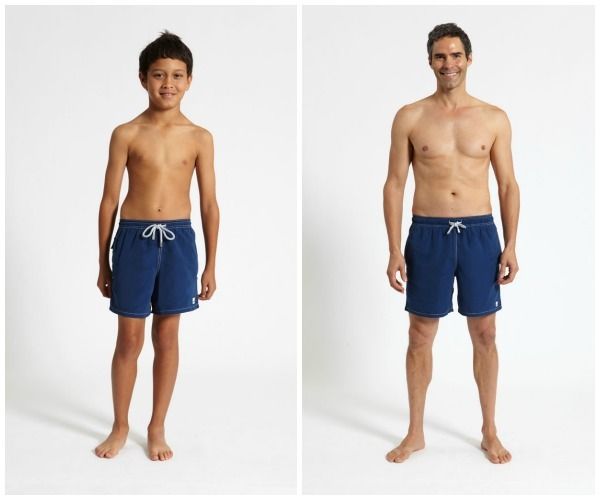 It's amazing how hard it can be to find plain, solid swim trunks. Why is this? Maybe to drive us crazy. So we're personally fans of Tom & Teddy's solid blue swim trunks, but you'll find turquoise and red as well.

We love the whimsical red and white fish swim trunks that look cute on kids but not too cute for an adult. Plus, if you're not sure if he's keen on perfectly matching styles, you can select the same cool pattern in a different color palette for a fun semi-match.

Hooray for a bathing suit that can actually double for shorts in a pinch! That's why we're digging these super stylish blue and green stripe swim shorts. They're made from quick-drying fabric which means he can pop a short-sleeved polo shirt on top soon after drying off, and no one would ever know that it's a bathing suit.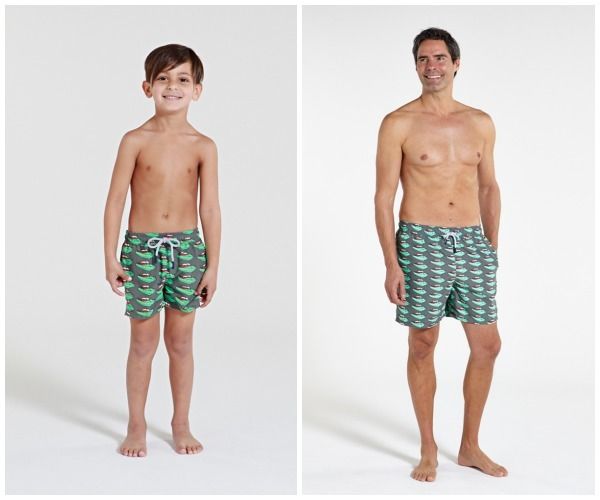 If you're a fan of  retro patterns, there are lots of cool choices, though we're personally drawn to the Tom & Teddy Speedboat swim trunks, in a color palette that offers a nice alternative to the super bright, bold patterns you typically see in mens' swim trunks. Yeah, not every dad is a neon guy.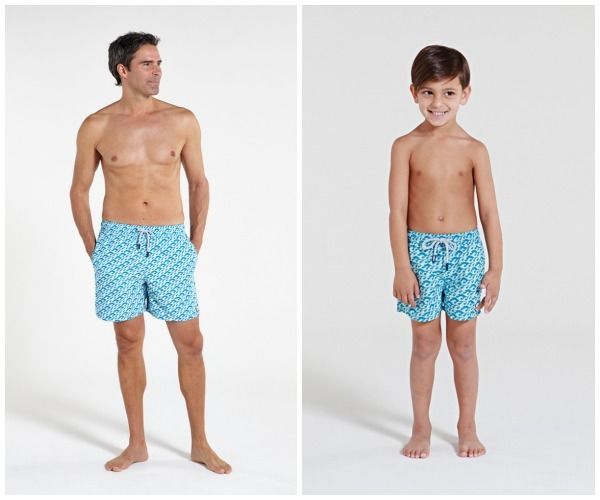 If we had to pick one favorite pattern, it just might be the waves swim trunks which are perfectly beachy, but also welcome at a fancy club pool or a friend's boat party. (Get lots of those invitations? Well then you're set.) And because they're salt-water and chlorine-resistant, you don't have to worry about fading, because it completely sucks to finally settle on your favorite swimwear, and not be able to keep it absolutely as many summers as humanly possible. At least that's what we're hoping for with Tom & Teddy.
EXTRA COOL: WIN IT! We're giving away a $150 gift card to Tom & Teddy as part of our huge $800 Father's Day gift guide giveaway. Head over to our Father's Day gift guide posts to enter. Don't worry, it's easy! All the instructions are on each Father's Day post, starting with The Coolest Personalized Father's Day Gifts.
Thanks so much to our sponsor Tom & Teddy for creating beautiful, thoughtfully designed clothes that last, and for making shopping for Father's Day gifts a little easier this year. And don't miss their really lovely Father's Day video.