It's unmistakable, emoji are everywhere! So of course my kids are begging for an emoji party. They are like the new My Little Pony. The new Cabbage Patch Kids. The new Pet Rocks. (Ha.) I am waiting for Time Magazine to give their 2015 Person of the Year cover to the little winking face with the tongue sticking out, and call it The Year of the Emoji. (It could happen.)
With that in mind, and to help stave off the begging from my kids, I've scoured the web for tons of the coolest ideas for how to throw an emoji party that kids will love. And hey, adults too. We are not immune to the lures of "kissing face" and "smiling face with horns."
Also, can I say emoji any more times? I CAN'T EVEN HELP IT.
Related: The Cool Mom Picks ultimate birthday party gift guide
Emoji Party Invitations
The truth is, you could just email people an invitation with a bunch of emoji on it and that would probably work just fine. But if you're going all out, here are some cool ideas.

If you're a DIYer, find inspiration in this ingenious Emoji party invitation from Luscious Verde, that they created for a bat mitzvah. The best part? The RSVP cards that replaces "regrets" with  "[poop] I can't make it." Genius.

Such cheery free printable DIY emoji invitations by Michelle from Joyful Riot. [Edited: no longer available]  It's really just the basic face template so upload it into PicMonkey or Canva, and layer your own type over the top.
Of course it's easy to also just do a Google image search for transparent emoji PNG images, and upload a grid of emoji icons and print that out on card stock. So easy, that I made this free printable Emoji party invitation just for you! Seriously! I made this!
Just print it out on 4×6 and go to town. Want a different one? Again, PicMonkey.
Just note that this free printable is for your own personal use, and not for distribution or sale, like you would even do that. If you share it, you must link this page for the original and please don't host the file yourself. Legal blah blah blah legal. 
Related: 10 fantastic summer party themes for kids
Emoji Party Treats and Food Ideas
Now this is the fun part! Well, as long as you're not serving anything resembling the poop emoji. (Though leave it to my own kids to find a way.)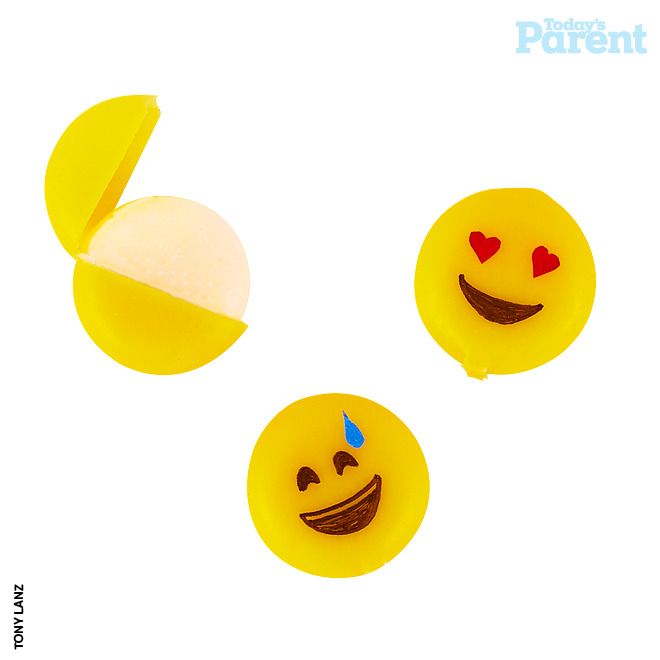 Let's start with the healthier stuff, since you know all the sweets are coming. I think this is the world's best use of Babybel for parties, since I found the cute Babybel kawaii girls on Cool Mom Eats. This tutorial from Today's Parent has the smartest, easiest, DIY emoji cheese treats tutorial. Done!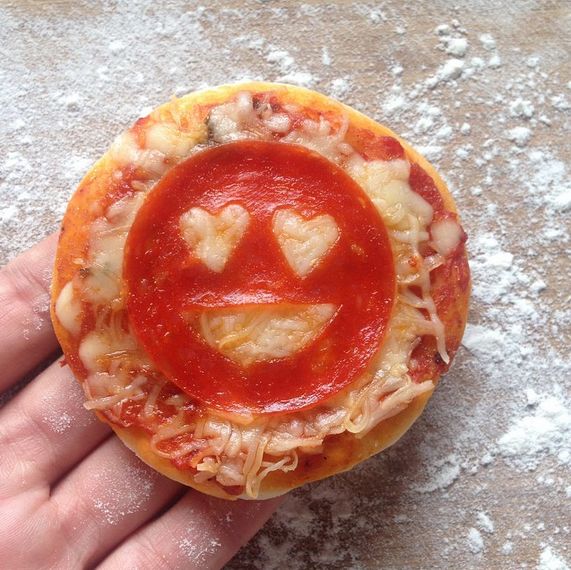 I'm laughing at this idea because it's so smart: Mini emoji pizza bagels from Instagram user amirahkassem. If you're not making millions, this shouldn't take too long to do. Or get the kids to cut their own faces out of the pepperoni, and turn it into a party activity in itself.
Also keep in mind there are emoji representing plenty of healthy foods kids, love like watermelon, cherries, strawberries, pineapple, grapes, peaches, and corn on the cob. Check out our post  11 ways to serve watermelon for example, where we found this easy watermelon sticks + dip recipe from Real Simple. Then just affix the appropriate watermelon emoji on a white place card (found these are $3.99 for 20 at our Amazon affiliate) and voila! Emoji themed healthy party treats.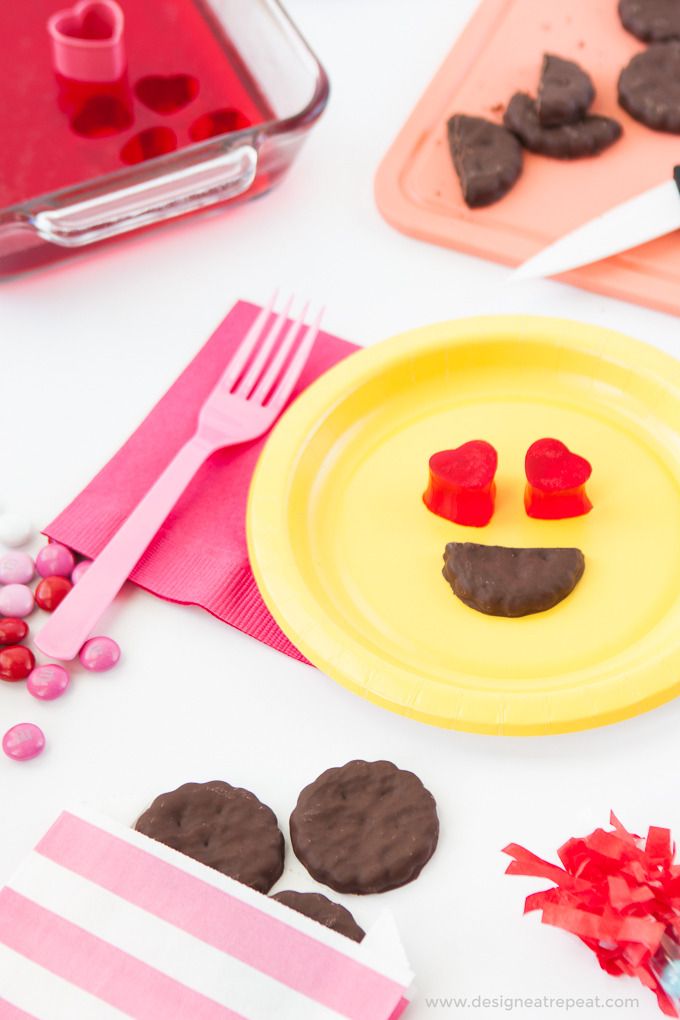 When it's dessert time, have guests sit down to a little plate of emoji party treats from Design Eat Repeat, using really simple finger food. The hardest part is cutting the Jell-O into hearts…or just splurge for some ready made heart gummi candies. That's what I would do. Because, shortcuts.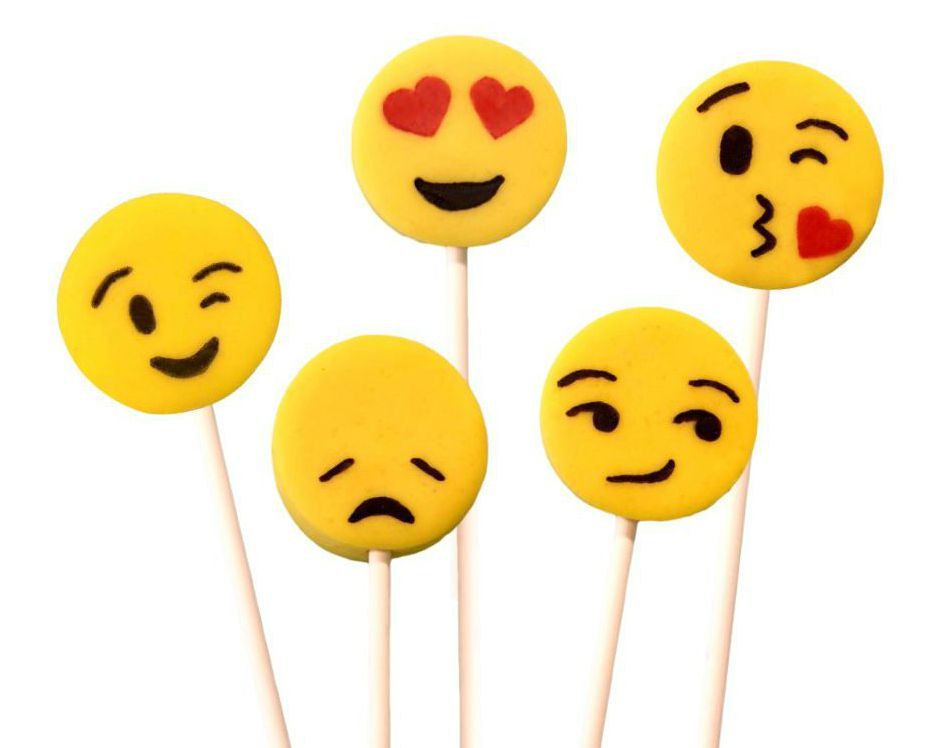 Move over cake pops, we've found Emoji Marzipops which are artisanal lollipops from an Etsy shop specializing in them. Amazing, right? Plus, kids like eating anything on sticks. Especially when it's sweet and shaped like "face blowing a kiss."

Would my Emoji sugar cookies ever come out from the ones like I Dream of Cookies? [Edited: no longer available] Heck, no. Which is why they're for sale in her Etsy shop. They're a little splurgy, so maybe you wrap each one individually and send it home as a party favor?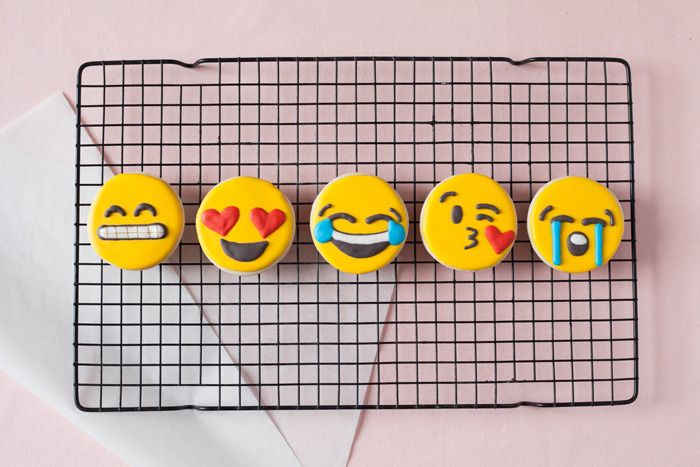 Also check out the exquisite Emoji sugar cookies made by The Alison Show which are equally inspiring. But remember…they were created with professional bakers, stylists, and photographers. Just being real here.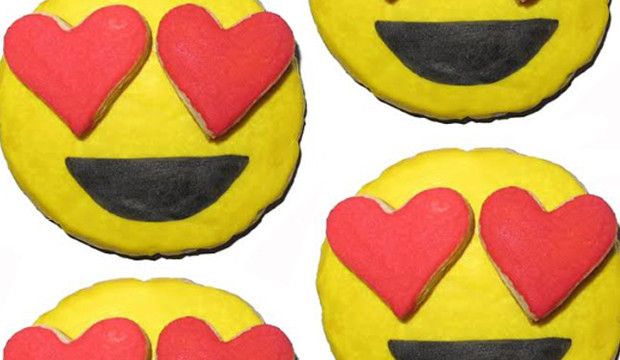 Now if you do want to attempt your own? Here's an emoji sugar cookie recipe from The New Potato which I appreciate for the reality of what an amateur or intermediate baker can reasonably pull off in his or her own kitchen. Our kids would have a lot of fun with these though.
Related:  Kids party food recipe ideas, the best of the best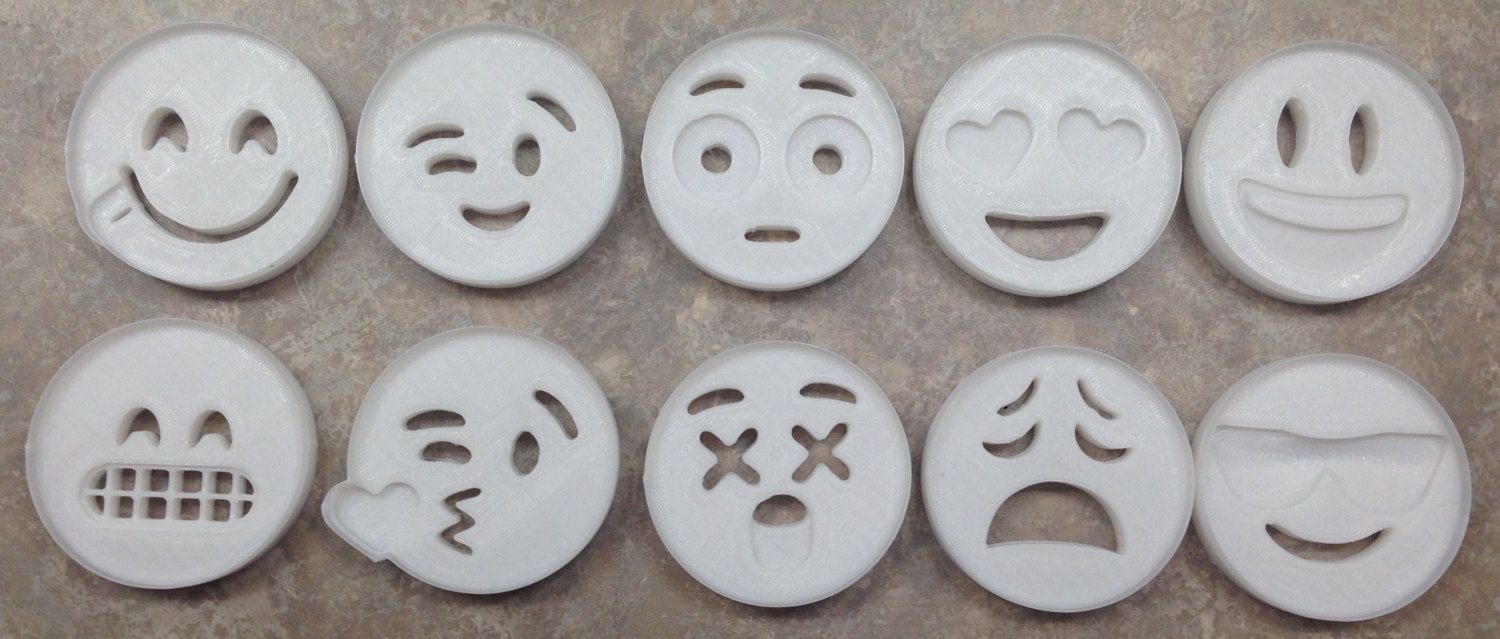 Another way to get a little help is with these Emoji Cookie Cutters from 3D Printing N Supplies. [Edited: no longer available] Just bake, and then hand the kids a Wilton edible Food Writer pen ($5.91 a pack on sale from our Amazon affiliate) which is way easy to manage than fondant.

This amazing image of Emoji Macarons from Studio DIY has made the rounds and for good reason.  1. Because I will eat any macaron at any time, and 2. Because how awesome are these? Again, the Wilton edible pens are your friend here. And a steady hand. And maybe a friend who was a graphic design major.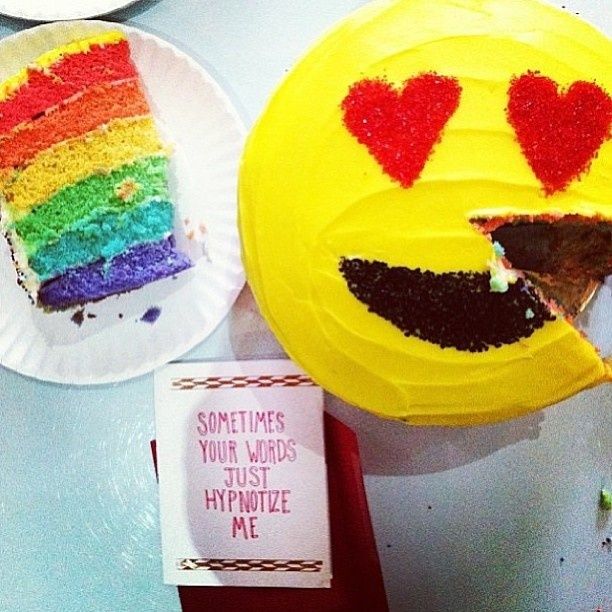 Some parties just require cake over any other treat and of course the round shape makes it perfectly conducive to emoji faces.  I really love this fantastic Emoji cake, from the geniuses at Flour Shop whose site and Instagram feed is filled with all kinds of playful inspiration.
The  rainbow cake layered cake inside is just a fun surprise, and we found a good recipe from The Cake Merchant, featured in our roundup of cool Easter cakes.
Related:18 easy cake decorating ideas that make a store-bought cake super special.
Also from Flour Shop, how clever is this Emoji gumball cake? WOW, that is all. (Or in emojis, I'd just type "Astonished Face" saving me 2 keystrokes.)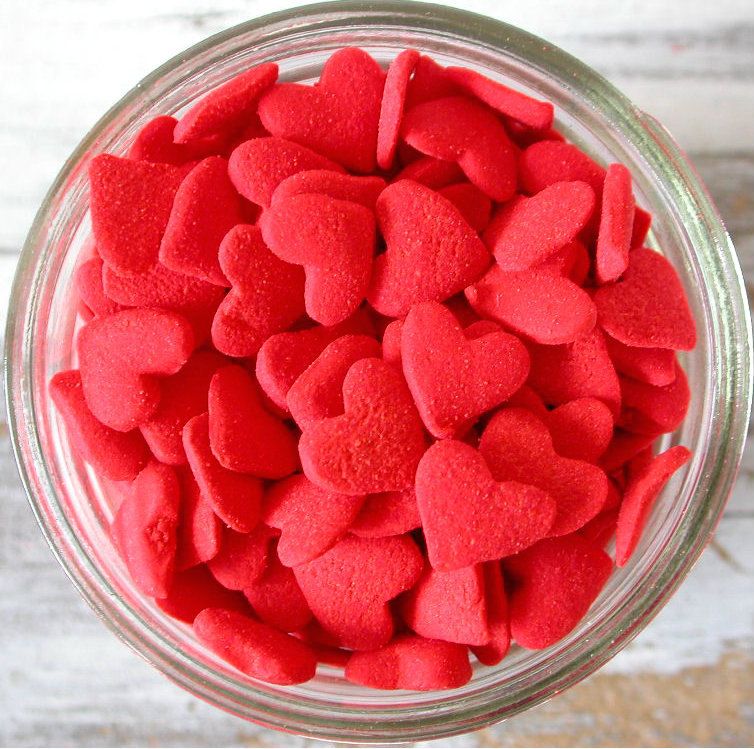 Don't forget, emoji is more than just smiling yellow happy faces. There are all kinds of cute icons to pull from. So I love finding these Emoji hearts confetti sprinkles from Simply Baking Supplies. Considering creating multicolored heart cookies in yellow, blue, purple, green, red and then if you're up for it, a set of mini pink ones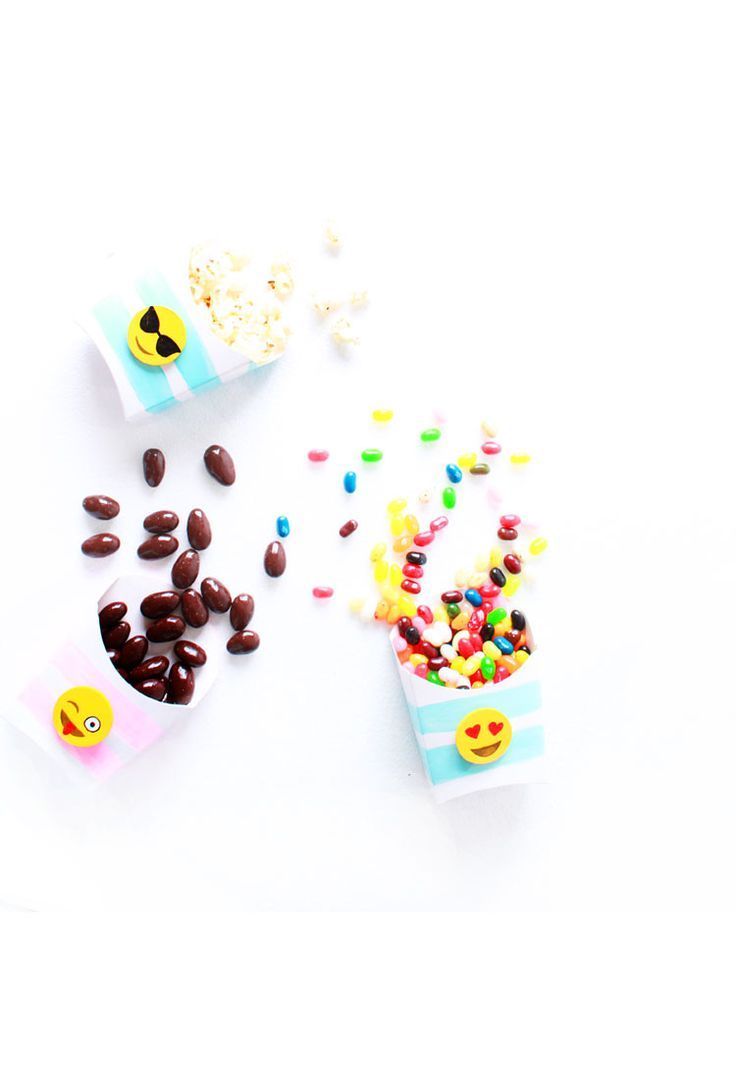 You crafty mamas will want to see the instructions for making adorable DIY Emoji Snack Boxes at Lemon Thistle, created by Varsha from Design for Soul. Of course if painting wooden discs is one more thing to worry about (I know I get a little stressed pre-parties myself) you can easily cheat by buying the snack boxes and just applying stickers. Then, just fill with anything at all.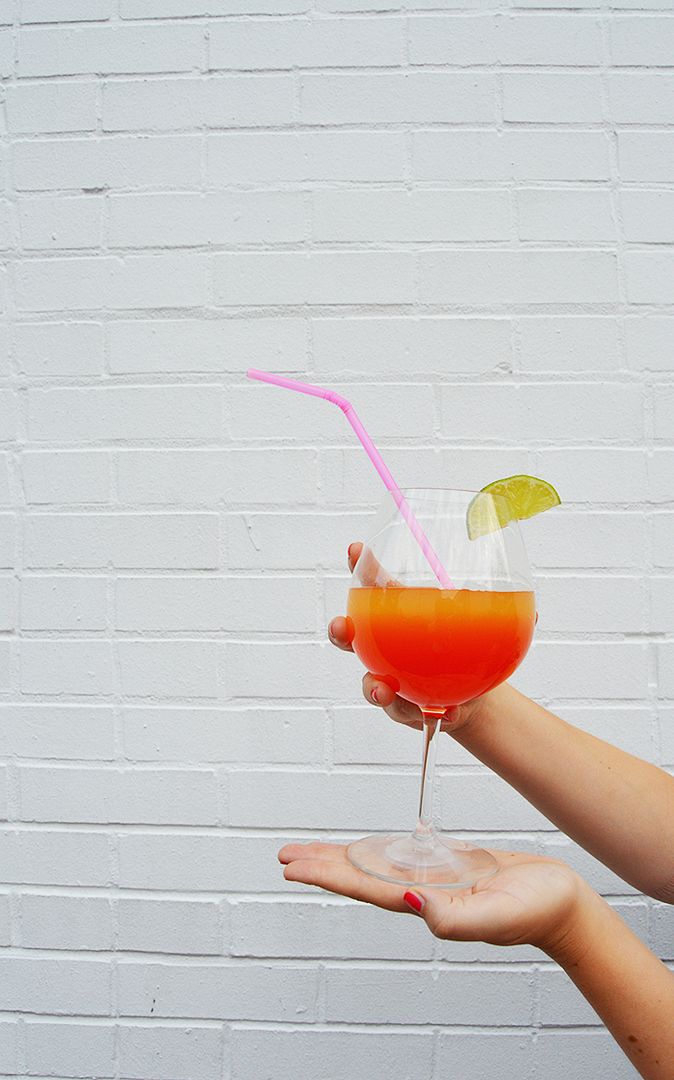 Finally for the adults (because there should always be something for the adults), I appreciate the conceptual Emoji Cocktail recipe from DC Girls in Pearls. You know, like the fruity cocktail emoji? It's there. And it looks just like this one, promise.
Emoji Party Activities + Decorations
Fortunately those simple graphics of emoji lend themselves to easy emoji party decoration ideas and so many fun party activities! Here are just a few for inspiration.
DECORATE YOUR OWN BALLOONS

If you're crafty, you can  make these DIY emoji balloons using the tutorial from the always inspiring ladies at Studio DIY. But I think it would be more fun to let kids decorate their own, as a party activity. Just provide lots of yellow balloons (they don't have to be mylar) and either cut out some basic shapes or hey, just make it easy and use Sharpies.
If you want, pass out instructions like this one at Drago Art on how to draw emoji so kids have a template to follow. Or hey, they can even draw them on blank pieces of paper to pass the time.
Related: 7 of the coolest printable birthday crowns
MAKE EMOJI PARTY BANNERS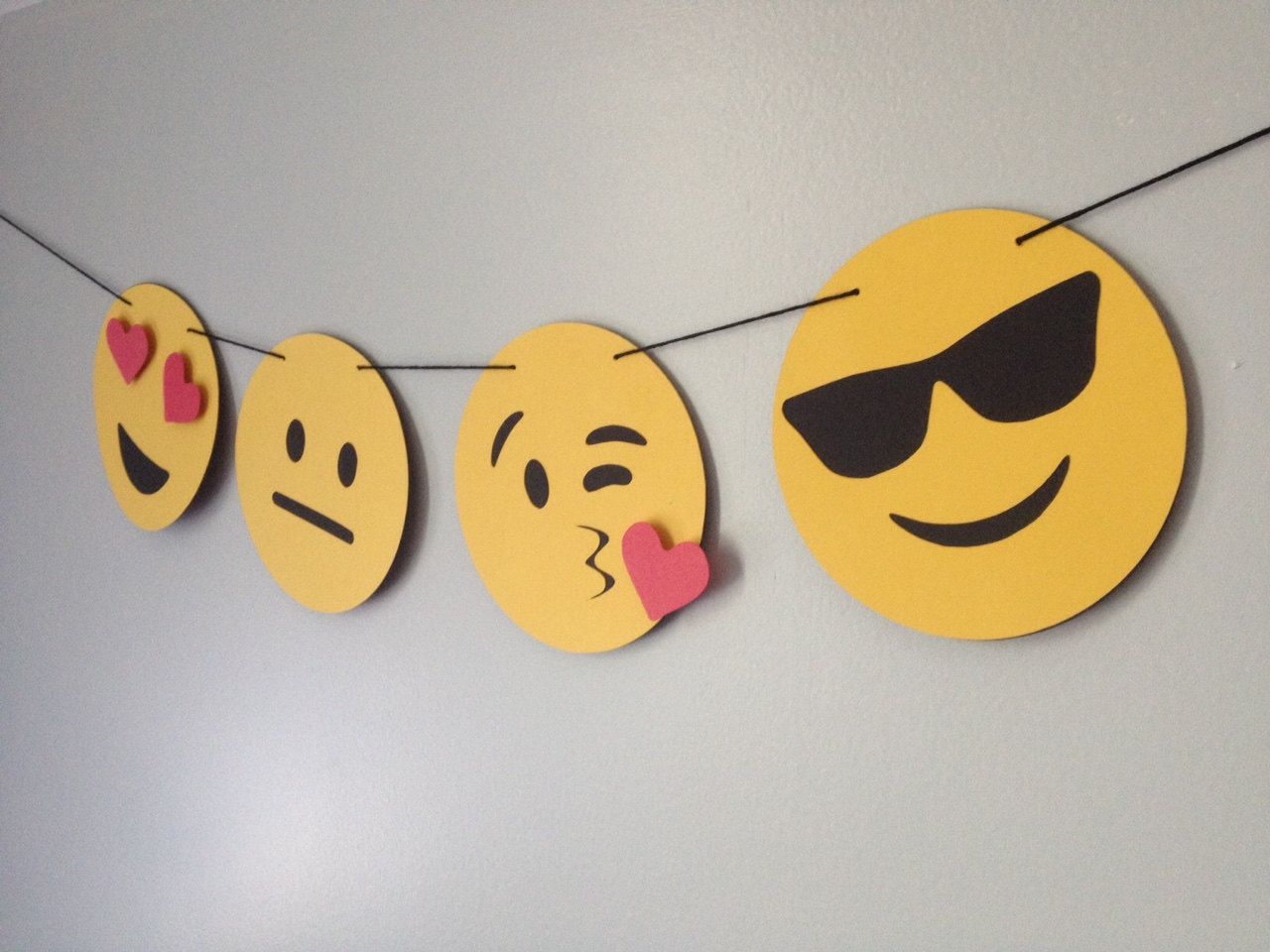 On Etsy, I dig this Emoji Party Banner from Broke Bitch Paper Co and would happily pay to have this hanging at my kids' party. But you crafty mamas can make your own construction paper templates, pass them out and have kids make their own. Then, string them all up and get a group photo of all the guests in front of their handiwork.
PUMMEL AN EMOJI PINATA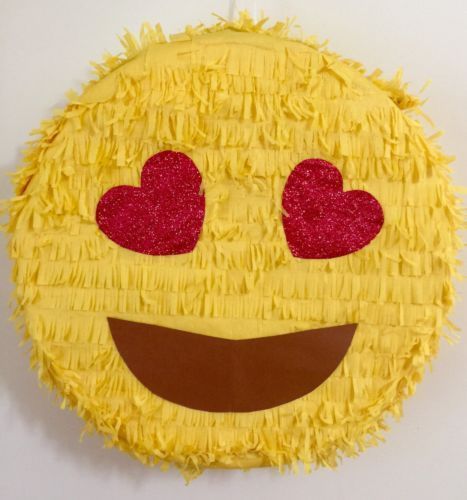 You can make your own emoji pinata with this YouTube tutorial from DeVonna Hernandez which…well, I'm impresed. [Edited: no longer available] Or you can buy an emoji pinata, like this one from APinata4U. [Edited: no longer available] Depends how much DIY you want to be D-ing. Of course there are a few emoji I'd rather beat up than this guy, but it is pretty cute.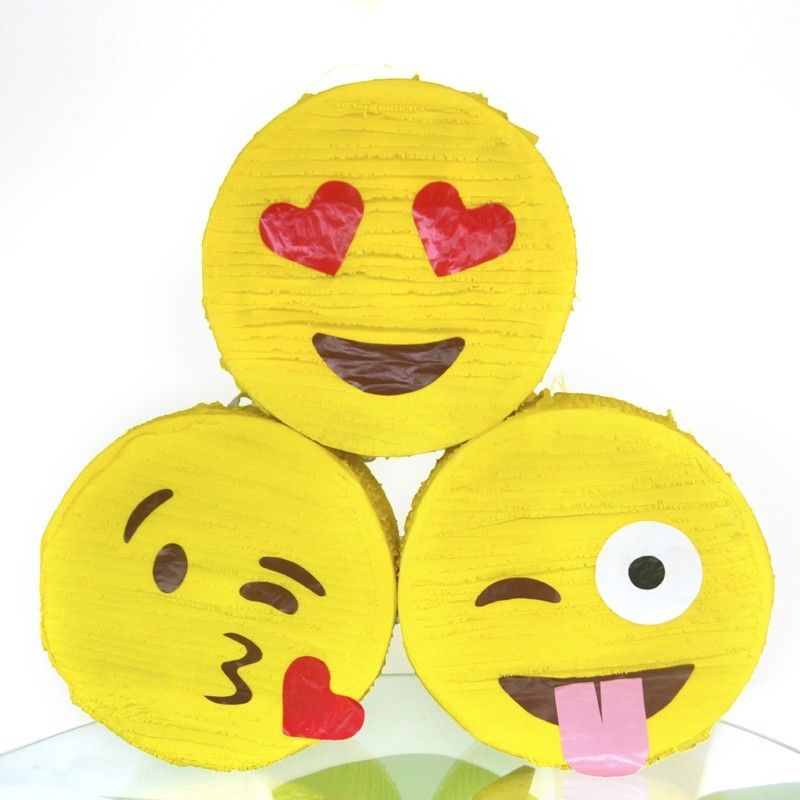 I also really really love this emoji pinata from Dilobonito. [Edited: no longer available] It's made in Mexico and sells for about $18 US but it's still pretty awesome.
EMOJI TWISTER!

How can you not want to do this at any party at all? I am so blown away by The Alison Show's idea to make an emoji Twister board. And it's pretty much as easy as jus decorating the yellow circles. My kids saw this and said WE WANT TO DO THAT! So there you go.
PUT ON EMOJI TEMPORARY TATTOOS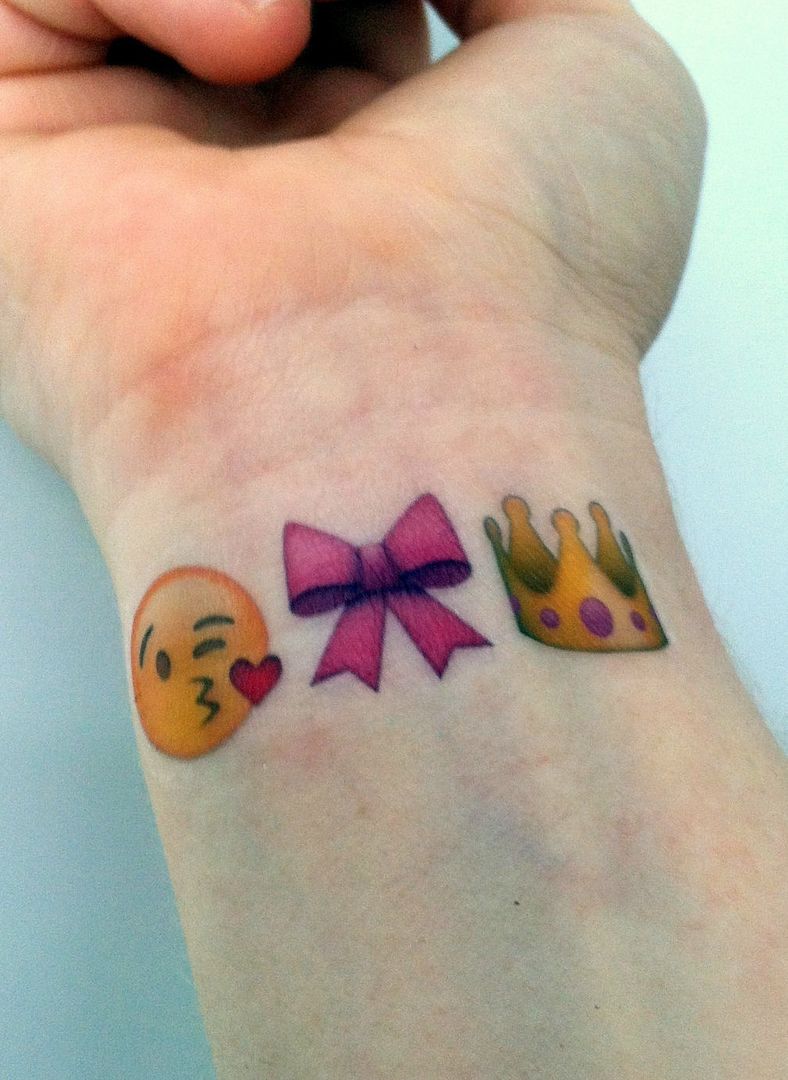 What better party activity or goody bag favor is there than Emoji temporary tattoos? Until Tattly makes an official set, check out these from from Tatasaurus. Find the birthday set at top, or the simple happy face emoji temporary tattoos they offer too.
DECORATE EMOJI GUMBALLS
I really think kids would love to decorate their own gumballs like this idea from the Tiny Prints blog. [Edited: no longer available] No, not with Sharpies; again, use edible food pens from Wilton or Americolor like these I found on  Amazon.
And of course, you can apply the decorating ideas to macarons, cupcakes, you name it. Kids like making cute stuff then eating it. That's basically the point.
EMOJI FACE PAINTING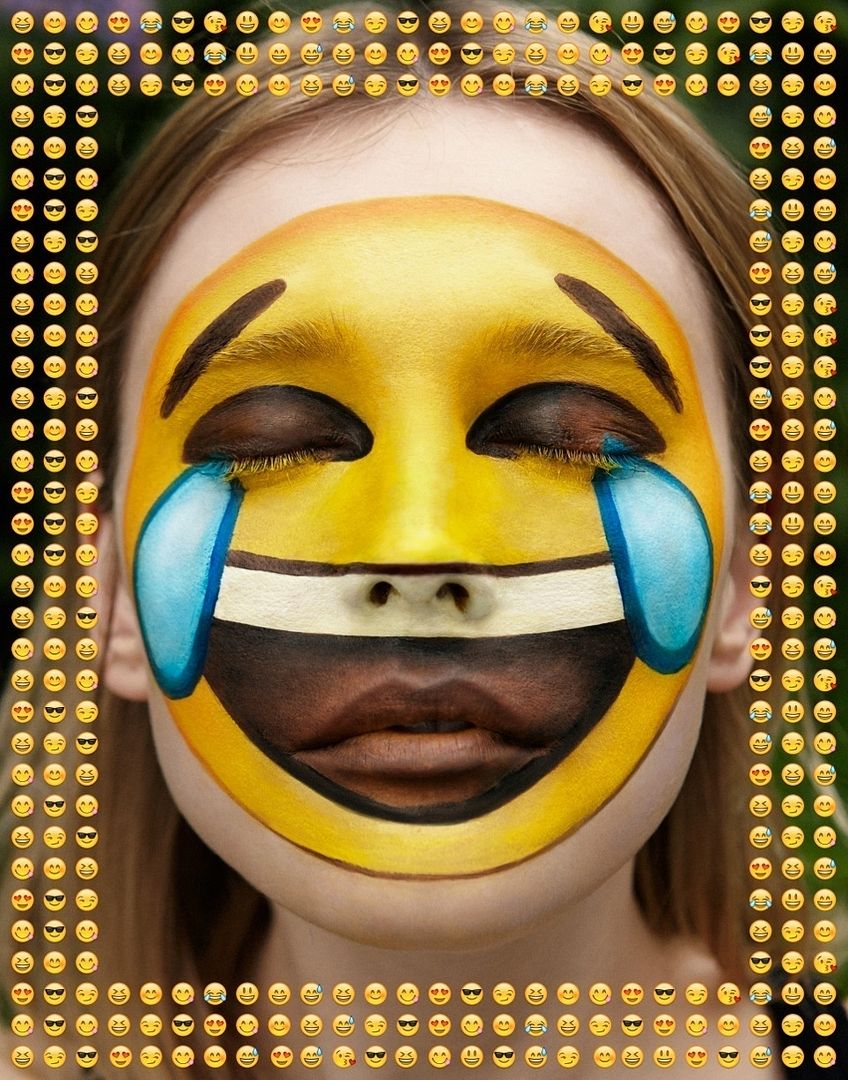 Want to try your hand at face painting? Bless you. Me, I'd hire a pro, but if you're up for it, you have to see this Emoji face paint tutorial from i-D which is pretty outrageous. My kids think it looks totally awesome (their words) and totally creepy (their words). Both of which I think are good things.
HAVE AN EMOJI PHOTO BOOTH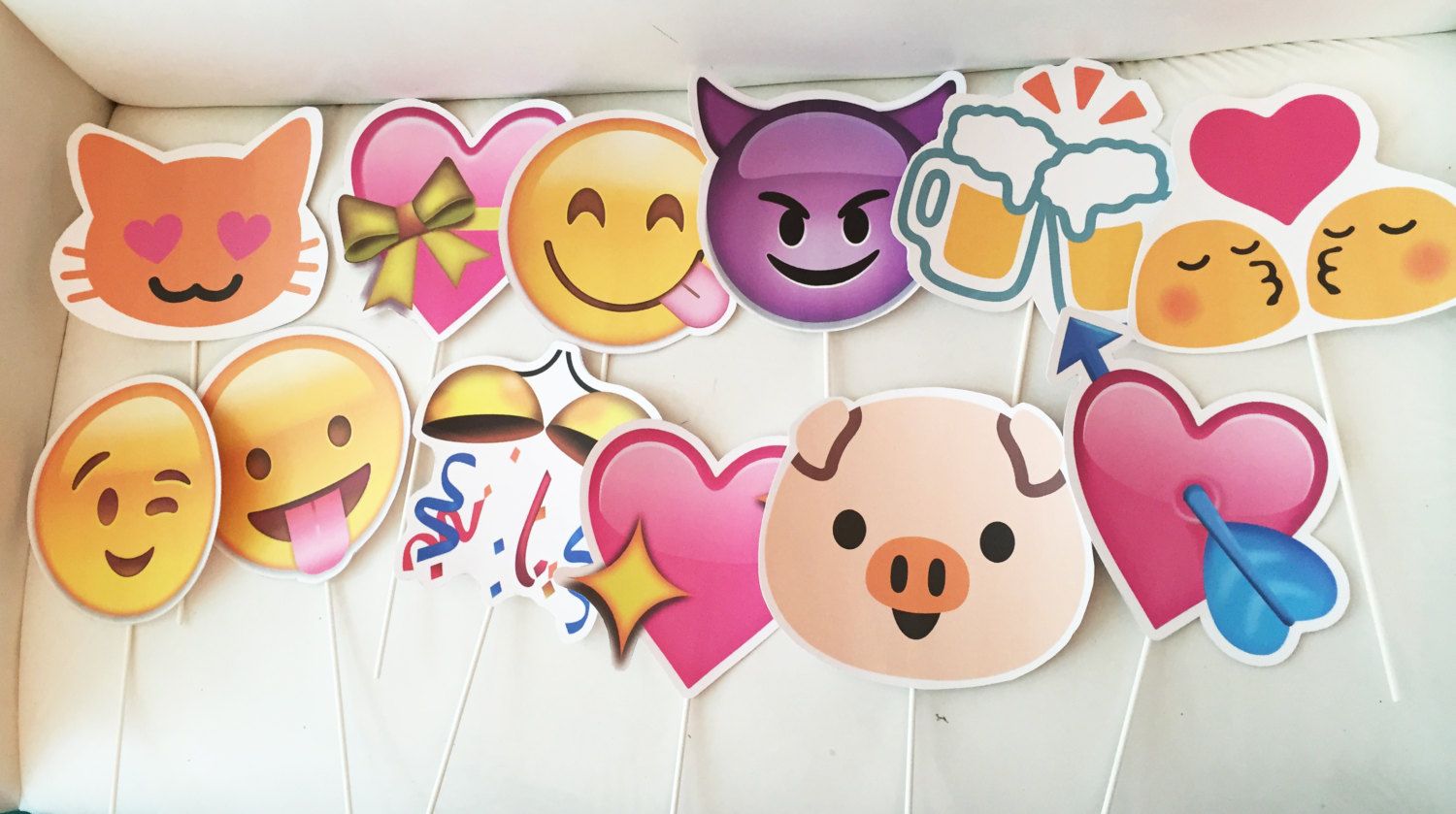 Is there such a thing as a kids' party anymore without a photo booth? I found these Emoji photo booth props from Image Event Boutique and they're pretty cute. [Edited: no longer available] Leave the beer out of it if your'e hosting little kids. Or maybe it's Butterbeer?
Related: How to make a photobooth on your laptop for a kids' party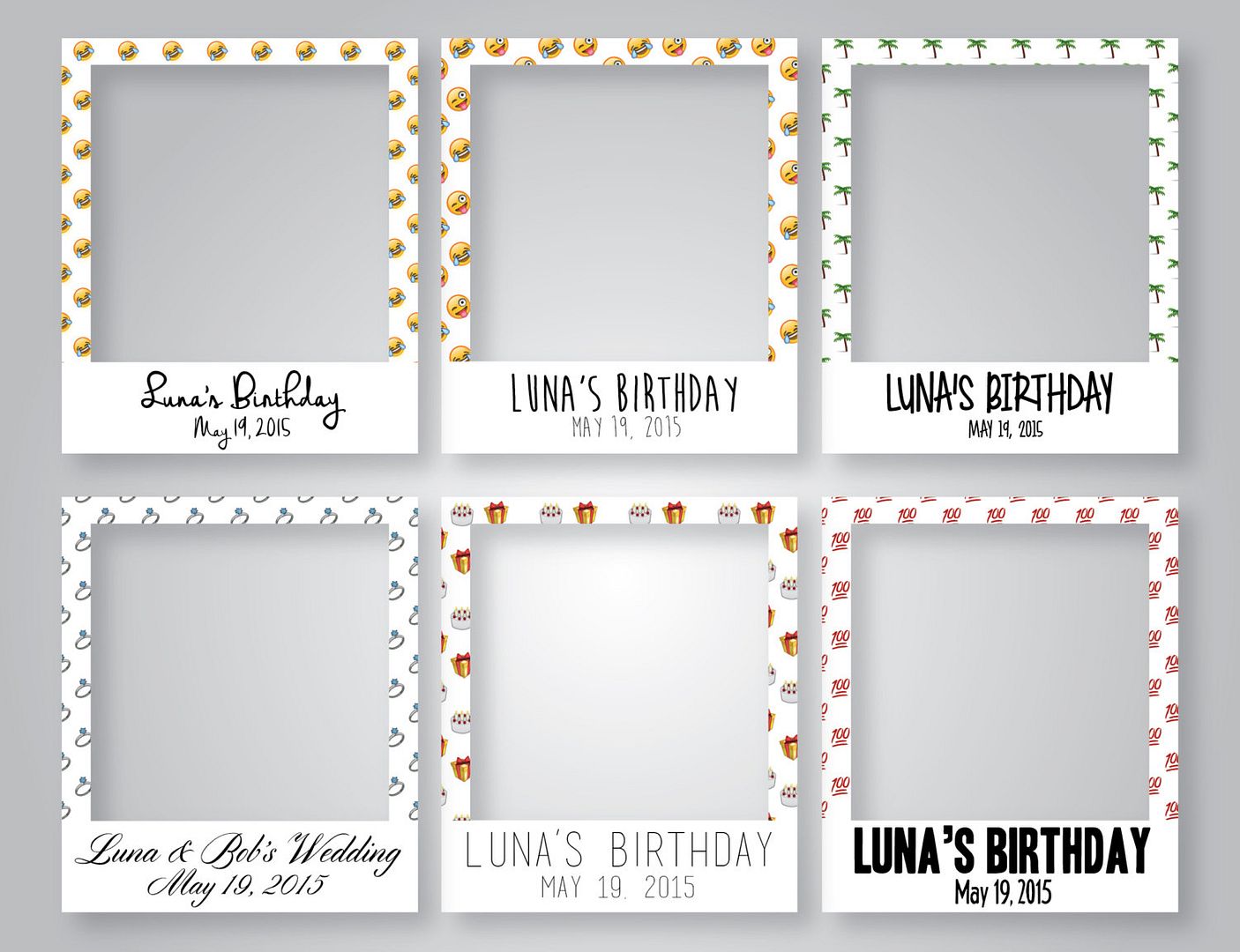 If you want to print the snapshots on the spot, or send them to guests later as a belated party favor, check out these Emoji photo frames from Snap Props. So clever right? And they can be personalized with your child's birthday and date, or just write THANKS FOR COMING! That always works for me.
MAKE YOUR OWN EMOJI PHOTO FRAMES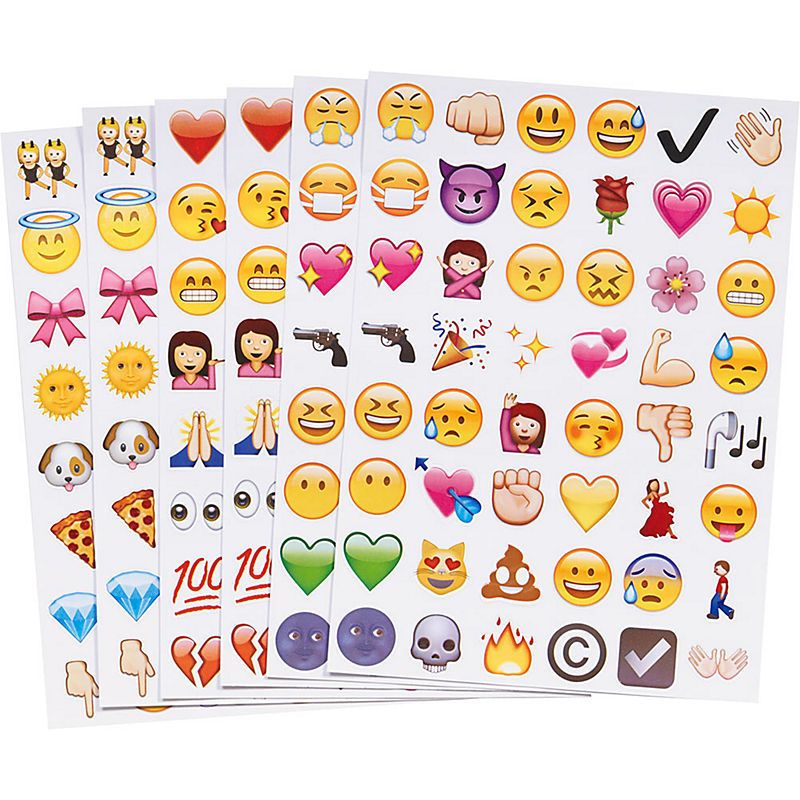 Another idea, with or without the photo booth, is to get a pack of paper photo frame cards (these are $23 for 40 cards at Amazon, and have kids decorate their own with emoji stickers, like these from Paper Source. I sent them to my girls at camp this year and they totally loved them. You can later send your party guests a big group photo to include in their frames, or they can each pose with the birthday boy or girl, or hey, just use the photo booth idea.
Related: 10 birthday party craft ideas that can double as party favors
PRINT EMOJI COLORING PAGES


I find it's always great to have coloring pages around, either for kids who need a little quiet time, for younger siblings who want their own activity, or just as a way to gather everyone around the table together when that feels like herding cats. There are some cute ideas for an emoji party at Kristen Duke photography, and I like that she shared some free printable emoji party banners she had commissioned.  Of course you can just hang them like decorations, but you can also print them out black and white so kids can take markers or crayons to them and color them themselves.
Separately, do a search for black and white emoji images, and you can put the ones you like together in PicMonkey to make your own free coloring pages.
GET CREATIVE!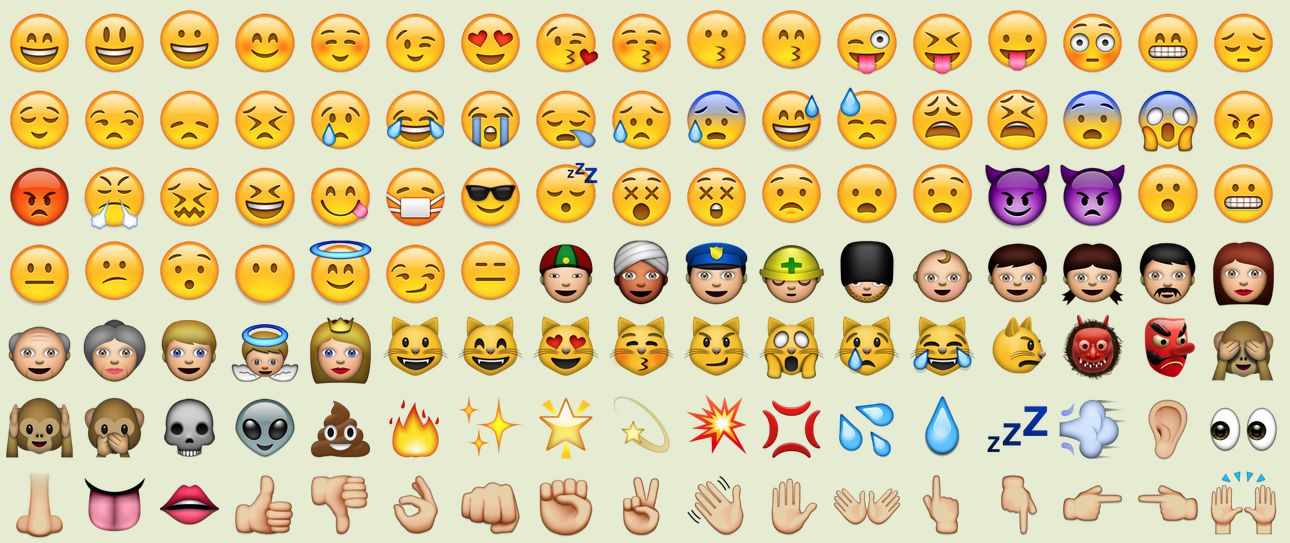 If you have another idea for emoji party crafts, one essential you should have at your disposal are PDF files of the emoji icons. I found these at Hey.Fr and so far they should work if you need to print them out for anything at all. Like, say a photobooth background?
Finding the 300 new diverse emoji from the Apple OS update has been a little more challenging, but check out emojipedia (yes, that's a thing) for a great place to start.