Fall is my favorite time of the year, because boots! Also coffee and pumpkin spice and back to school, but cool boots are way up there. Right now I'm thinking about ankle boots, because it's really still too warm to be wearing anything taller than that. Plus, they'll go with anything all season long — from jeans to a little black dress. You can even get three seasons out of lots of styles.
I've been doing a lot of shopping around to see what's new and cool in the classic boot styles I think you'll want to consider for your closet this fall. From stilettos to moto boots to chukkas, I've found some great deals I'm definitely going to snag.
(Just know that doesn't "deals" doesn't mean $39 ankle boots — we prefer our shoes well-made and built to last more than a season, so the ones you see here are fantastic values, just not "cheap.")
But hey, I also couldn't resist sharing a few splurge-worthy boots I'm swooning over too. Whether I actually take the plunge or not.
CMP is an rstyle affiliate
Engineer Ankle Boots and Moto Boots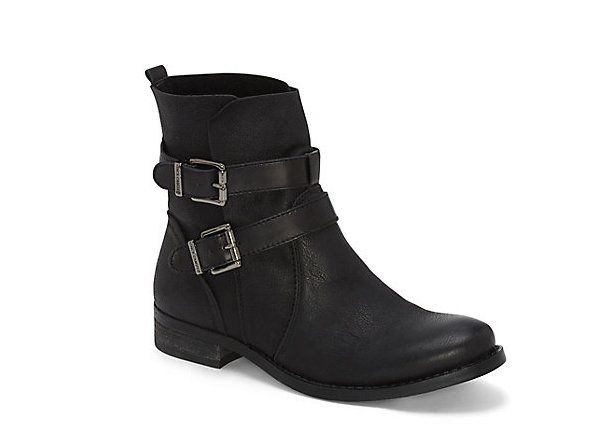 The engineer and moto style boot is so trendy right now, with their chunky heel and lots of wraps and hardware around the ankle. Our editor Liz swears by Vince Camuto's brand, because they're so crazy comfortable and relatively affordable compared with top designer brands. I like this Vince Camuto Pierson Buckle Moto Bootie, which isn't too aggressive or chunky; more like a designer boot with classic styling you can wear a good long time that still comes at a decent price. ($169)
If you're hankering for the most traditional, classic moto-style ankle boots, check out the selection at Frye, including these Frye Harnessed 8R Ankle Boots with a vintage leather upper, that classic harness detail, and a manageable (but still appropriately intimidating) heel at just under 2″ tall. The black washed oiled leather is hot, but take a look at the smoke-washed leather for something a little less polished and just a wee bit more edgy. ($298)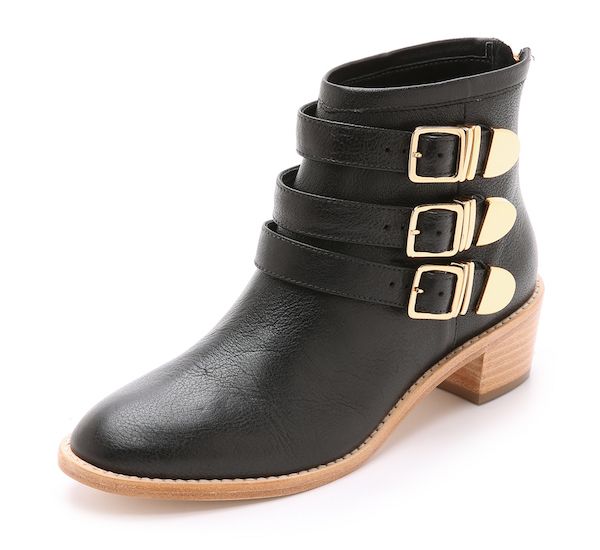 I'd love to splurge on the Loeffler Randall Fenton buckle booties, which amp up the sophistication factor by keeping all that cool moto hardware but not going too dressy with the heel. I think they'd look pretty great with the faux leather leggings our editor Kristen has been raving about. And that natural wood heel and sole? Wow, gorgeous touch. ($450)
Cowboy Ankle Boots
No, it's not the early 90's with the cowboy boot shoe back in style. Instead we're seeing lots of lower, comfy ankle boots in a classic cowboy style. These  Bartalino Stud Embossed Leather booties by Lucky Brand are a nice, modern twist on the classic look. If you aren't into the faux snakeskin, they also come in more traditional leathers. The zipper detail around the ankle is awesome. And the price is right in my budget. ($100)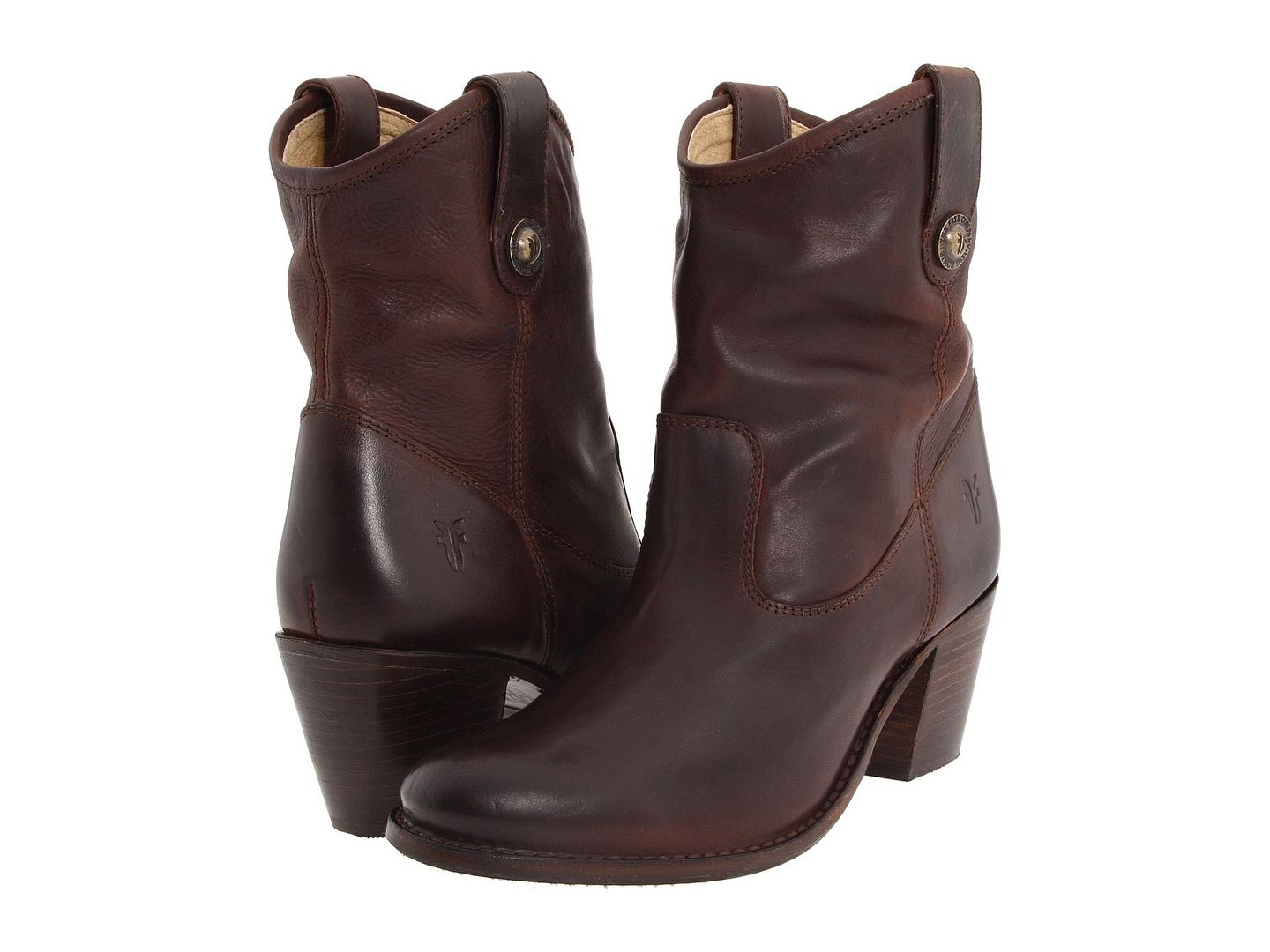 There really is no substitute for Frye boots, if you want boots to last a lifetime, and the brand is doing all kinds of amazing things with ankle boots this season.  Frye Jackie Button Short Boots have the relaxed sense of cool of cowboy boots, but that gorgeous oiled leather give these a smarter, classier, and (ahem) wealthier sensibility to them. Stunning.($328)
Related: Snow boots worth the investment: The Sorel Tofino boot
Chukka Ankle Boots
Really want a style tip? This could be the year of the chukka, if the emails pouring into our inboxes about them are any indication. The Traditional chukka boot boasts a classic, casual, somewhat preppy look, but the Harper Chukka bootie by Niesolo is a dressier version I love for more than just the way it looks and feels — and their insoles are as comfortable as sneakers, really. This company is focused on beautiful design and gorgeous detailing (look at those soles!) all ethically produced by  fair-trade artisans in Peru and Kenya. In fact, the business model is similar to Cool Mom Picks favorite FashionABLE which we love. ($178)
If you want to amp up the classic chukka boot,  Cole Haan Balthasar wedge chukka (also available in black) is a fun, modern take on the traditional. How awesome are those wedge heels in that swanky oiled nubuck leather? These are normally a splurge at almost $300, but they're on huge sale right now. Grab them while you can because when they're gone, they're gone. ($129)
For the big splurge, we're turning to Frye again with their Frye Kendall Chukka Boot in three different colors. The taller height creates an ankle boot height that might be more versatile for you than the classic casual low chukkas, and  give them an edge if you're tossing on a skirt with thick tights and want a fashionable shoe that's still super comfy.  ($328, Zappos)
Chelsea Ankle Bootie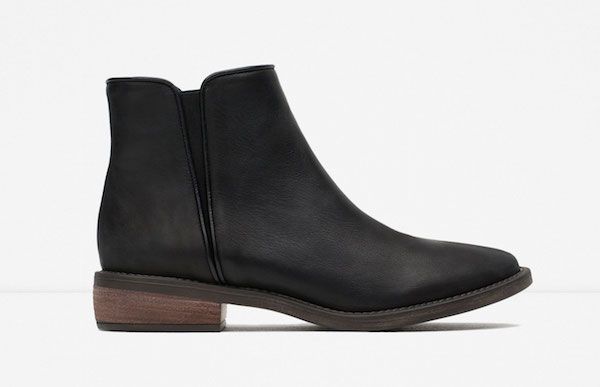 If the iconic slip-on chelsea boot and the cowboy boot got together had a baby, it would be this beautiful flat leather ankle boot I spotted at Zara. I can't believe that design this great and leather that looks this luxurious can be under $100. Wow. Nice detailing helps adapt the traditional Beatle boot and make it modern again. ($99)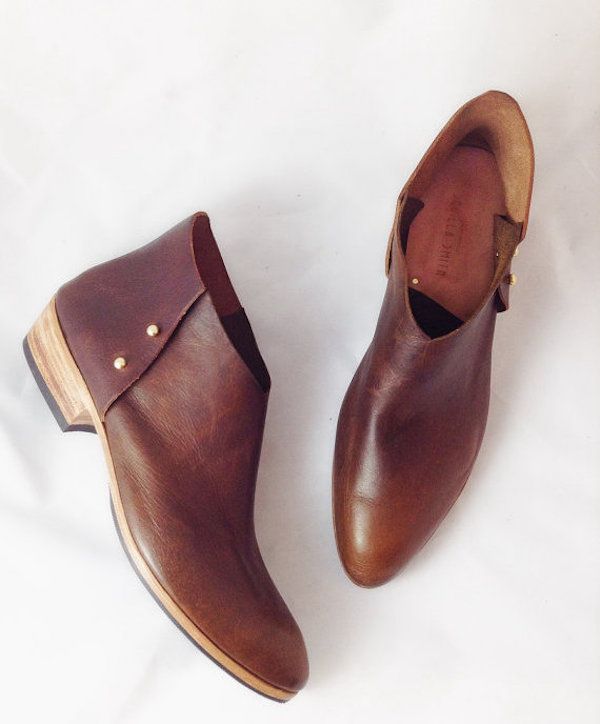 Ready for an amazing splurge? I'm really sparking to this modern twist on the Chelsea style ankle boot. The handmade Danthu bootie from Sevilla Smith on Etsy looks so soft and comfortable–like a leather slipper. I love the idea of these ankle boots with jeans and a sweater for casual outdoor parties or sports events I have on my calendar this fall. While pricy, I think the minimalist detailing makes the style so classic that you can wear these for a very long time and definitely get your money's worth. ($265)
Related: Trend alert: 6 fabulous open-toed booties we love
Dressy Ankle Booties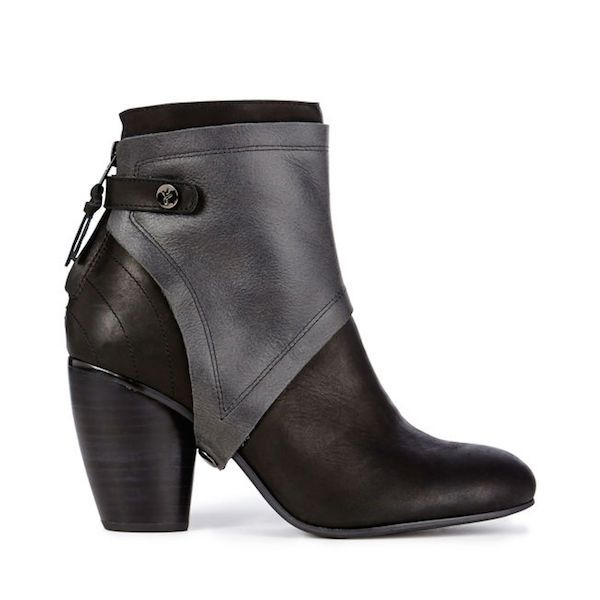 This is one category we could fill an entire post with. But for those nights out with friends when you want an edgier look, the Nepean heeled bootie from EMU Australia are perfect for me. That cool wrap-around detailing ankle makes them such a standout! Think pairing them with skinny jeans, a white tee and a great leather jacket; or even black leggings and a fitted tunic. Love all the ways various fall looks can come together with this ankle boot, and the chunky heel means more comfort than you might expect. ($179)
I just spotted the black Austin Noir ankle bootie from Nisolo and it might be my idea of the perfect shoe. The lower cut works great for a stylish professional look for office work, but for evening, they're chic with a dress, or can be sophisticated but laid-back with jeans on the weekend. I own a pair (thanks to a friend at the company who was kind enough to send me one — hello, best gift ever!)  and they are really, really comfortable. I am fairly certain these are going to be my new everyday shoes. ($214)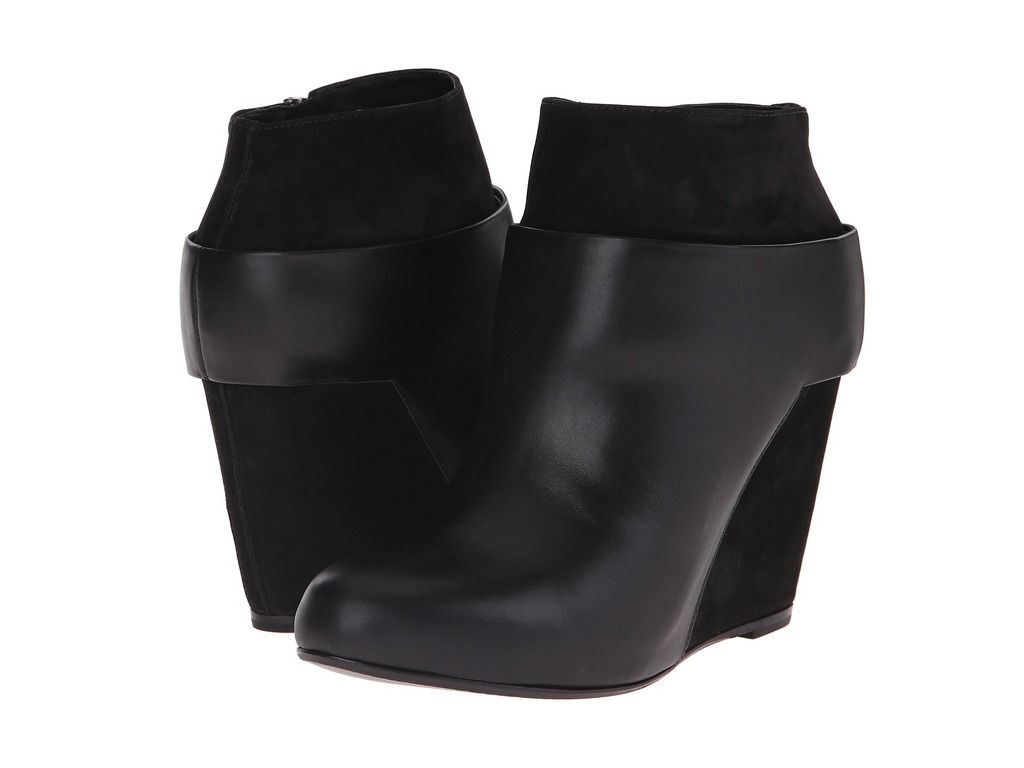 For a totally different kind of dressy ankle bootie, if you're you're looking for a sexy, stylish statement shoe this fall, you'll find it with the Garren wedge bootie by Vince. The leather-on-suede look is so cool, (also perfect with all the textural fabric trends we're seeing right now) and they'd look great with everything from ankle jeans and a big, chunky sweater to a swanky LBD with some statement jewelry.  These aren't easy on the checkbook, but I'm working really hard to justify the purchase. Because they are gorgeous. ($495)
Metallic Ankle Boots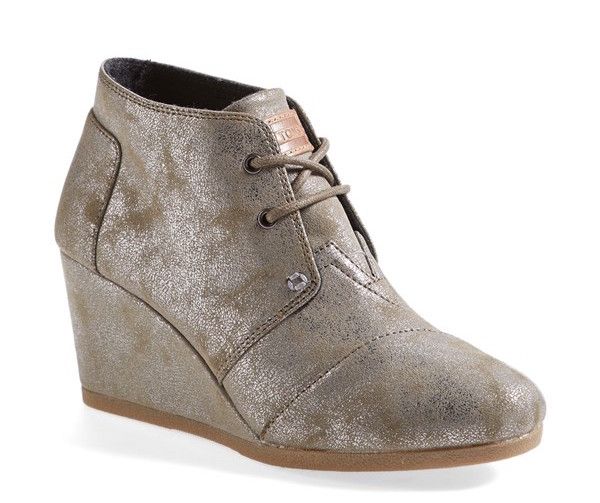 While the Cole Haan ankle bootie above also rocks the wedges, consider some metallic accents for your closet this fall — they instantly brighten up any outfit. The funky, casual look of the TOMS desert ankle boot wedges in a distressed gold is so great. Of course, we're big fans of TOMS's give-back business model, and they're affordable pricing but also, gold shoes are just really fun. ($88)
Okay, ready for the super splurge? Liz tells me she's drooling over these Saint Laurent gold metallic leather booties that let you enjoy a little business on top, with the party on the bottom (so to speak). The price is outrageous, but the classic shape, not-too-insane 3.5″ heel height, and comfy elasticized gores make this a winner. If you're a lottery winner, perhaps. ($995, Saks)
Stilletto Ankle Boots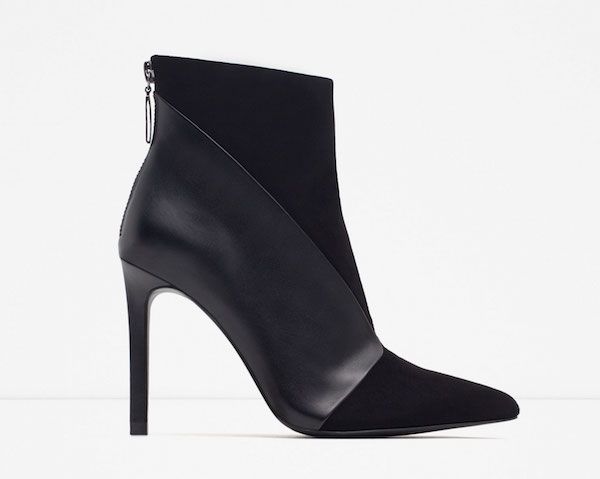 I love the leather-on-suede look we're seeing a lot this fall, and these leather stiletto ankle boots by Zara are an affordable option that look more expensive than they are. And that squared-off take on the stiletto heel looks like I might actually be able to walk on it, which would be nice. If only from our car to the fancy restaurant dinner table and back again. ($119)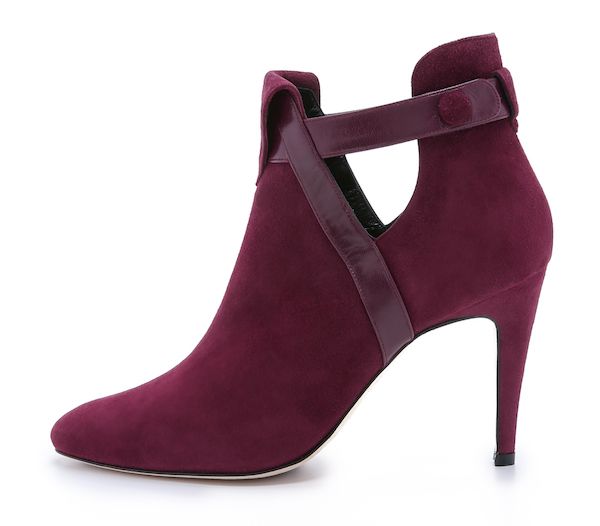 To complete your fall boot wardrobe (as if ever such a thing is possible), you'll want at least one pair with some color beyond the neutrals. Jewel tones are always fantastic for fall, any year at all, and these cut-out wine-colored suede Margarette stiletto booties by Sarah Flint  are just amazing — architectural, original, and so on point. But at this price, I'm afraid I'll have to pick between these and a new couch. ($850)