It's beginning to look like it's time to start wrapping the gifts, so we're coming to the rescue with 20 of the cutest, coolest, and most beautifully designed printable gift tags and gift wrap for the holidays, from all over the internet. This list should make it clear that we're picky — we've really spent a lot of time finding just the very best ones. Because hey, we get it…it's totally disheartening to realize Christmas eve that you don't have enough gift tags or wrapping paper to get the job done, and then have to scour the web for something that fits your standards.
So yay for printers! And yay for these amazing, talented designers who offer up all kinds of fantastic printable gift tags for us.
And because we know that tis better to give than receive, we're happy to report that all of these holiday printables are totally free.
Related: 14 of the most beautiful free printable holiday gift tags and paper to make gifts look great for less.
Free Printable Gift Tags for the Holidays
Santa & His Assistant free printable gift tags from Orange You Lucky
Big gifts deserve a big gift tag, and these new adorable, illustrated Santa & his Assistant printable gift tags from the incomparable Orange You Lucky will definitely stand out. I mean, who knew that Santa was getting help from a sweater-wearing alligator?! They probably take care of the warmest-weather states.
Printable gift tags and care labels by Sheep & Stitch
If you go through the time and effort to knit, crochet, or sew your gifts, we love how Sheep & Stitch wants to make sure your beautiful items get laundered properly with these free printable gift tags and care labels. And for those of us who are not likely to knit, crochet, or sew a single thing, ever, the tags alone would look cute atop our store-bought gifts too.
Free printable hand-lettered gift tags from Persia Lou
You may have seen Persia Lou's cool printable tattoos featured on Cool Mom Picks, and now you can find her hand-lettered style on  this assortment of informal-style printable holiday gift tags . For you super crafty types, check out how she adds gold foil to the tags—the results are striking.
"Shake Me" free printable gift tags from Seven Thirty Three 
Your kids will love to see the big, bold Shake Me printable holiday gift tags by Seven Thirty Three which are so much more welcoming than those "do not open until Christmas" tags. It goes without saying, but only put this tag on presents you won't mind seeing shake-shake-shaken.
Holiday movie quote printable gift tags by The Happy Tulip
If your family spends the holidays watching every holiday movie, even the less dignified ones, they'll get a kick out of seeing their favorite quotes atop their presents. Just print out these movie quote printable gift tags from The Happy Tulip, and see if they can guess them all.
Free printable Star Wars gift tags from Just JP
If you have a Star Wars fan, big or small, they'll love to see one of these printable Star Wars gift tags atop their new lightsaber or Star Wars LEGO kit. And, with The Force Awakens about to awaken the Star Wars frenzy in another generation of kids, these brand new tags are perfectly timed to be under the tree this Christmas.
Related: The coolest Star Wars gifts for the holidays
Printable gift tags for handmade gifts by Artsy Fartsy Mama
Bright colors make these printable gift tags for handmade gifts by Artsy Fartsy Mama a great addition to you or your kids' thoughtfully crafted gifts. We love how they look against a plain white gift wrap,  or coordinate the colors to work with the wrapping paper you have. Either way, recipients will be sure to handle these handmade gifts with care.
Gold, red, and green printable gift tags from Yellow Bliss Road
It's not real gold leaf, but the printable gift tags from Yellow Bliss Road come pretty close in look and are so easy to create on your home color printer. They make a pretty addition to your gift wrap, especially in their very traditional Christmas-y colors.
Related: Adorable, free printable holiday gift tags from illustrators you may already know and love
Cheeky handwritten printable gift tags from Almost Makes Perfect
The cheeky handwritten printable gift tags from Almost Makes Perfect don't take themselves too seriously, with sayings like Santa must like you and You've been naughty but that's ok!  Just our kind of gift tags.
Double-sided Free Printable Santa Gift Tags at I Heart Naptime
Help Santa out with these free printable Santa gift tags from I Heart Naptime that will look positively jolly atop your kids' gifts. And unlike most gift tags, both of these options are meant to be folded so there are designs on the front and back of the tag. Cuteness!
Color-your-own printable gift tags from The Red Thread
If you like options, you can chose to print these eclectic gift tags from The Red Thread in color, but we love the black and white versions that allow you or the kids to color them in yourselves. This is also a nice way to give the kids a project besides moving ornaments on the tree: Just hand them the crayons and the tags and put them to work.
Modern triangle printable gift tags from Simple as That
So pretty and modern, the printable gift tags from Simple as That take tiny triangles and turn them into festive images to adorn your gifts.
Printable wine bottle gift tag on Oh My! Creative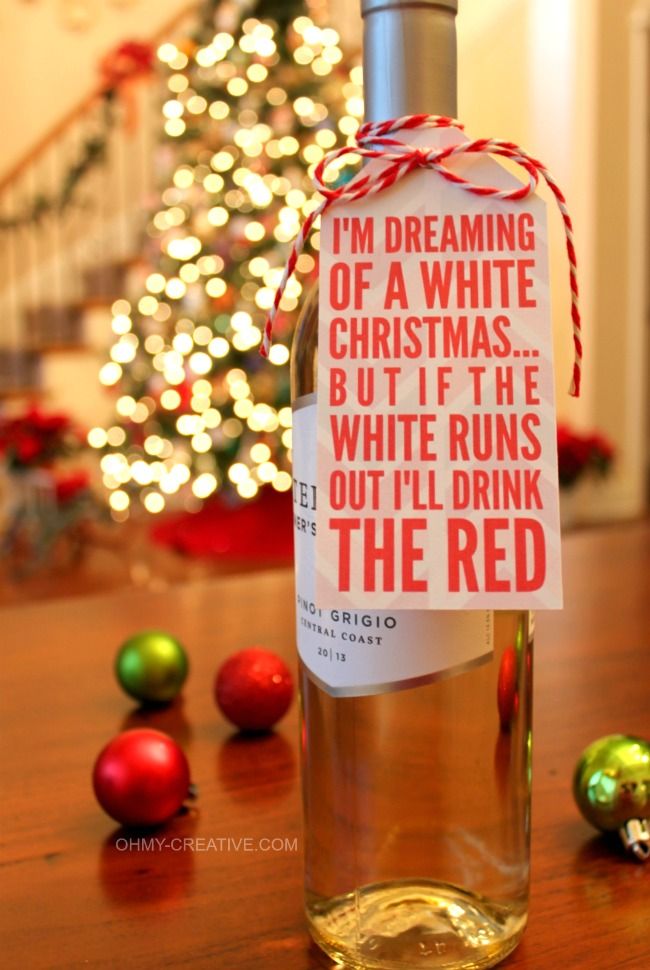 By December 25th? Oh, this printable wine bottle gift tag from Oh My! Creative is definitely speaking the truth. Just stick it on your favorite bottle of white and hand it to someone who will appreciate the play on words.
Free Printable Holiday Wrapping Paper
Printable gift wrap to color from We Are Scout
Part craft project, part gift wrap, the lovely illustrated printable gift wrap from We Are Scout is meant to be colored in, either by your or the kids. Though, if you run out of time and still love the designs, we think they look pretty great in black and white too.
Printable Christmas gift wrap from DIY Candy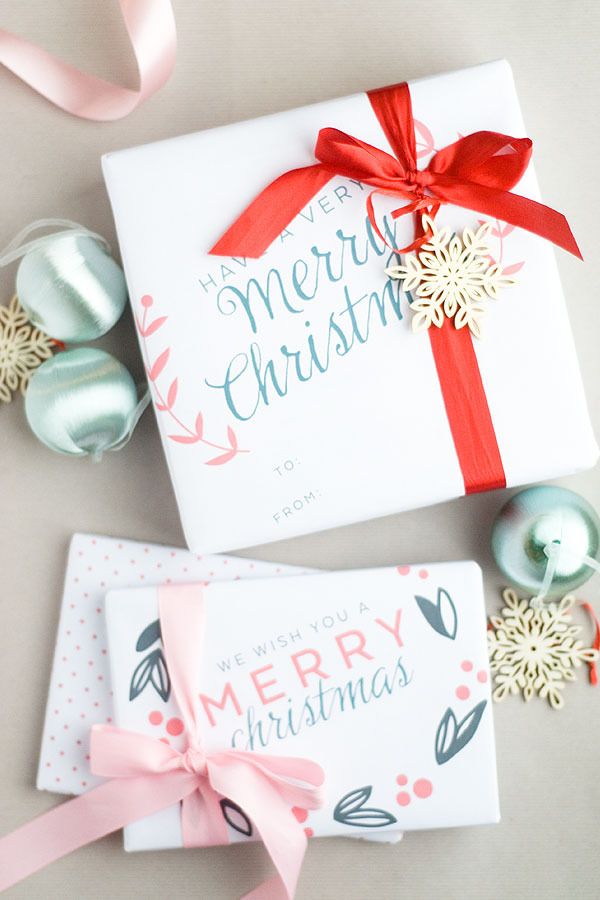 Great for covering a smaller gift with a larger holiday message, the printable gift wrap from DIY Candy even includes a spot for your To: and From: messages. Just print, tape, and tie on a bow. Doesn't get much easier than that.
Silver and gold printable gift wrap from Clementine Creative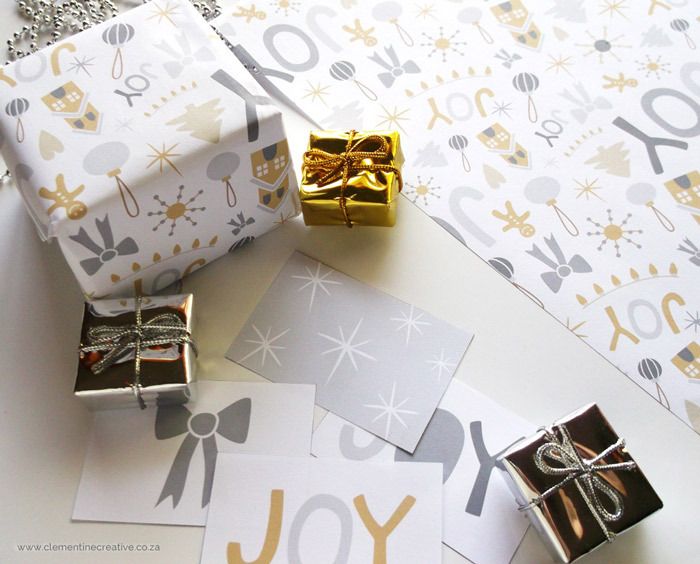 Though not exactly silver and gold, the printable gift wrap and gift tags from Clementine Creative are pretty close. You can even print the files at a print shop for a larger format to cover a larger gift.
Printable Christmas tree gift wrap from Love Vividly
O Christmas Tree, how cute you look on this printable holiday gift wrap from Love Vividly. And if you need to give the kids something to do, hand them some crayons or markers and let them decorate some of the trees before you wrap the gifts.
Printable snowmen and trees gift wrap at Bloesem by Jessica Nielsen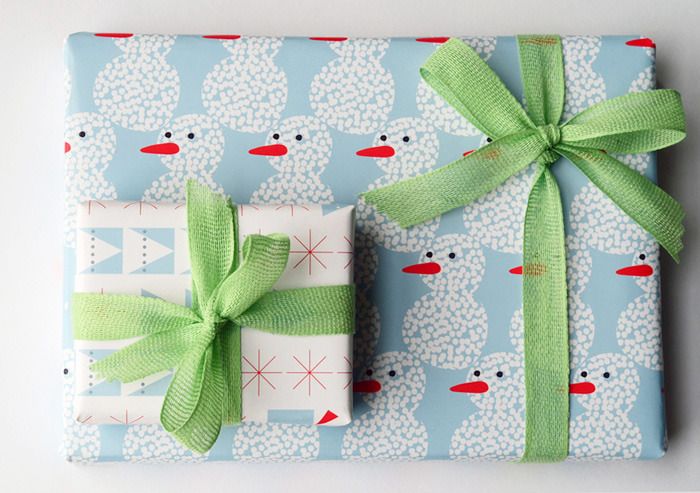 The sweetest snowmen since Frosty adorn this cute printable gift wrap from Jessica Nielsen for Bloesem. Love how their bright carrot nose is picked up in the bow of the tree-and-packages paper, making for a nice, coordinated set.
Printable black-and-white gift wrap from Baba Souk
Do you like options? Check out the four different printable gift wrap patterns from Baba Souk. The black-and-white printables look great with any color bows or ribbons you choose too.
Colorful printable gift sacks from Caravan Shoppe
And if you have a little edible treat or small gift to wrap, check out Caravan Shoppe's free printable Colors of Christmas Treat Bags. With their modern colors and big, bold messages, even the smallest gifts will stand out under the tree. (NOTE: these are now available as printable tags, not treat bags. Still cute though!)