I have a new obsession: novels written in verse. Seriously, I'm flying through a few of these books a week and the best part? My kids are too. The fact that these novels are poetic gives them a lyrical beauty that's missing in a lot of plot-driven stories for kids, and yet they're still fascinating page turners — a must when you're trying to capture a tween's attention. Even the most pesky readers who feel poetry is boring with a capital B are likely to be hooked after the first couple of pages. I pretty much guarantee it.
Related: More of our favorite poetry books for young readers
 You know you'll be cozying up on the couch with Langston Hughes, T. S. Eliot, Maya Angelou, and Emily Dickinson (right? Right?), but you really can't get too much quality reading time in, and so, to honor National Poetry Month, I give you 5 novels written in verse that are total page-turners and ones that have received so much critical acclaim they are at the top of our reading lists:
I absolutely loved Blue Birds by Caroline Starr Rose. In fact, I loved it so much that I read the whole book in just one day. It's a fictionalized account of the lost colony of Roanoke (which, quick history refresher, is the group of settlers who disappeared after Queen Elizabeth I sent them in the 1500s to what is now North Carolina). Two girls — one English and one Roanoke Indian — foster a forbidden friendship that ultimately has massive consequences for both of their communities and families. I think any girl or boy will like this action-packed, suspenseful, and emotional story.
I too had doubts that I could convince my 10-year-old son to read a book written entirely in verse, but, to my amazement, I did — and he couldn't put it down. The Crossover by Kwame Alexander is a fast-paced and sometimes heartbreaking story about basketball and brotherhood, and the main character's athleticism charmed him as much as the rap-like verse the book is written in. Not to mention, it won the Newbery Medal too. The author's next book, the soccer-themed Booked, comes out later this month, and, not surprisingly, it's getting rave reviews.
I have been completely mesmerized by Brown Girl Dreaming by Jacqueline Woodson, which is a National Book Award winner and Coretta Scott King award winner. This memoir is Woodson's story of growing up in South Carolina in the 1960s, learning what it is to be black while the shadow of Jim Crow still looms over her hometown. Later, she moves to Brooklyn, New York and says she's never really felt sure she knew where home was for her. There are moments here that pierce to the core — this novel in verse should be required reading for all kids.
I've been hearing great things about Nix Minus One by Canadian author Jill MacLean since it came out in 2013, and I'm planning to pick this one up next. Nix Humbolt is a 15-year-old loner who hides from his teenage life in his father's woodworking shop. His sister is spiraling out of control, and he's not sure he can save her. Then, there's the neglected dog he wants to protect. Ultimately a new friendship helps him regain balance and figure out who he really is.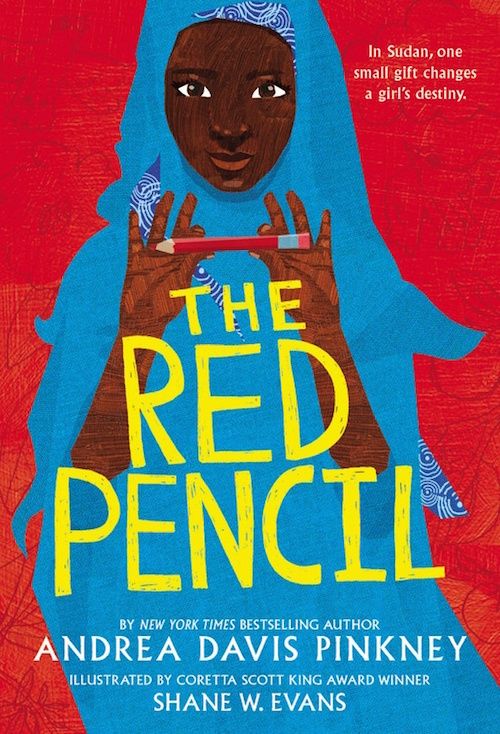 The Red Pencil by Andrea Davis Pinkney is the powerful story of a young Sudanese girl who is forced to seek shelter in a refugee camp, and the red pencil that helped her get her voice back after the unspeakable trauma she experienced. Although the subject matter is difficult and the poetry is poignant — and probably most appropriate for your tweens and older — this novel manages to communicate hope, too.