With news that even Phthalate-free and BPA-free plastic baby bottles may not be all they're cracked up to be, more parents are on the hunt for glass baby bottles. While not long ago, the idea of glass baby bottles once inspired panic in the hearts of new parents — and I remember those days! — glass in the diaper bag is becoming increasingly prevalent. Even old school bottle brands that were holding out for years are now out with glass alternatives and hey, we're all for choice when it comes to our baby gear.
Glass baby bottles, for the uninitiated are made of pretty hard-core shatterproof borosilicate glass, and often covered with silicone wraps of various kinds that give them shatterproof protection when they're dropped (which will happen). So not only is there little to worry about in that sense, they can also be machine washed easily (praise be!) and are definitely more earth-friendly than plastics.
Of course there are also some terrific silicone bottles and stainless steel baby bottles that have their own benefits. But in honor of Earth Day, we thought we'd focus on inarguably eco-friendly glass baby bottles.
Pro Tip: If you're just getting started with bottle-feeding, remember that every baby is different. What works for some, doesn't work for others — which is also why customer reviews tend to be all over the place. Since glass bottles are generally pricier than plastic, you might want to try one or two from a brand you love and trust before committing to a full $90 gift set.
(Been there, donated that.)
With that, here's a list of 10 of our favorite companies making all kinds of glass baby bottles, so you can figure out which ones are right for you and your little eco-kiddo. – Liz, with Serena
CMP is an rstyle affiliate
Related: The ultimate baby shower gift guide: 200+ of the coolest gift ideas
 Dr. Brown's Natural Flow Glass Baby Bottles with Silicone Sleeves ($26.99/2, Diapers.com)
My own first daughter used Dr. Brown's bottles easily (the second kid…oof, that's a whole other story about fussiness and trial and error and me tearing my hair out) so it's nice to see this beloved brand now offering a line of glass baby bottles with the same silicone nipples that have helped so many babies with colic and gas. If you want to save a little, get a couple with the silicone sleeve, then get the plain Dr. Brown's glass bottles which are just $11.99 for two at Target. In other words, you're paying a lot for those sleeves!
Avent Natural glass baby bottles ($7.10+ on sale, Amazon)
Even tried and true Avent bottles now come in glass. This is a great option for both its affordability and convenience — the brand is so popular and so widely available that it's easy to find compatible nipples from their Natural line in practically any baby boutique, chains like Toys R Us, plus big box stores like Target.
Lifefactory Glass Baby Bottles ($14+, Amazon)
Lifefactory baby bottles were one of the very first glass bottles we ever recommended, and we've been fans since back when they were called Wee-Go Bottles. (Good name change; we approve!) The silicone sleeve really works wonders for protection — my kids have been using their glass bottles at school for two years now with no incident — plus they're easy to grip and just look so cute in all those modern colors. You can grab one 4oz Lifeproof baby bottle to try out for about $14 on Amazon, or grab a set of 4 9oz Lifeproof baby bottles for about $14 each when you're ready to commit.
lollaland glass baby bottles ($11.25+ on sale, Amazon)
For something more fun, makers of the whimsically designed lollaland sippy cups are now out with a collection of glass baby bottles (also at top) that are as cute as they are functional. The borosilicate glass is lightweight but strong and parents rave about the anti-colic vent at the nipple, and compatibility with Medela breast pump accessories.
Related: The coolest baby gifts and gear of the year: Editors' Best
Born Free Breeze Glass Baby Bottles ($23.99/2, Buy Buy Baby)
Born Free by Summer Infant has a great reputation among parents as one of the first companies to take the BPA out of their plastic bottles. Plus, they're super easy to clean since there's just two parts — whoo! It's nice to see that same design is now available in glass baby bottles too, which can even go safely from freezer to boiling water, if you're thawing breast milk the old-fashioned way.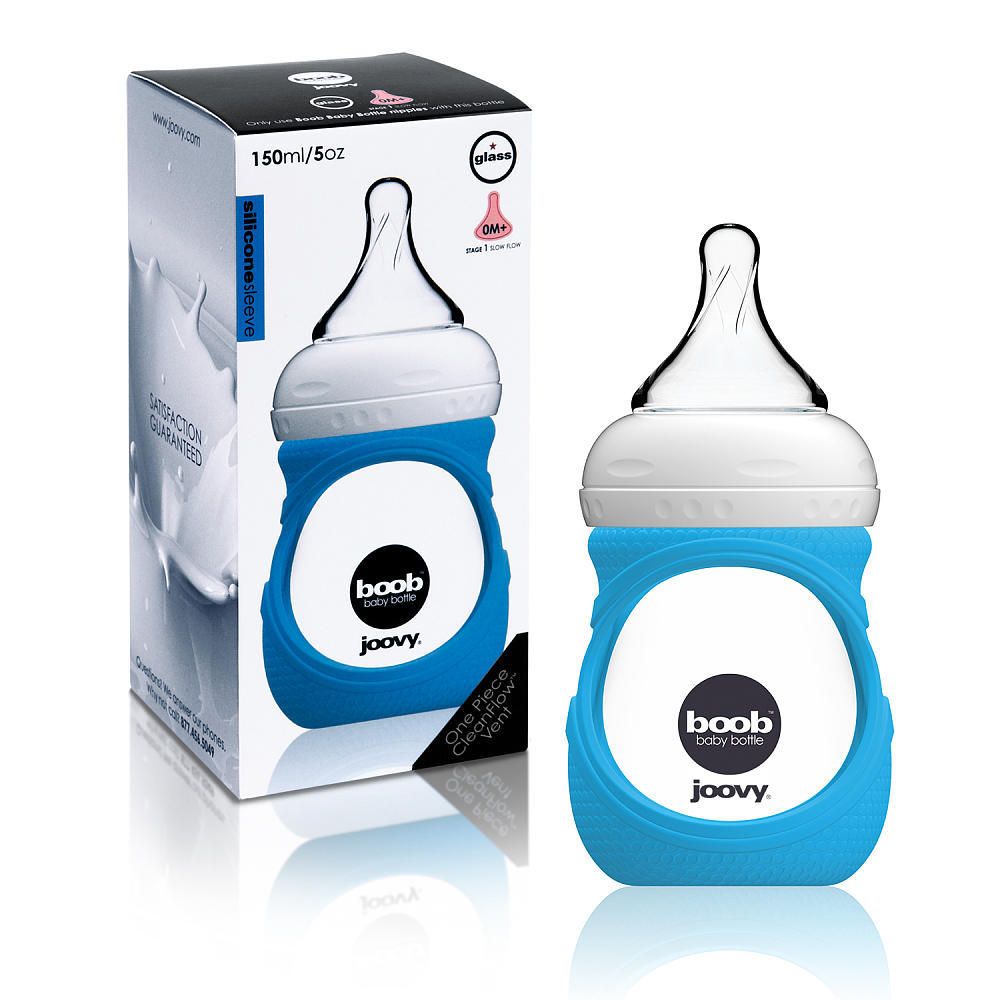 Joovy Boob Glass Baby Bottles ($21.99, Amazon)
If you're in the Bugaboo/Stokke crowd, meet your designer baby bottle. Yes, the Joovy Boob baby bottles are gorgeous, well-designed, and super pricey; though that $22 price tag for one (eep) does get you a companion silicone sleeve in blue, green, pink or yellow to help make droppage less worrisome. Reviews are a bit mixed as with all baby bottles — some parents love them, some have issues. Just know that if you already own their plastic bottles, the rings aren't interchangeable so you're starting with a whole new system.
Tommee Tippee Glass Closer to Nature Bottles ($21.99/2, Toys R Us)
If you like the idea of Joovy but not the pricetag, check out the glass baby bottles from Tommee Tippee. They're specifically designed to help babies transition easily from breast to bottle, and it's fortunately compatible with nearly all of their Closer to Nature silicone nipples, should you already own some of the plastic versions. The glass version is only available in 9oz, although considering the premise of the design, that makes perfect sense.
Mii Glass nurser bottles ($14.99/2, Buy Buy Baby)
No, they're not named for your Nintendo Wii avatar — or, maybe they are. Either way, these glass baby bottles are designed for both safety and convenience, with what they call "Flutter Flex" vented nipples to help slow the flow and hopefully cut down on colic and gas, because, ugh.
5 Phases Glass Baby Bottle Starter Set ($35.33 on sale, Diapers.com)
This is actually a complete interchangeable bottle system with a removable glass insert that even becomes storage for homemade baby food. In other words, this is one bottle that really grows with your baby, even after your baby is done with bottles! It was actually designed by a mom after the birth of her micro-preemie baby, which is why you'll notice smart details like a sleeve that completely covers the glass, and design made for easy cleaning and assembly.
Evenflo Feeding Classic Glass Twist Bottles ($14.27+/6, Amazon)
If you're looking for a bargain, Evenflo has you covered with their very affordable six-pack of glass bottles. (This price is for the 4oz bottles; it's a little more for the 6oz ones.) While not every bottle is for every baby, I'm pretty convinced by the NICU nurse review on Amazon recommending them as "the easiest, most affordable bottles out there." And she would know.