We're excited to kick off our brand new 2016 Father's Day gift guide with something super adventurous: Truly amazing gifts for dads who love camping. As for my own husband, he's taken our kids on enough camping trips this year to earn him whatever amazing new piece of camping gear he wants for Father's Day. So I've been reading up on the newest and best camping tech to give him a Father's Day gift he'll really love as someone who likes camping.
Wow, there's some cool stuff out there!
I'm looking for camping gifts for dads that just might make his time a little more fun, a little more comfortable. Because in my mind, however fun he says camping with the kids may already be, I can't imagine that spending the night on the ground with roots and rocks in your back when you're nearing (or, ahem, over) 40 falls under cushy living. That's why I'm hoping this incredibly cool camping gear — from treehouse tents to speakers that can float down the river with you — gets him even more excited about a camping trip with the family.
Top photo via Yellowstone National Park
CMP is an rstyle affiliate
Be sure to check out our Father's Day Gift Guide 2018, updated with amazing gift ideas that dads everywhere will love!
1. A portable pizza oven
We think the propane-powered portable Roccbox pizza oven is such a fun, smart appliance for dads who love to cook outside. You can make stone oven pizzas (and a whole lot more) on the patio or while camping. Or, if you prefer the flavor of real wood, you can use their wood attachment to cook that way. Really clever.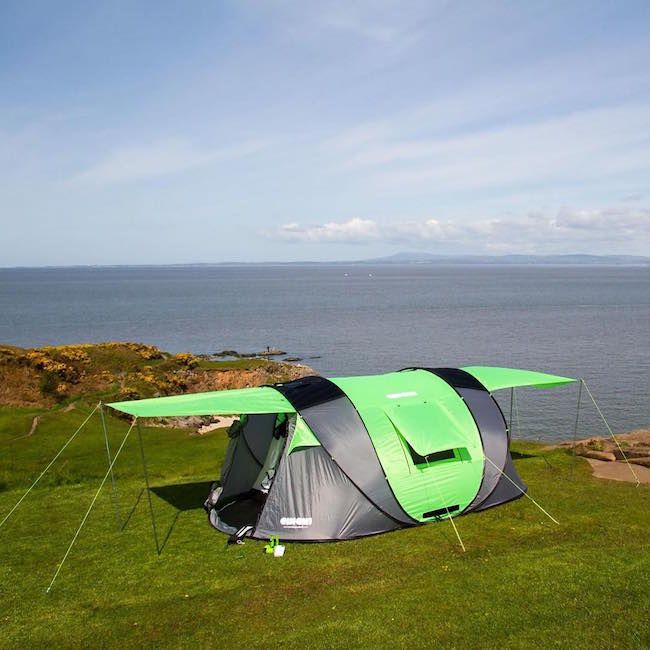 2. A solar-powered tent
Admittedly, pitching the tent while the kids try to "help" isn't our favorite camping activity, but it looks like the solar-powered Cinch pop-up tents make it so easy — you just unfold the tent and it pops up into place. Plus, it has solar panels to charge your phone (a huge help when camping as a family), reflective guy lines, LED lighting inside and on the tent stakes, so you don't trip in the dark. And, after watching the set-up and repacking video, it actually doesn't look that hard to get back in the bag. What more could you ask for? (Note: Their Kickstarter order has sold out and they're taking pre-orders now, with priority given to Australia and New Zealand, where they're based. But hey, there's always next Father's Day.)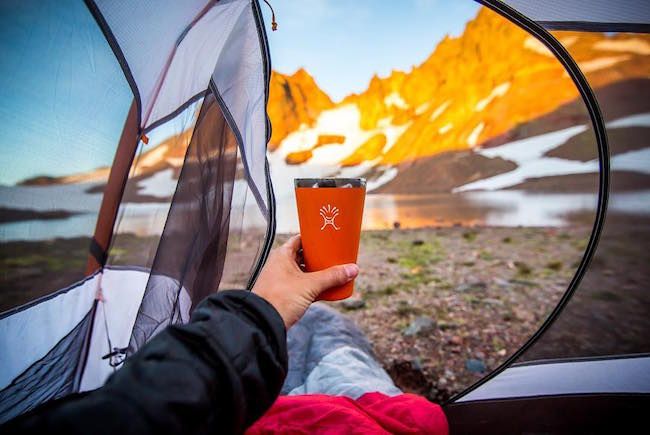 3. A pint glass that will stay cold for hours
Mmm, warm beer. No thanks. If you've gone to the trouble to keep your drinks frosty cold in a great cooler, then make sure they stay cold while you're drinking them too — especially if you're around a campfire or are outside on a hot day. The Hydroflask true pint glass keeps ice frozen for up to 4 hours but still feels like you're drinking from a pint glass. Cheers, Dad.
(Photo by @natewyeth via Hydroflask on  Instagram)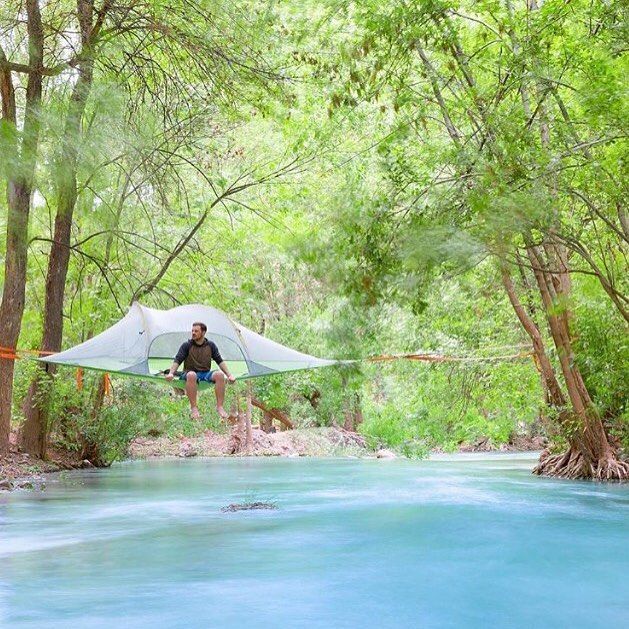 4. A tent with the best view
It really doesn't get any cooler than Tentsile's treehouse tents. You can hang these from trees anywhere — like a hammock — but they're big enough for a few people to fit in. String a few together, low and over the grass, and the whole family can camp out comfortably. We love the idea of roughing it over water in one of these — for Dad, not the kids. Or for a date night — Tentsile just released their new 2-person Tentsile Flite tent; it's just 7 lbs and goes up in about 10 minutes. Plus, the views are pretty great.
(Photo by Christian Schaffer on Tentsile's Instagram feed)
5. A high-tech water purifier
If you're heading out on a backwoods camping trip, it's hard to haul gallons of clean water with you. So for a really rugged dad, a SteriPEN water purifier is a gift that can pretty much guarantee he won't come home with Montezuma's Revenge. You can get the rechargeable Ultra SteriPEN model (shown) or the battery powered Adventurer Opi SteriPENi model. With both, the UV light kills 99.9% of all harmful microorganisms in water without any chemicals, and they're reusable for 8,000 liters of water. That's quite a few hikes.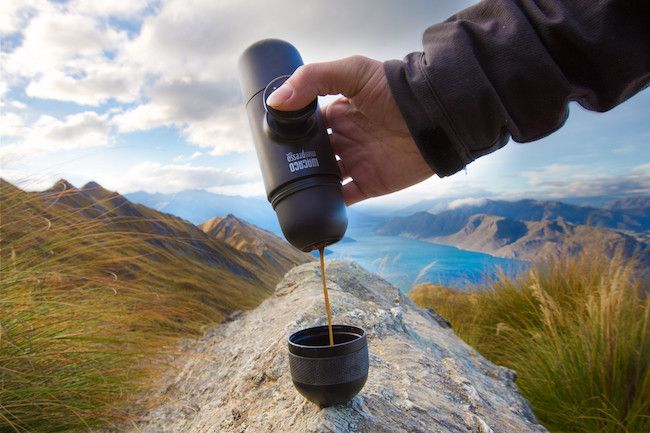 6. A pocket-sized espresso maker
If coffee is a non-negotiable for your dad, this Minipresso espresso maker will make mornings at the campsite a whole lot happier. And it's so small he can easily stash it in his bag for any quick outing — whether it's an early morning fishing trip or meeting the guys for a trail run before work.
7. A stove that charges your phone
Yep, Dad can charge his phone while he roasts hot dogs with the very smart BioLite Campstove. This tiny stove is about the size of a water bottle and it's fueled by the twigs your kids can collect around the campsite. And while you're boiling your water or cooking your dinner over the flame, the fire also generates enough electricity to recharge your devices for a family movie night on the iPad under the stars.
Related: 7 amazing tech gear innovations for hiking and camping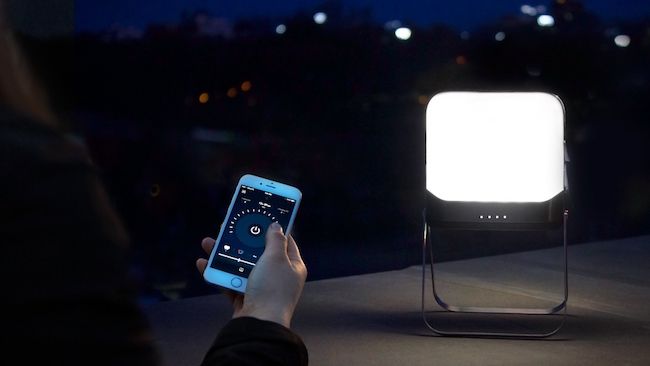 8. A Bluetooth lantern that folds flat
Space is at a premium when you're camping so we think any tech-minded Dad will love the BioLite BaseLantern, which has far exceeded its goal on Kickstarter and has a few days left to go. The lantern is the size of a sandwich, charges your devices via 2 USB ports, and connects to their SiteLights to light up your whole campsite. And the whole system is controlled via Bluetooth for dimming, color, charge status, timers and more.

9. A great adventure travel book
Get Dad (or your adventurous Granddad) a great outdoors book for Father's Day if he's a camper. We like the classic A Walk in the Woods by Bill Bryson; Wild by Cheryl Strayed; or Levison Wood's brand new Walking the Himalayas which is a follow up to his critically acclaimed Walking the Nile. For all those weekends that he's stuck at home and isn't able to get outside, or when rain dampens his camping plans, these books may give him the fix he's craving — until he can hit the trails again.

10. A rugged waterproof speaker
Having some music near the campsite is always fun — who can resist a family dance party under the stars?! — and this House of Marley's Chant Sport speaker, which we recently named a favorite new outdoor Bluetooth speaker on Cool Mom Tech, is designed to handle the elements. It has a carabiner you can easily clip to your backpack, and it's even designed to float — so he can take it along as he tubes it down the river, or paddles out to his favorite fishing spot.

11. A cool backpack that gives back to national parks
If a new camping backpack is on his wish list, this Kestrel bag from Osprey is a very cool choice. Not only does it look great and have plenty of room for everything from his hiking gear to the kids' water bottles, but Osprey will also donate $60 of your purchase to the National Parks Foundation. And we always love a great gift that gives back to the causes we love.

12. A huge splurge that will be totally worth it
Although it's way, way, way outside my Father's Day budget, I think a Timberleaf camping trailer would be an incredible Father's Day gift for any dad who likes camping so much that he's been coveting one for a while. And even though it's outrageously pricey, maybe you could justify the expense if you're willing to trade your summer vacation plans this year for weekends camping — or, glamping — instead?
13. A family camping trip he'll never forget.
Hey, you can always surprise Dad with a Father's Day gift of a once-in-a-lifetime camping trip for the whole family. You can visit any one of the amazing national parks, like Yellowstone (at top), which is always a favorite. Or, try an off-the-beaten path location by booking a campsite — like this amazing spot at Big Pine Creek — at HipCamp, which is like an Airbnb for campsites on private land across the country. You can search for sites based on location, amenities, or activities like kayaking, wildlife watching, or biking. All you need now is to find a free weekend. And okay, maybe a few of the Father's Day gifts we've recommended here.
(Photo by Michael Vu via HipCamp website)