When we asked teachers what they thought made the best teacher gifts a couple of years ago, an overwhelming number of them said a personal note from their students was the one thing that really made their day. Yes, gift cards, classroom books, and handmade gifts are nice (and always appreciated!), but getting a handwritten note of thanks takes very little work and goes a very long way in showing appreciation to teachers after a long year.
However, I think we can all agree that getting all kids to sit down a write a thoughtful note isn't always so easy, so we've rounded up 8 wonderful teacher appreciation printables that we found, to help give kids a little head start in writing those sweet notes of gratitude.
With options for toddlers who want to thank their music class instructor, or older kids who want to decorate a card to embellish a personal, handwritten note to their favorite teachers, we've got a few cool teacher appreciation printables we hope you love.
Related: 6 brilliantly easy ways to make inexpensive teacher appreciation gifts more special.
Printable Thank You Teacher Certificate from The Design Candy Shoppe
My kids' very first teachers were the patient and friendly folks who lead their toddler singalongs and preschool tumbling classes, and definitely deserving of a thank you card at the end of the session. For kids who cannot yet pen their own thoughts, I love that our youngest students could give their teachers a high-five of sorts with this handmade (literally) teacher appreciation printable.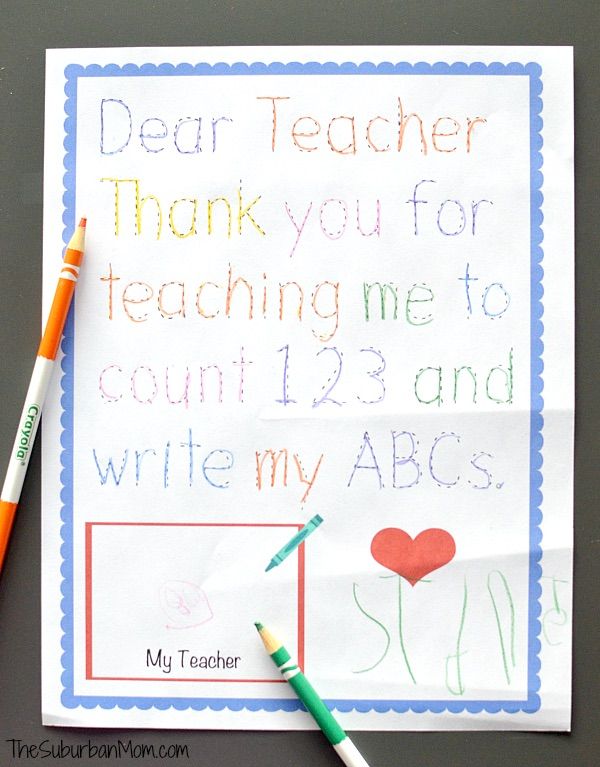 Free Printable Teacher Appreciation Printable for Preschoolers from The Suburban Mom
Once your children are old enough to handle a pencil, this free traceable gives your preschooler a chance to "write" their very own note. They can proudly show off how nicely they can trace their letters. And we love that the designer has left a space for a special drawing.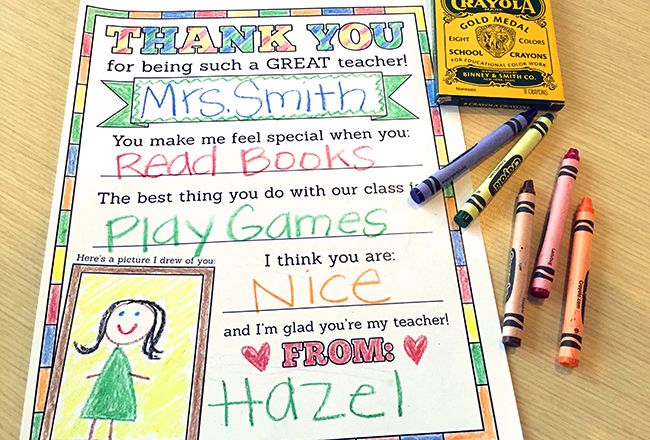 Free Printable Fill-in-the-Blank Teacher Appreciation Letter from Frugal Novice
A box of crayons and a love of coloring is all that is needed for this adorable teacher appreciation printable — ideal for Kindergarteners or First Graders who can fill in the blanks with a single word then sketch a portrait of their Very Important Teacher.
Printable Teacher Appreciation Acrostic Poem from Kenarry
Does your child have the sweetest teacher ever? Then this fill-in-the-blank card may make the perfect gift, especially when attached to some delicious chocolates. Let your child decide what each letter in "chocolate" will spell out in this sweet acrostic poem.
Related: 11 tasty teacher appreciation food gift ideas to make or buy | Updated for 2018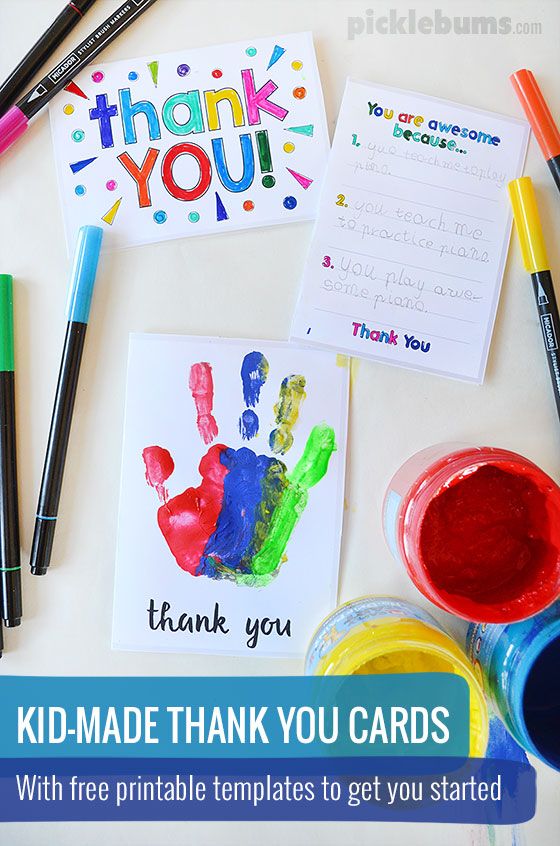 Printable Teacher Thank You Card Set from Picklebums
Have kids of different ages? Picklebums offers three variations on the same card so you can pick the right option for your child. They can either slap a finger-painted high five onto the front of a card, carefully color in a bold thank you card, or list out the three things they think are most awesome about their teacher. Or, heck, let them do all three — sometimes you can never do enough to thank your kids' favorite teachers.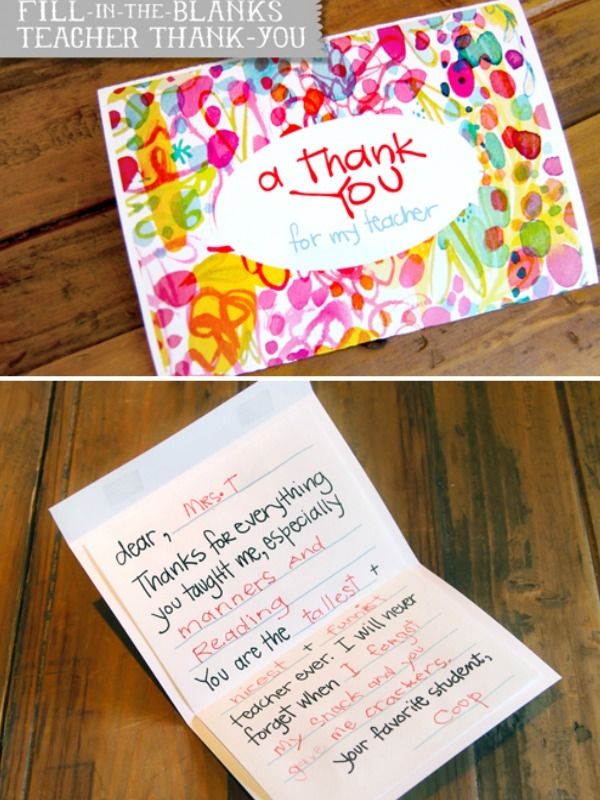 Free Printable Teacher Appreciation Fill-in-the-Blank Card from Lil Blue Boo
Handmade but every bit as sweet as any store-bought card, we are big fans of this lovely watercolor-like design that comes with a fill-in-the-blank card to tuck inside. Great choice for our beginner writers!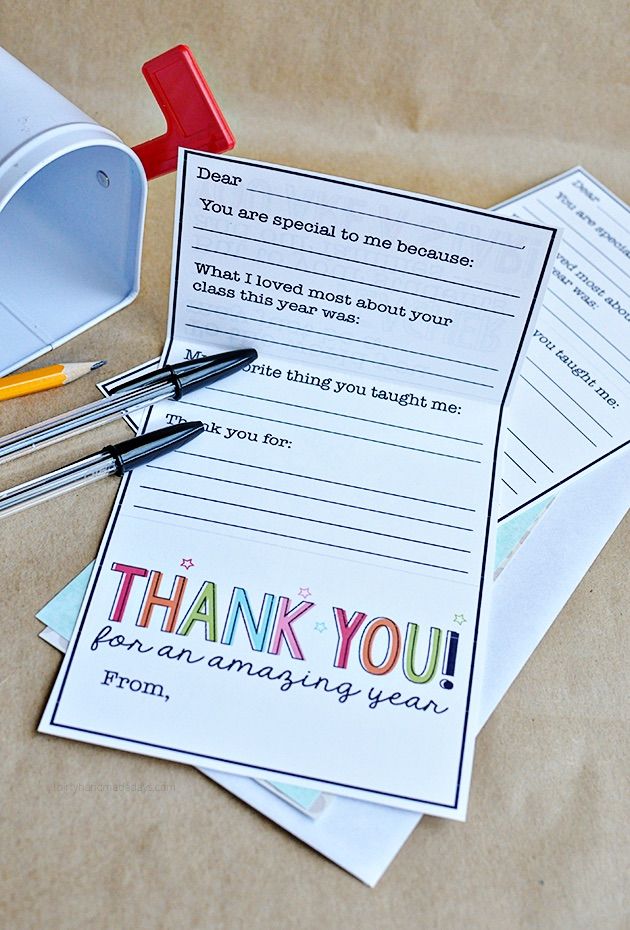 Modern Printable Teacher Appreciation Fill-in-the-Blank Card from Thirty Handmade Days
If you'd like to include a gift card with your child's handwritten note, check out this free teacher appreciation printable, which can hold a card tucked inside. The open-ended prompts let your child write in whatever is truly special about their teacher and we love the modern, clean design .
Printable Teacher Appreciation Thank-You from Prairie Chick Prints
The printable is super chic — perfect for picky tweens — and provides plenty of room inside for a longer note, or perhaps a cute picture drawn by a younger student. We love how it encourages our kids to think about why their teachers are so special and we're pretty certain the recipient will hang onto it for a very long time.