Of all the toys that have passed through the hands of my three kids over the past dozen or so years, there is no question that LEGO bricks have been the most enduring and versatile. From their first little plastic bucket of mixed bricks, to those 1000+ piece architectural kits that require hours of concentration, LEGO remains a favorite toy — for all of us — even up against the siren song of video games.
But even more than just being fun, I love the important skills that LEGOs can teach. I've seen so many of them firsthand as a homeschooling parent. so I'm sharing 16 essential skills kids learn from LEGOs, including a lot you may not even be aware of. In fact, there are so many more, I bet you've got some of your own to add too.
We've also got lots of resources for you to help develop those skills, including books, websites, competitions and printables.
Image at top: FIRST LEGO League; CMP is an rstyle affiliate
Related: The best creative toys for an 8 year old — no beeps, boops or batteries
1. Creativity and imagination
Probably the very first skill that pops into my mind when considering what kids learn from playing with LEGOs, is how much creativity my kids have shown when they play. I'm thinking about their double-decker vehicles with six wheels, labyrinth-style homes for Minifigures, even the giant "Happy Birthday" my son spelled out for his older sister. In fact some of my kids' favorite builds never come from a kit at all — endless evidence there are so many possibilities when you dump a bunch of bricks on the playroom floor.
For more help: The LEGO Ideas Book by David Lipkowitz is a great source of inspiration beyond the instruction manual, giving kids DIYs on making spaceships, kingdoms, buildings or just using them as jumping off points for their own creations.
2. Problem solving
A LEGO tower that keeps tipping over. A kit missing one piece to complete the project. A dollhouse that needs a bed made to fit on the roof. (Yes, the roof.) Building with LEGO often presents challenges for kids — and adults! — but they can almost always be overcome with a little experimenting, brainpower, and the resolve to keep trying until the masterpiece is finished. It's such an essential life skill we hope for in our kids, and LEGO seems to give them the incentive not to give up.
For more help: While regular old creative LEGO play presents its own set of challenges to solve, to make things more fun, check out this free printable 30 day LEGO challenge calendar from Free Homeschool Deals, each with a different challenge for each day of the month.
3. Teamwork, sharing and conflict resolution
Whether they are just playing with friends or if they go ahead and join a formal LEGO team, like FIRST LEGO League, kids can learn a lot about teamwork and sharing all while playing with LEGO. After all, no one wants to play with the kids who hog all the bricks or throws them across the room when they get frustrated, right?
For more help: LEGO's own educational website for teachers has a wealth of resources, including this preschool lesson plan (PDF) with ideas to help kids learn conflict resolution and build social skills when playing with peers or siblings.
Related: The Ultimate Birthday Gift Guide: The coolest gifts for 3-year-olds
4. Sorting and counting
A great way to play with LEGO bricks with younger kids isn't to build at all, but to dump a bunch on the floor and sort them according to color or size. This works especially well with DUPLO (LEGO for little ones).
For more help: An easy LEGO sorting activity from Toddler Approved (above) will have kids sorting bricks by color — check her site for the simple DIY and some other great tips.
5. Fine motor skills
Anyone who has ever had to separate a group of LEGO bricks or build anything with the tiniest single-bricks or connector pegs can appreciate how LEGO helps polish a child's fine motor skills. Even your youngest preschoolers who are trying to fit together their first DUPLO bricks are improving their dexterity and finger strength through play. Though as an adult, I wish there was a simple way to separate those tiny bricks without destroying my nails!
For more help: At Fun at Home With Kids, find four activities to help young children build fine motor skills using LEGO bricks including this clever idea (above) which requires using a small medicine dropper to fill the tiny brick holes with a drop of water, no spilling allowed.
6. Following directions
While free play is one of the essential benefits of LEGO, there's also the satisfaction that comes from following instructions to create something specific. That's where even the most eager builders learn the importance of slowing down, opening up the instruction manual, and following the step-by-step directions if they want to have a successful build. Plus I love that LEGO instructions are almost always completely pictorial, so even non-readers can follow along.
For more help: Tiany Davis at She Knows shares her family's homeschooling learning activities using LEGO, with links to plenty of resources.
7. Math concepts

With their different sizes and shapes, LEGO makes fantastic math manipulatives that I used myself as a homeschooling parent many times. Whether kids are simply measuring how many LEGO bricks they'll need to finish a wall or learning more complex math concepts like place value, multiplication, and area and perimeter, it's really a terrific resource.
For more help: Check out a terrific math lesson plan using LEGOs from We Are Teachers. For younger kids, we also like these free printable LEGO addition cards from the STEM laboratory, and these LEGO fraction games at the JDaniel4's Mom blog (above) including a fantastic DIY on putting it together.
Related: 21 of the best math apps for kids of all ages
8. Spatial reasoning
When my kids would contemplate how large to build their LEGO house so that their Minifigures and Polly Pockets could have a party inside, they were developing their spacial reasoning skills, much like an architect might approach the design of a new home. Being able to visualize a space in their "mind's eye" is considered such an important skill, as explained in this article by Parenting Science, that can help strengthen their abilities in math, science, art, and design. It's also got tips for getting the most out of your LEGO blocks if you scroll to the bottom.
Also check out this article in KQED about how spatial skills can help bridge the STEM gender gap, which is in part why we've been strong defenders of LEGO Friends from early on.
For more help: This LEGO tessellation activity at Little Bins for Little Hands is a genius way to encourage spacial reasoning, and the result looks like art.
9. Frustration tolerance
We've all dealt with tears (and not tears of joy) over LEGO play. LEGO, with its smashability, is great at testing even the most patient builder's, well, patience. The good news though? Rarely do LEGO bricks totally break, so even the most heartbreaking collapse can be put back together after the tears have dried.
For more help:  6 ways to help children handle frustration. They're good tips!
10. Organization and storage
Kids learn pretty quickly that they shouldn't leave their LEGO bricks strewn across the room because, well, for one, they hurt when you step on them, and because looking under furniture for a much-needed brick is not fun. We think that better organization makes for better playtime.
For more help: There are tons of ways to get creative with LEGO storage, and you don't have to pick just one way. The Swoop bag is great if you don't mind keeping every brick all together. If you want to organize bricks by color, check out this DIY LEGO storage solution from Boy Mama Teacher Mama, complete with her own printable labels. We love how she included separate bins for little accessories like wheels and lights, which often get messy because we don't know where to keep them.

Related: Creative storage solutions for parents' trickiest problems 
11. Basic coding skills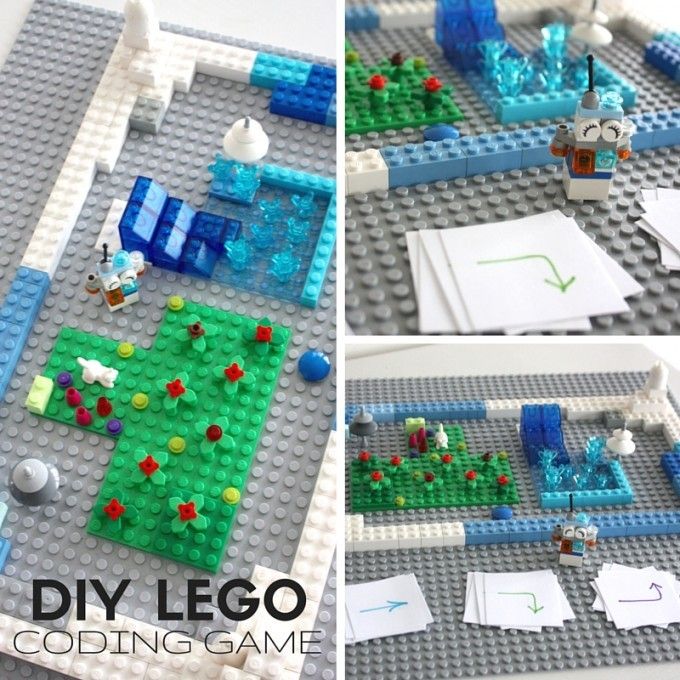 Though LEGO is one of our favorite unplugged toys, it's long been a terrific tool for teaching kids the basics of coding — perfect for computer-minded (or, even video game-minded) kids.
For more help: There are no shortage of resources these days to connect STEM and LEGO. Little Bins for Little Hands has great suggestions for using LEGO to teach basic coding to kids, including this DIY LEGO coding game (above).
If your kids are really in love with coding, invest in the Wonder Workshop robots and check out the vast range of Wonder Workshop coding projects using LEGO. From kindergarteners just starting out to tweens who can get more advanced, there are so many cool options that keep growing with your kids.
12. Advanced coding skills
The combo of LEGO Mindstorms (one of our favorite tech gifts for kids) and robotics technology mean even advanced coders can learn a ton from LEGO which starts to be increasingly applicable as a much-needed skill in today's job market.
For more help: We're all big fans of  First LEGO League, which hosts national competitions that blends LEGO play with coding and robotics. Above, members of Brooklyn's Bed-Stuy 6 Robo-Rebels team, who created a seriously amazing project for the FLL competition.
13. Design and architecture
I wonder how many of the greatest architects of our time got their start by clicking together LEGO bricks into cool shapes? Whether your kids build their own manmade structures or try to copy famous landmarks, the versatility of LEGO bricks makes them great for creating everything from pyramids to skyscrapers.
Older kids (and adults) will love the LEGO Architecture Studio kit which is a serious — and spendy — kit used by real architects, builders, and designers. For something a little more entry level, check out the LEGO Architecture series that brings some of the world's most beautiful buildings into our home. From the Trevi Fountain to the White House to the Statue of Liberty, more experienced builders can get up close to these beautifully designed landmarks without buying a plane ticket.
For more help:  If you get the chance to take your kids to see the traveling Art of the Brick exhibit, featuring the work of master builder Nathan Sawaya, do it! If not, at least check out the work on his website for some major inspiration.
14. Structural engineering
An article from How Stuff Works makes a strong case for all the ways LEGO teaches our kids about the complex subject of structural engineering. By simply trying to mimic the shape of a favorite building in the most basic way — without having it topple to the ground — there's so much thinking kids are doing when snapping those bricks together. Probably more than you even realize.
For more help: Try out the build a bridge LEGO challenge we found at Frugal Fun for Boys & Girls, and have your kids see just how much weight their structures can really hold.
15. Storytelling
Playing with LEGO is a great way for kids to practice their storytelling skills, even from a young age. I've found that a few open-ended questions like, "Why are you building that wall?" or "Whose house is this?" would really get my kids' imaginations going. But even older kids can take those stories and turn them into plays, short films and videos with a little help.
For more help: Kids Activities Blog has some helpful tips for using LEGO to create a story, especially for older kids who might be a little reluctant to get started. Hint: try bringing video into it, with a simple app like Video Star. (Photo above via LEGO eduction)
16. Delayed gratification
One the most important lessons LEGO has taught my kids is how good delayed gratification can feel. Oh sure, that awesome (and expensive) kit that they see on the store shelf or in the LEGO catalog would be fun to play with right now, but sometimes good things come to those who wait. Or sometimes it's worth it for them to save all of their birthday money from Grandma for the next few years so they can buy that spectacular set for themselves.