There is never a bad time to throw a pirate themed party and look for cool pirate party ideas. Of course there's always Halloween — and then today's Talk Like a Pirate Day. (One of our favorites!) But it's a cool birthday party theme all on its own, and it doesn't even have to be all Pirates of the Carribbean themed either.  So thanks to printable decor and activities, crafty DIY shortcuts,  movies on demand, and clever but easy cupcake decorating ideas,  it's possible to pull together a cool pirate themed party (or pARRRty) for your kids and all their best mateys in just a matter of hours.
CMP is an rstyle affiliate
Top image: Pirate cape via Little Hero on Etsy
Easy pirate party decorations
Haunted Pirate Party Printable Collection by Paper and Cake ($19.95)
Start off your pirate themed party by decorating — the easy way. This mega set of nicely designed, downloadable pirate printables covers banners, invitations, doubloons, food wrappers and picks, straw flags, signage, cut-outs, favor boxes…you name it. And several items are customizable, should you wish to personalize your Grog bottles. Print at home if you're the sort of Captain who works fast under pressure. That be not me, yarr. So your local print shop is another smart option
Related: 10 of the cutest pirate gifts for kids
Always Be Yourself Poster by Call Me Artsy ($5)
We have to laugh at this take on the "always be a unicorn" quote we love around here, nicely redone in a pirate theme. The printable poster is the perfect price for party favors, too, so consider printing one up for each of the guests, then roll up and pop into a goodie bag.
Ahoy Mates banner by The Party Tree Studio (under $7)
This printable pirate party banner is just too cute, whether you're throwing a party for the tiniest of mateys or just welcoming them to the little kid table. Most pirate-themed banners that I've seen say Happy Birthday, so I love the more general Ahoy here. In fact, I'd probably leave this banner up year round, and I'm not just saying that because my daughter's summer cupcakes birthday banner is still up.
(What? I like cupcakes.)
Easy pirate party games + activities
Pirate movies, matey
There are oodles of fun pirate-y flicks for the kids to watch on Netflix or Amazon. My particular favorites would be The Pirates: Band of Misfits for little kids, and for adults, like me, who love Wallace and Grommit. Little kids will also dig a screening of Muppet Treasure Island, which you can always keep on in the background of any party. For tweens and teens, there's the old standby Hook, the ageless romp of Goonies, or the more recent pirate movie release Pan. And for pretty much everyone, there's of course Pirates of the Caribbean. You really can't make a bad choice.
Set up a pirate party dress-up station and photo booth
This set of Printable Pirate party Photo Booth Props by Happy Fiesta Design the motherload of piratey photo fun, all for under 10 dubloons. With 38 props, 12 speech bubbles, and a photo booth sign, all you need is a bag of popsicle sticks and some tape to make sure you've got the greatest pirate photo booth everrrr. Although, let's be honest, my kids are going to be wearing these disguises until they fall apart. Except the rum bottle. That's mine.
You can also put together your own pirate party dress-up station, if you just invest in a few bulk packages of pirate eye patches, cardboard pirate hats, and even hooks which can be overnighted from Amazon, or you can check out a local party store.
Related:4 of the best photo booth apps for your party
Make origami boats or crafty pirate ships
It's easy to find directions for simple origami boats, or for more help, check out this origami boat YouTube video. Have kids decorate them with skulls (of course) and you can even try racing them across a big bucket of water, two at a time. If you have older kids who want to get more creative with their handiwork, check out this cool how-to for a DIY origami pirate ship craft at Moms Have Questions Too that she created from the excellent craft book, Project Kid.
As an alternative younger kids, check out this pirate ship paper plate craft that's preschool-easy.
Color printable pirate themed coloring pages
Printable coloring pages are our go-to activity for any party, and are especially great for getting the kids acclimated when they come in, or getting them to calm down a little bit just before serving cake. Disney Jr. has lots of official Jake and the Neverland Pirates printable coloring pages. Or make it simple and give each kid a simple jolly roger flag coloring page, that they can decorate to make their own.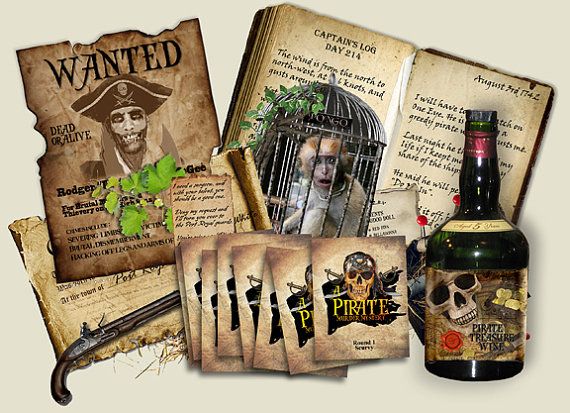 Host a pirate murder mystery game
If you're planning a party for teens or older kids, or even want something for for adults to do after the sugared-up kids have fallen asleep, try this printable Pirate Murder Mystery Game by Murder Mystery Games. Up to ten people each take on a part and decide who killed the Captain of the Sweet Revenge. You'll get invites, wine bottle labels (for the adults, arrrrhem), and everything else you need to play the game.
(Note: Judging by the description, this is definitely not the most PC game, but it does have tons of 5-star reviews, so maybe be sure that you have appropriately adult and edgy party guests who won't balk at "Salty Kiss," the wench who's proud of her "jugs.")
And hey, you can always use this as inspiration and create your own. On eHow, there are some good basic instructions for how to create your own DIY murder mystery game — and the theme can be whatever you'd like. As in, pirates. Or pirates. Or maybe pirates.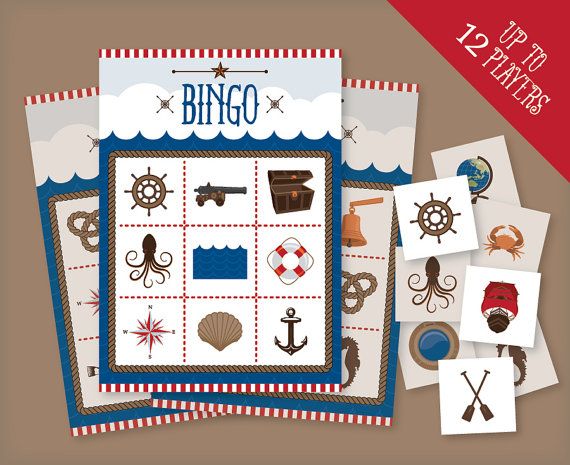 Play pirate themed bingo
This printable pirate themed BINGo game  (under $4 at Faffy Tea) is designed for up to 12 players of any age, but especially younger ones since gameplay goes fast. Print up as many bingo cards as you wish (hey, two people can win at once, right?) and give out prizes for the first mateys to match three pieces. There are cannons, anchors, octopi — nothing wenchy or boozy at all. And certainly no "jugs."
Hand out pirate party favors
When you're sending your kids home with treats, I love these little printable, foldable pirate party treasure chests from Glitter Ink Designs  which are perfect for popcorn, candy, plastic skull rings or little toys.  And cutting and folding them would keep my kids occupied pre-party, which is always a bonus. It's more fun than swabbing the poop deck. Heh.
Easy Pirate Party Food, yo ho ho
Starting with the healthier stuff before all the treats, we generally just order pizzas to make our parties easy as possible, and the kids never complain. I haven't had to come up with a feasible reason for pirates to eat pizza so I'd say a jolly roger paper plate should do the trick.
Another good option, besides the requisite sweet treats are skewers of fresh fruit which can definitely help prevent scurvy. You can top with a pirate flag for an easy, pirate party themed treat as seen above, via Catch My Party. She stuck them into a carved out Pineapple, but if you're saving time, just a bowl is perfectly fine.
If you want to get suuuuuper easy, you can't have a pirate party for kids without Pirate Booty. So start there. But there are so many treats that will work when you don't have time to spare, like popcorn, Cracker Jacks, or those Halloween Cheetos shaped like skulls. You can also find bulk gummi skulls from CandyWarehouse. Easy! And they also double as goodie bag treats if you would rather sugar the kids up when they've gone back to plundering and pillaging their own homes.
Swedish Fish in blue Jell-O are always a hit, like this one repurposed from a Dr. Seuss party by Single Girl at Home.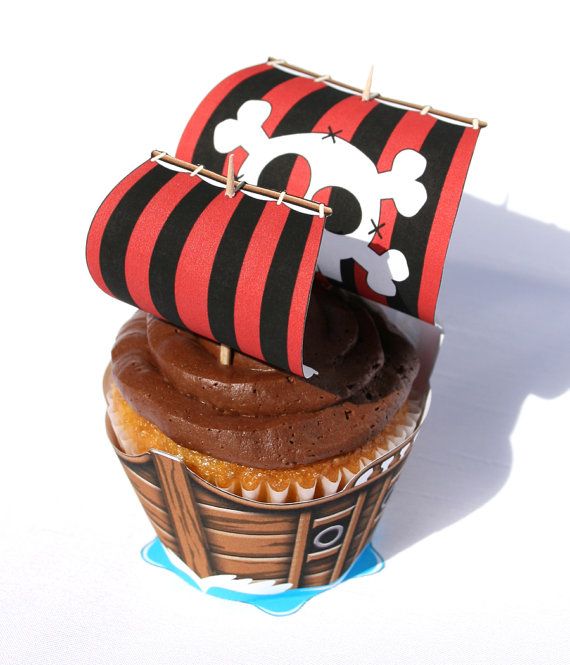 Super fast pirate party dessert hack: Get store-bought cupcakes, then wrap and find a cool cupcake topper. I have to go with the adorable printable pirate ship skull and crossbone sails cupcake wrapper by Printamajig (above, $4) Or if you want to DIY and need some ideas for delicious treats to bake in that cupcake tin, check out these 9 bake sale favorites from Cool Mom Eats.
Alternately, dust a cake or cupcakes with brown sugar for sand, then top with edible candy seashells or edible starfish candies like these from Coastal Dream Weddings on Etsy.
Related: 18 easy decorating ideas that make a store-bought cake more special
You can also sprinkle powdered cocoa in these printable skull pirates cupcake stencils from Disney Family, or use them to decorate cookies (which can be its own activity, too). But argh, make sure you're handy with an X-Acto for all that cutting.
For the adults, we like to drink Hurricanes made with Kraken rum because it's the most piratey pirate drink ever. And pssst… kids don't know what Grog is. Just label anything they drink, from lemonade to punch to root beer with these printable pirate Grog labels from Monopache, and they'll giggle a lot and feel like they're getting away with something.