It seems like one of the great organizational issues that all parents have in common is finding stuffed animals storage solutions for those dozens of critters that seem to accumulate out of nowhere. When I was a kid, it was Beanie Babies that started to flood my bedroom, their tiny plush bodies displacing books, clothing, and everything else in its way. Whether your kid is now amassing Beanie Boos or those stuffed animals that actually are, well, animal-sized, the predicament of stuffed animal storage solutions looms larger than ever.
So as a first-time mom-to-be, I'm going to be prepared. Which is why I was happy track down some of the most clever stuffed animal storage solutions for all these fuzzy friends, big and small, that go beyond stacking them on top of a dresser or along bookshelves.
CMP is an rstyle affiliate
Store stuffed animals under the bed
One space that's often not fully utilized is under the bed. So this cool Monster Under-the-Bed Storage bin  — part of the smart P'Kolino Mess Eaters collection — solves the stuffed animal hoarding problem in such a fun, playful way. It comes in blue, green, and pink and you can also find matching bins, should your kid insist on actually keeping a few of those animals out where they can be seen.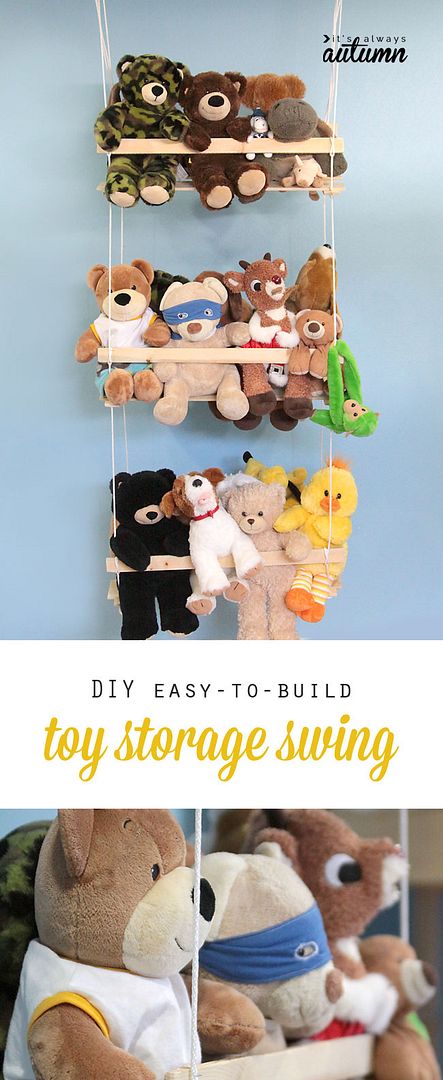 Hang stuffed animals from a swing
Maybe I'm a sentimental fool, but seeing all these stuffed bears, dogs, green swinging monkeys, and… is that Rudolph?… side-by-side on a swing really does make me feel like a kid again. We found this DIY stuffed animal swing tutorial on It's Always Autumn and it doesn't look too hard. I would note however that the blog does offer a safety warning that it shouldn't be set up in a nursery or in a toddler or little kid bedroom because of the dangling ropes and wooden slats. But for older kids, what a super cute idea that still gives them access to pick out a favorite to sleep with each night.
Dangle stuffed animals from a hammock
Sometimes your kids refuse to part with their favorite plush friends but don't really play with them either, so you need a stuffed animal storage solution that just gets all the critters out of the way.  If this is you, I wholeheartedly approve of skipping the carpentry lesson and trying this ultra-simple to set up (like, 5 minutes) Prince Lionheart Jumbo Toy Hammock. It dangles perfectly from a corner of the room or even under a loft bed.
Related: How to create an organized craft space for kids:
7 expert tips to change your world.
Give stuffed animals their own basket beds
if you don't have too many stuffed animals to wrangle, or they're smaller, like Beanie Boos, these garden planters are are smart solution. They're easy to find and reasonably priced. Plus, I'm a lot more drawn to plant baskets that don't require holding living plants I'm supposed to keep alive (ha). Stuffed animals, blocks, and board books? Much better! Thanks to BHG for this clever idea. Just be sure to hang the baskets at kid level so they can grab and go.
Store stuffed animals in a DIY bean bag
This idea kind of blew my mind: Stuffed animals and bean bag chairs are fixtures for most families, so combining them is a major space-saver. Thread Riding Hood adapted an idea she found online from Shannon at Googie Mama and provided this awesome DIY Stuffed Animal Chair tutorial for those of us who are handy with a sewing machine. Though it does look fairly simple.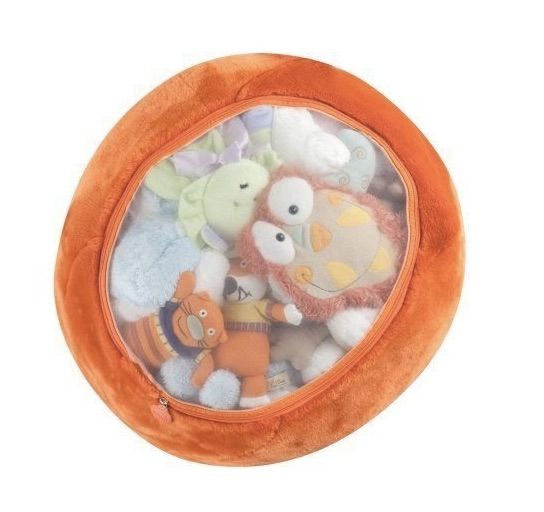 Buy a stuffed animal bean bag
For those of us who love the stuffed animal chair idea, but can't follow a sewing pattern to save our life (I'm not the only one, right?), this Boon Animal Bag (also seen at top) is the perfect solution. In fact, CMP found it so many years ago, loved it then, and I'm so glad to see it's still around! Zip all those creatures in there and then it can be used as a bean bag-esque seat. Provided your kids are cool sitting on them. (Not much different than sleeping on top of dozens of them, really.)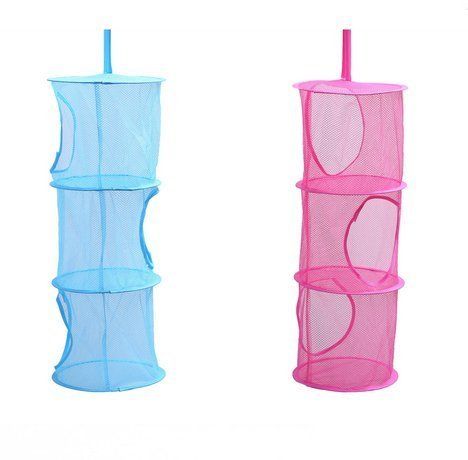 Hang stuffed animals in mesh organizers
I am a fan of this OrangeTag Hanging Mesh Space Saver because, like some of the others stuffed animal storage solutions, it lets your kid see all their toys, but still keep them organized. Best of all, when — or if — kids outgrow their stuffed animals, the mesh bags can be converted to store anything at all, from towels to laundry supplies. But knowing kids? We imagine they'll be holding stuffed animals for a good many years.