October is Breast Cancer Awareness month, as you may have realized from all the logos and web pages turned pink right now. While we are all obviously "aware" by now (and some of us have even suggested changing the name to something more active than awareness), it's still a good reminder to get educated, get yourself checked, and do what you can to support research and prevention, especially with statistics showing that 1 in 8 U.S. women will develop invasive breast cancer over the course of their lifetime.
Unfortunately, not everything with a pink ribbon on it truly supports research for a cure. Many so-called pinkwashed products actually give little or no proceeds to cancer charities. And while of course brands that contribute even 5% of proceeds will do cumulative good, we want to push companies to dig deeper.
So I did some digging and found some really fantastic products that donate between 50 and 100% of their net profits directly to reputable research and prevention organizations.
This way, you can feel really good about shopping pink and knowing your purchase matters.
Related: The Belly Art Project by Sara Blakely: A fun gift for new moms that also happens to help moms in need.
Top image: Lindsay Silveira via cc
CMP is an rstyle affiliate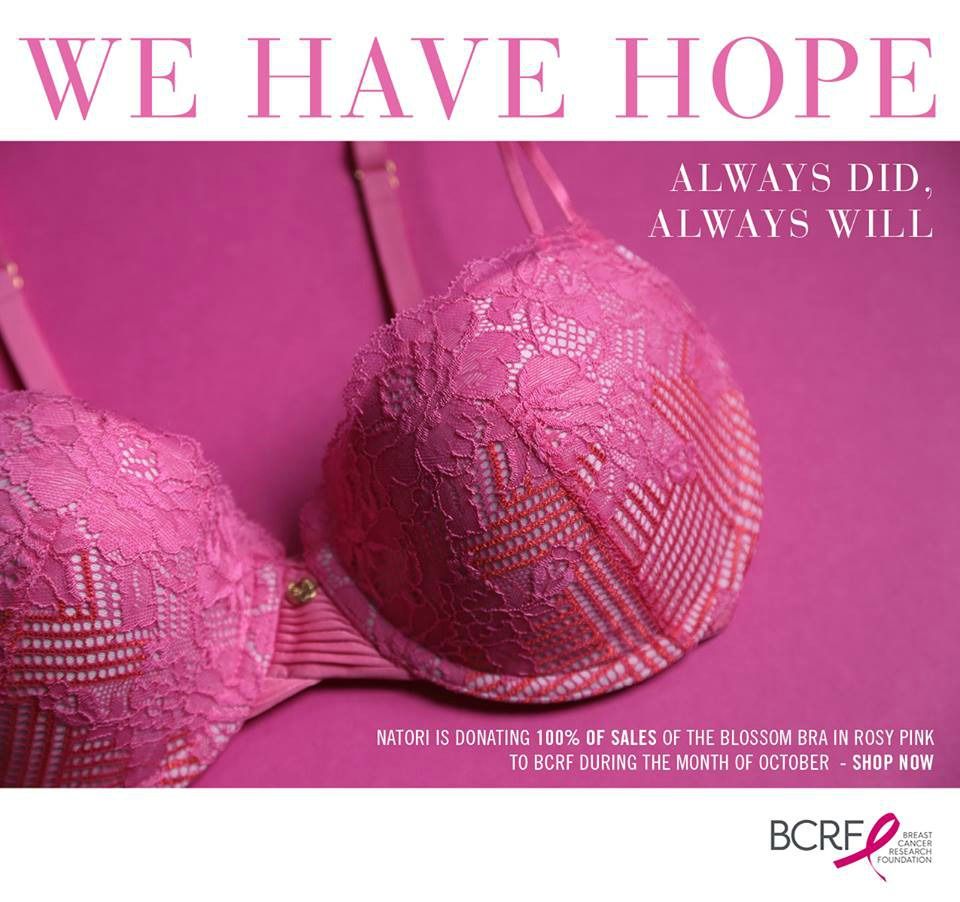 The Natori Blossom Bra ($72) supports your breasts in more ways than one! (Ha, get it?) For every sale of its special edition sexy balconette lace bra in Rosy Pink/Hot Coral made during Breast Cancer Awareness Month, Natori will donate 100% of sales to the Breast Cancer Research Foundation (BCRF) — a grant-making organization that funds efforts in prevention, cure, and treatment research. Plus, it's such a hot bra, we would totally buy it anyway. Good excuse to freshen up the lingerie drawer, ladies!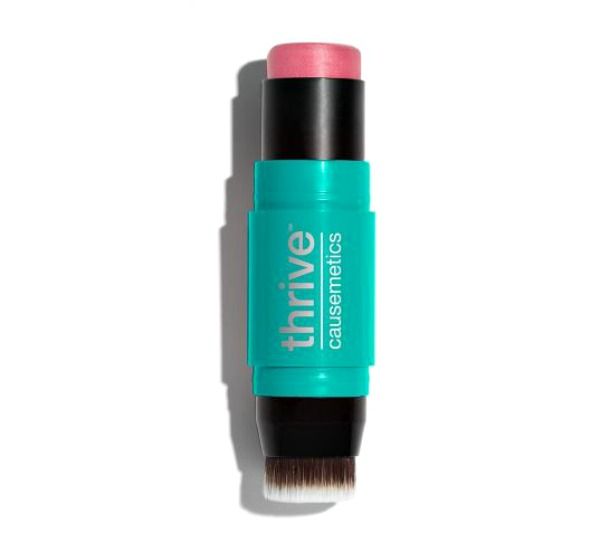 Thrive Causemetics an amazing beauty company you should know about for any month of the year. After losing a friend to cancer, makeup artist Karissa Bodnar founded the company with the purpose of donating one item for every one purchased to a woman going through cancer treatments. Because, as we all know, a just new lipstick or mascara can be a pick-me-up when you really need it. This month, they are also giving a full 100% of the profits from the sale of their limited edition Breast Cancer Awareness Triple Threat Color Stick in Maggie ($36), which was inspired by Joffrey Concert Group ballerina and breast cancer survivor Maggie Kudirka. And the poetic packaging is so inspirational, I'd stock up now for stocking stuffers for all my female friends who need a boost.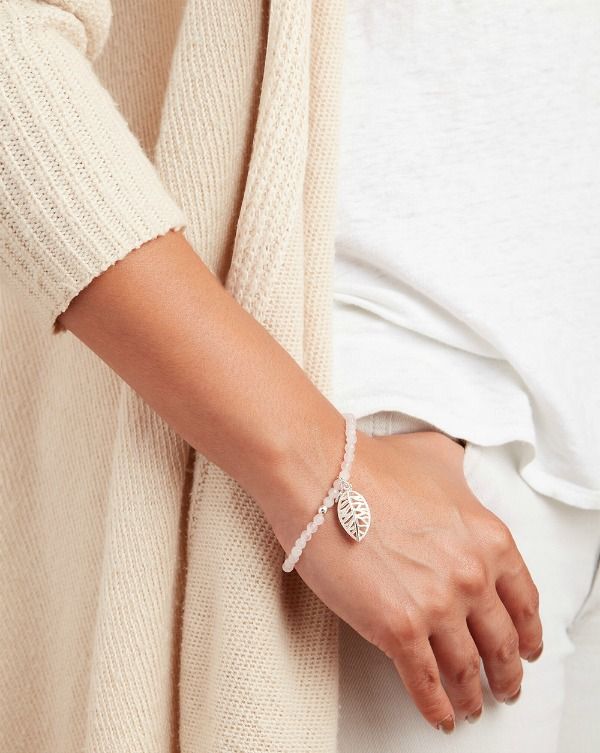 For the past 7 years, Los Angeles-based perfumer Lisa Hoffman created a limited edition item with the purpose of donating 100% of profits from it to the National Breast Cancer Coalition, a group is dedicated to ending breast cancer through the power of action and advocacy. This year's Breast Cancer Awareness Month item is this gorgeous Rose Quartz Hope Fragrance Bracelet, made with rose quartz beads and a sterling silver charm that you fill with your favorite fragrance ($95). Pretty in so many ways!
For more jewelry that does a lot of good, the double leather wrap band bracelet set in gold and silver ($39) from KEEP Collective is not only stylish, but also generous. This month, 100% of the net proceeds go to Bright Pink, the only national non-profit organization focused on prevention and early detection of breast and ovarian cancer in young women. Plus, it can be customized with a variety of slide-on charms, like a pink ribbon or the word "hope."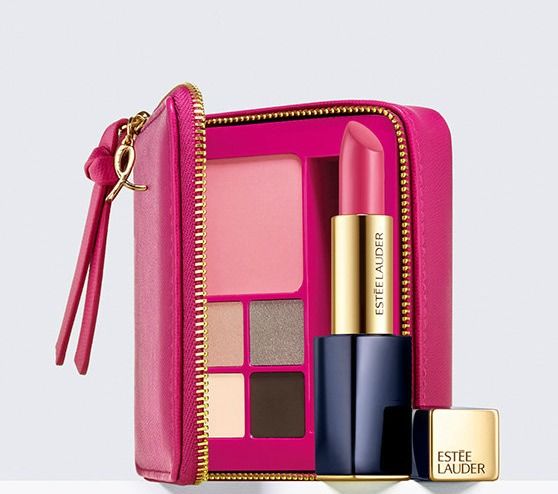 Cheers to Estée Lauder, which has always been a solid ally in the fight against breast cancer. This year, they're donating 100% of the suggested retail price (not just the net profits!) from their Pink Perfection Color Collection palette ($35) directly to the Breast Cancer Research Foundation through June 2017 — so consider this gift that keeps on giving for friends and family for the holidays too.
I'm addicted to face sprays, especially in the winter when my skin gets so dry, and I'm definitely purchasing Jane Iredale's Smell the Roses Hydration Spray ($29) knowing that 100% of profits from sales are going to a great cause. In fact, this limited edition hydration spray was developed exclusively to support Living Beyond Breast Cancer, which provides free programs and services to help people whose lives have been impacted by breast cancer, whether they need medical, emotional, or practical help.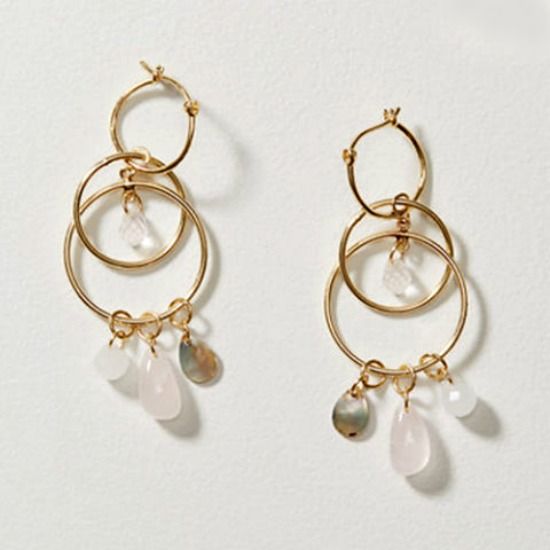 Ann Taylor LOFT has collaborated with designer Tai to create a limited edition jewelry collection featuring four designs, from pendants to earrings ($24.50–$39.50). The elegant gold and soft pink gemstone drop earrings shown here are my own favorite. But whichever you choose, 60% of the proceeds from your purchase will go to the Breast Cancer Research Foundation.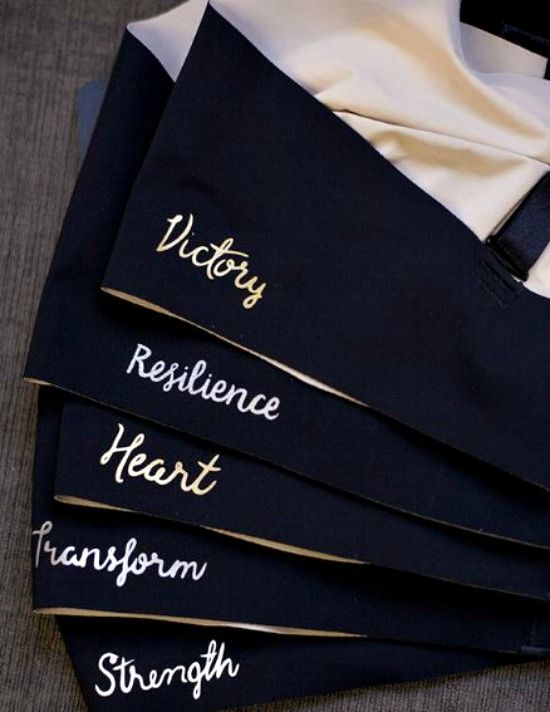 Besides being really cute and comfy-looking (as in no underwire, no seams, and the joys of moisture wicking!), I love the story behind the Knix Wear 8-In-1 Limited Edition Evolution Bra, which was created by this Canadian company for Breast Cancer Awareness Month. They asked five breast cancer survivors to choose one word to describe their experience, and those encouraging words — Heart, Resilience, Strength, Transform, and Victory — now appear on five limited-edition bras in their names to honor each survivor. Each bra sells for $50, and 50% of each sale goes directly to support breast cancer care at a leading hospital in Toronto. We're sorry, but this item is no longer available.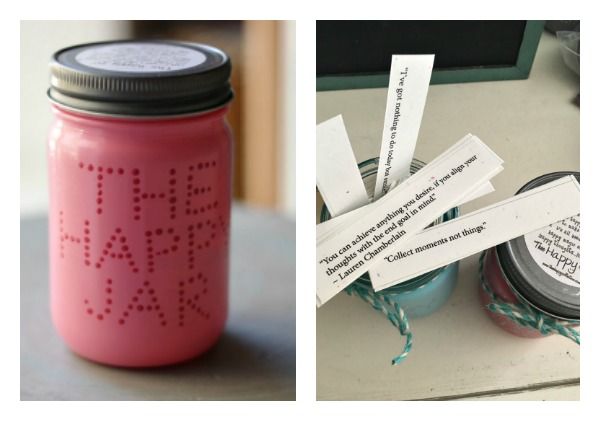 It's always great seeing small brands and indie makers doing their part toward the causes they care about. Especially when the result is something this charming. Just writing about The Happy Jar at Marijana Belton's Etsy shop Fanssy Designs makes me happy. If you need a laugh or a jolt of inspiration, these jars are filled with happy fortune and uplifting quotes, and she's donating 50% of her sales from the special edition Pink Jar to BreastCancer.org. I think this would make a really thoughtful gift for someone who needs some more happiness in her life. And, don't we all?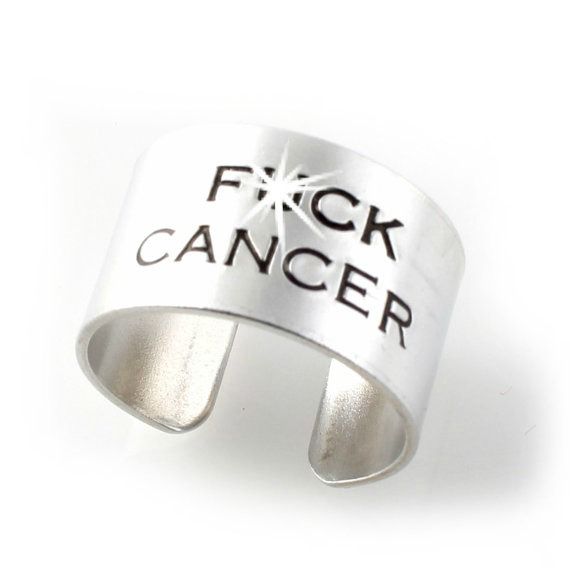 We know this is the favored mantra of some of our own survivors in our lives because hey, sometimes you just have to be blunt. This F-ck Cancer adjustable ring ($45) definitely does the job. It's created by Spiffing Jewelry, an Etsy shop owned by two female designers who will give a full 100% of the proceeds from sales to Stand Up To Cancer. Take that, cancer!