I've been loving the rainbow fashion trend I'm seeing everywhere, and there are so many rainbow dresses for girls I'm seeing, that just perfect for Easter.
(Provided the weather actually feels like spring…in spring! Raise your hand if you're ready for the end of freezing temperatures in March…)
Whether from fancy designers or the chains we all know and love, each one of these rainbow dresses are playful enough to go from an Easter church service to brunch to the playground without missing a step.
CMP is an rstyle affiliate
Related: 15 cool Easter flower crafts for kids of all ages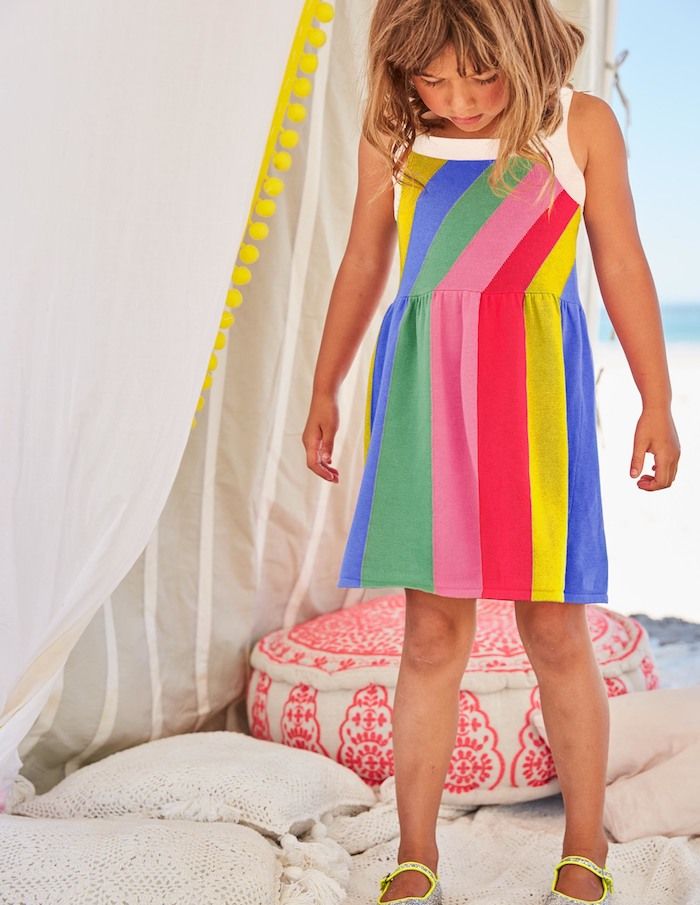 If you go for a more casual look, this bright knit Rainbow twirl dress for girls at Boden looks so comfortable and cute. And in my experience with clothes from Boden, it will last you through a few kids. Worth every penny. ($62.10, Boden)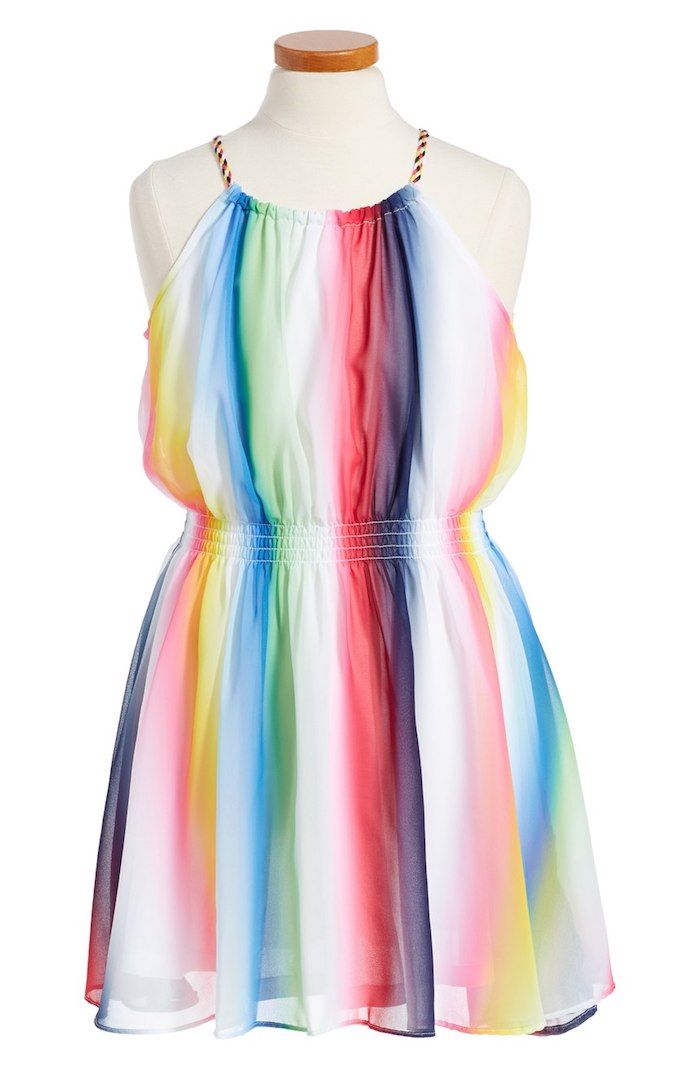 I kind of freaked when I found this chic rainbow-inspired Ella Moss rainbow dress for girls, which is so perfect for tweens and teens. The cut and length is completely on-trend without being too adult or too cutesy — which is just what our older girls (and ahem, their moms) are looking for. ($62, Nordstrom)
I was happy to find this classic, tailored rainbow stripe dress for girls at Gap at Gap (also shown at top) for under $45. It's so spunky with a bright print on a cotton-poly blend fabric. (Yay for machine wash!)  And it's got a modest keyhole cutout in the back which amps up the style quotient. ($44.95, Gap)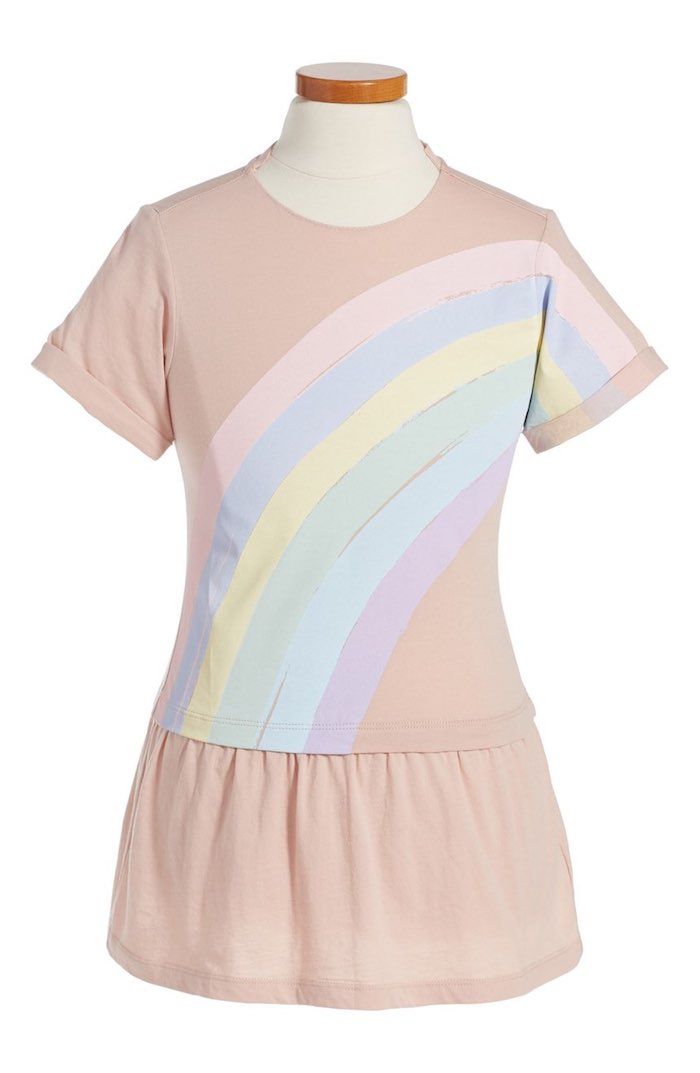 It's rare to find any kids' clothes by Stella McCartney for under $100, so I was excited to spot this mod pastel rainbow dress for girls at Nordstrom that is casual but cool. Unfortunately, it's only available in sizes 12 and 14 (it runs small); lucky tweens. And yes, it is still spendy, but for those of you looking to splurge on one special spring dress for girls, it's very cute. I think my daughter would love it layered over white skinny cropped jeans and paired with some silver gladiator sandals. ($88, Nordstrom)
Related: 7 cool metallic shoes for girls this spring we can't resist!
This adorable rainbow appliqué dress for girls at Boden is one of my absolute favorites. A little shimmer and glitz means you can easily dress it up for Easter with patent mary janes and a more tailored jacket or sweater; or keep it casual for school. This is one my daughter would beg to wear over and over again. (starting at $41.40, Boden)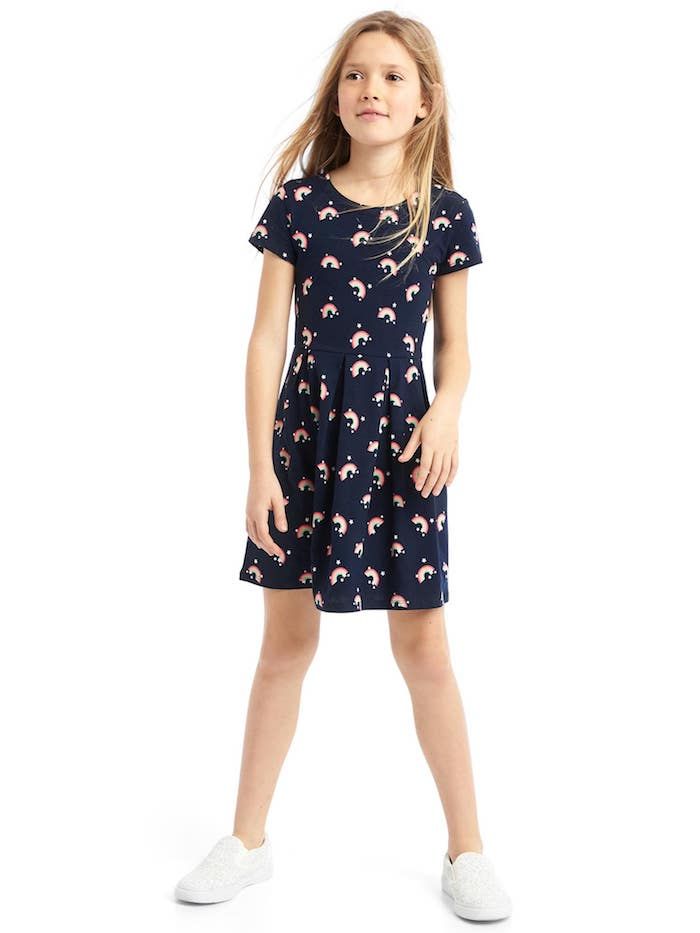 If your kids shy away from color, I found a more subtle nod to the rainbow trend with this pleated rainbow print dress for girls, also at Gap. Right now, it's only available in larger sizes our tweens would fit in, but on the plus side, the price is fantastic. ($26.95, Gap)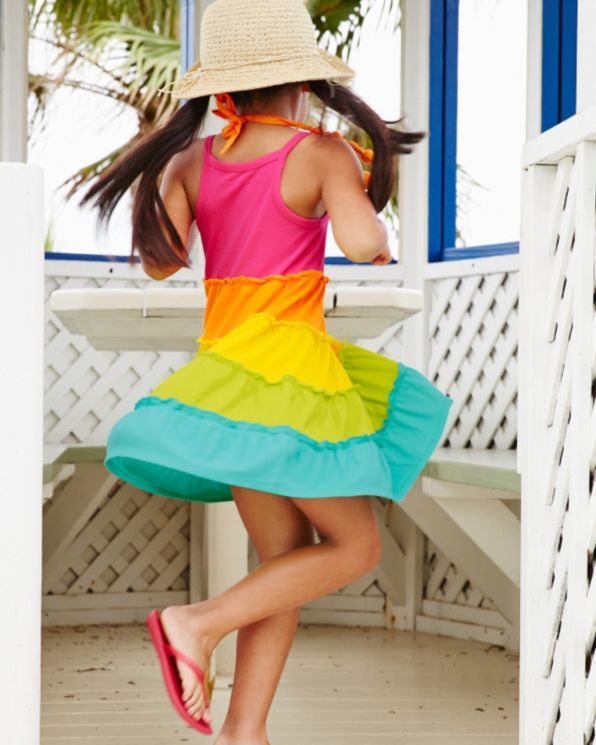 If "twirlability" is your child's top shopping consideration, this rainbow tiered dress for girls at Garnet Hill may be the one for her. My daughter had one of these when she was little, and spinning was her constant state of motion. This sundress is colorful, comfy, and perfect for any day this summer at all. Which is good. Because if your daughter is like mine, she'll be living in it. ($36, Garnet Hill)