Easter Egg decorating these days is not your mama's store-bought kit with hard pellets and a bottle of vinegar. Every year it seems like our favorite craft and mom bloggers are going above and beyond to bring us the brightest and boldest Easter egg decorating ideas.
Some of which aren't even too difficult to pull off. And so on behalf of all of us who don't consider ourselves very crafty parents, we thank you.
This year, I pulled together 15 of my favorite easy(ish) Easter egg decorating ideas that are fresh, fun, and oh so colorful.
Prepare to be amazed.
At top: DIY Gold Painted Easter Eggs | Gold Standard Workshop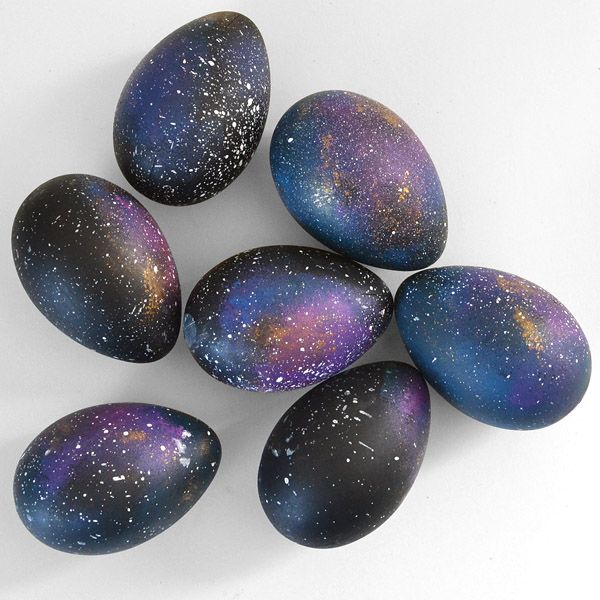 With just acrylic paint and paintbrushes, you can make these out of this world Galaxy Easter Eggs by following the simple instructions at Dream a Little Bigger. We love these so much we featured them on Cool Mom Tech this week too. Not only do they look amazing, but they're easy enough for even our littlest kids to DIY, because you don't need any preciseness to get that cool galaxy effect.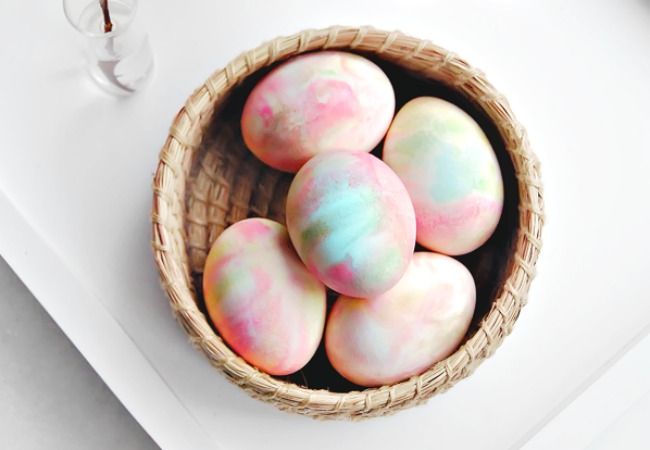 These Whipped Cream Easter Eggs at Only Deco Love will be a huge hit with your kids. Trust me. A big bowl of fun-to-play-with whipped cream and some edible food coloring is all you'll need to create these pretty marbleized eggs. There will be guaranteed finger licking.
Related: 13 Natural Easter egg dye recipes — colors even more beautiful than in store-bought kits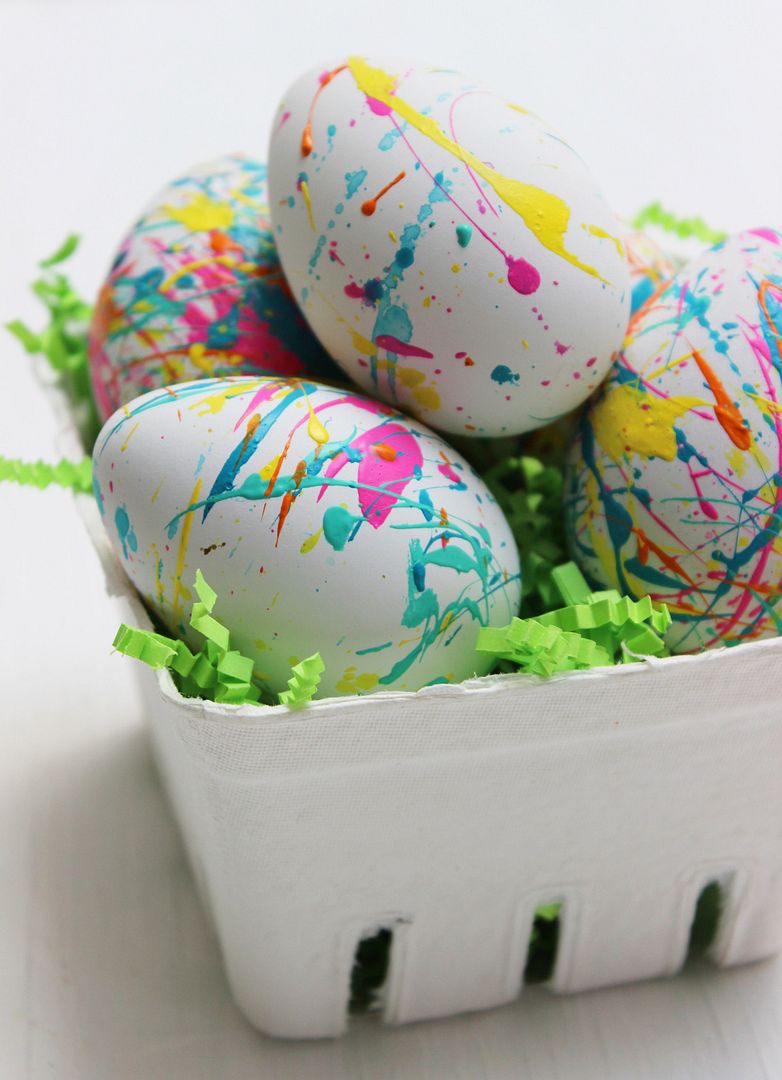 The Splatter Paint Easter Eggs from Jane Can look so easy and fun! But, messy. I think I'd follow Jane's BTDT advice on this one and do this project outdoors. But I love how everyone can pick their own color palette and go all Jackson Pollock on these.
These Ombre Easter Eggs by Ashbee Design are simply stunning, and can be done in any color you choose. But I love the serene blues and purples so much; they're so pretty and perfect for spring.
Kids of all ages can make these Washi Tape Easter Eggs we found over at Bliss Bloom Blog. With these, you can really let your creativity soar. Plus, no dye! It's mess free, fun, and the finished products are so pretty.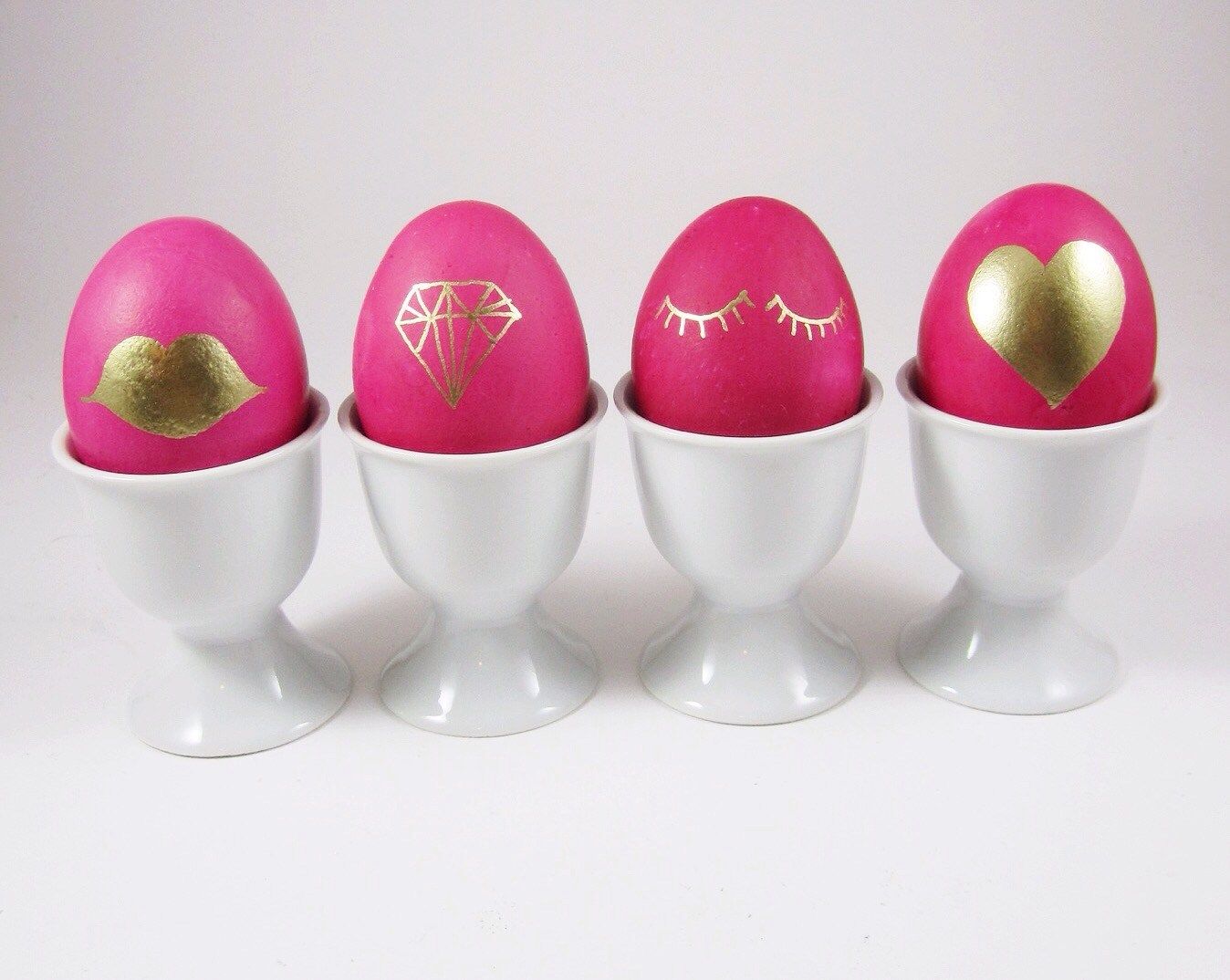 These chic Gold Painted Easter Eggs at Gold Standard Workshop (also shown at very top) are so fashionable, I think our tweens and teens would be all over these. I think the hot pink and gold is right on, but you can dye these eggs any color you want, of course. Just make sure they dry fully before you take the gold pen to them.
Related: 20 of the best easy, artful Easter egg decorating ideas that look pretty impressive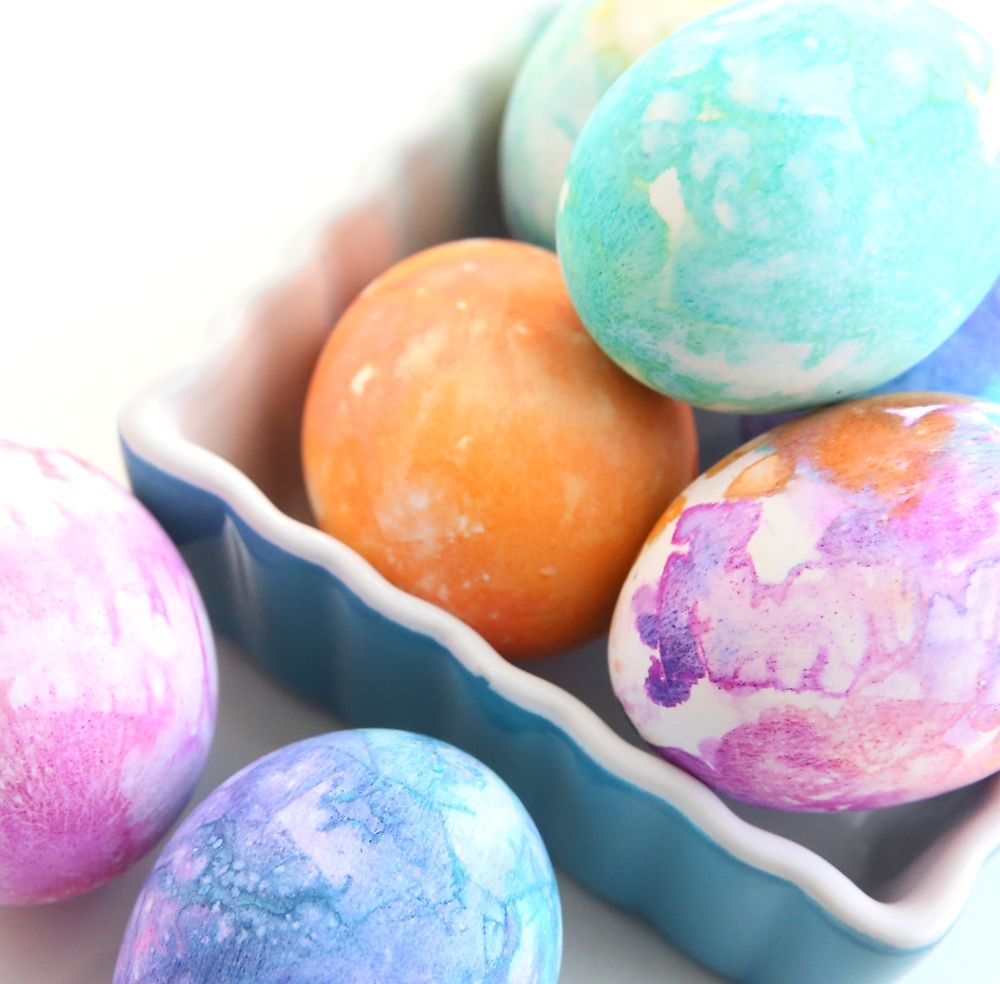 Tissue paper and water are all you need to make these pretty Tissue Paper Easter Eggs from It's Always Autumn. This one is the perfect to try with little kids, because all it requires is sticking on pieces of colorful torn tissue paper on wet eggs. Simple, but the finished project looks like a mini-Monet.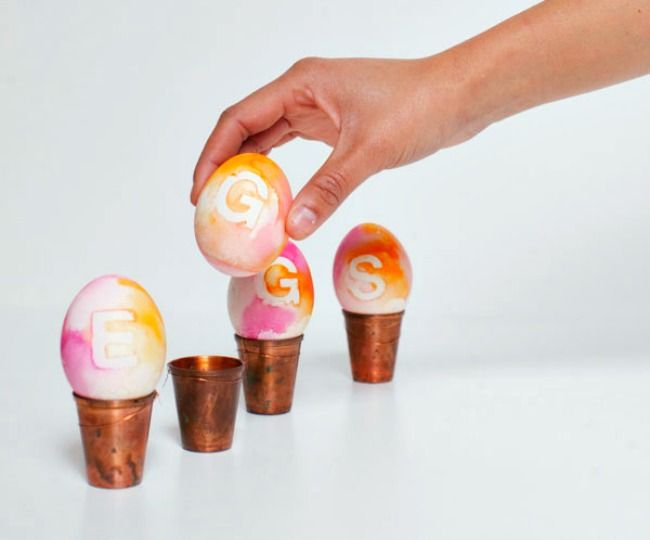 Speaking of Monet, these sweet Watercolor Letter Easter Eggs aren't just pretty, they also do double duty as place cards for your Easter meal. And if you're feeling really brave (and have a lot of time on your hands) you can try for a full monogram instead of just an initial. I love a multitasking craft! Click over to Oh Happy Day for the instructions; then, get crackin' (heh).
I think these Golden Easter Eggs are just, well, golden. This tutorial from Squirrelly Minds calls for spray paint, but if you're doing these with your kids, gold acrylic paint should get you the same glorious effect.
I'm so in love with this clever Balloon Easter Eggs idea from A Joyful Riot. Just dye your eggs a fun, playful color, then glue on the knotted ends of matching balloons. So stinking cute, especially if your child has a birthday around Easter.
This Melted Crayon Wax Easter Eggs idea from Jenna Burger helps even the youngest kids create gorgeous eggs. Love her smart tip for melting the tips of the crayons only, so you don't have to worry about tears for days about actual melted down crayons.
Related: 17 super cool Easter egg decorating ideas that are all about the color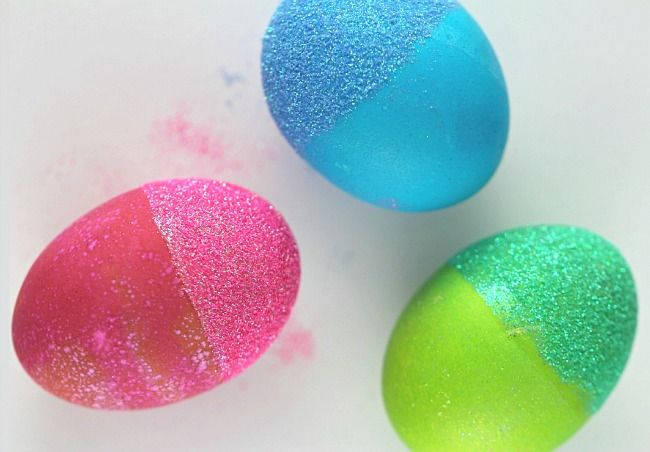 I just love these sparkly Glitter Dipped Easter Eggs, despite being glitter averse. (That stuff gets everywhere! But of course we have a tip for getting it cleaned up easily!) And this idea at Frugal Mom Eh (she's Canadian) is so colorful and easy, I'd be willing to take the messy risk.
These Mosaic Easter Eggs only look like a masterpiece, but are actually pretty easy to make. Head over to Sugar and Charm for the instructions. Younger kids can help dye the eggs and crack the shells to use for the mosaic. Older kids, with more patience, will enjoy glueing on the shell fragments to create the cool effect.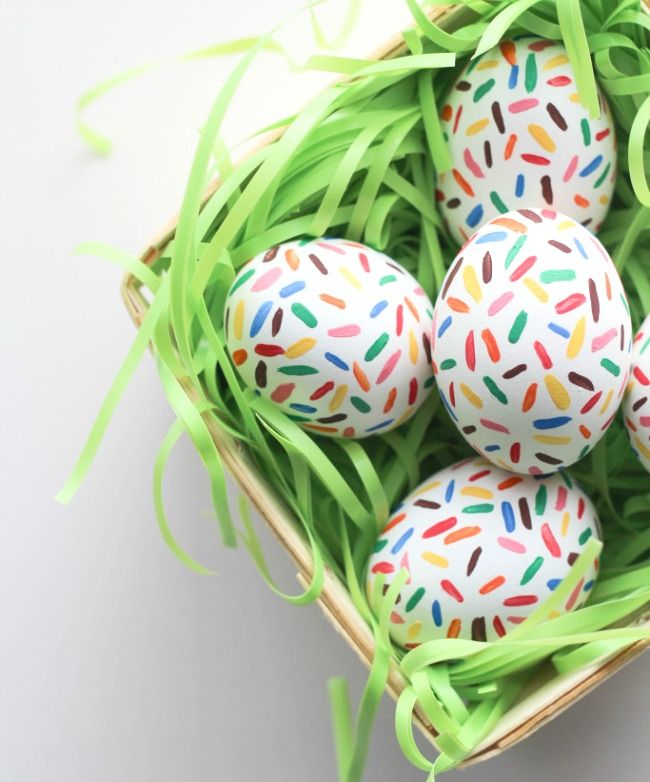 Everyone loves sprinkles, and these bright and colorful Sprinkles Easter Eggs from Let's Mingle are no exception. All you need are boiled white eggs and colorful fine tip markers to make your eggs look like sweet candy confections.
Besides the very mod design, I love these Typography Easter Eggs from Lovely Indeed because you can say what you want to say. You'll have to start with eggs that are dyed (we love these natural dye recipes!) and then you can hand-cut adhesive letters, handwrite (if you've got someone at your table with impeccable penmanship), or just use letter stickers and have some fun with it. #crafty!