These fun food-themed Easter egg decorating ideas may not trick my kids into thinking they're actually eating pineapple or a hamburger, but I still think they're a cool way to switch up our normal egg-dyeing routine.
If you want to try your hand at something a little unexpected this year, and if you love food as much as we do, check out these fabulous ideas below. Although we've rounded up amazing pop culture Easter eggs, a fun tie-dye tutorial, and even the coolest DIY galaxy Easter eggs, these food-themes ones might be my favorite yet.
Because, food.
(Psst… A lot of the designers we've linked to below use fake, as in styrofoam or wooden, eggs for their designs, which you can totally do! Or, use the kind you eat. I think it's a lot more fun that way.)
At top: fruit and veggie Easter eggs | Brit & Co
Related: 15 gorgeous Easter egg decorating ideas all about color
I can feel it: summer will be here soon. So, I'm thinking these pineapple Easter eggs I found at Alma Camponesa (link no longer active), along with some fruity mocktails for the kids at Easter brunch, will be so much fun.
These deliciously sweet ice cream cone Easter eggs from The Decorated Cookie are so cheerful. We love this one so much we also featured them over at Cool Mom Eats. I might prep a few of these eggs by painting the cones and ice cream parts, and then let my kids step in to help with the toppings.
Related: 13 natural Easter egg dye recipes, for every color of the rainbow
Um, how hilarious are these hamburger Easter eggs at Studio DIY? And other than that clever lettuce wrap around the middle, you don't need too many materials than markers. Click over for an easy tutorial that'll make you feel confident you can totally pull this off.
Add a few of these fruit and veggie Easter eggs (also at very top) to your Easter egg hunt, or decorate your Easter brunch buffet table with them. These look expertly done, but it's essentially just paint, sharpie, and paper — Brit & Co makes it so easy.
Can you draw a circle? Then you can make these adorable gumball machine Easter eggs at A Joyful Riot. Don't you just love a craft that makes you look so artistic? Definitely click over for her free printable template for the actual gumball machine.
Related: The most amazing DIY unicorn eggs for Easter. Because, whoa.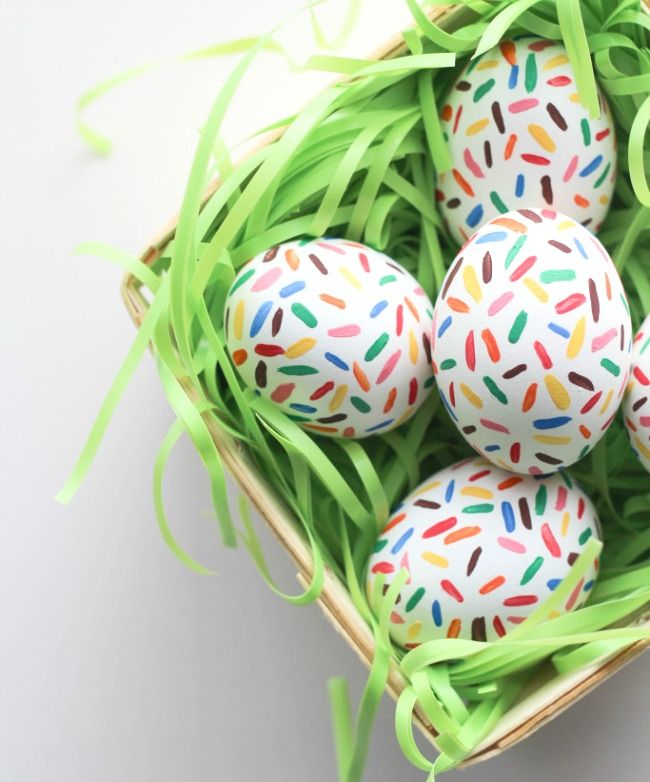 Sprinkles count as food, right? Yeah, I'm going to say these sprinkles Easter eggs at Let's Mingle are one of the cutest — and most colorful — we have here. In fact, we included them in our roundup of colorful Easter egg decorating ideas too. Give your kids the supplies you need to get those bright, vivid colors (or just use marker, if you want to make it even simpler), and then let them do this one all on their own.
So, the watermelon Easter eggs at By Dawn Nicole are for someone who is artistically inclined…if you want them to look as good as hers. I mean, amazing, right? That said, giving kids general guidelines from her tutorial and seeing what they come up with could be really adorable too. (link is no longer active)