If your kids are looking for their Easter eggs to have a little more personality this year, we've found tons of ways to make some fabulous pop culture Easter eggs, all representing some of kids' favorite characters. While it's always fun just to dunk eggs in dye or color them with markers, these ideas just might keep your kids decorating the entire day. Or…us. (If we're honest about it.) However while some of these pop culture Easter eggs require a steady hand and some pro skills to make them come out just like the photos, you can also use these ideas as a jumping-off point, and let your kids have at it and bring their own creativity to the process.
Because you know, however they turn out in your kids' hands, they'll be perfect. Because we're parents and that's how it works. -Liz + Christina
Top image: Superhero Easter Eggs | Acericorico
Related: 19 of the coolest, no-mess, Sharpie Easter egg ideas 
Please note that some links may no longer work and have been removed when identified.
Pop Culture Easter Eggs: Star Wars
R2-D2 Easter Eggs (Design: My Little Norway)
Of course we have to start with Star Wars! If you didn't think R2-D2 could get much cuter, check him out as an Easter egg. The perfect shape! Copy the pattern here with some blue and gray markers and you've got your own little droid.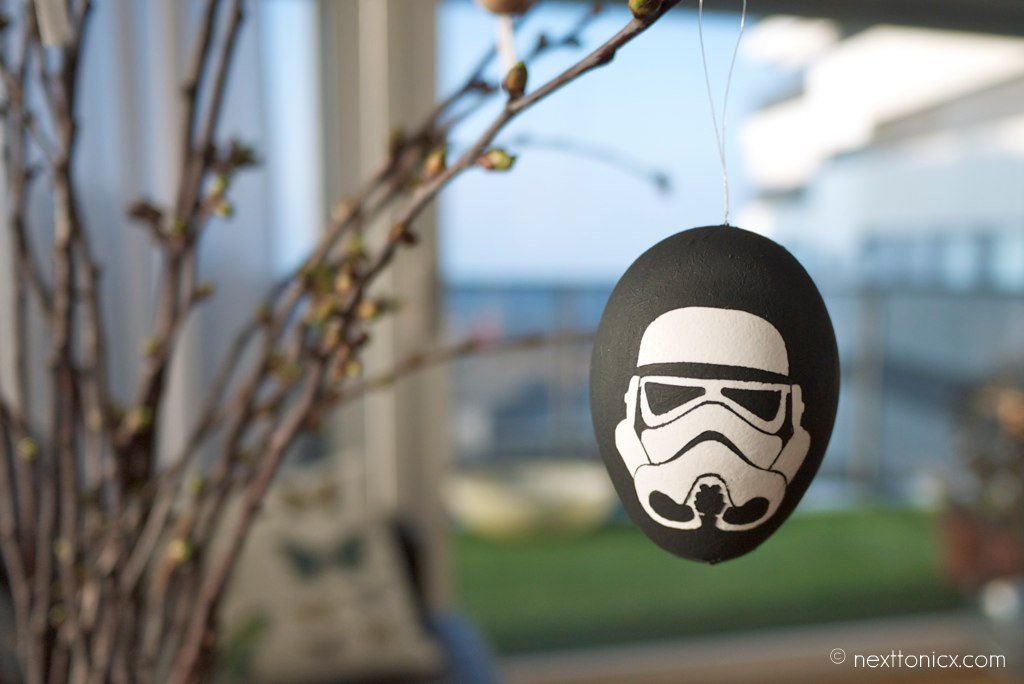 Star Wars Stormtrooper Easter Eggs (Design: Next to Nicx)
Come to the dark side, Easter eggs. We love this Stormtrooper egg, for those who believe it can't all be about cute bunnies and pastel chicks. This blogger made it from a Stormtrooper stencil, which you could even trace for a similar effect.
Yoda and Luke Easter Eggs (Tutorial: Frugal Fun 4 Boys)
Obviously it's not just our boys who dig the cute Star Wars characters this blogger painted on wooden eggs, though we are wondering where Leia is. As for Rey, this tutorial was created before the release of episode VII. However if you've seen any awesome Leia or Rey Easter egg DIYs, or have one yourself, send them along! We'd love to round out our Resistance team!
Pop Culture Easter Eggs: Disney and Pixar (besides Star Wars, of course)
Pixar Inside Out Glitter Easter Eggs (Tutorial: Dan the Pixar Fan)
When does Sadness have a seat at the Easter table? When she's from Inside Out, of course. Check out this fun step-by-step tutorial that lets kids have fun with glitter and color to represent the cast without getting too perfect or literal.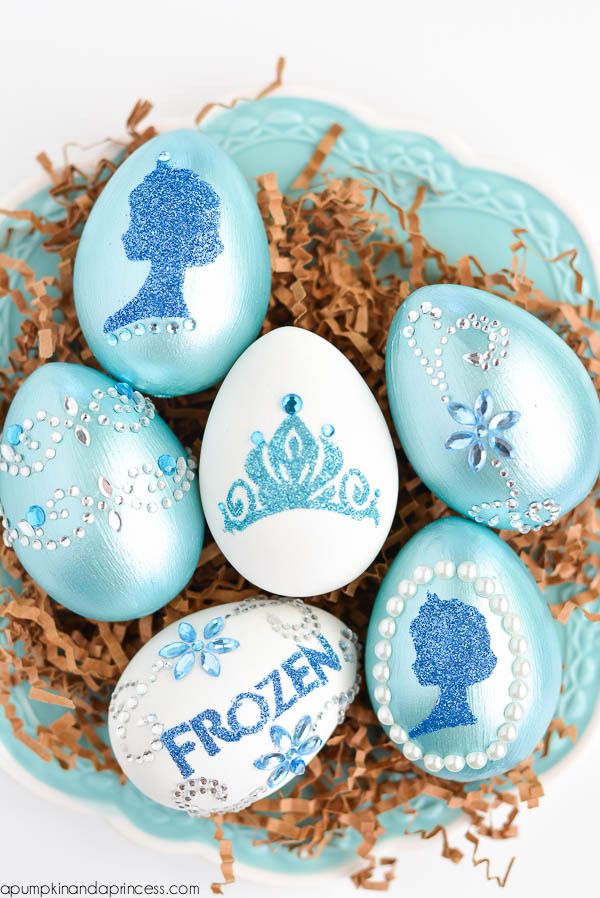 Frozen-themed Easter Eggs (Tutorial: A Pumpkin and a Princess)
Are your kids over Frozen yet? How about now? How about now? Okay, so if you can't beat them, make their Easter with this really cool idea using faux eggs. That way your Frozen-themed glittery Easter eggs will last a lot longer than a single holiday but hey, you're more than welcome to use real egg shells too. This may require some serious crafting skills, but the finished project is pretty spectacular.
Disney Princess Easter Eggs (Design: Kaylee Huffman | Huffmans on Flickr)
We looked at a lot of Disney Princess Easter Egg decorating ideas, but the ones that seem the smartest (i.e., we won't be smashing them to the ground in frustration) are these from Kaylee Huffman. Use the majority of the egg for the body, a little dip of color at top for the hair, and just a sweet smiley face in the middle. The Ariel egg in particular is cracking us up.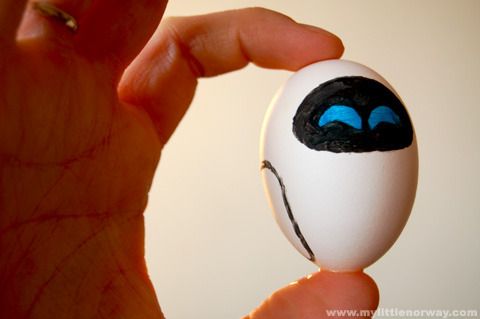 EVE Easter Egg from WALL-E (Design: My Little Norway)
WALL-E's beloved EVE is already sort of egg-shaped, so it makes perfect sense to turn her into an Easter egg. Just some markers or black and blue paint with a fine-tipped brush, and you've got all the supplies you need for our favorite Extraterrestrial Vegetation Evaluator. Just do not let the kids see if she can really fly.
Pop Culture Easter Eggs: Superheroes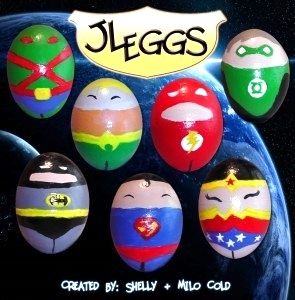 Justice League Superhero Easter Eggs (Design: Shelly & Milo Cold)
Since superheroes show no sign of waning, we've got a few ideas for you. We love these these JLEGGS (or Justice League Eggs) which are ready to fight for truth, justice, and more of the red jelly beans, please.
Alternatively, Sandra Garcia of Acericorico has made some amazing superhero Easter Eggs for her very lucky kid. Batman's ears and Thor's wings are inspiring! Though we think Spiderman might be the easiest to pull off.
If you're hoping to eat all those eggs later (and want something a wee bit easier than the other ideas) maybe you can stick with the free superhero Easter Egg printables from Create Craft Love. Just print, cut, and pop on top of plain white eggs.
Related: 20 easy Easter decorating ideas that look very, very impressive
Pop Culture Easter Eggs: Geekery
Harry Potter Easter Eggs 
We have looked for the talented originator of these awesome Harry Potter eggs but to no avail! We'd love to give credit to whomever brought Harry, Hermione, Ron, Dumbledore and friends (and enemies) to life so perfectly imperfectly. If nothing else, kids can play with Harry's glasses, lightning bolt scar, and mop of black hair and…done.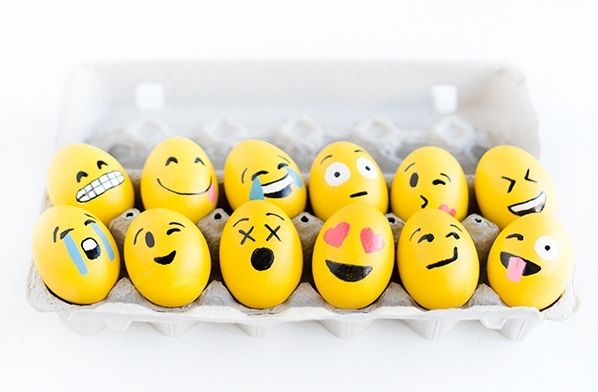 Emoji Easter Eggs (Tutorial: Studio DIY)
Our texting-crazy kids will flip for this Emoji Easter Egg craft at Studio DIY that's a big favorite of our readers. (Face with Stuck Out Tongue and Winking Eye is definitely a favorite with our kids.) To get started, follow the step-by-step directions for a dozen different yellow emoji people. Of course, we are sure our kids will come up with a few of their favorites to paint as well. Hopefully not the poop.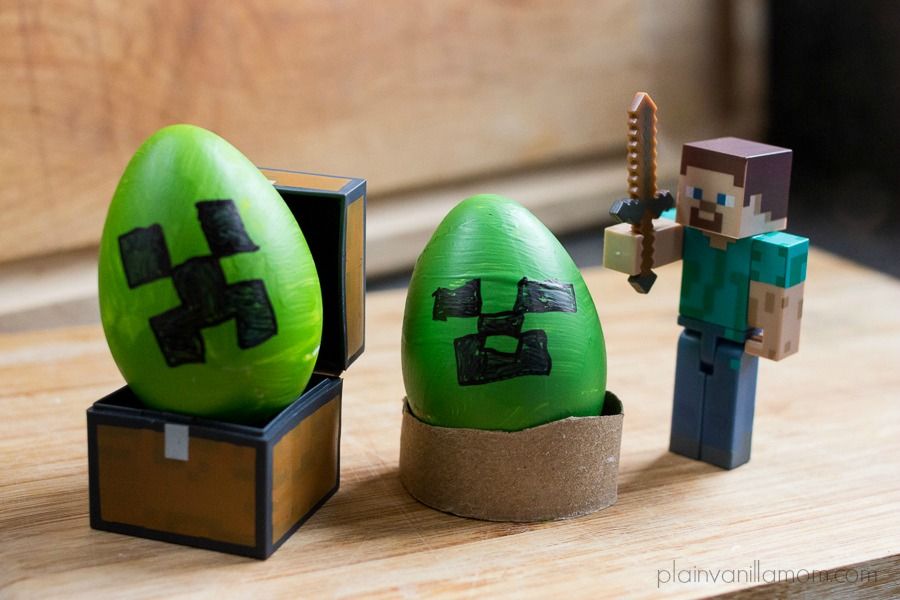 Minecraft Creeper and Zombie Easter Eggs (Tutorial: Plain Vanilla Mom)
Our Minecraft-obsessed kids will love these easy painted Minecraft Easter eggs that feature both a Creeper and Zombie on them. And, if you remember to hard-boil your eggs, there's no worry about these Creepers exploding all over your kitchen. Ha.
Super Mario Bros. Easter Eggs (Tutorial: Instructables)
Definitely for the more skilled artists out there (we know you're out there!), these Super Mario Bros. Easter Eggs would make any little gamer's day. Although where's Princess Peach? Our girls would not be happy with her absence here.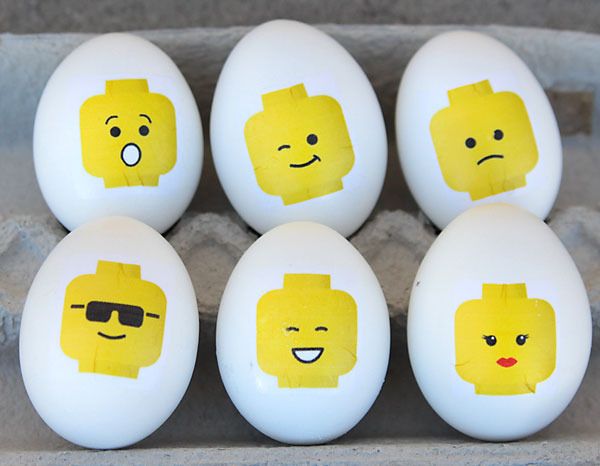 LEGO Minifig Easter Eggs (Free Printables + Tutorial: It's Always Autumn)
We can't think of one LEGO fan who wouldn't be psyched to find a dozen LEGO Minifig heads peaking out of the egg carton on Easter. The free printables on tattoo paper make an easy decoration to stick onto all-white, hard-boiled eggs, and the simplicity of the designs actually make a bowlful of these more cool than campy.
Related: How to hard boil eggs perfectly: The only tutorial you'll ever need.
Pop Culture Easter Eggs: Minions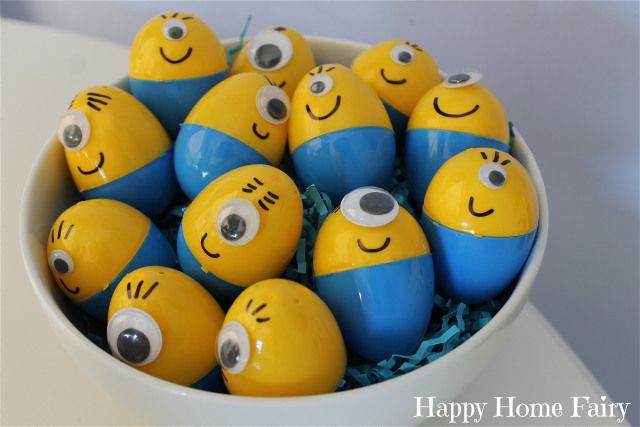 Minion Easter Eggs (Tutorial: Happy Home Fairy)
Be do be do be do! Invite a whole bunch of minions to your annual Easter egg hunt with this adorable idea. Whether you group them together in a bowl for the kids' table, put them in Easter baskets, or place them around the yard for an egg hunt, this is one fun way to add a bunch of personality to plastic eggs. Or you could make them with real eggs, just by dipping one side in bright yellow, letting it dry, then dyeing the other side blue.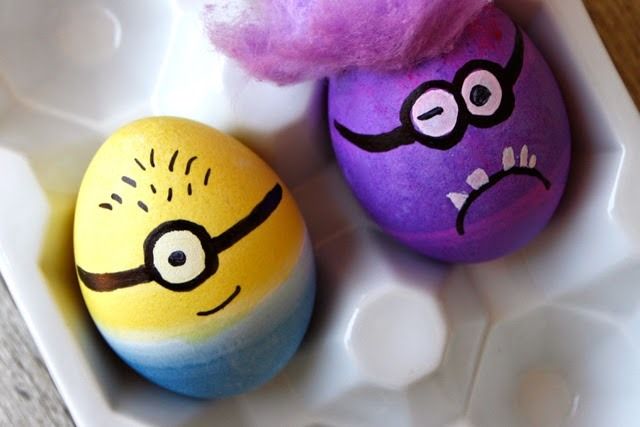 Good and Evil Minion Easter Eggs (Tutorial: We Have Aars)
I had to laugh seeing the bright purple "evil" Minion Easter egg, which would be a fun project for older kids to tackle. Nestled next to his loveable "better half," let's hope these two don't crack up before dinnertime. (Ha, couldn't resist.)
Pop Culture Easter Eggs: Anime and Kids TV
Pokemon Easter Eggs (Design: Yaltro on Flickr)
We certainly don't have the drawing skills to pull these off, but it's something to strive for. If nothing else, we bet our kids would do a pretty good job with Pikachu — all that's needed are red and black markers and some yellow dye. (h/t Geekcrafts)

My Little Pony Cutie Mark Easter Eggs (Design: Bluebrush09 on Deviant Art)
While it's nearly impossible for most kids to draw their favorite MLP on an Easter egg, I love the idea of letting them take inspiration from the characters' core colors and cutie marks. So a rainbow for Rainbow Dash, stars for Twilight Sparkle, balloons for Pinkie Pie, butterflies for Fluttershy, and so on. Here's a list of all the My Little Pony cutie marks on the MLP Wiki which will help, especially if you need to brush up on some characters like Twist and Silver Spoon.
Yo Gabba Gabba Easter Eggs (Design: Jetset Fam)
Well color us impressed with these awesome renditions of Muno, Foofa, Toodie, Brobie, Plex, and even DJ Lance.  Wonderful results from a family that always seems to do some awesome things each Easter with the kids — check their site for even more ideas.
Hello Kitty Easter Eggs (Tutorial: Chocolate Hair Vanilla Care)
Almost too cute to eat, I like how sweet little Hello Kitty Easter eggs are, and how easy they are to make. We also love the story behind these: they were created by a mom whose daughter seemed to lose interest in the fun of dyeing eggs. Until…well, read it and see.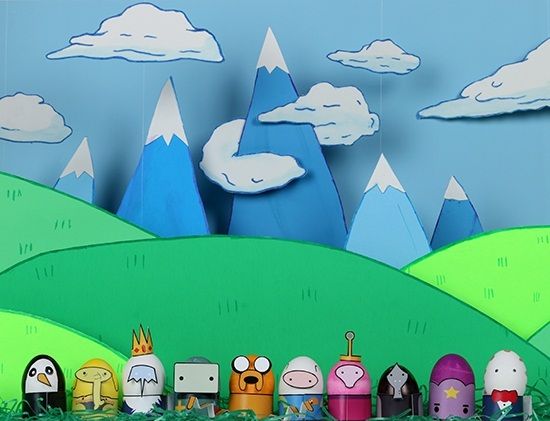 Adventure Time Easter Egg Printable Costumes (Free Printable: HalloweenCostumes.com)
Finn, Jake, Princess Bubblegum, and the rest of the denizens from the Land of Ooo are covered in these cool, free printable "costumes" that you can sheathe your eggs in. If you want to go nuts, try matching colors to costumes, like dyeing the Ice King deep blue, or getting Jake a vibrant orange.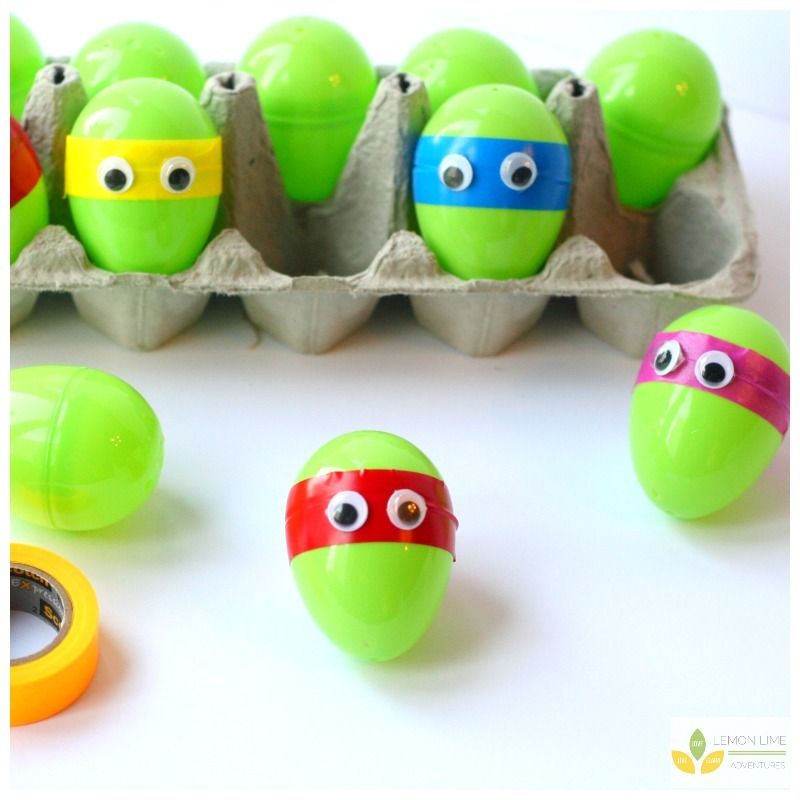 Teenage Mutant Ninja Turtle Easter Eggs (Tutorial: Lemon Lime Adventures)
We're not sure if parents or kids will be more excited about seeing Leonardo, Raphael, Michaelangelo and Donatello on their eggs. But with Teenage Mutant Ninja Turtles 2: Out of the Shadows being released in a few months, and the trailer already making the rounds, we'd imagine it's both. Traditionalists could use bright-green dyed Easter eggs too, but the plastic ones make it a good Easter craft for littler ones.
Pop Culture Easter Eggs: Little Miss and Mr. Men
Little Miss and Mr. Men Easter Eggs (Tutorial: The Glitter in My Tea)
We are so in love with these! This creator has got a full DIY on her site or for a simple shortcut — dye the eggs various colors, then let kids take Sharpies to them to emulate their favorite characters. Hint: Mr. Happy and Mr. Tickle are really basic, and Little Miss Hug is essentially pink with a red bow and daisies behind her ears. Cutest eggs on the block.