Our love for our moms may know no bounds, but our budgets? Well, they have bounds! We get it. Which is why this year, we really wanted to dedicate part of our Mother's Day Gift Guide to some of the amazing Mother's Day gifts under $20 that we've been spotting in our efforts to put together lots of awesome gift ideas for moms and grandmas.
The best part is, she'll never know. Because all 13 of these Mother's Day gift ideas are meaningful, sweet, and heartfelt at any price. In fact we'd be happy to receive any one of these gifts from our own kids.
How's that for a recommendation?
At top: Handmade heart hoop | Blue Without You Kids
CMP is an rstyle affiliate

Related: The most fabulous indie Mother's Day gifts from women makers + shops
Mother's Day Gift Guide 2017
Silver birthstone bracelet
Made by Amanda Reis
$18, Brika
Whether you give her a bracelet with her own birthstone for a thoughtful Mother's Day gift, or put together a stackable series with each of her kids' (or grandkids') stones, this is a lovely handmade gift at a very nice price.
Custom photo journal
This one made by Sara Hicks Malone
$16, Minted
For every single custom journal sold at Minted by May 14, Minted is donating 100% of the profits to Every Mother Counts. We'd get one for every mother on our list! (We happen to like this one for the new moms out there, because this is our life, right?)
Related: 15 of our very favorite personalized gifts for mom | Mother's Day Gift Guide 2017
Tub Tea
Made by CeeCee & Bee
$16, Brika
Time alone for a hot bath is about the best gift we can imagine, and some chamomile tub tea to make it more luxurious would be pretty great too. Throw in a bottle of wine, trust us.
Monthly subscription to the Texture app
$7.92/month
Whether she finds free time on her work commute, at the coffee shop, or on the carpool line, Texture will give her affordable access to enough magazines for all of it. Try 3 months and see how she likes it.
Homemade Africa Queen cookies
Cookie Cutter made by Yomimarket
$5.99, Etsy
If Africa is her heritage and the kitchen is her happy place, whip up a bunch of homemade sugar cookies (even better if the kids decorate them!) using this cool Africa Queen cookie cutter. Because she's the queen!
Related: 9 gorgeous handmade food gifts for Mother's Day
Motherhood Quote Silhouette Art Print
Maker: Vanna Chup
$18, Le Papier Studio
We included this print in our post on indie gifts from women makers, and loved it so much we had to include it again here. Because, this quote. And this price!
Related: 14 wonderful ideas for first Mother's Day gifts for new moms
Wonder Woman peg doll necklace
Made by Rainbow Peg Dolls
$8.50, Etsy
Because all moms are part Wonder Woman. It's in the fine print of her prenatal urinalysis results.
Raging Feminist Mom mug
$15.99, Look Human
We discovered this mug last year for our list of empowering Mother's Day gift suggestions and this year the right mom might appreciate it it more than ever.
Handmade heart hoop
Made by Blue Without You Kids
$15.00, Etsy (also shown at very top)
Greeting card -phobics: You don't need a lot of words to send the most perfect message, and this handmade heart art really says it all for you.
Handmade  Jada rose key chain
Maker: Eboni Merriman
$14.99, Lost Queens
Wow, we love this handmade beaded keychain that will last a lot longer than real flowers, and celebrates ambition, determination, and powerful women. Know anyone like that?
Growing Wishes herb garden set
$20, Potting Shed Creations
Any avid home cook would love to have her own kitchen herb garden, and these kits get her started with dill, sage, rosemary, and more.
Related: 28 special Mother's Day gifts under $25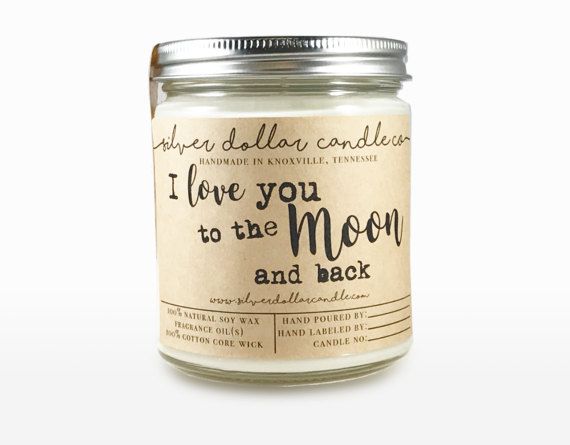 I love you to the moon and back soy candle
Maker: Kelli Paul
$14, Silver Dollar Candle Co.
This idea was also featured in our roundup of personalized gifts for mom and it's such a great value, we thought it was worth showing again! With so many delicious scents to choose from — Coconut & Lime, Lavender Mint, Brazilian Coffee, and so many more — this super popular Etsy shop makes it easy to find something mom will love to the moon and back.
A custom silhouette made from your child's art
Made by Lemonade Design Studio
$19.95, Etsy
We've seen a lot of silhouette art over the years, but this cool Etsy artist will create a child's silhouette from their own original artwork. Amazing! Have tissues on hand when you gift this one.