A few years ago my kids tried out the cool service Budsies, which turns kids' drawings into stuffed animals. They were so excited when their creations arrived, and they still have them in their beds today. So, when we heard that Budsies was launching a new company called Petsies, which creates a stuffed animal for you based on a photo of your pet, we were intrigued.
Yes, it's an interesting way for some people keep a memory of a pet around after they've gone to "join the circus" or "moved to the farm" or went to doggy or bunny heaven. Maybe you think that's creepy, maybe you think it's cool. But I think there are a few more reasons any pet-loving kids would be thrilled about these custom stuffed animals.
Related: Custom handmade superhero dolls your kids will love
For kids who go back and forth between divorced parents' homes, or who are heading to summer camp without a beloved pet, this could be the comfort item that makes transitions a little smoother.
Or, if your pet isn't as nighttime snuggle-able as your child might like — say, if it's a bird or fish or (gulp) a farm animal of some kind — this could be a sweet way to keep the connection going.
I know my own son would be so excited to finally get to sleep with a stuffed animal version of our (occasionally incontinent) dog, since I won't allow the real thing in his bed.
For obvious reasons.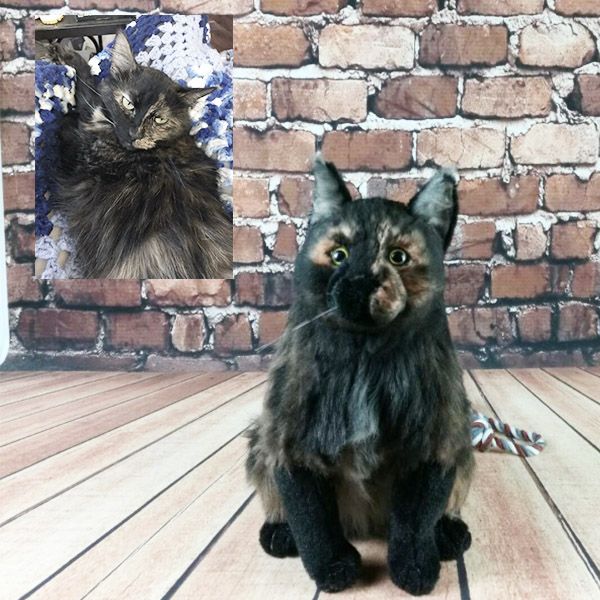 Related: A service that turns your kids' artwork into to cool custom toys
Petsies are definitely on the pricier side for stuffed animals starting at $150 (like the dog at top), because you know, they're custom.
They also make a keepsake "forever" version like the cat or horse shown here starting at $200 because they incorporate advanced airbrushing to really bring home the details.
While I haven't tried out this service yet, based on my experience with Budsies, I expect they would create a nicely accurate representation of your pet. And their customer service has been top notch, even making sure my son was perfectly happy with their interpretation of his artwork, so his doll would be just the way he imagined it.a
You can order your own custom Petsies stuffed animal at their website, and through June 30, 2017, our readers can use the code SUMMER10 to get 10% off your order. Whoo! Thanks, Petsies!