My family loves to play board games. I'm talking, big, involved, takes-three-hours-to-play board games. And what better time to play than when we're on summer vacation?
But, it can be tricky to travel with big boxes full of a zillion pieces. Luckily, we have found a few games we love that come in boxes small enough to easily toss in a backpack or tote bag.
So, if you're looking for some offline family fun that you can take with you, wherever you're headed this summer, check out these 5 family board games for travel. In fact, these are the ones I'm packing for our trip right now.
CMP is an rstyle affiliate
Related: 8 of our favorite family board games for 6 or more players of all ages.
Timeline is one of my family's all-time favorite games, because all of us — from the 7-year-old to the 40ish-(ahem)-year-old — are on an equal playing field.
Each player is dealt a hand of cards that events in history. On the back of each card, there's the date the event occurred. In turn, each player takes a card from their hand (with the date side hidden) and guesses where it should be added to the timeline of cards laid out on the table. If you get it wrong, you have to add another card to your hand. If you get it right, it stays in the timeline. The first player out of cards wins.
It's inexpensive (some are under $10), fast, and fun. And there are somewhere around a million different versions — from Music & Cinema to Diversity to Star Wars events — to make it even more interesting.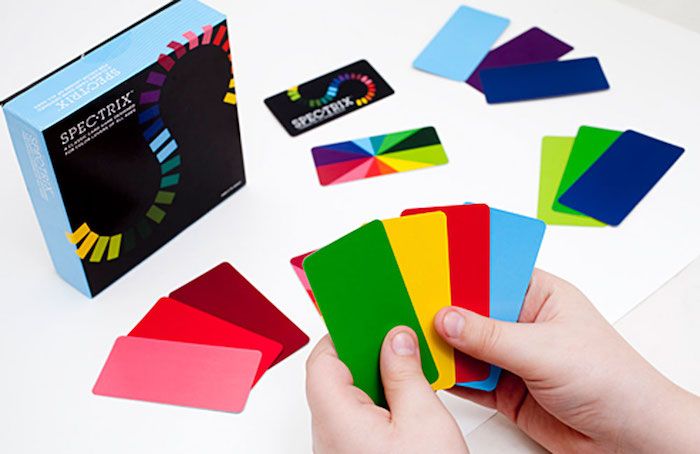 My kids have recently gotten hooked on Spectrix, a colorful twist on Rummy. Each player is dealt a hand of solid color cards, and you're trying to match them into groups of three or rainbow-type runs along the color spectrum. Of course, you can poach from your opponent's cards too, possibly affecting their strategy.
It's another quick game that kids of all ages can play because there's no reading involved, and the game even includes alternate rules for other games you could play with the set of cards. You can also pair up in teams to let a large group play together, which is ideal for those big family vacations.
Related: The best travel snack recipes and ideas to make getting there a breeze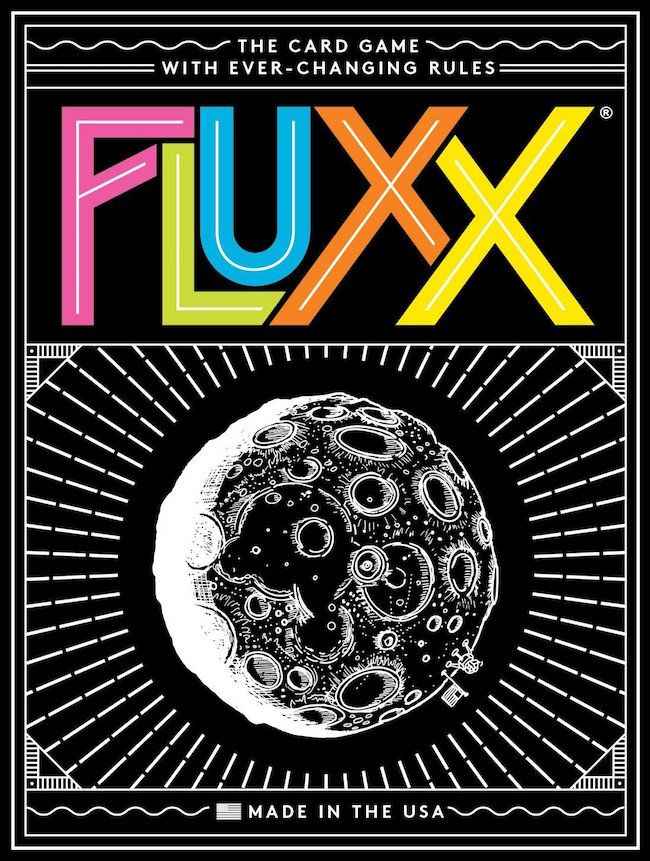 Fluxx has long been a favorite card game of ours here at Cool Mom Picks. It's similar to UNO, in that you're drawing cards and playing them to the deck, and the rules change as new cards are introduced to the game.
This game goes really quickly, and can get rowdy. That said, if your kids are highly sensitive (what, we know nothing about that!) and will get their feelings hurt if the rules change right when they're about to win, this may not be the game for you. But, if you've got a group that can handle the excitement, there are a lot of variations on it that you can add to your collection — from Batman Fluxx to Math Fluxx to Zombie Fluxx (cool!) — to keep this one feeling fresh and new.
I never knew my kids would get such a kick out of Venn Diagrams, but the new game Anaxi has been a blast. To play, you overlap the plastic Anaxi cards to form a Venn Diagram of three words — for example, lumpy, round, and hot. Then, you have 1 minute to write a list of words related to the cards shown. The more words you're able to connect, the more points you get.
But if someone else got your word too, neither of you gets the point. Creativity wins, and many of the cards will generate giggles from the kids as they think of the silly to ridiculous connections they can make.
If you like games of deception and you're able to keep a straight face, try the game The Resistance. The bigger the group, the better.
Each round of the game, everyone draws a card to determine their identity — resistance fighter, or spy. Only a few will be spies, and they'll have to work together to defeat the resistance's mission without being found out.
It's similar to another favorite, Werewolf, but plays much faster; you can even first watch a round of it played to get a better feel for it. It's such a fun game for older kids — the suggested age is 13 and up, but our 10-year-olds can definitely play along just fine.
Photo at top © Kate Etue for Cool Mom Picks